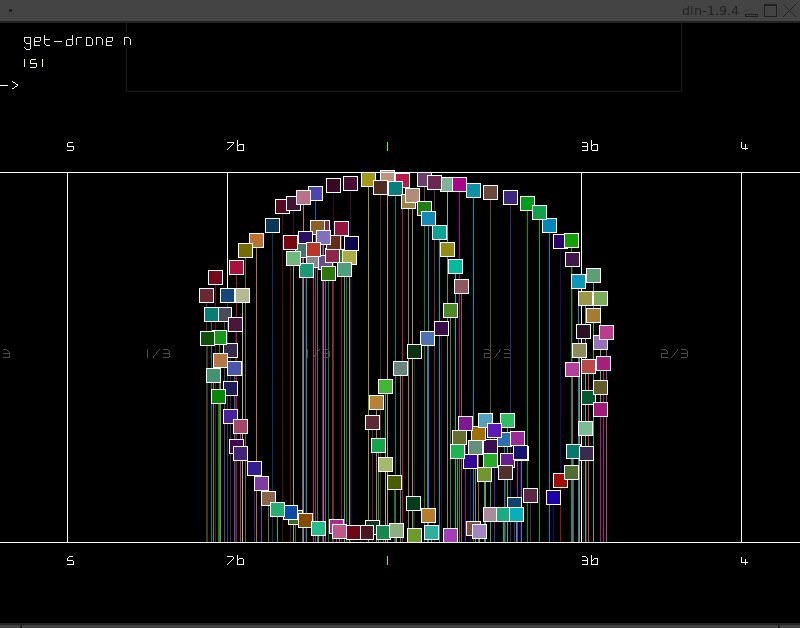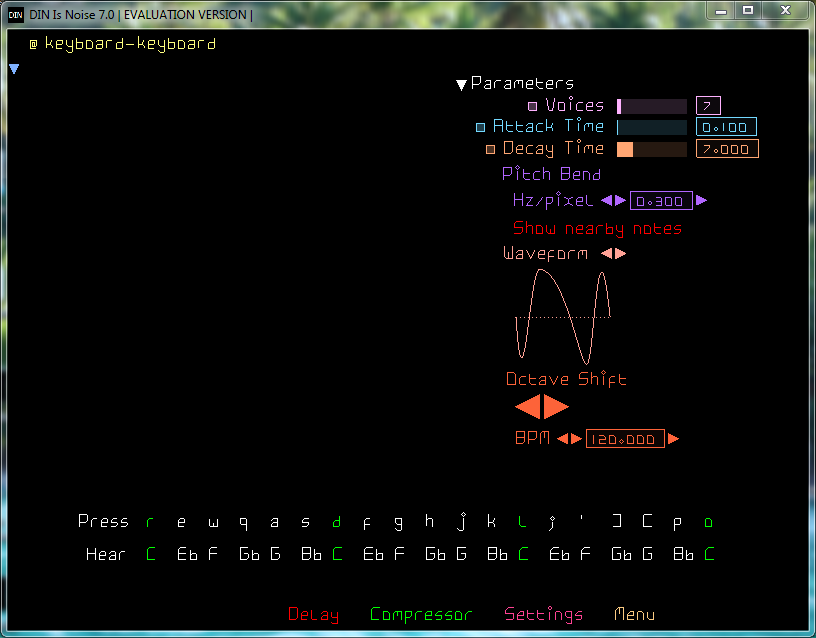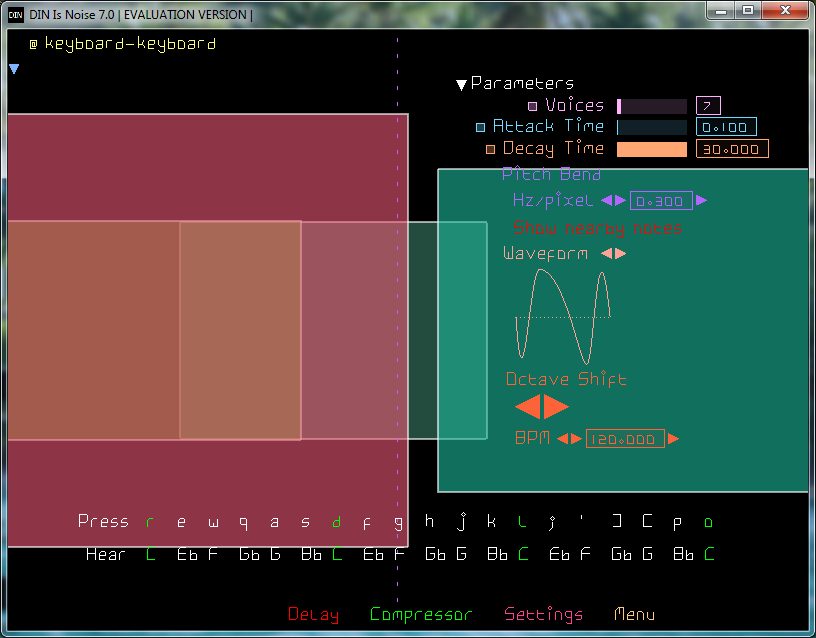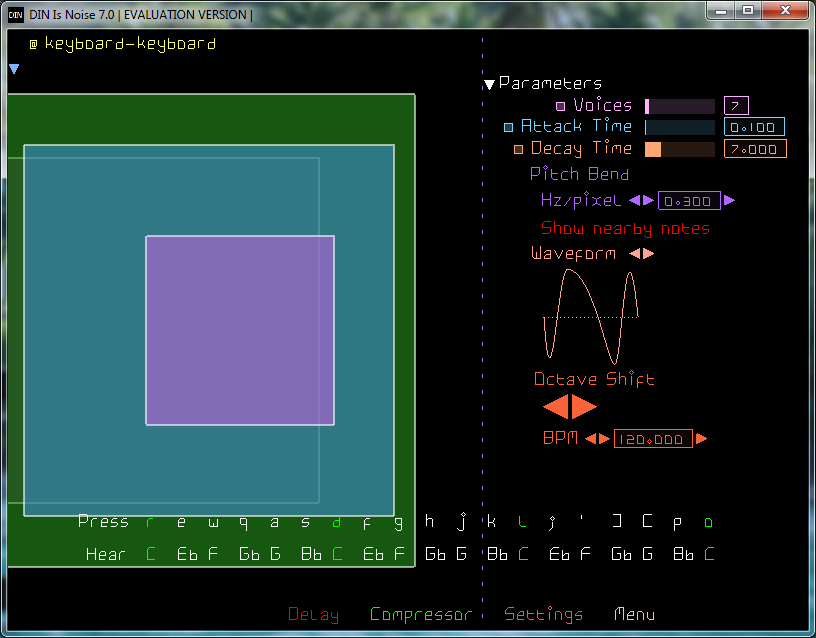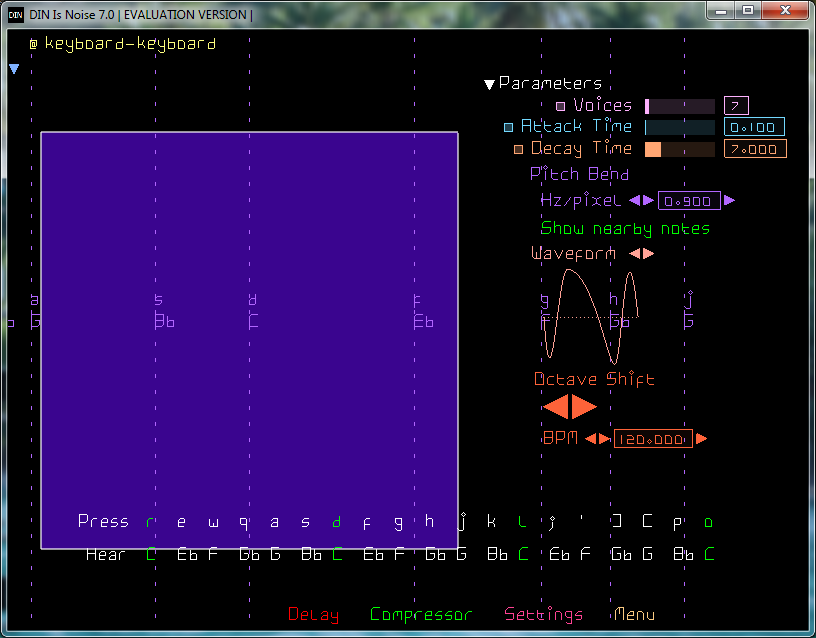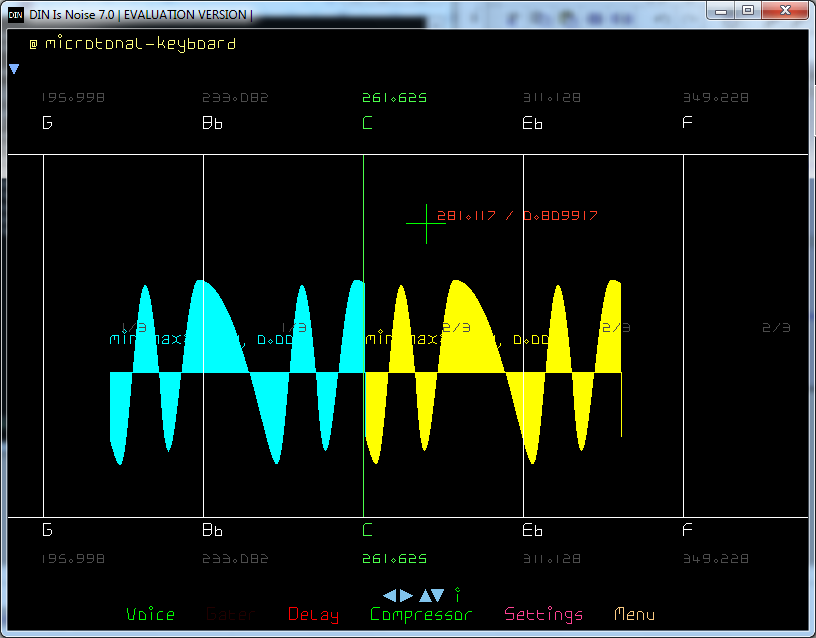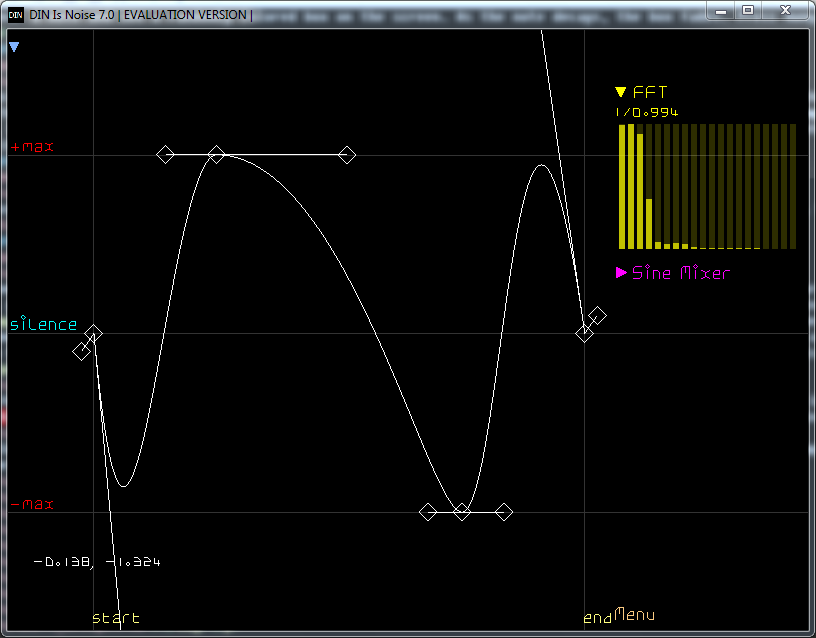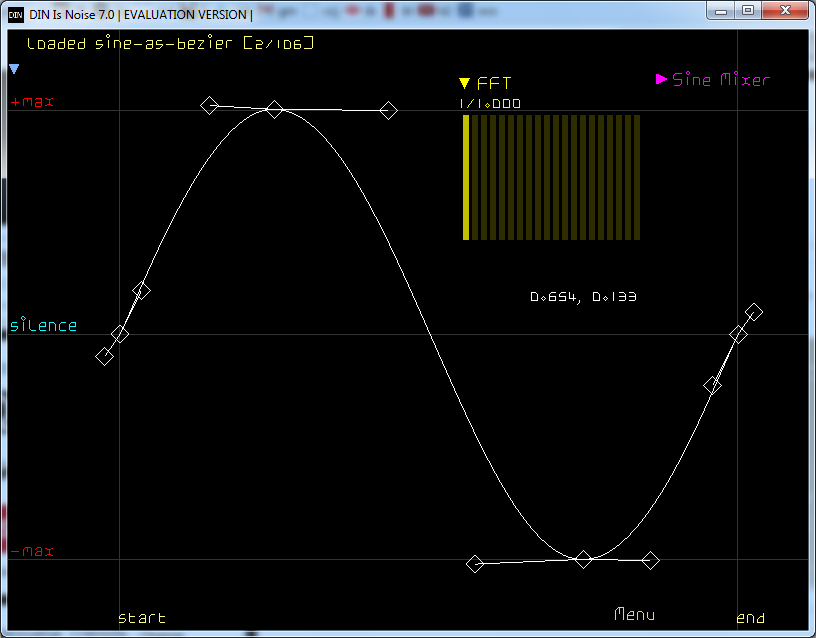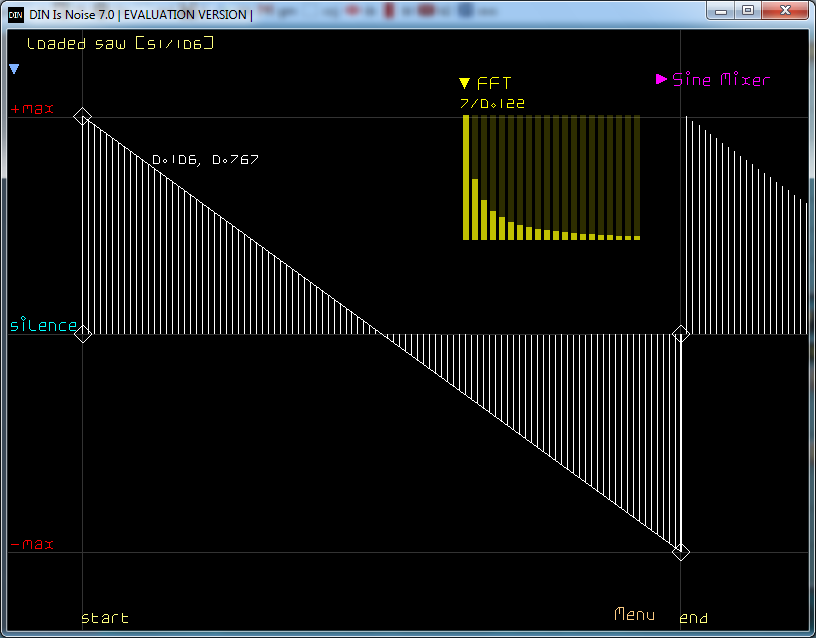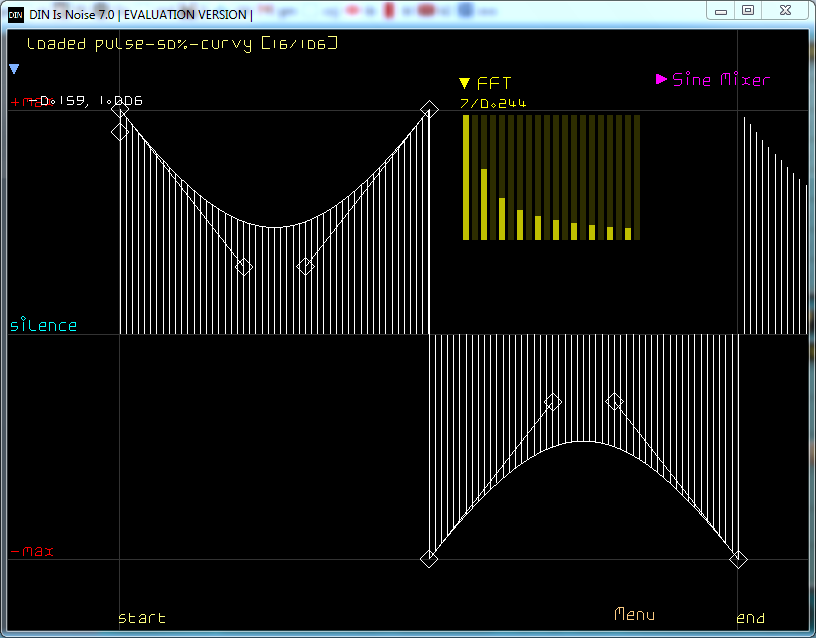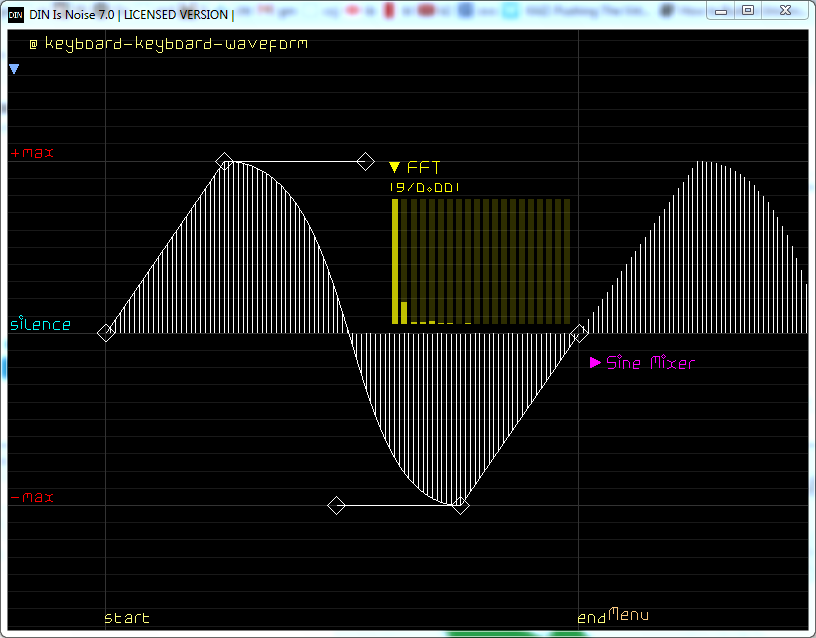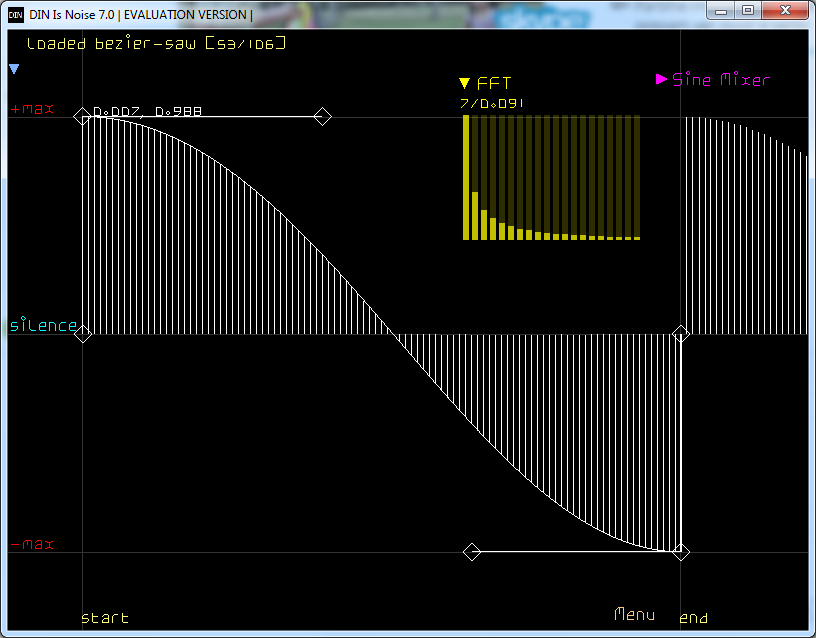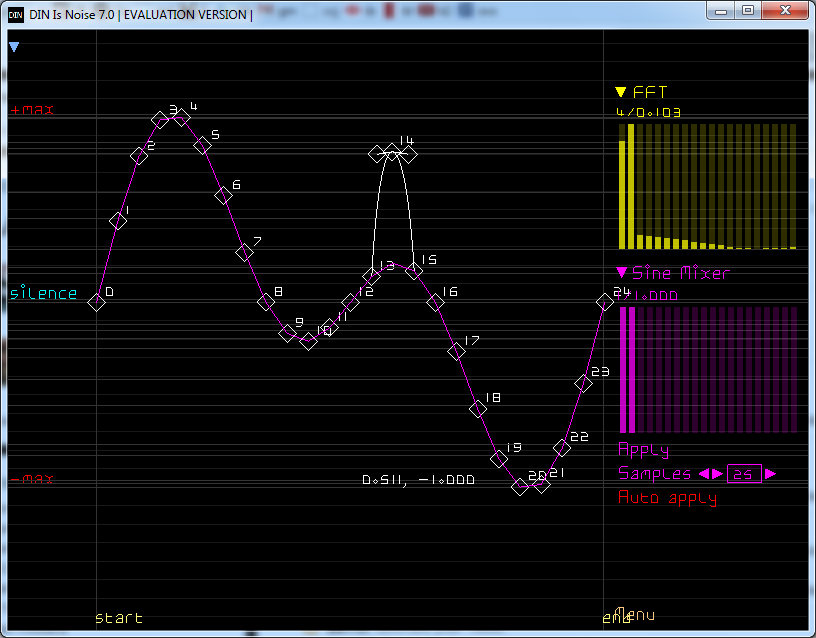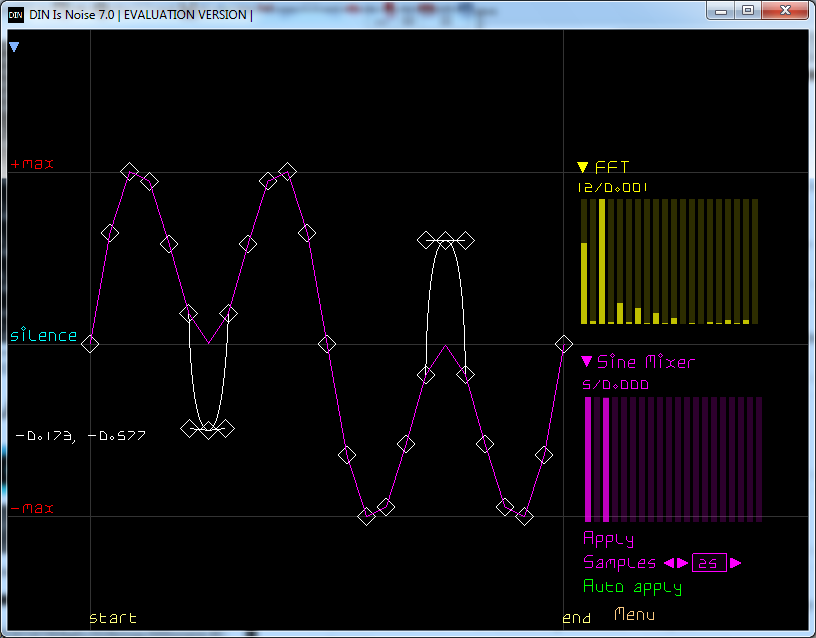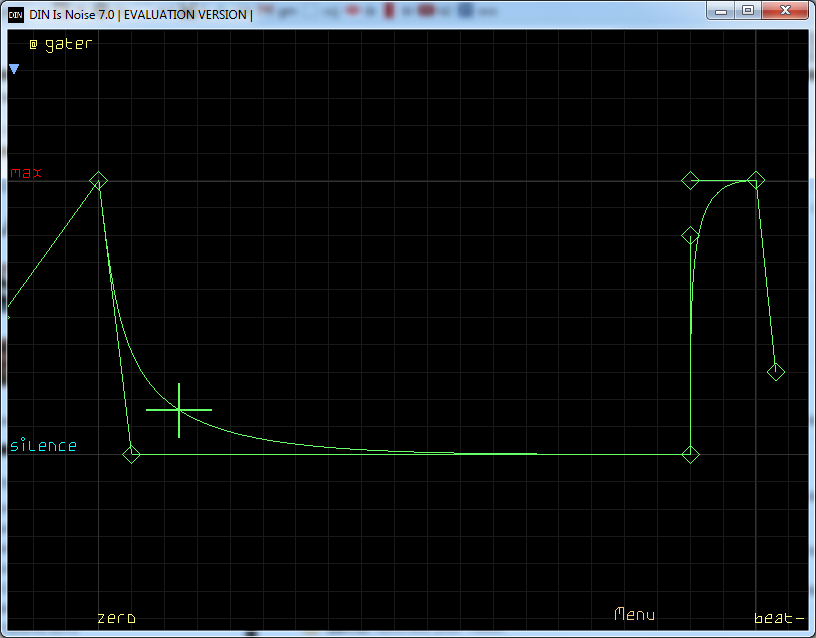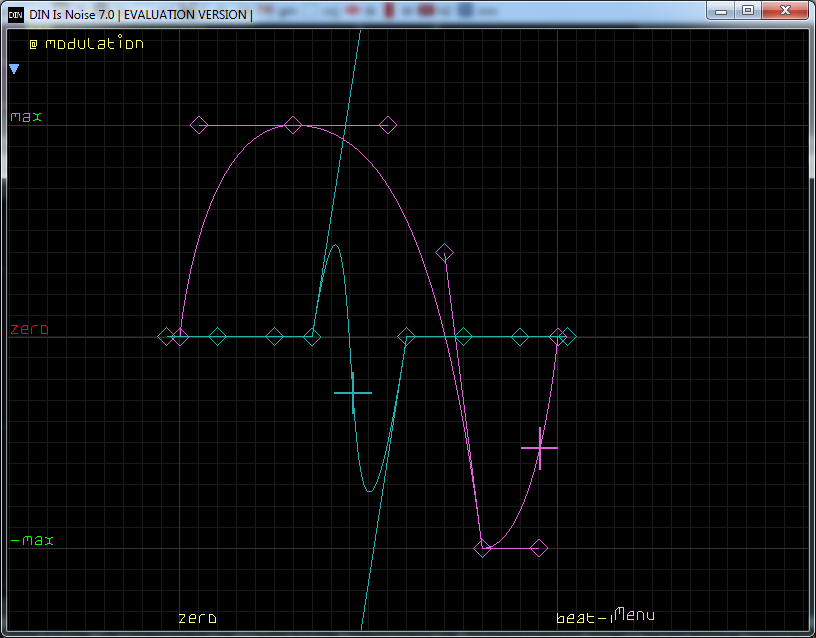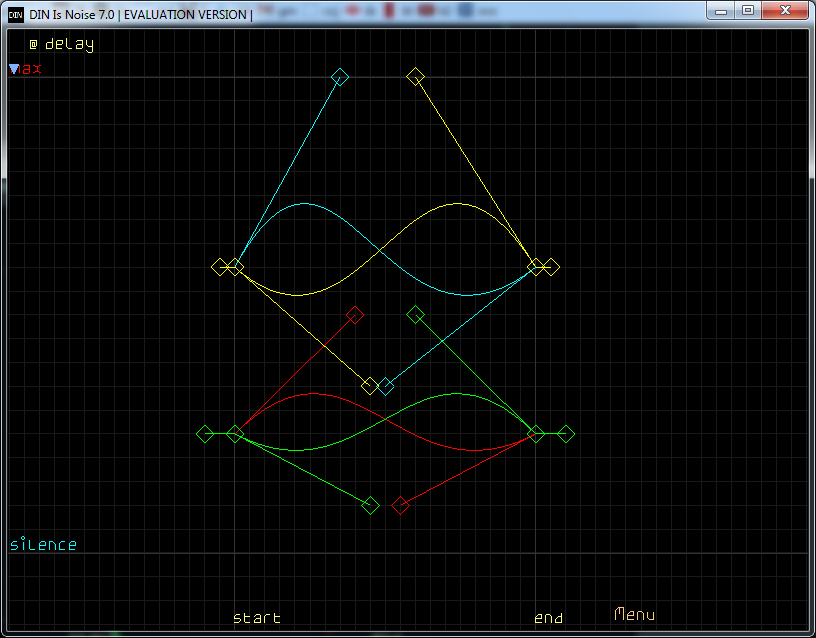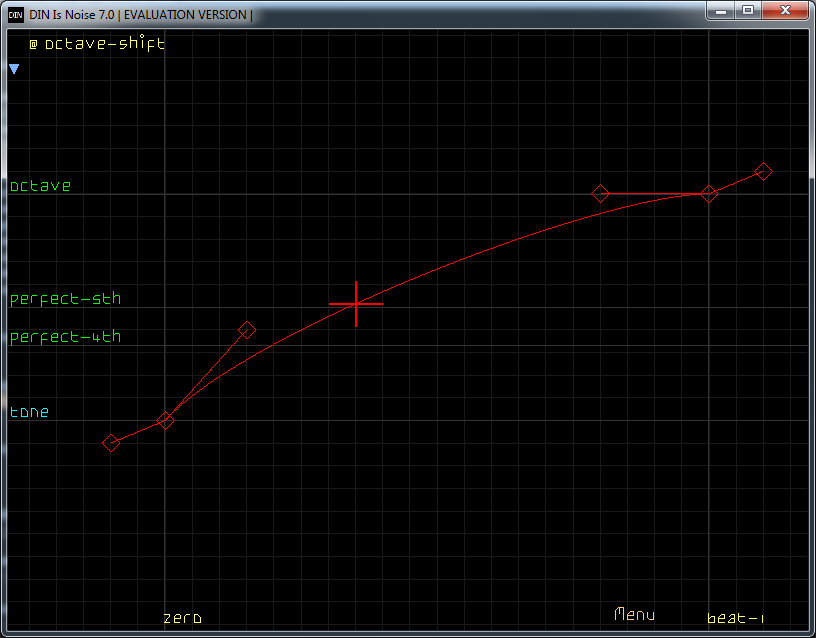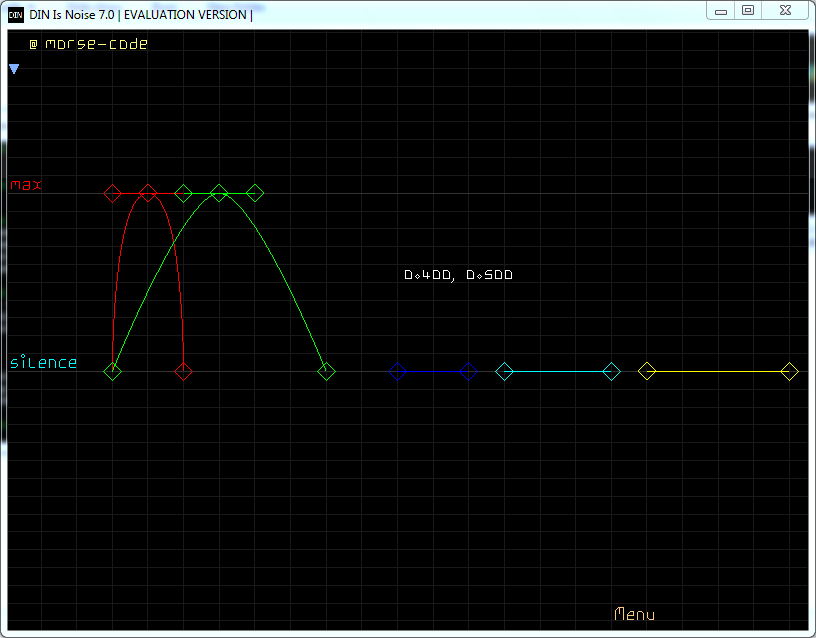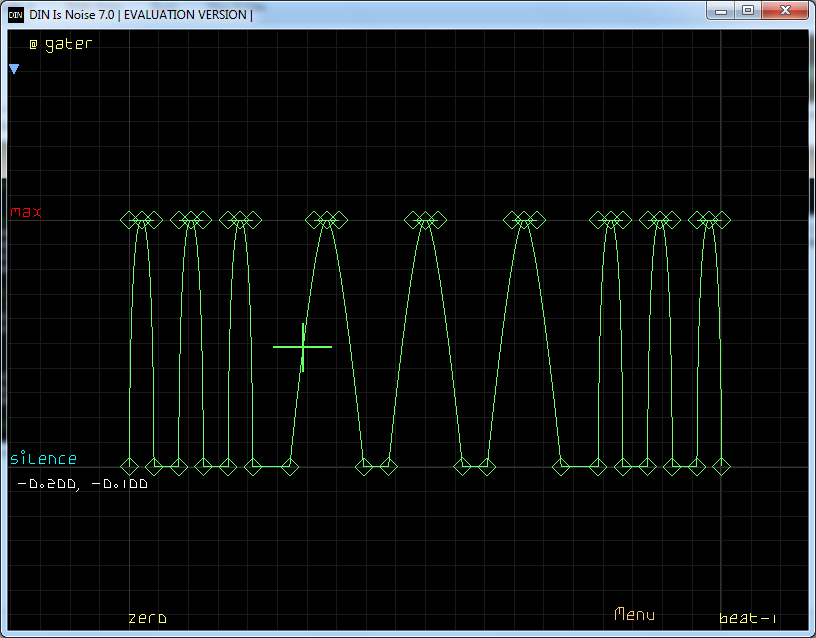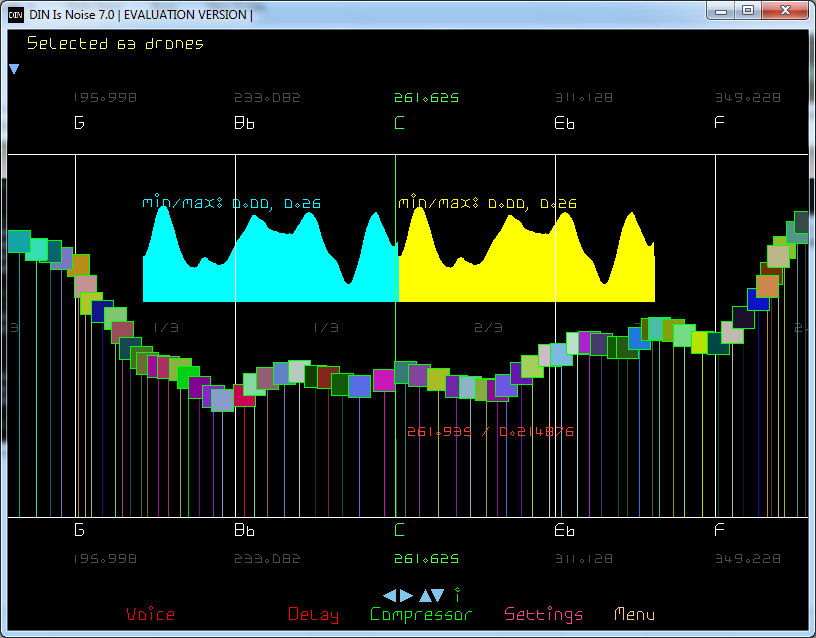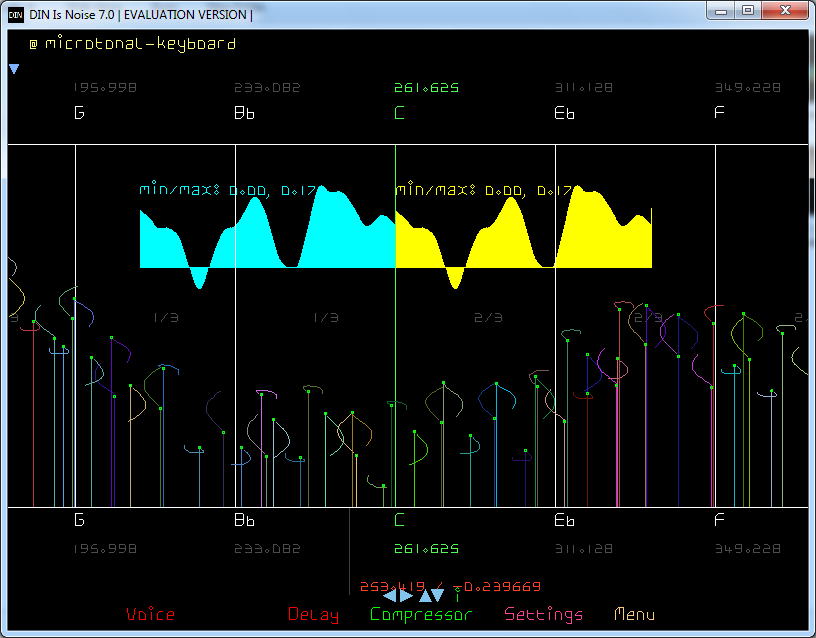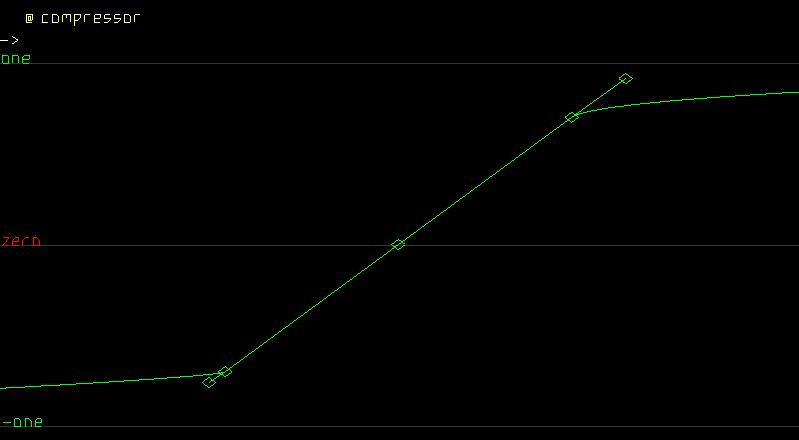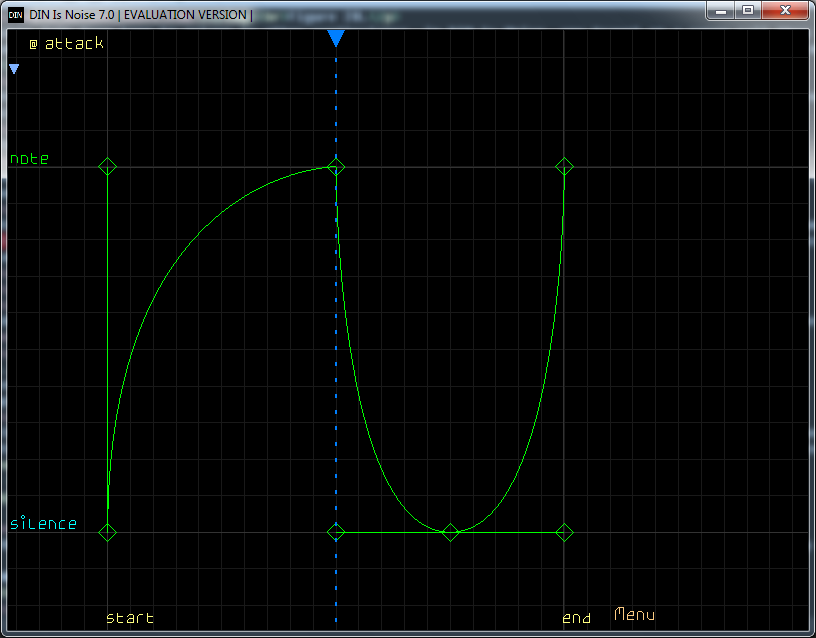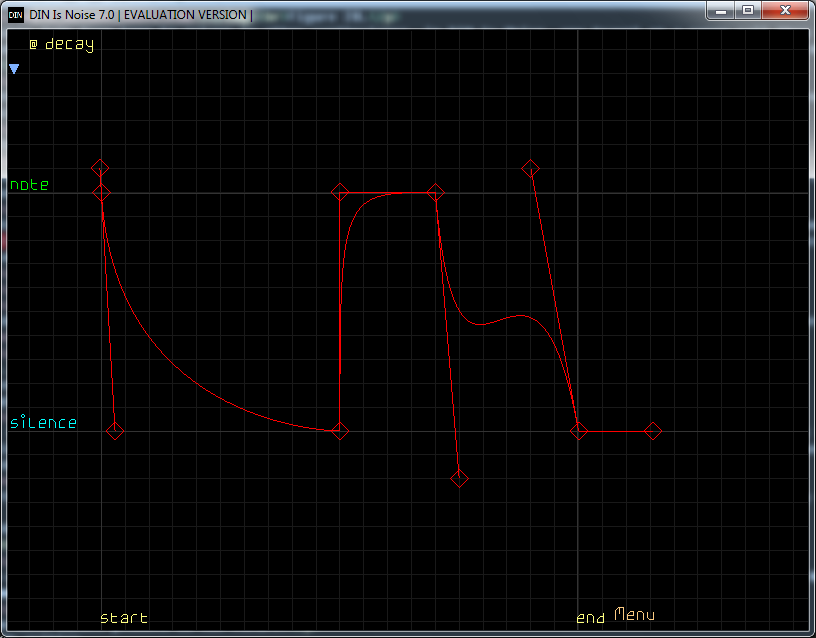 Shapeforms
Plugins
DIN Is Noise has 12 geometry to sound plugins:
Regular Polygon Waveforms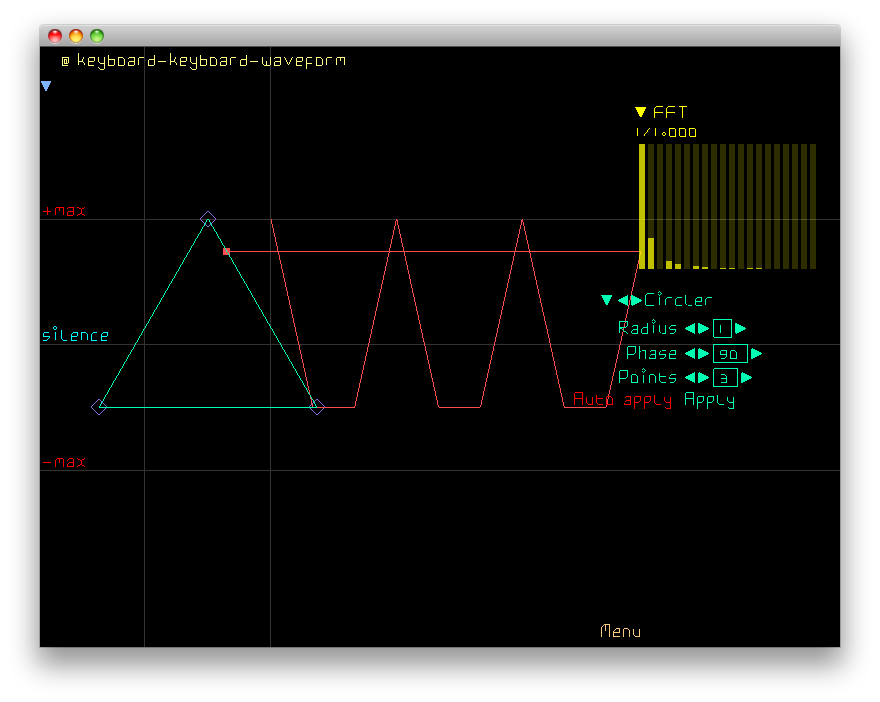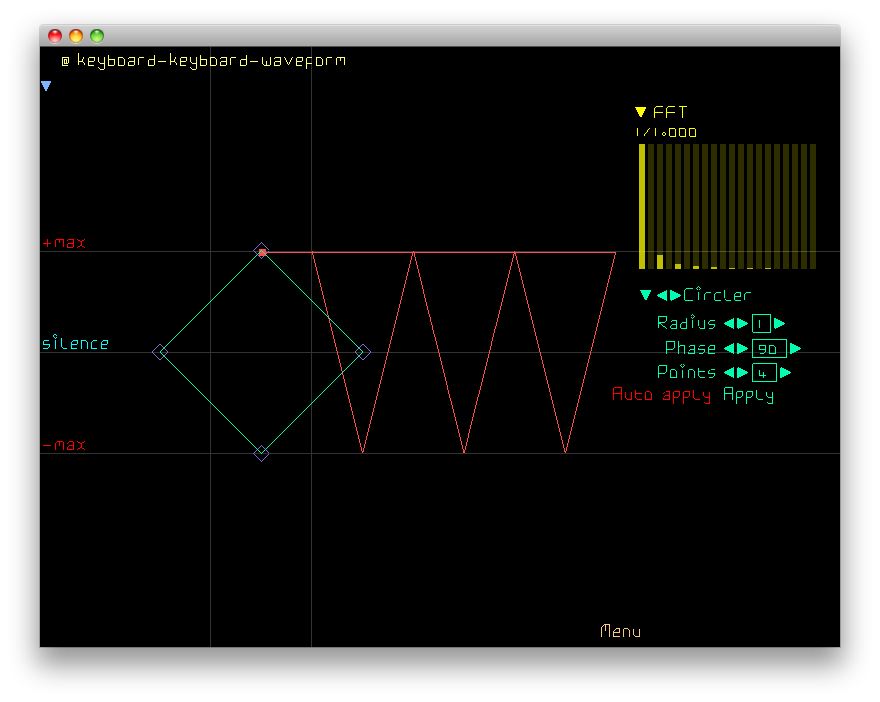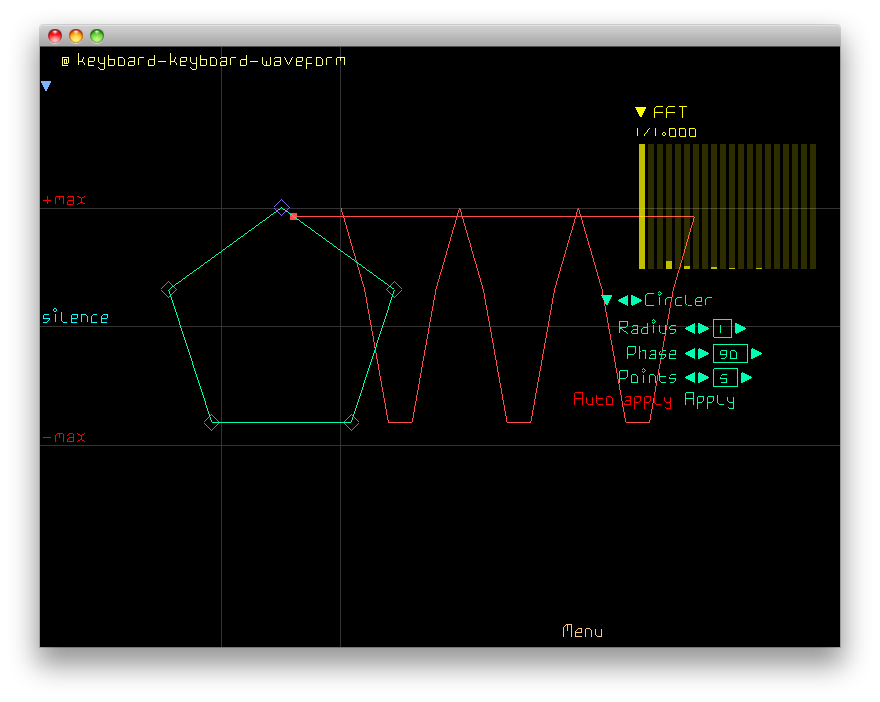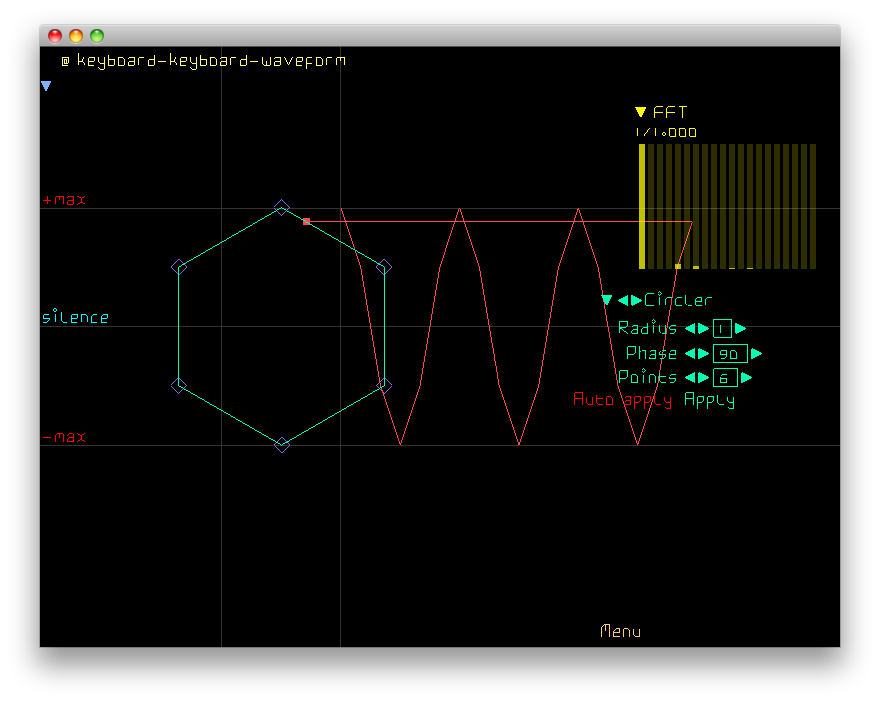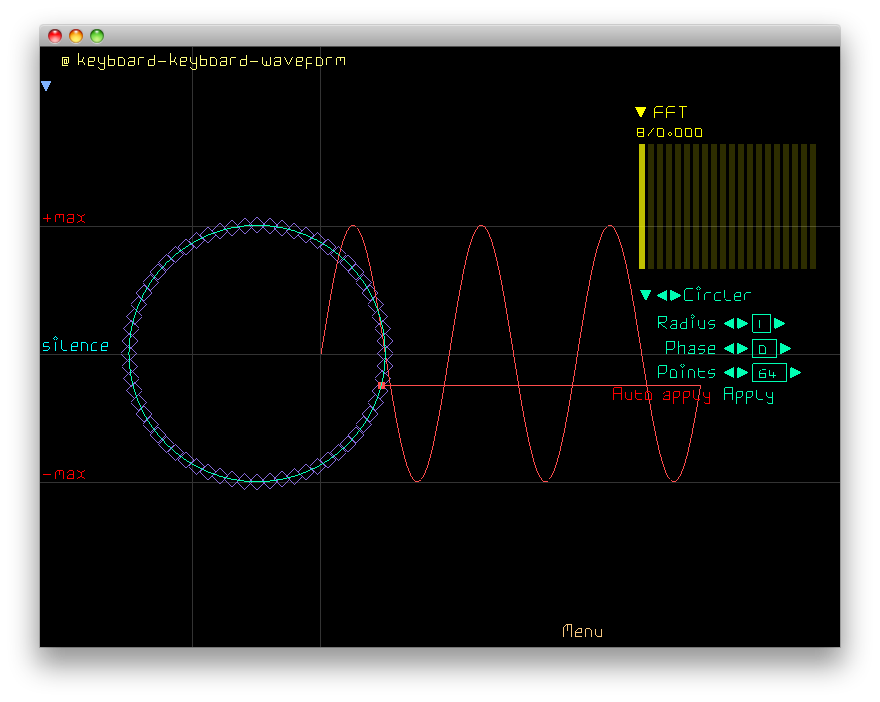 Rose Curve Waveforms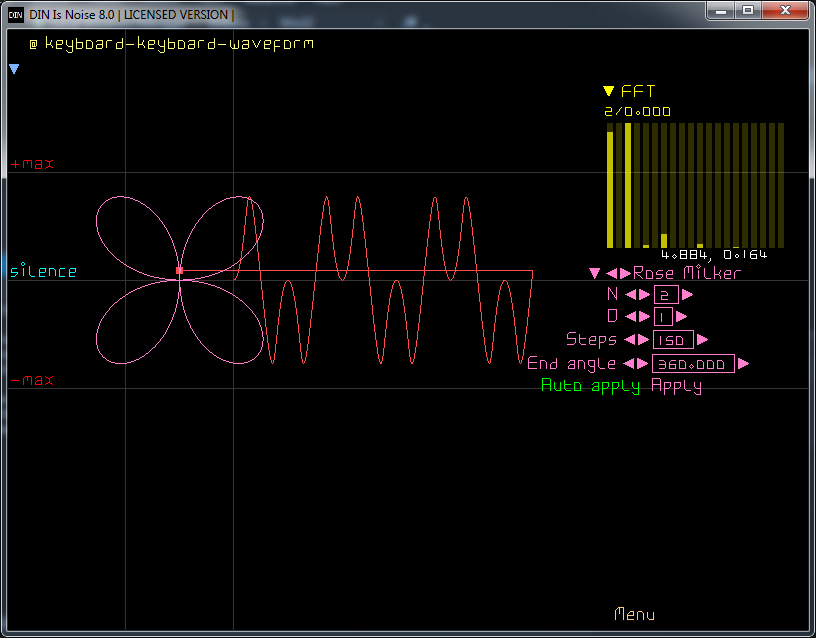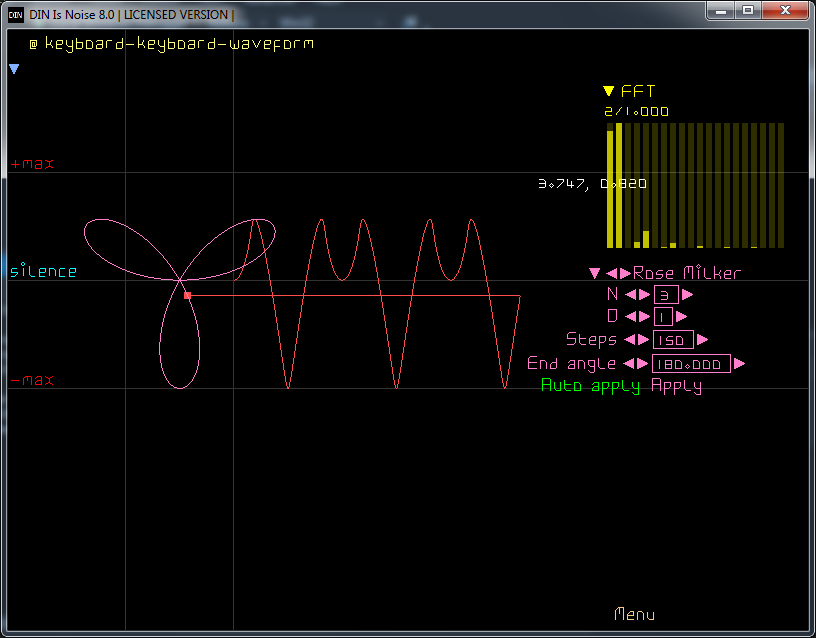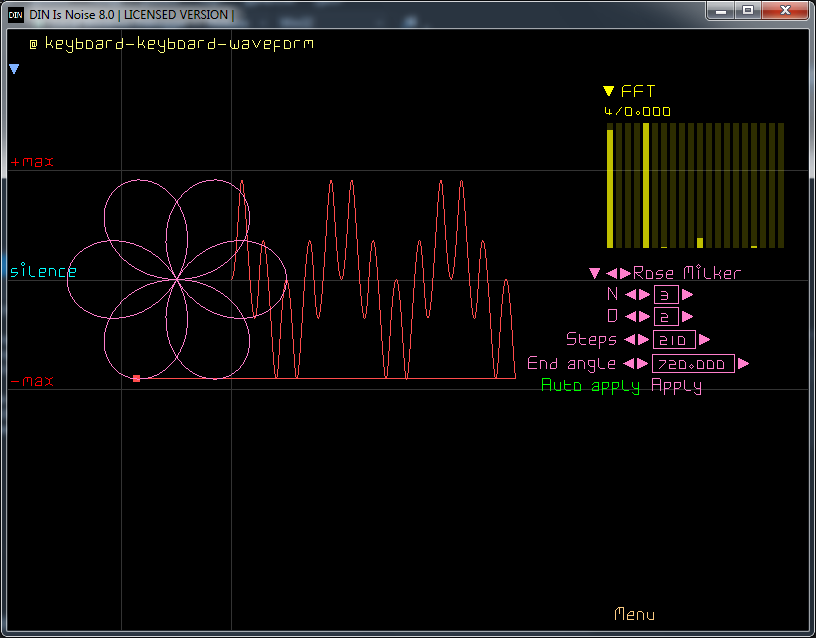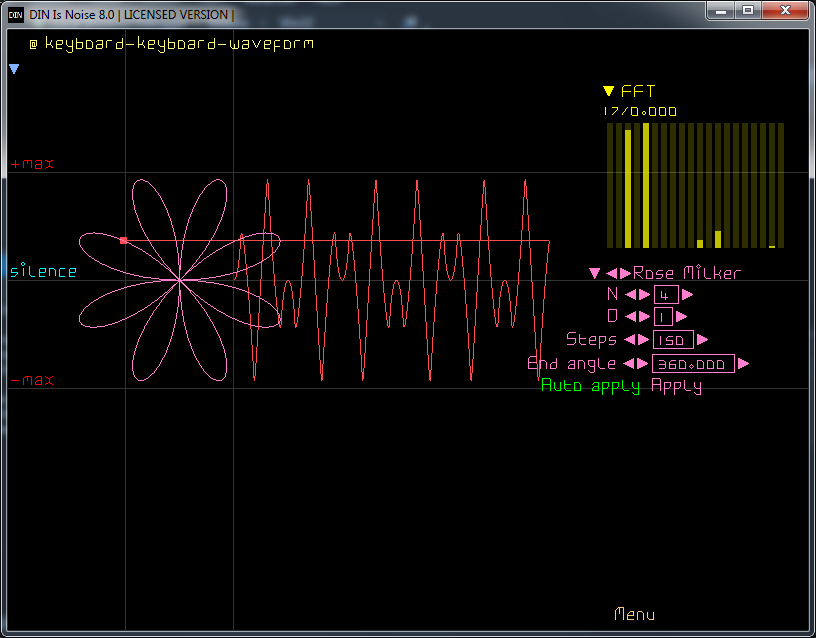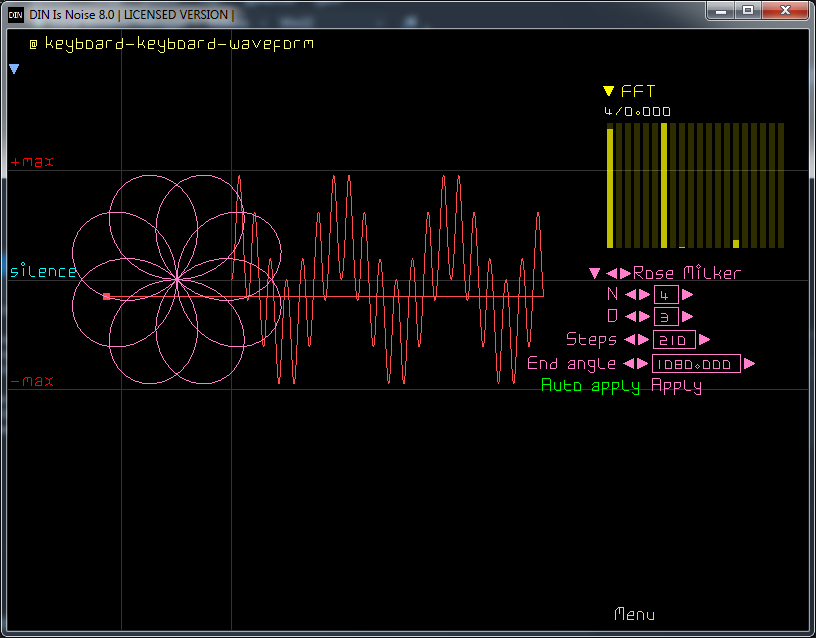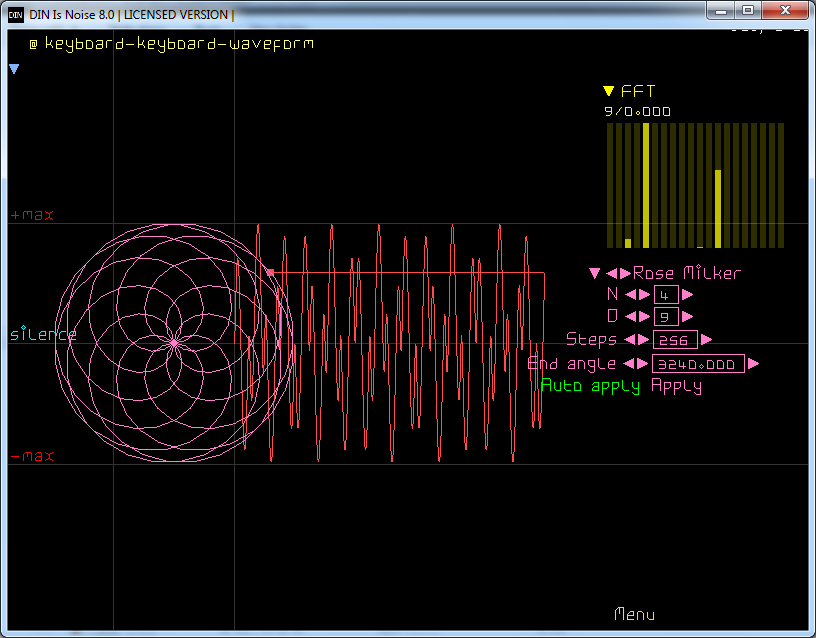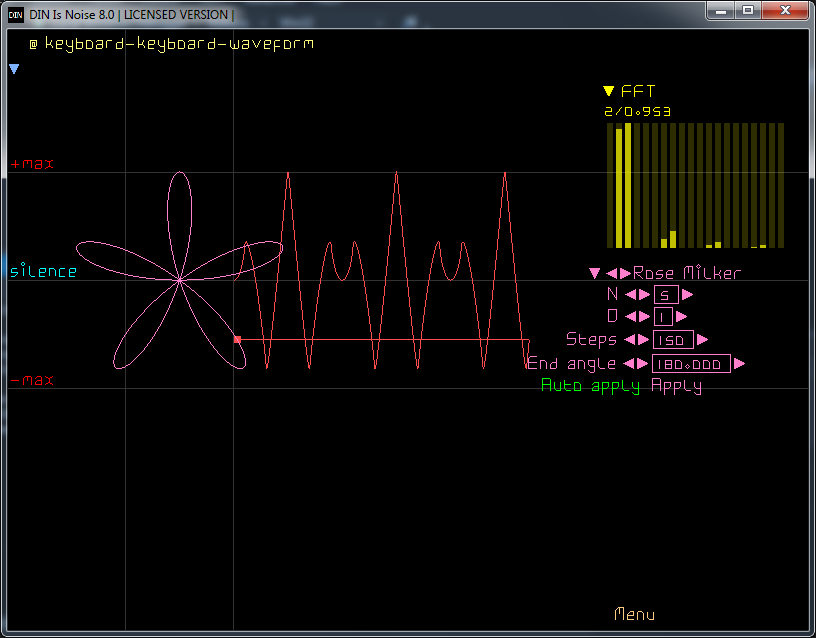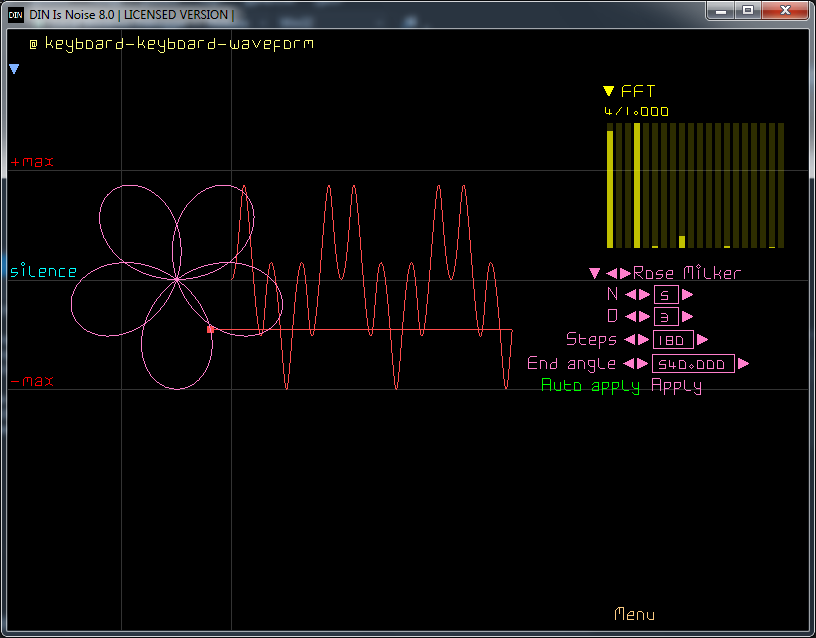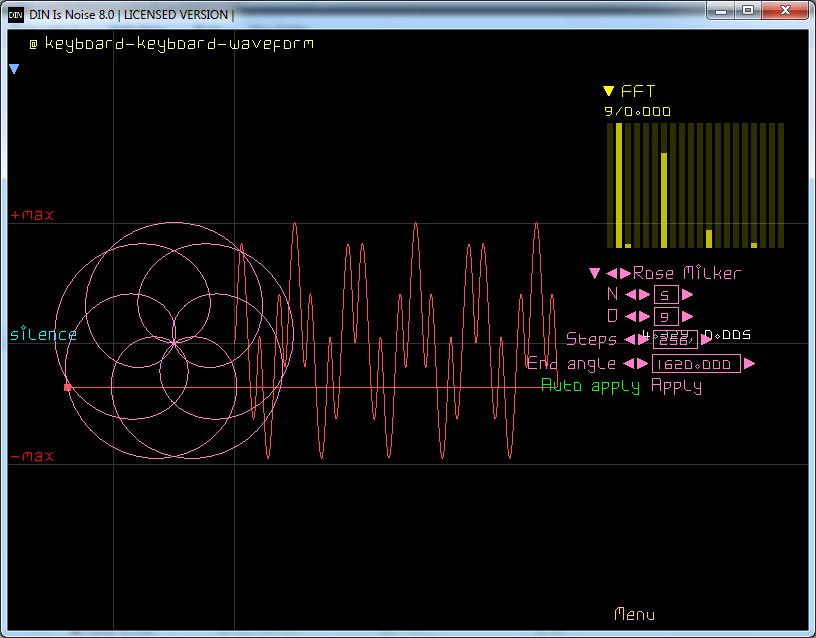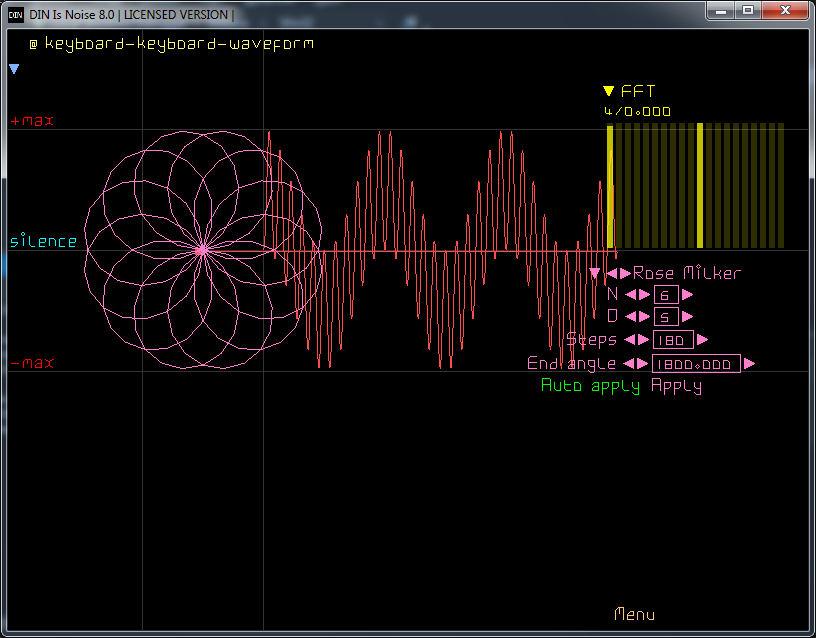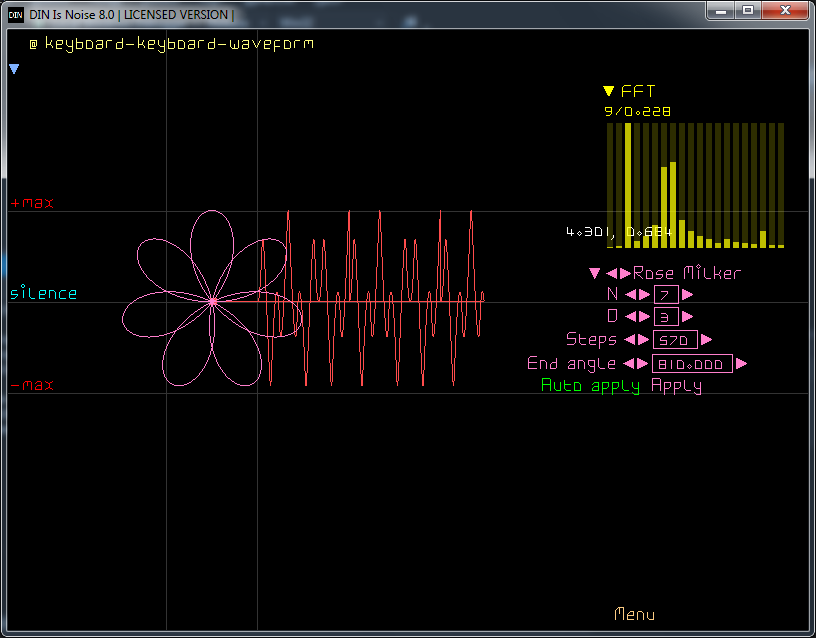 Star Polygon Waveforms
You can use the plugin Starrer to make a Star Polygon out of an existing Shapeform and the result is another shapeform.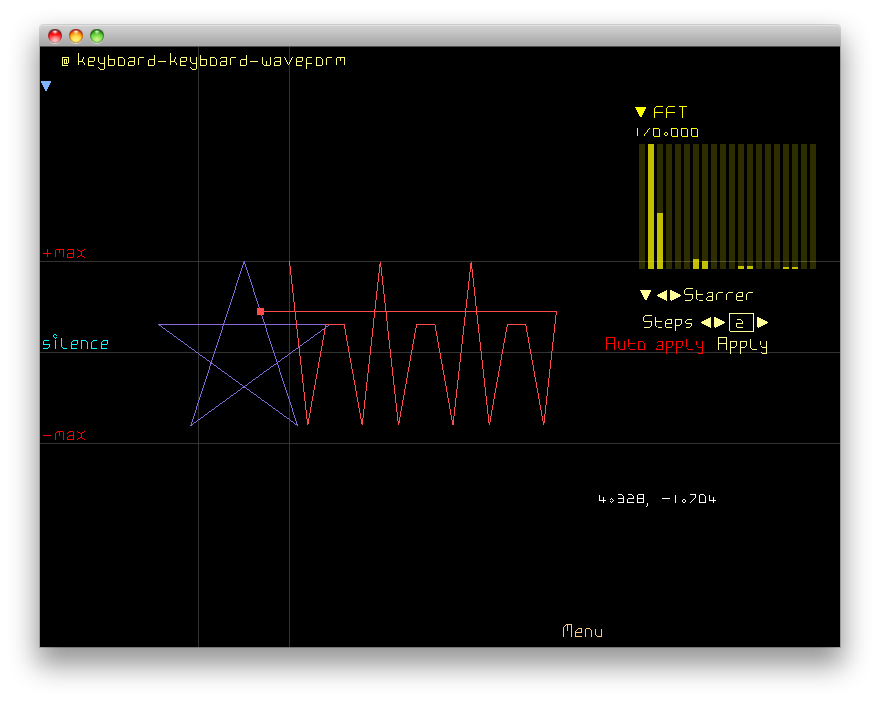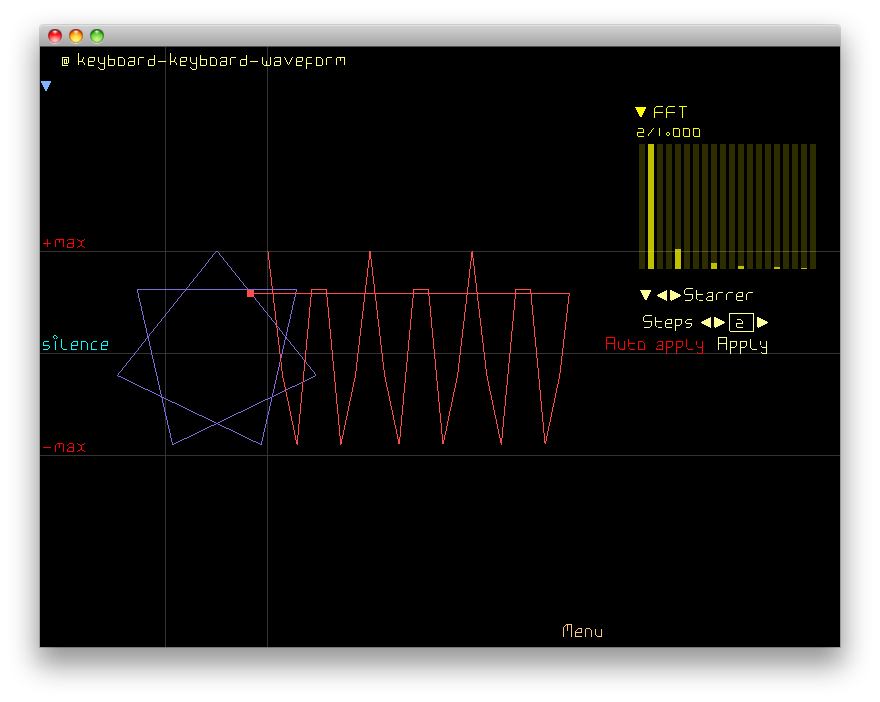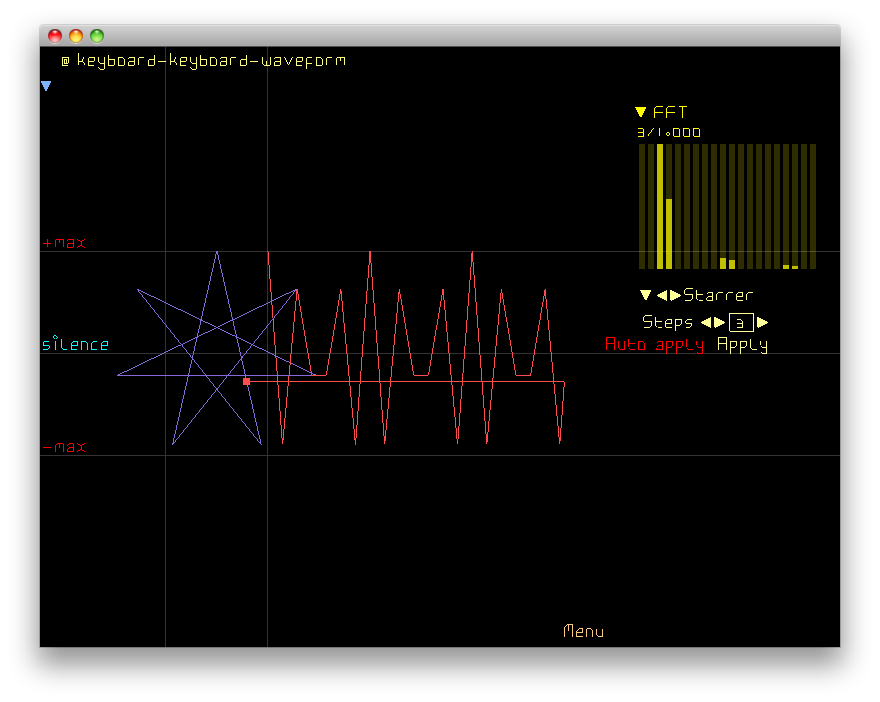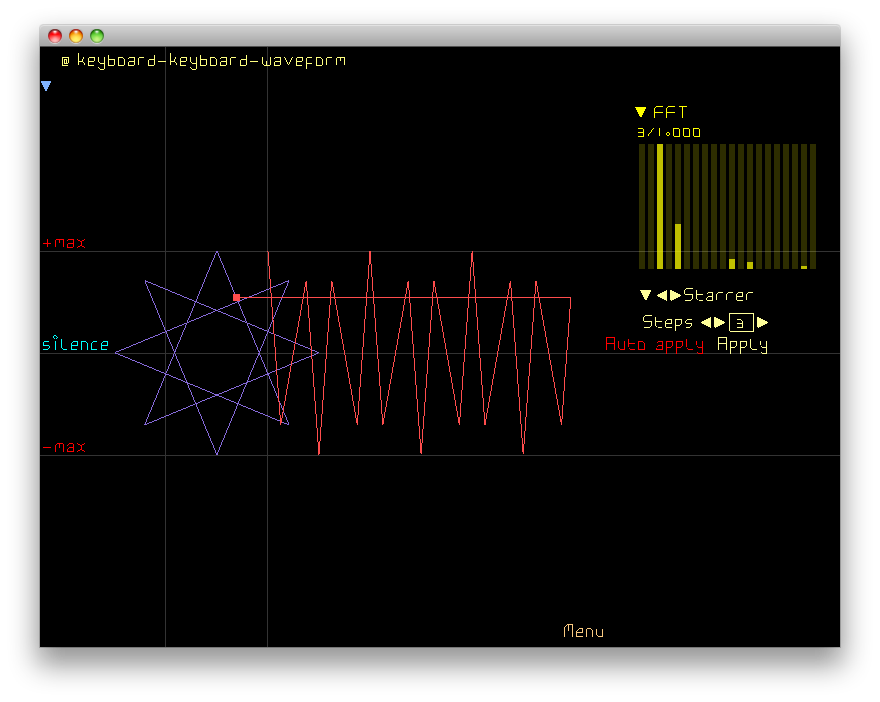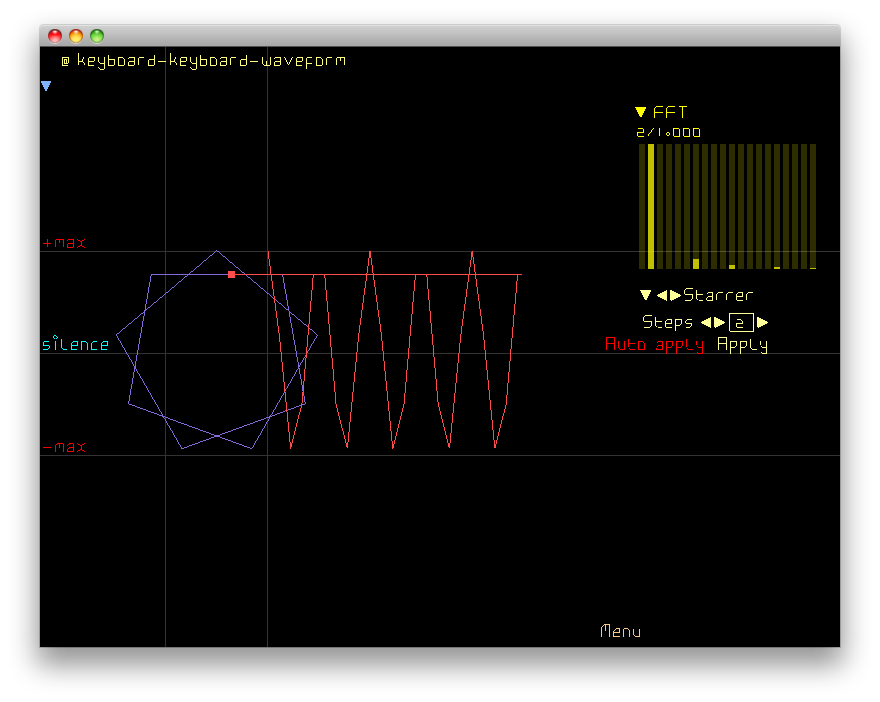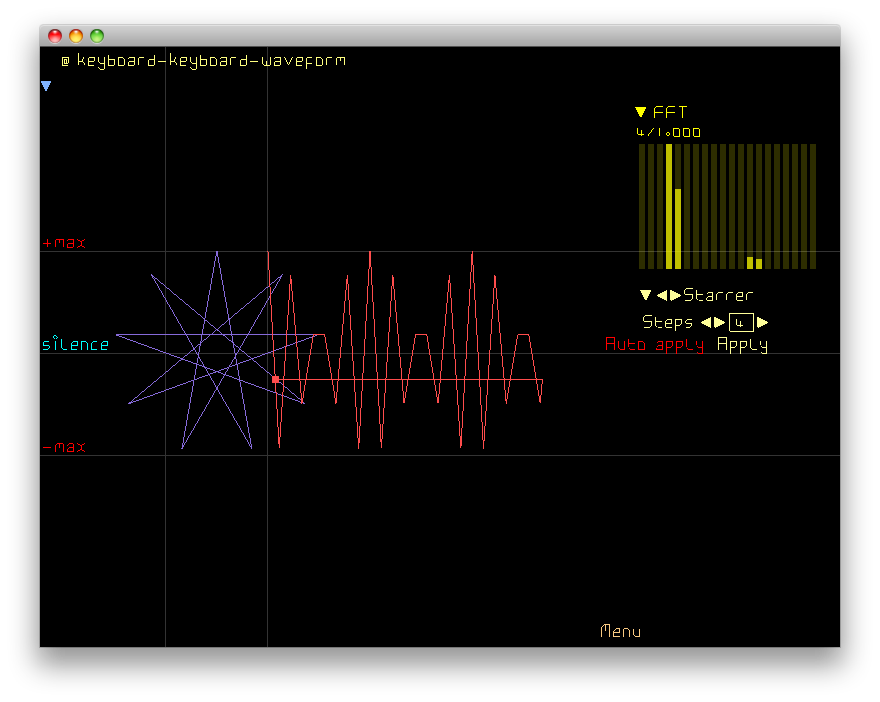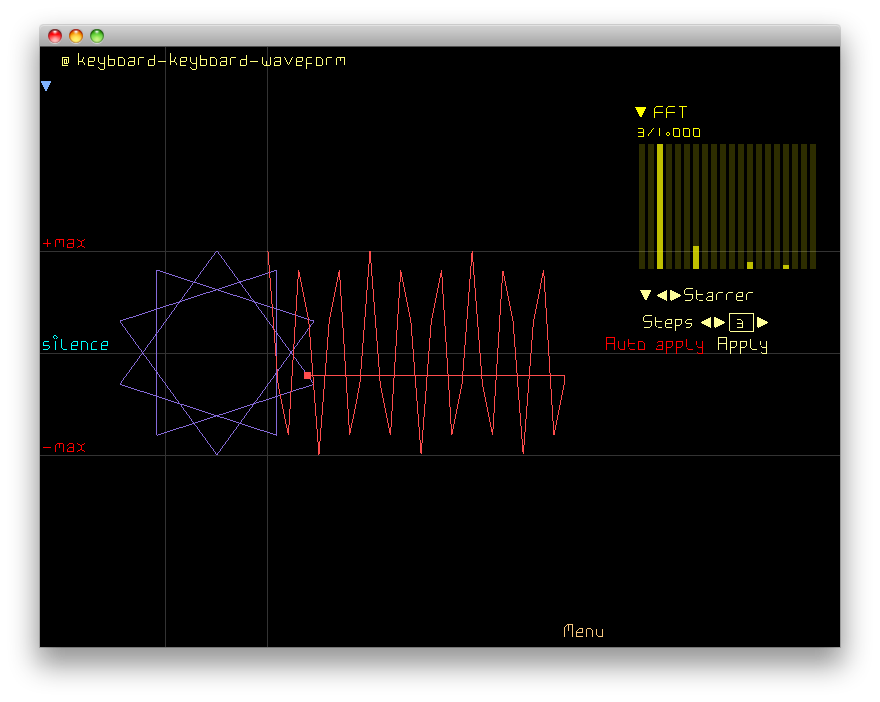 Bat Symbol Waveform:
A waveform is a vertical trace of a point moving around a circle. The bat symbol can be turned into a waveform because it can be squashed and stretched into a circle (ie the bat symbol is homeomorphic to a circle). The bat symbol is a Shapeform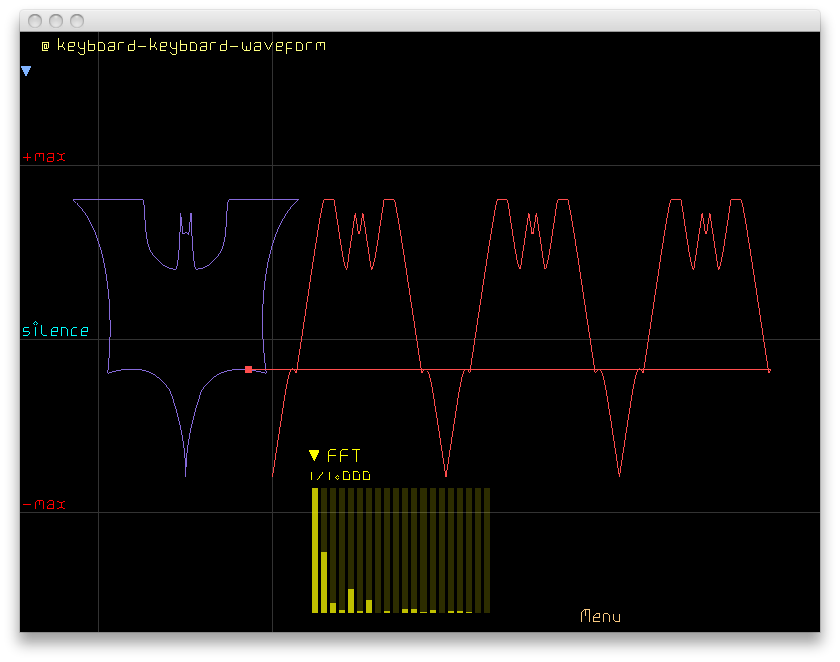 Spiral Waveforms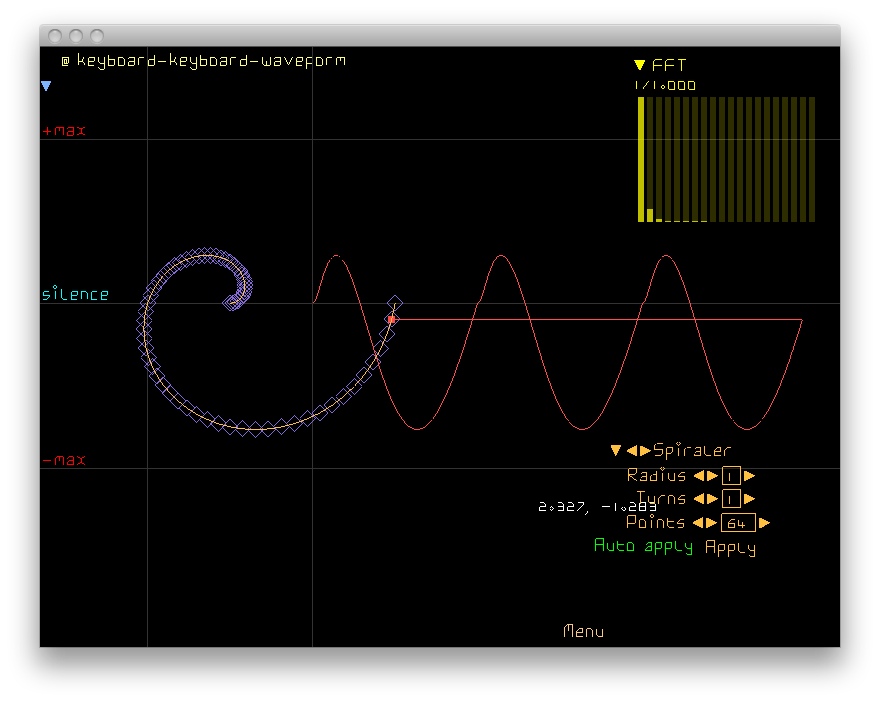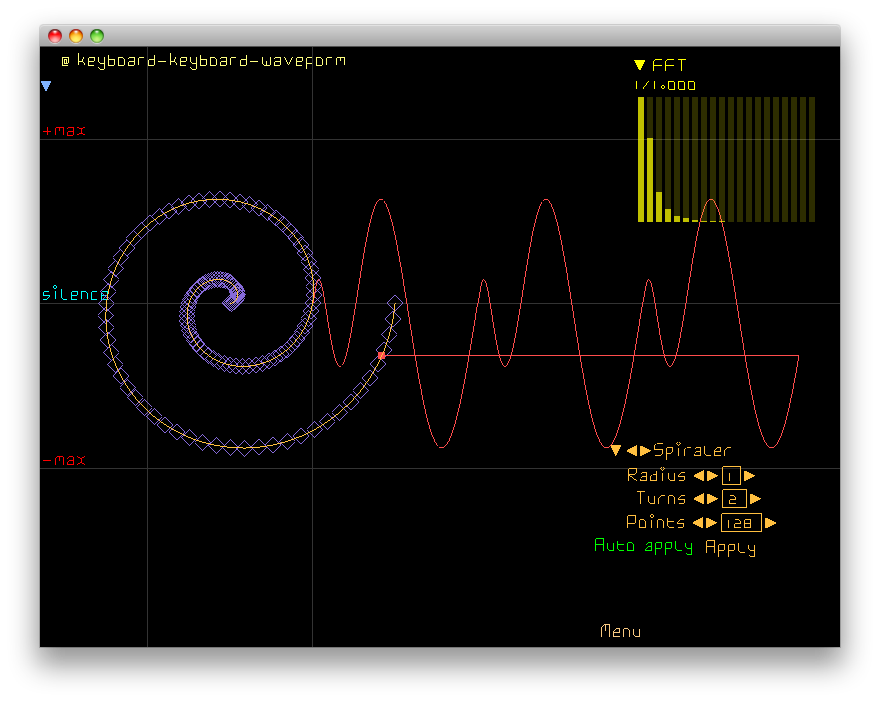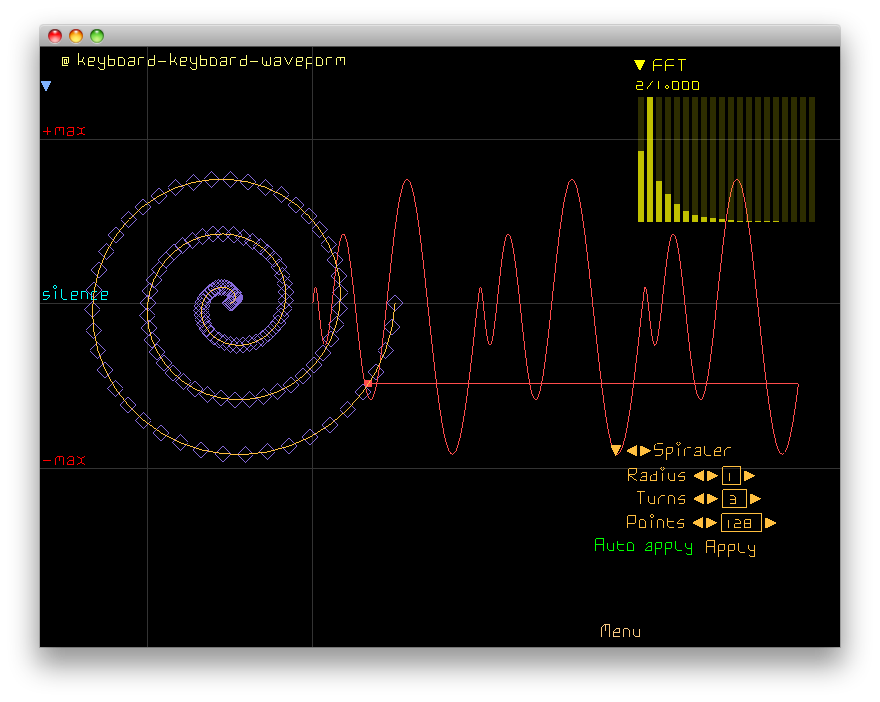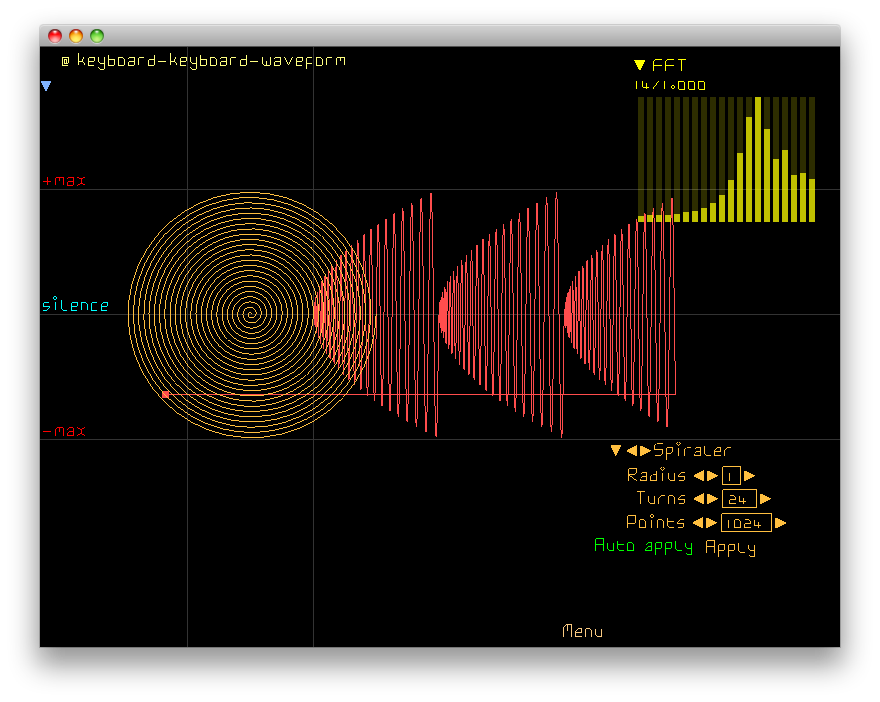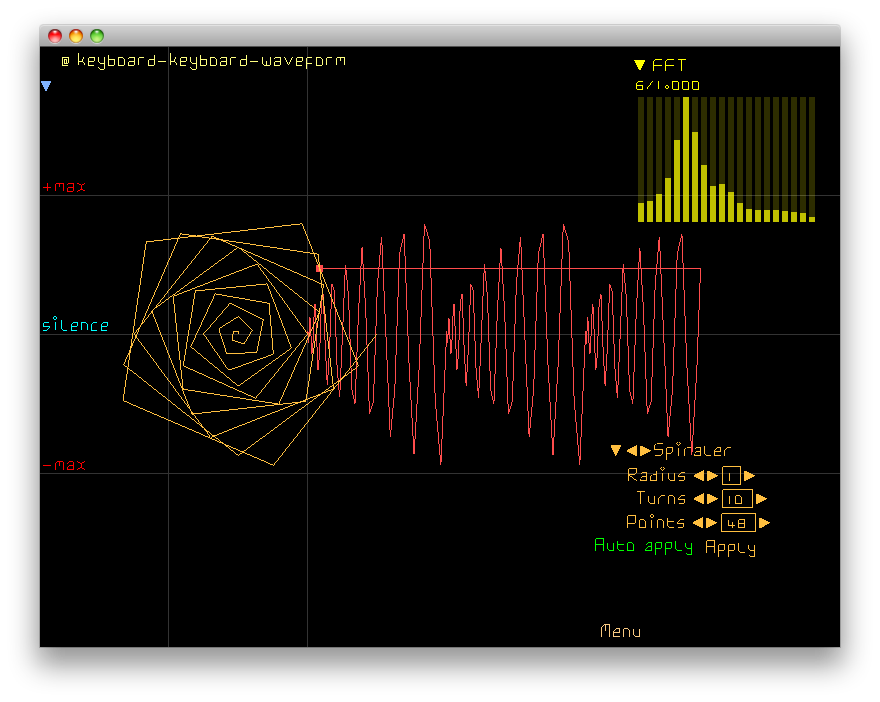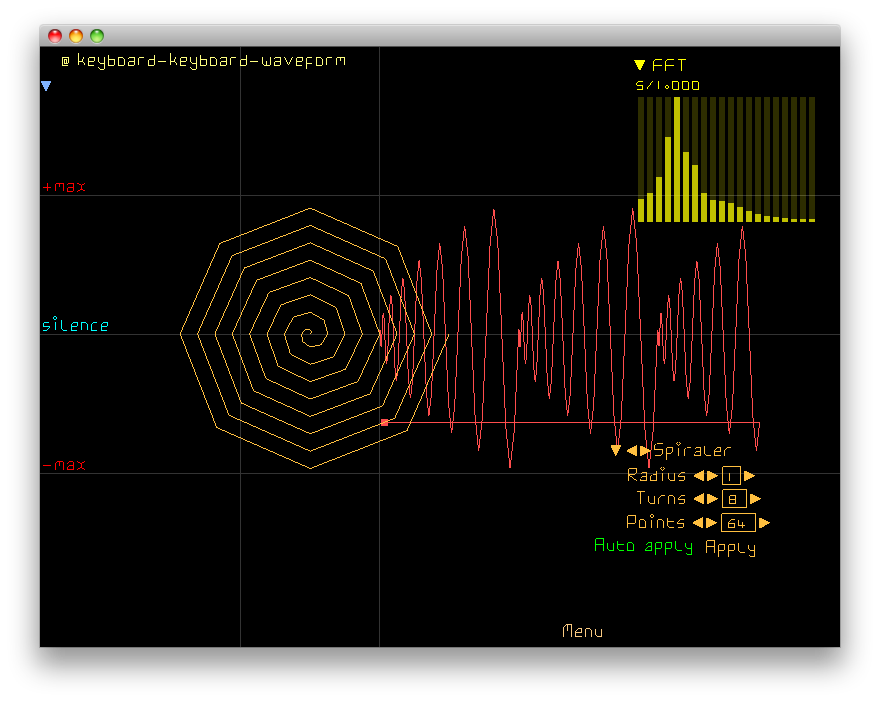 Fractal Waveforms!
Using the plugin Fractaliser, you can create a fractal waveform by repeatedly substituting segments of a Bezier curve shapeform with a seed curve.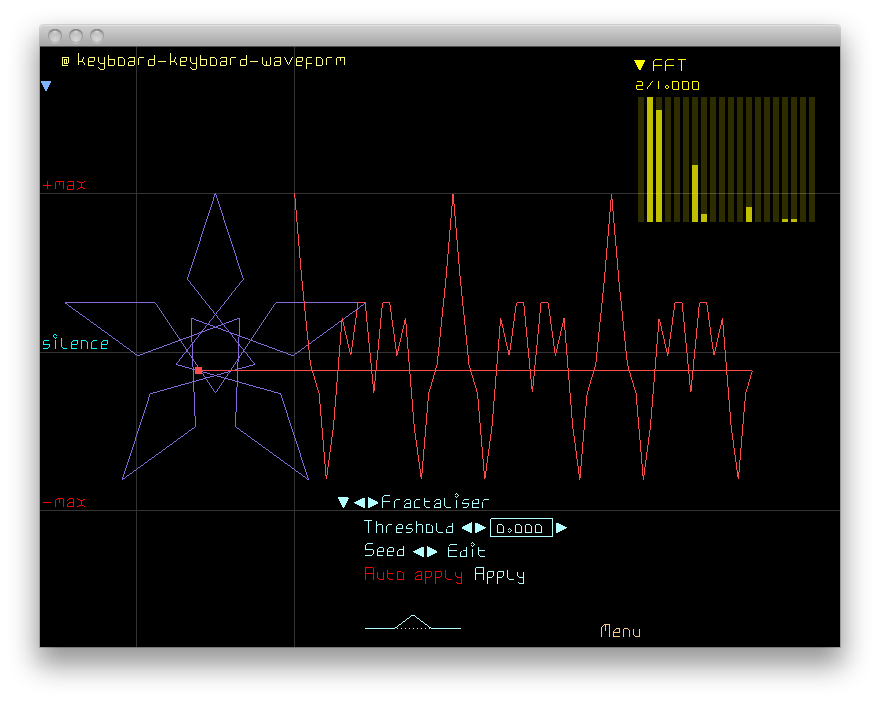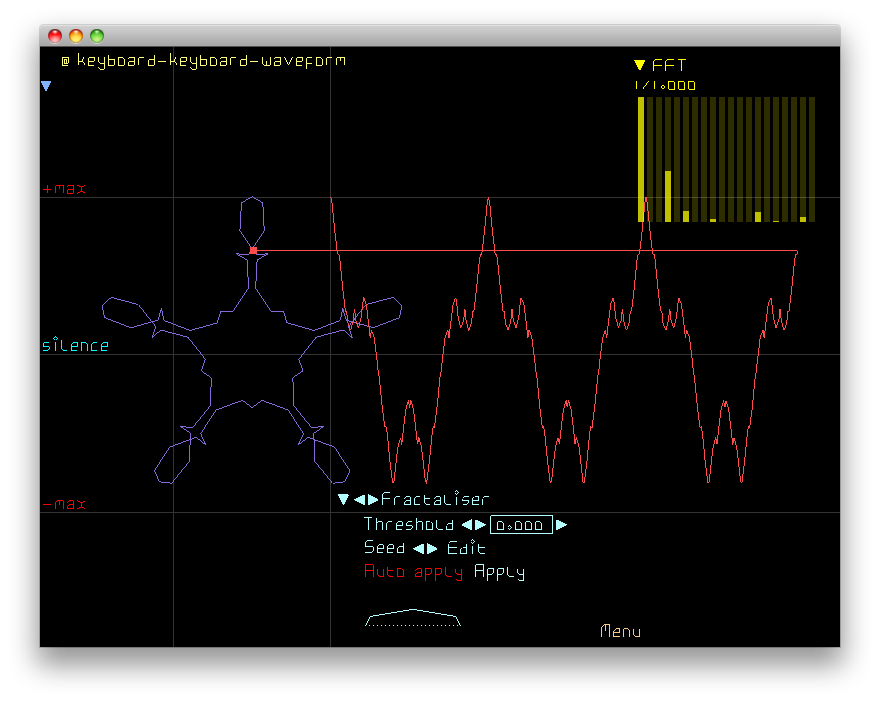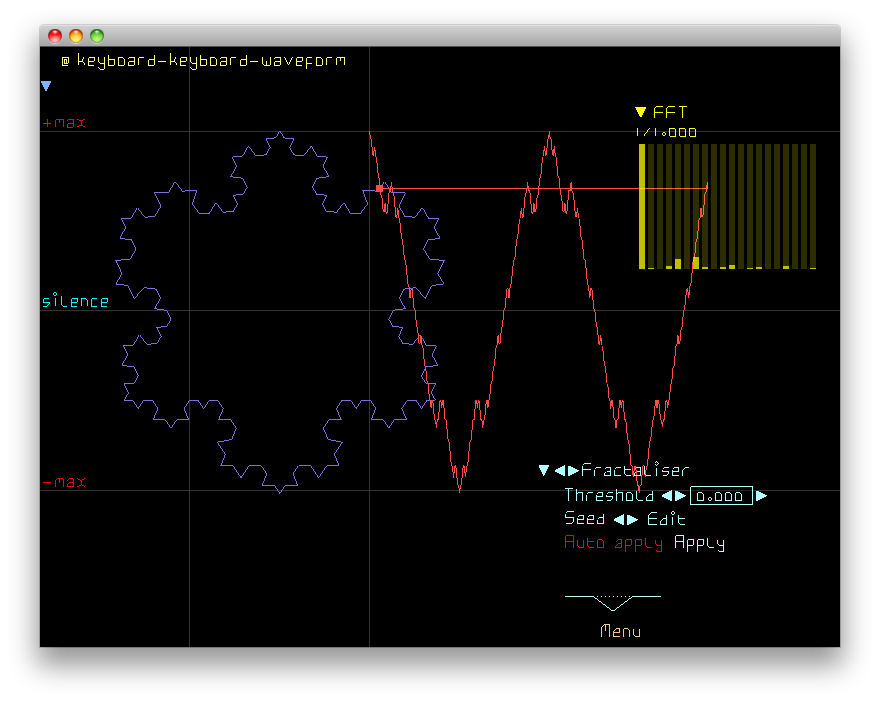 2D non-linear space warping
Using the XY Warper plugin, you can non-linearly warp the 2D space a waveform inhabits thus warping its shape and how it sounds!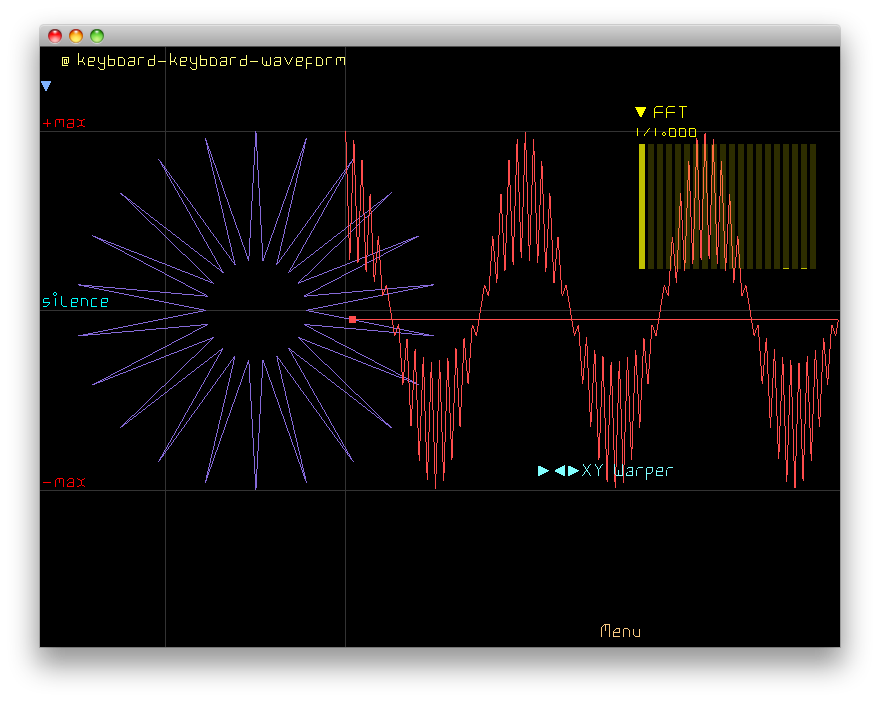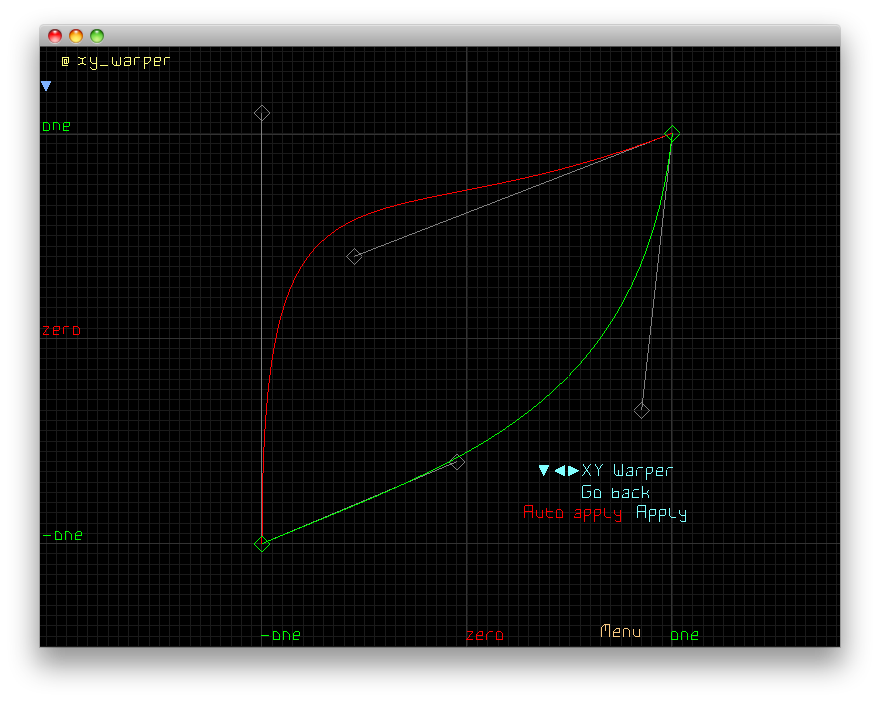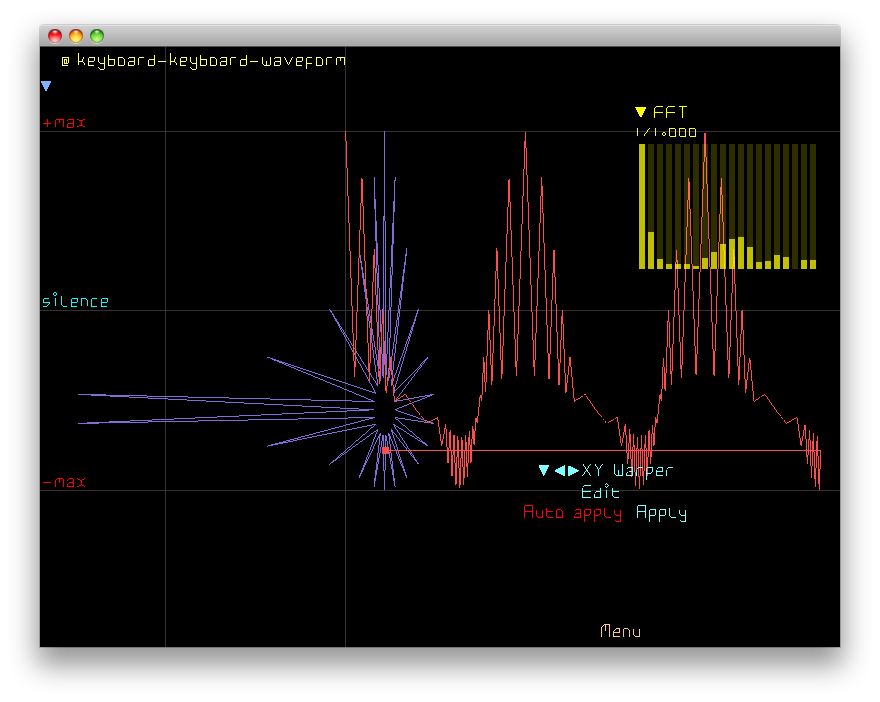 Lissajous Curve
Using the plugin Lissajous, you can turn Lissajous curves into shapeforms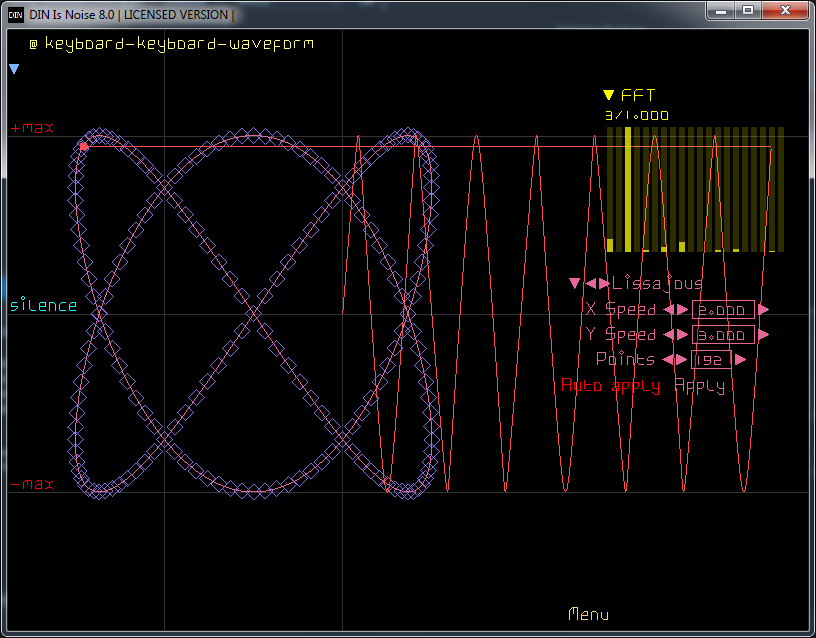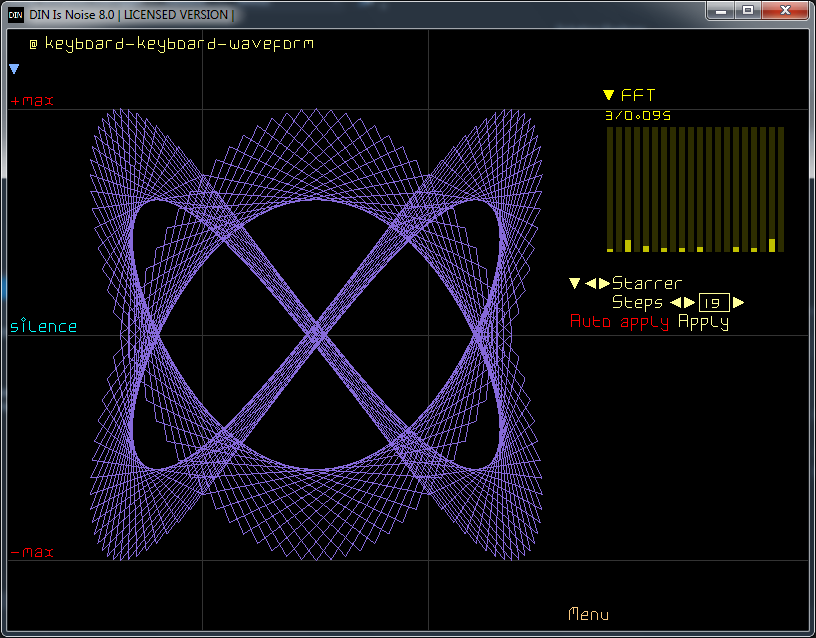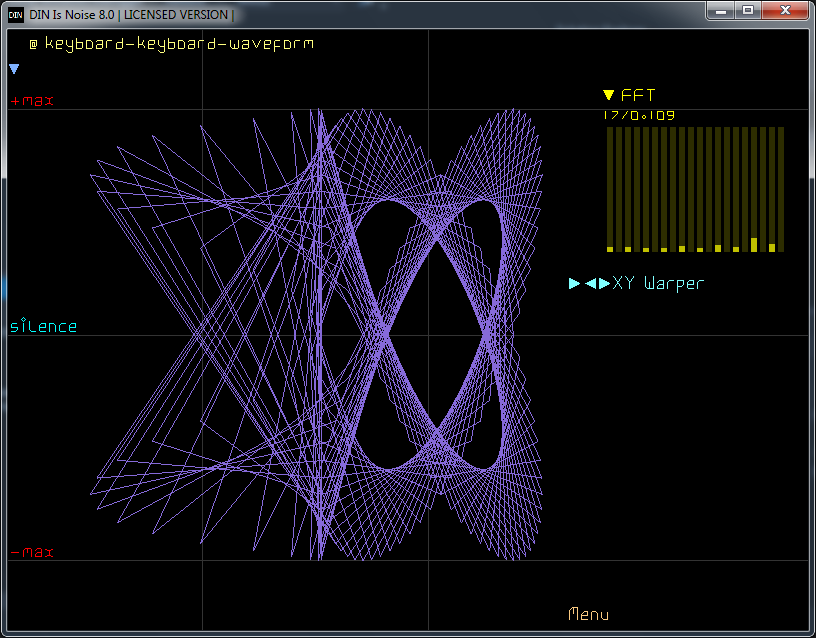 Orbiting Drones
Since DIN Is Noise 8, you can orbit a bunch of drones - the attractees - around another drone - the attractor. You can change their speed and acceleration. Move the attractor and the attractees home in.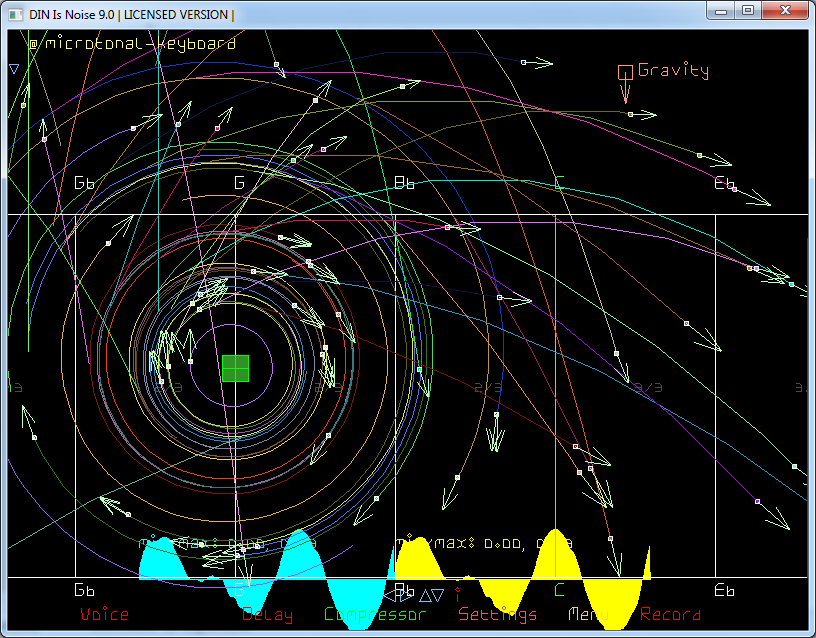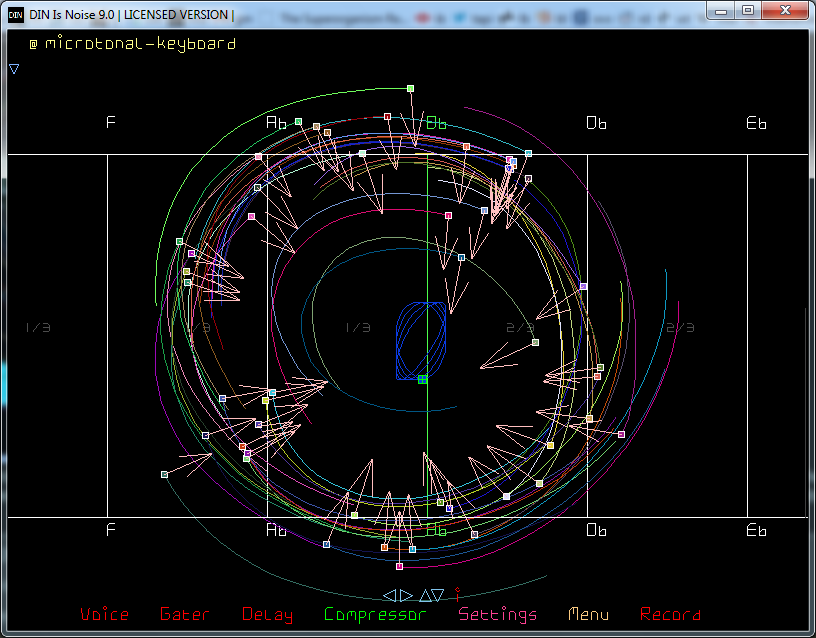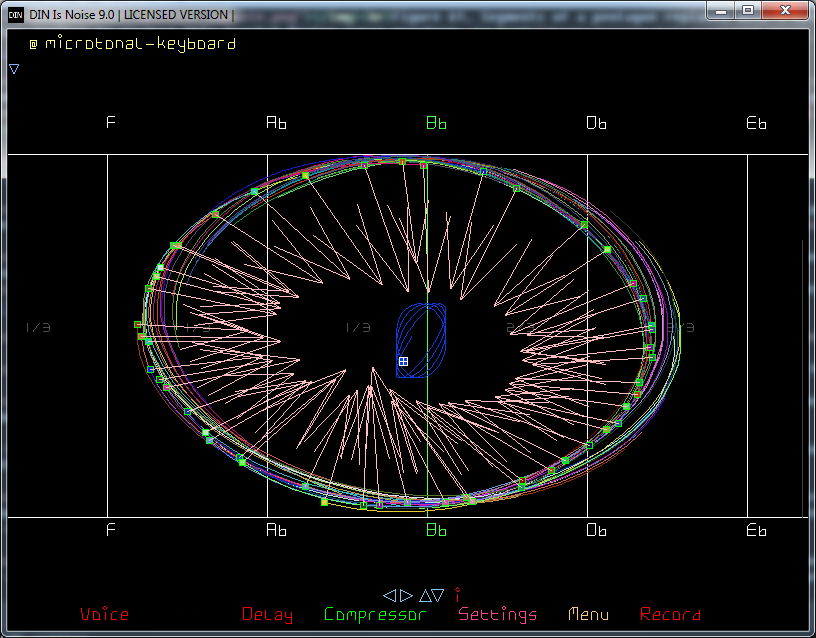 Drone launchers & gravity driven drones
Since DIN Is Noise 8.5, you can automatically launch drones from other drones along any direction. These drones are accelerated along gravity you can edit live. When they reach the bottom of the microtonal-keyboard they disappear.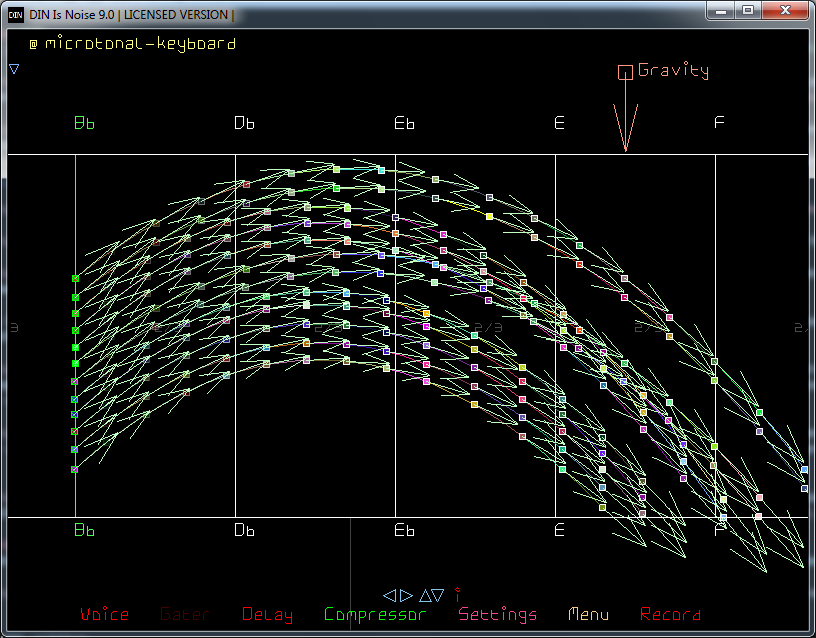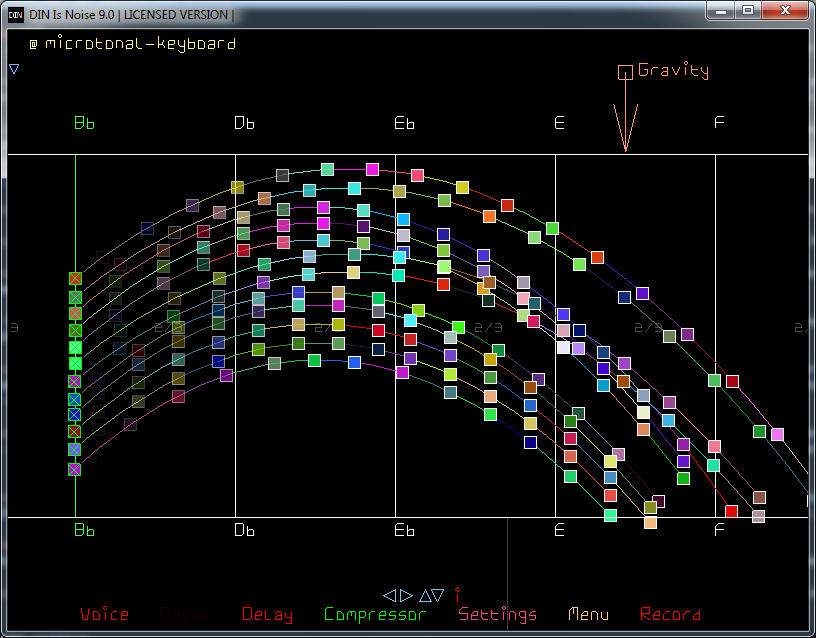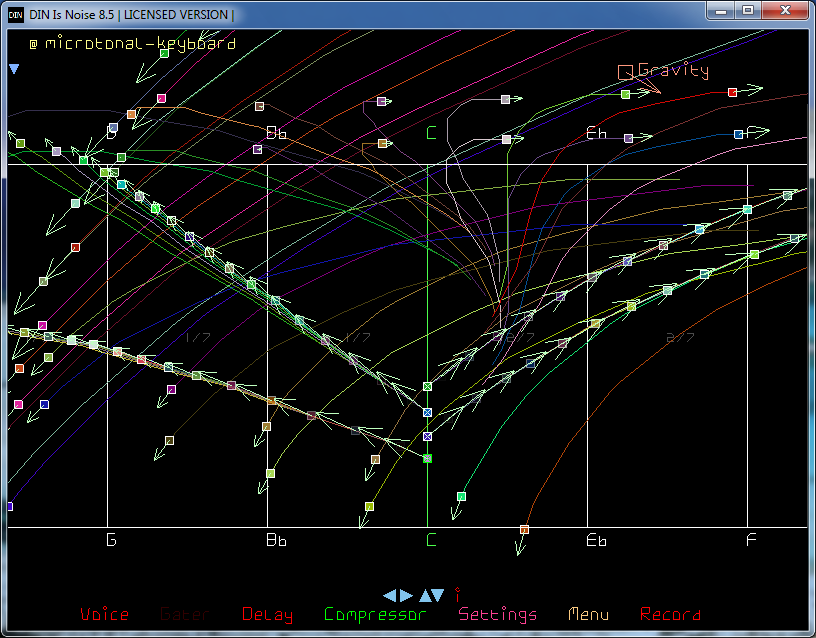 Drone Meshes
From DIN Is Noise 9, you can create a mesh of drones. A 2x2 mesh has 2 rows and 2 columns with 4 drones situated at its points, a 7x3 mesh has 7 rows and 3 columns with 21 drones and so on. The mesh doesnt influence the sound, it only aids in the visualisation of drone movements.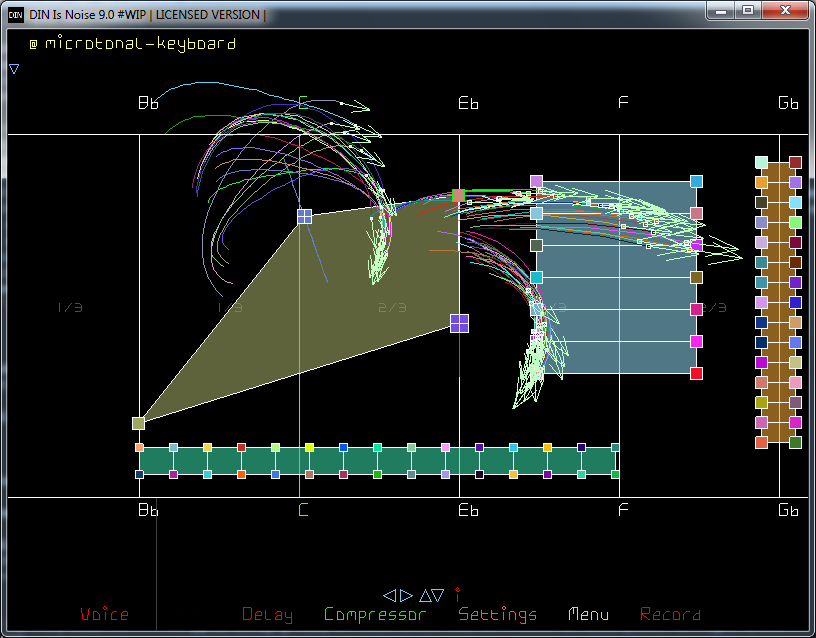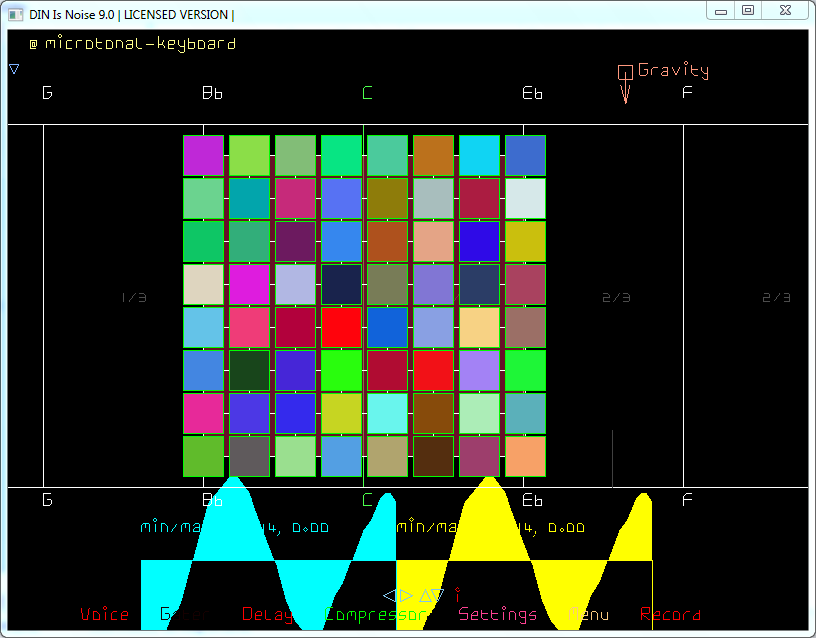 Countries > Waveform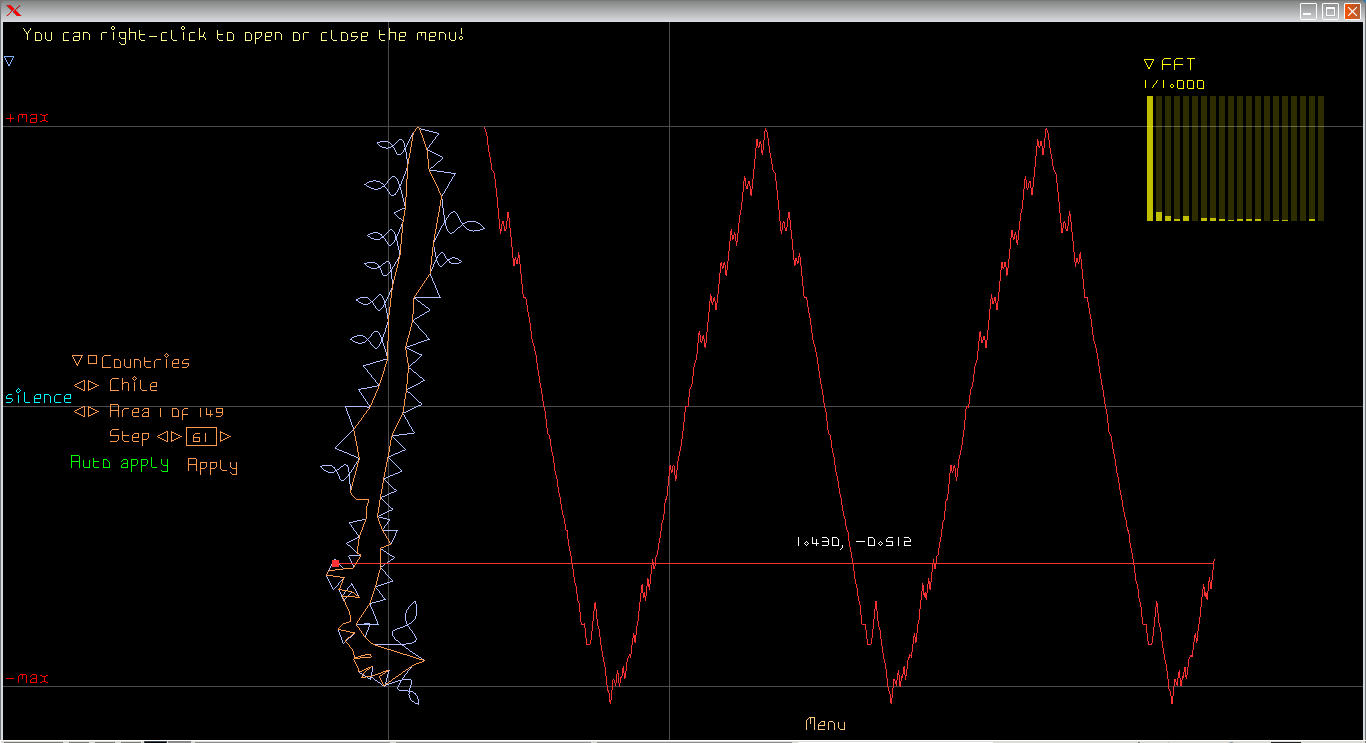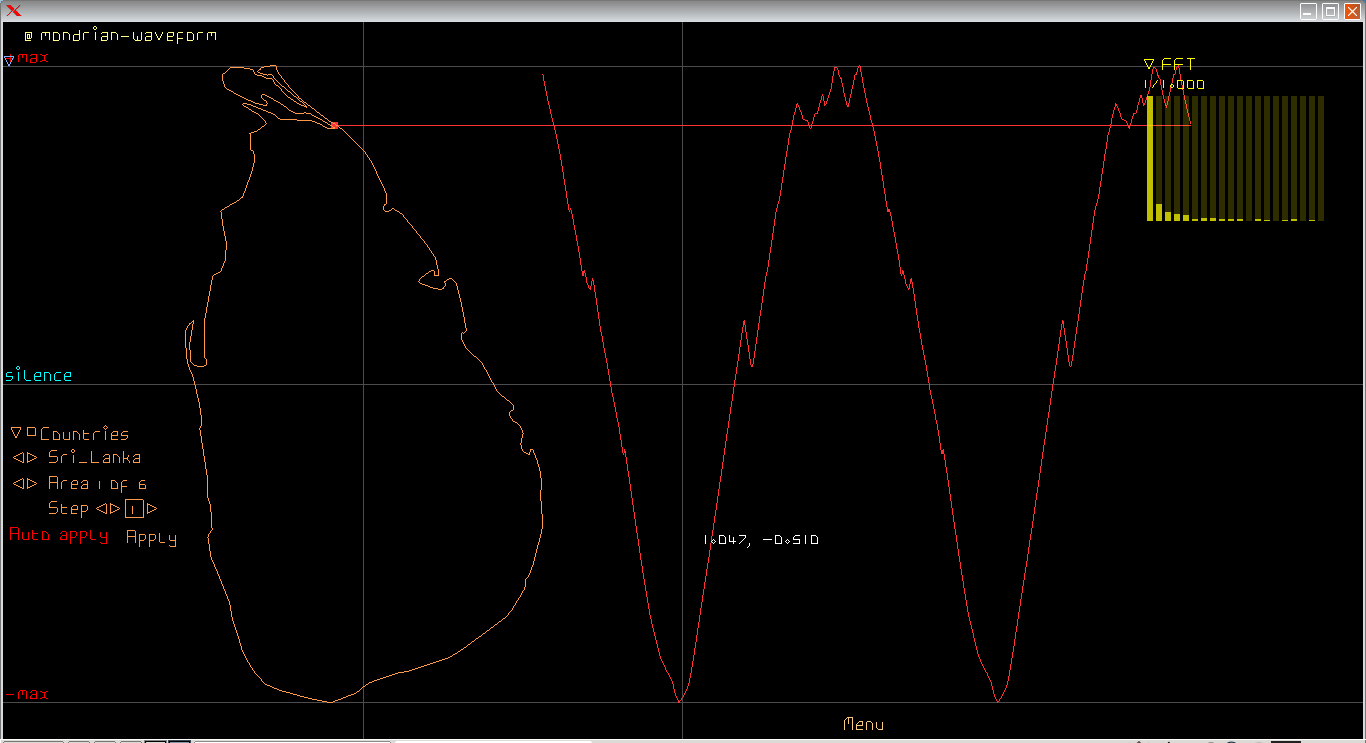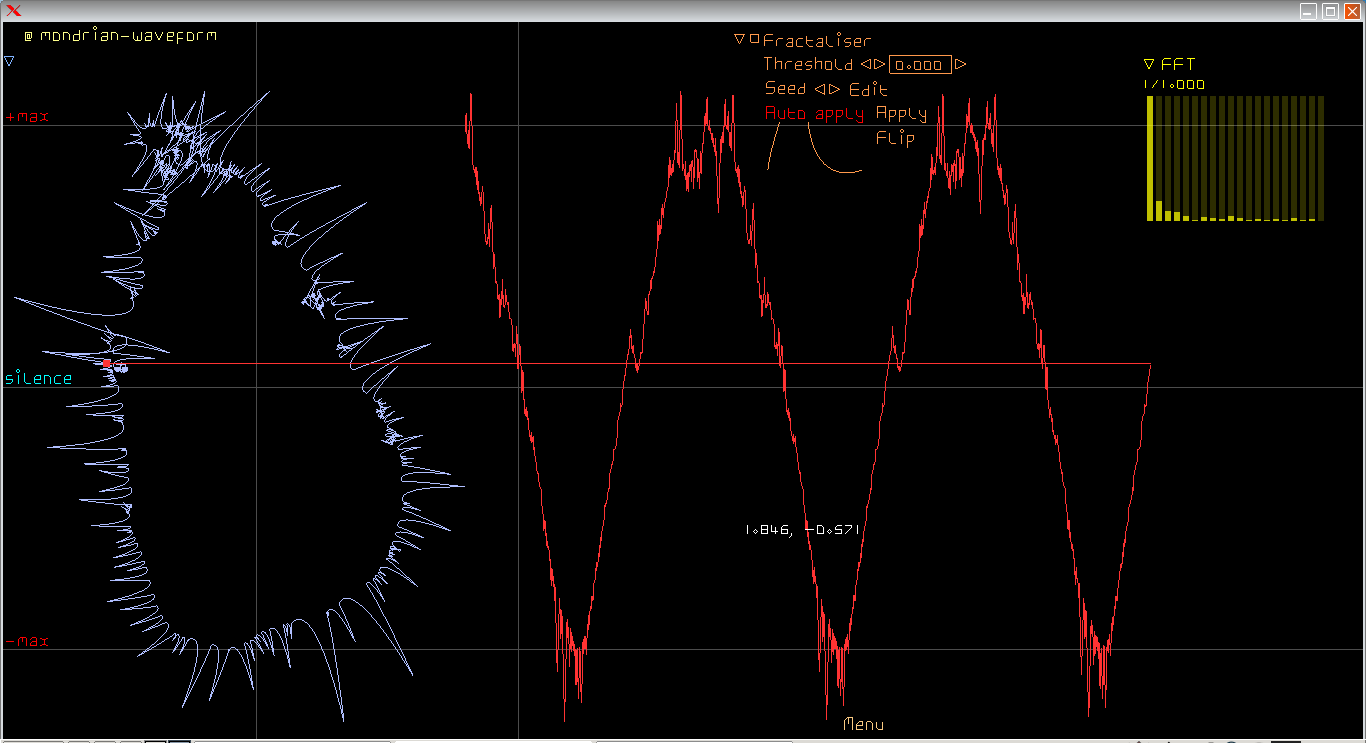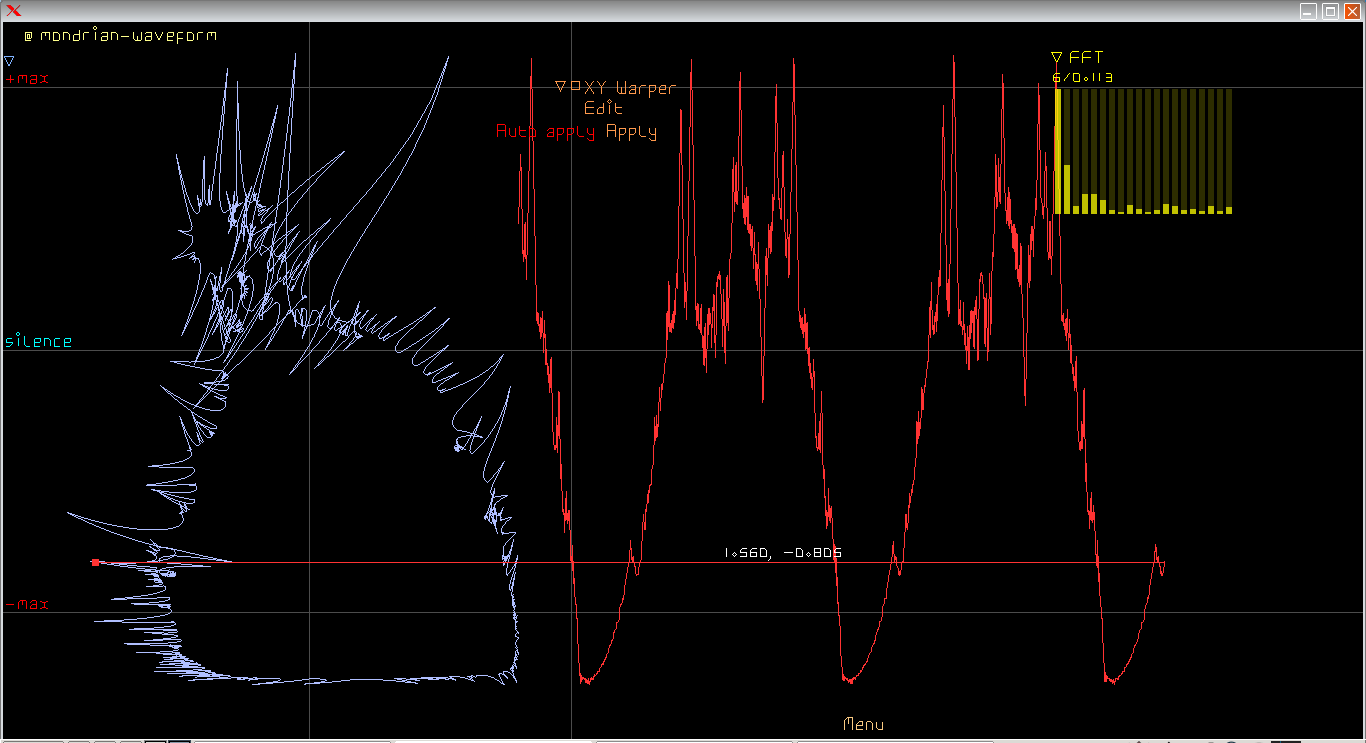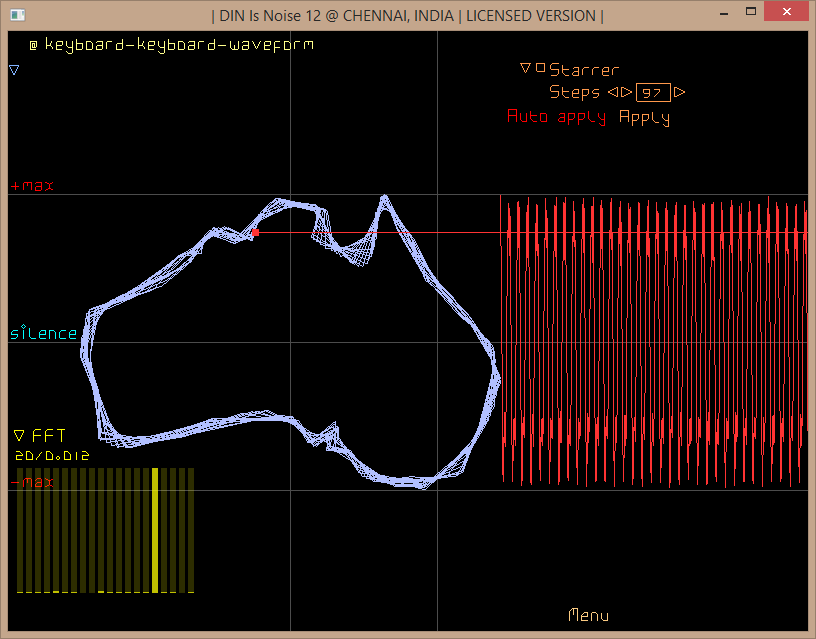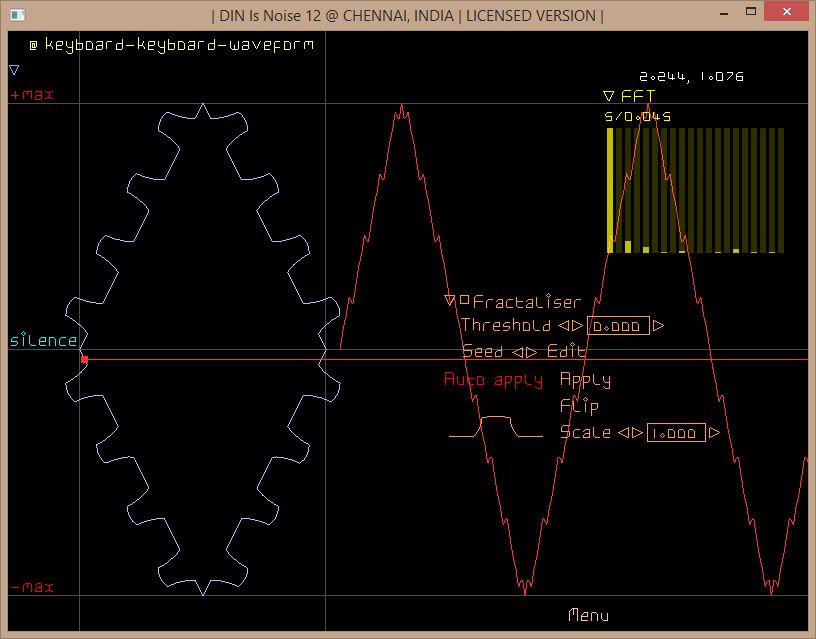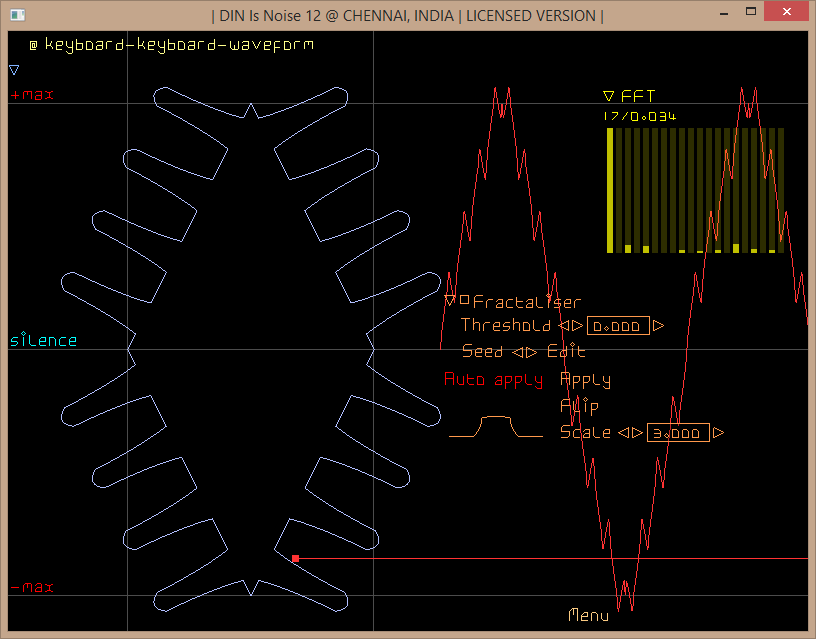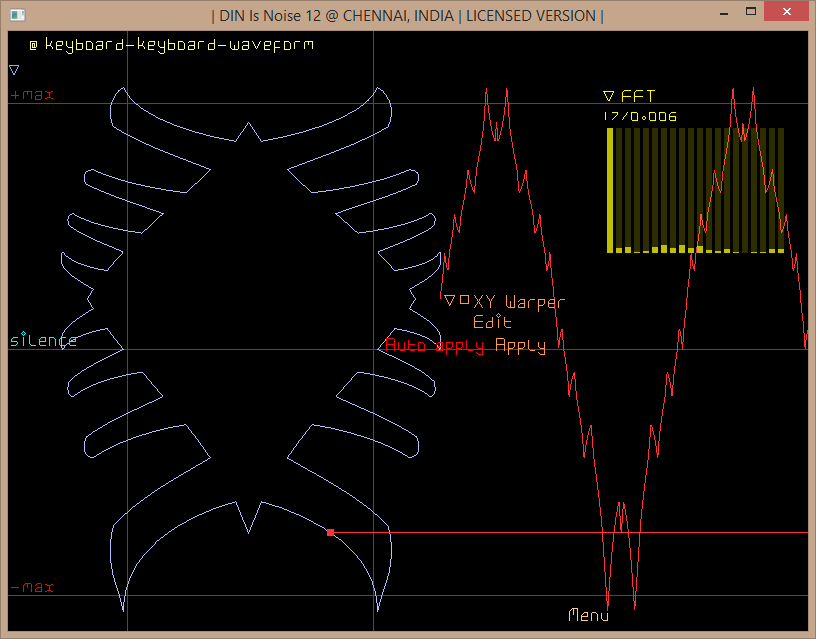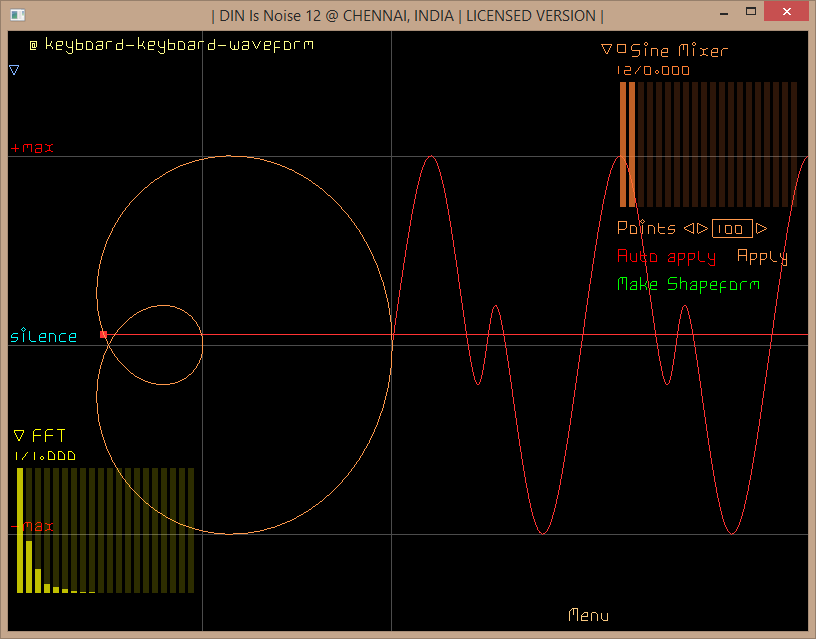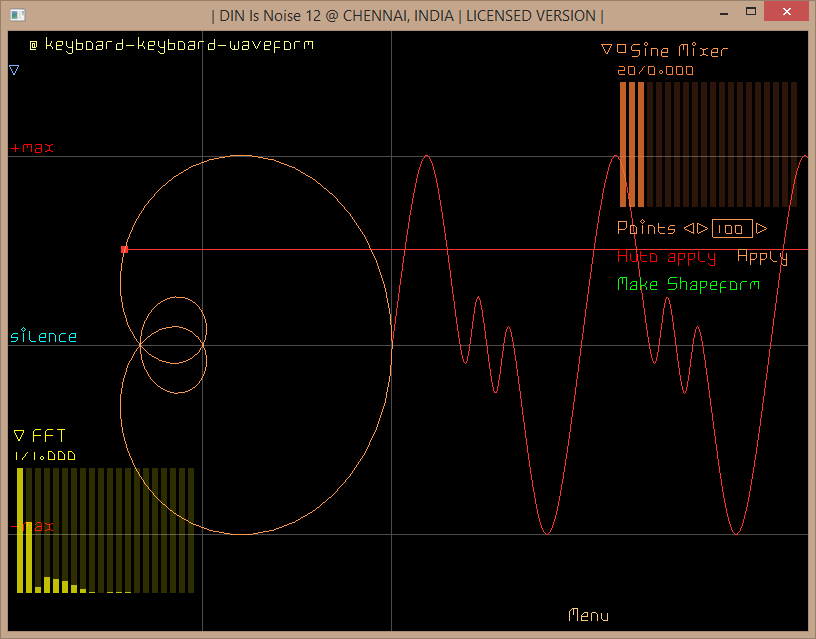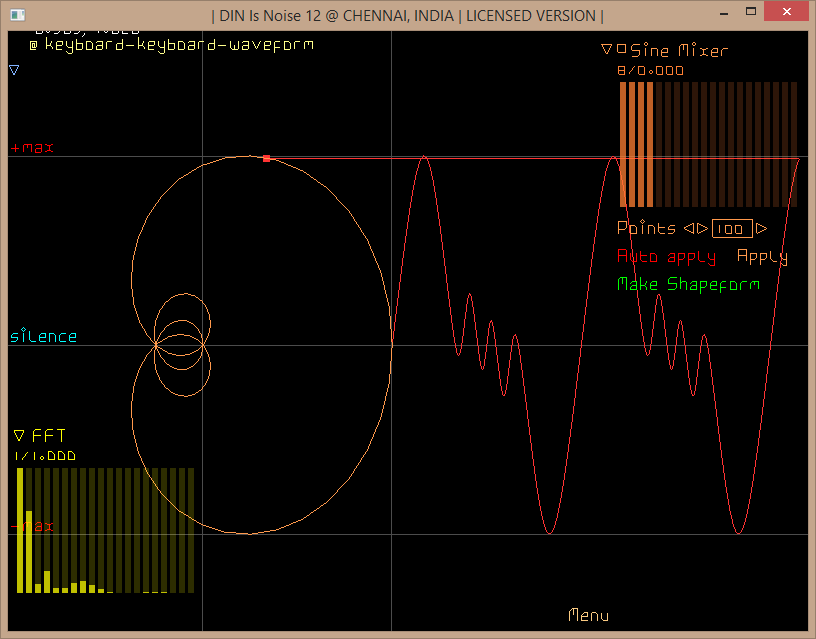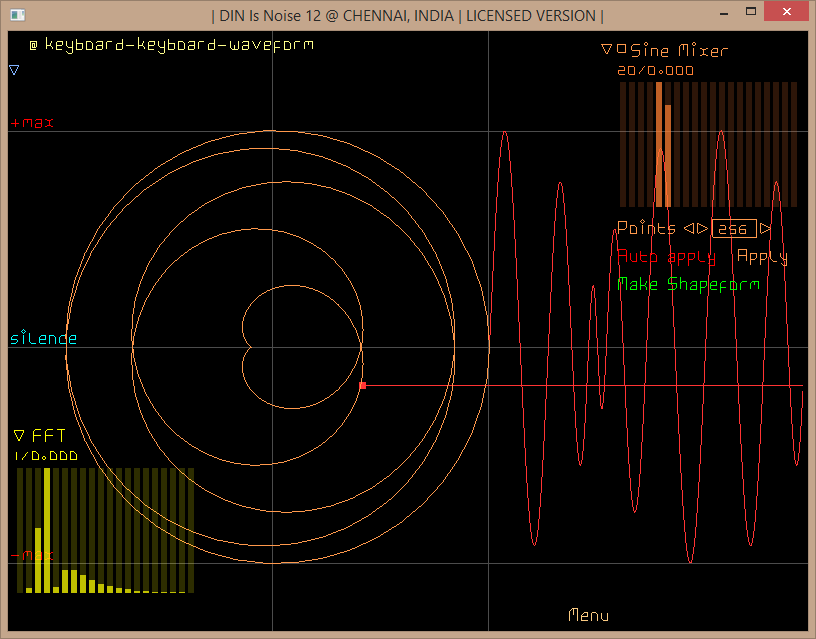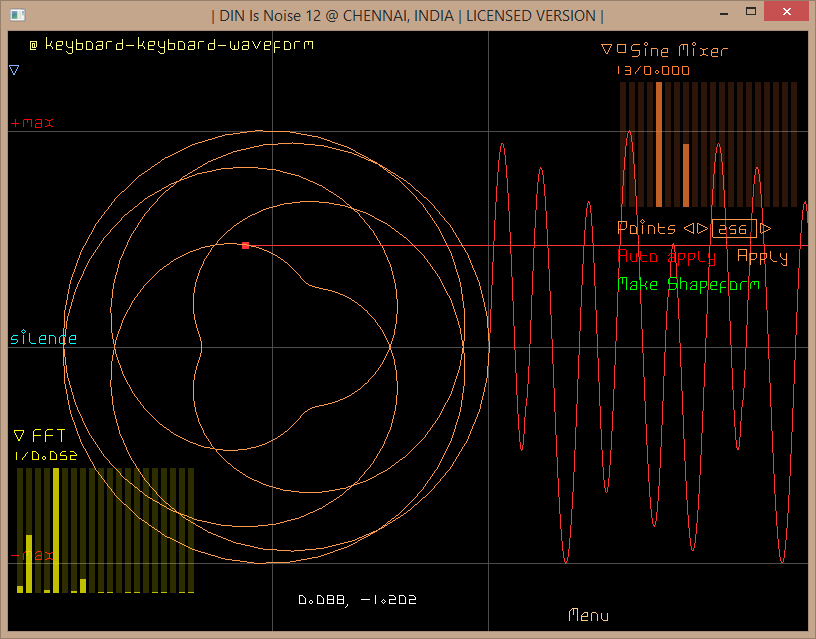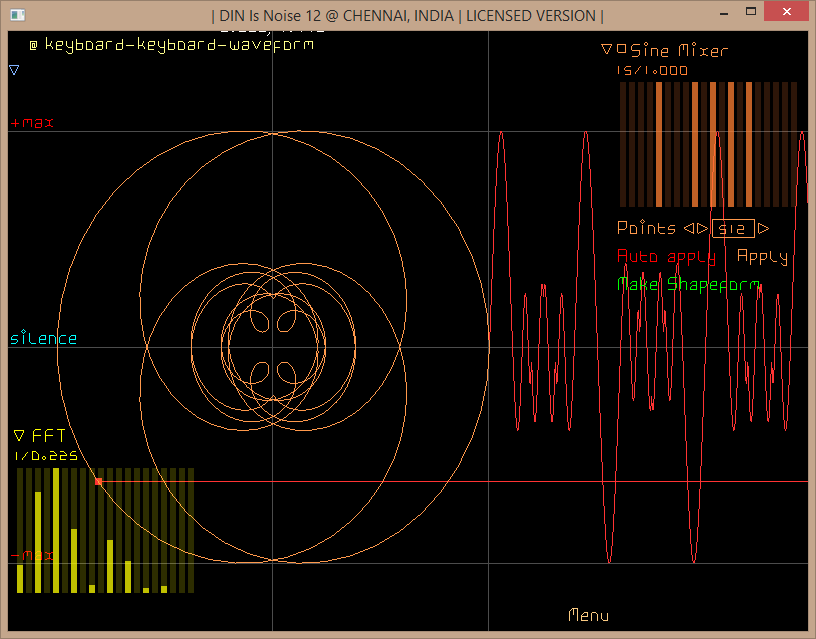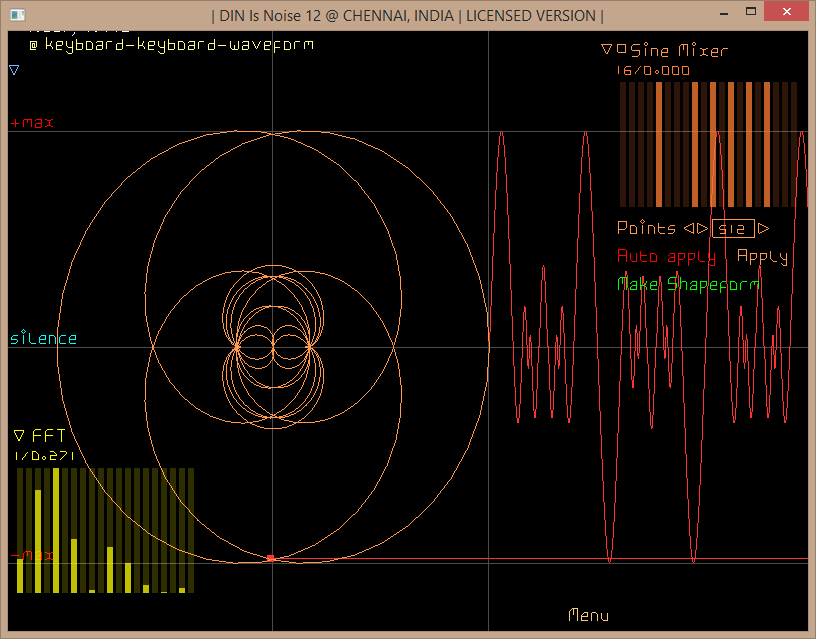 Morphing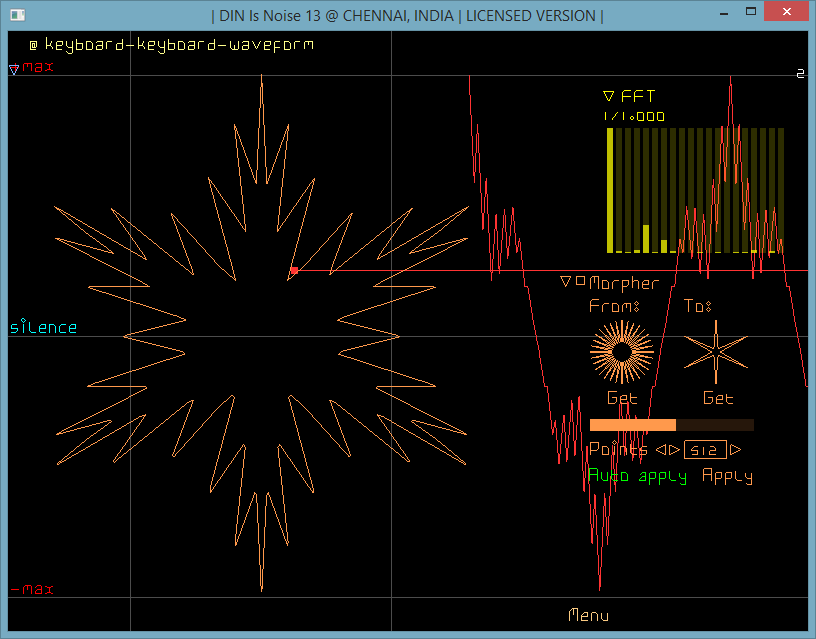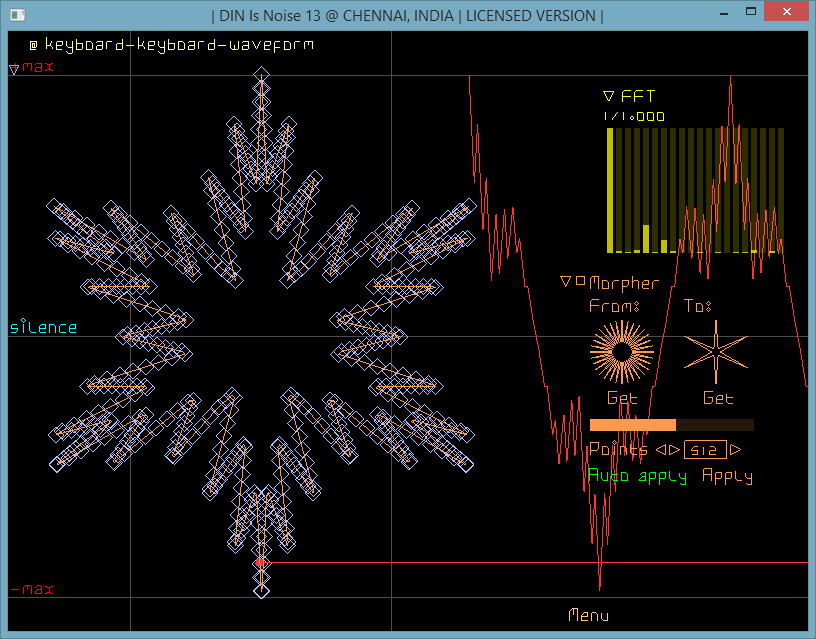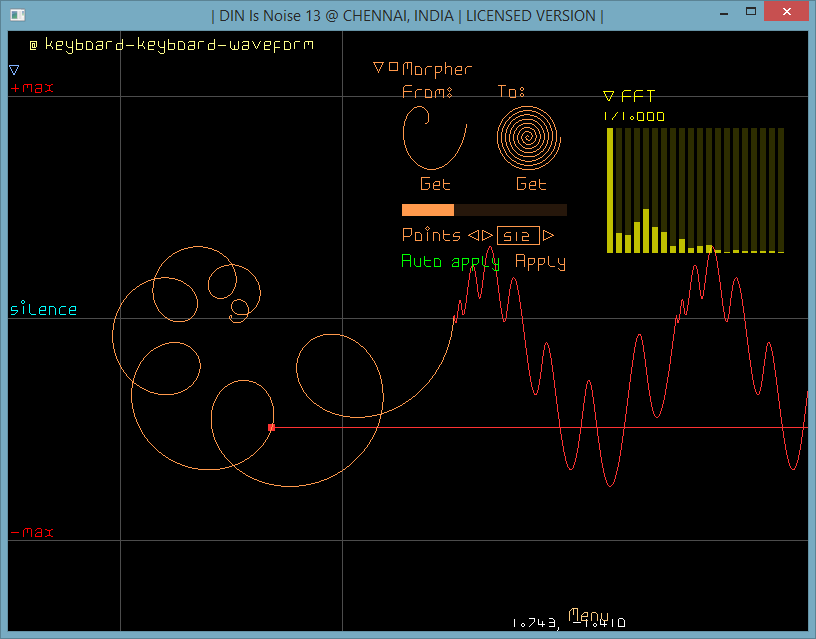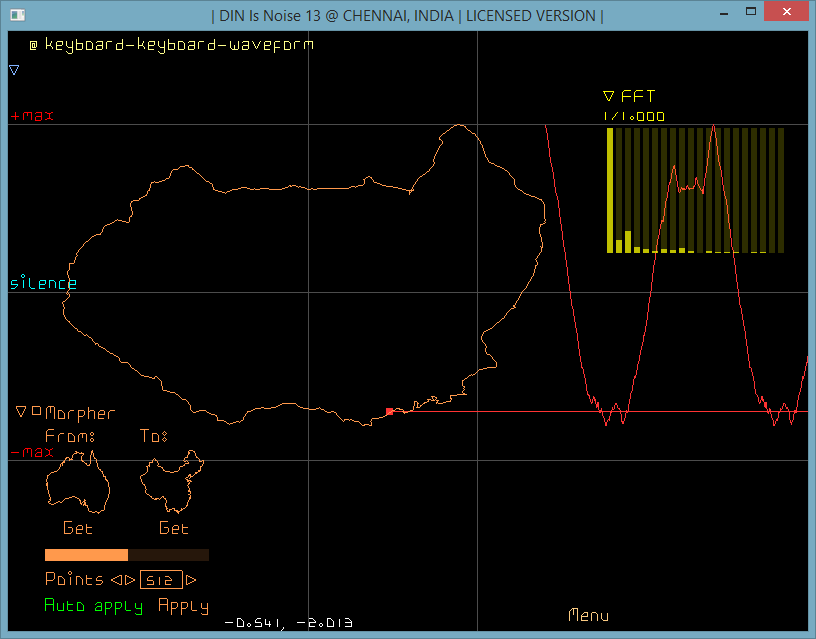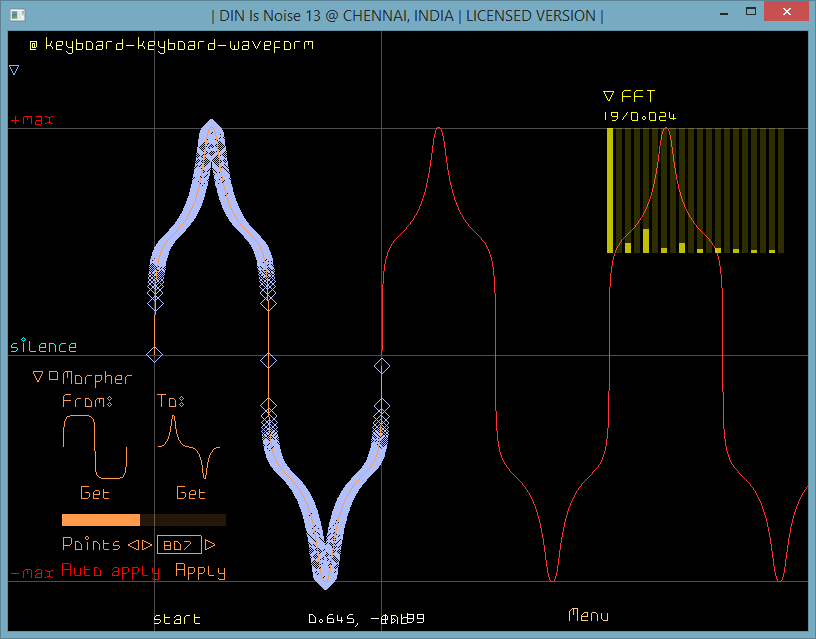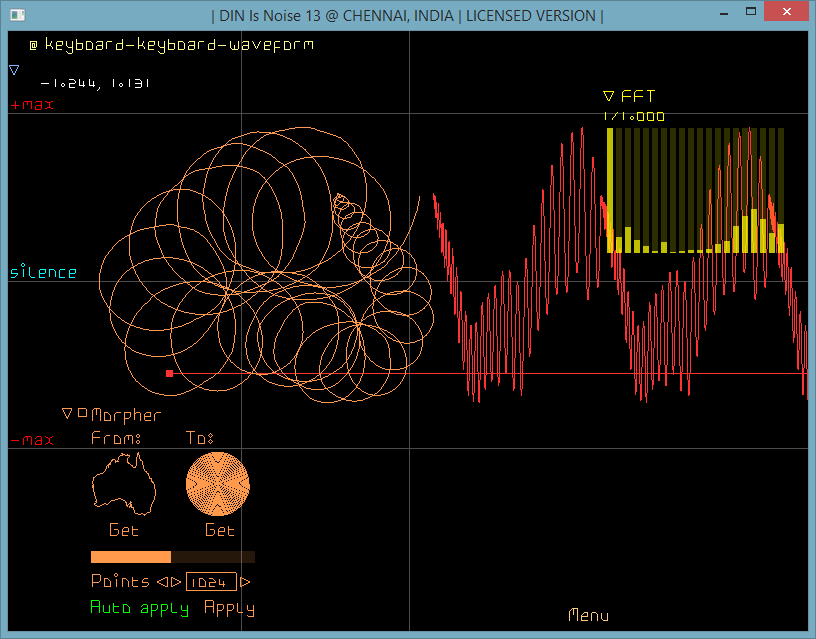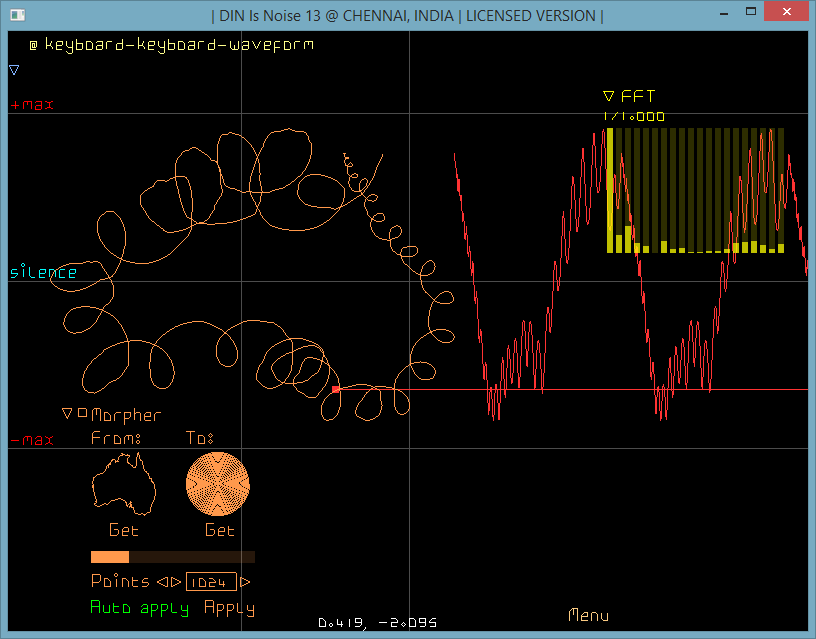 Numbers to Waveforms, Shapeforms, Envelopes and Modulation patterns!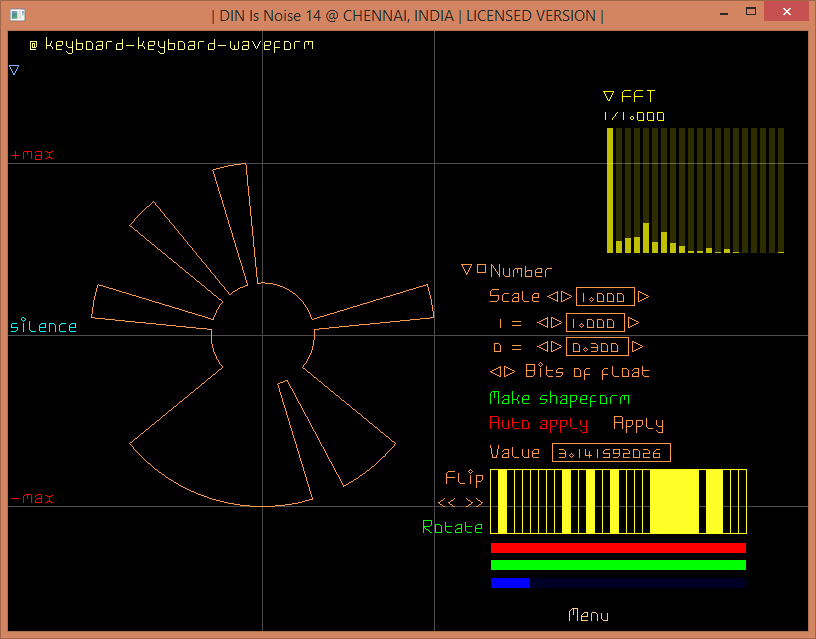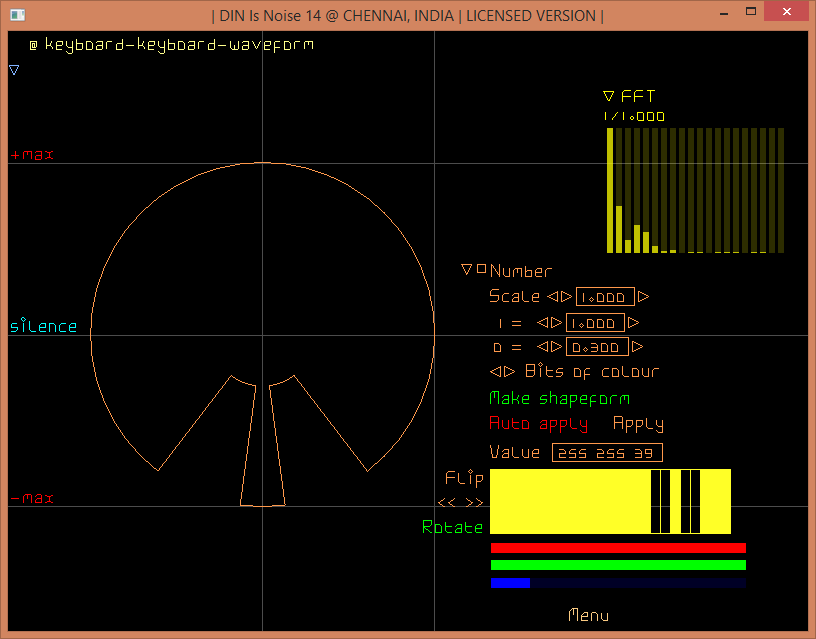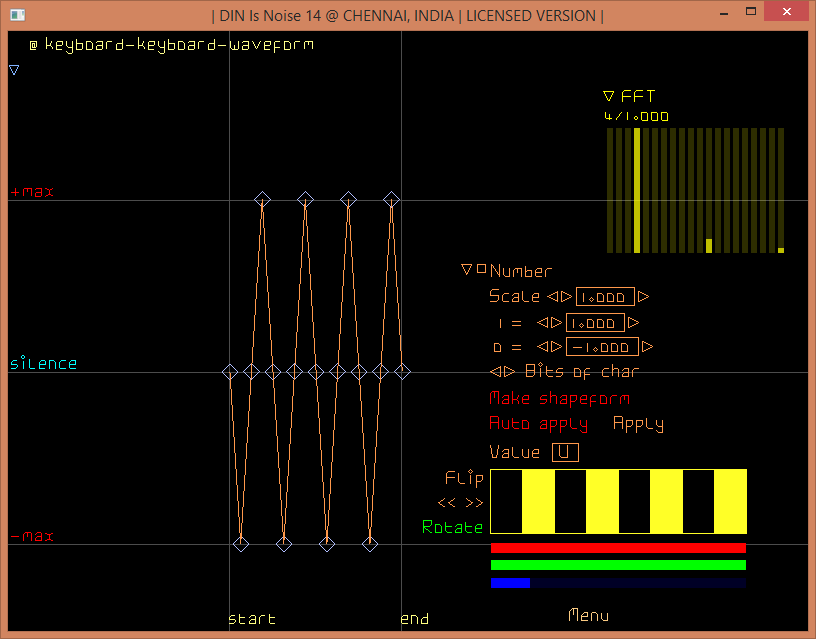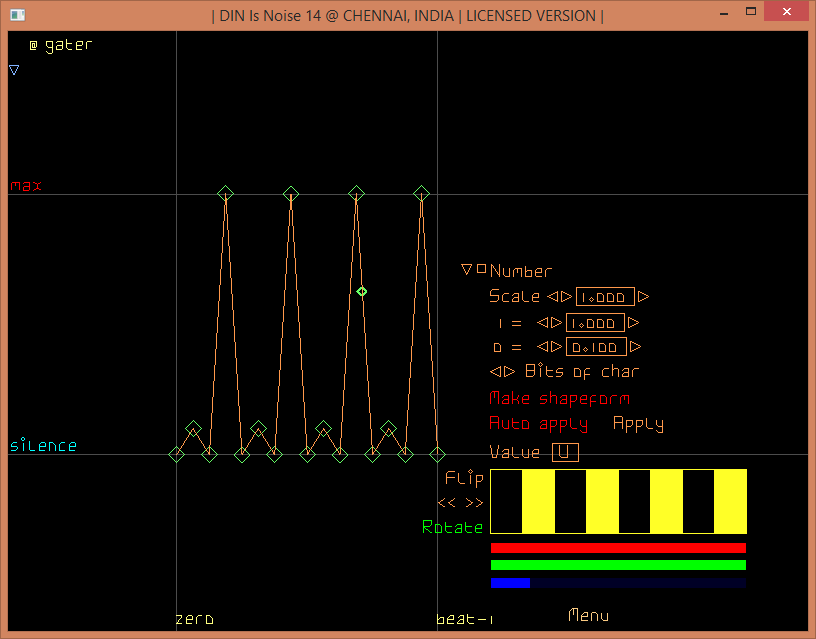 Inserting drones into orbit.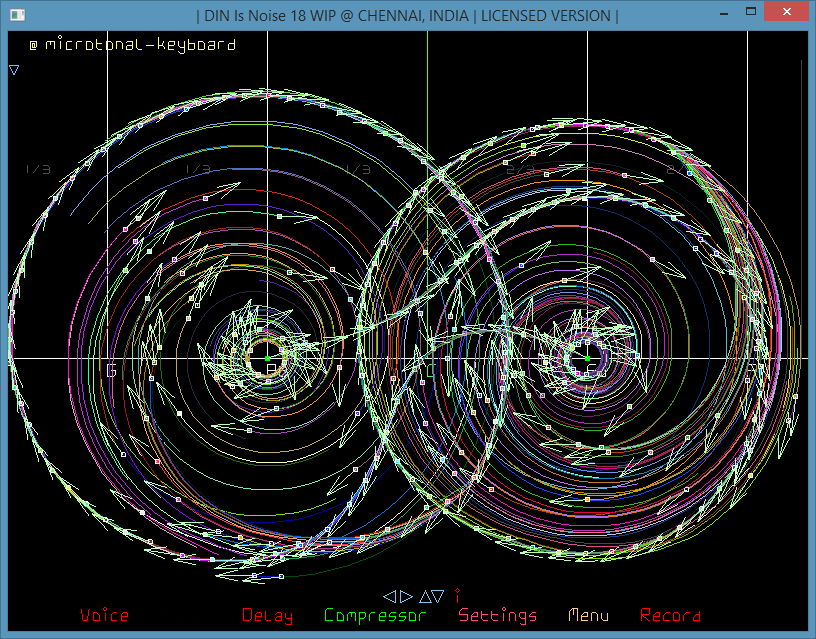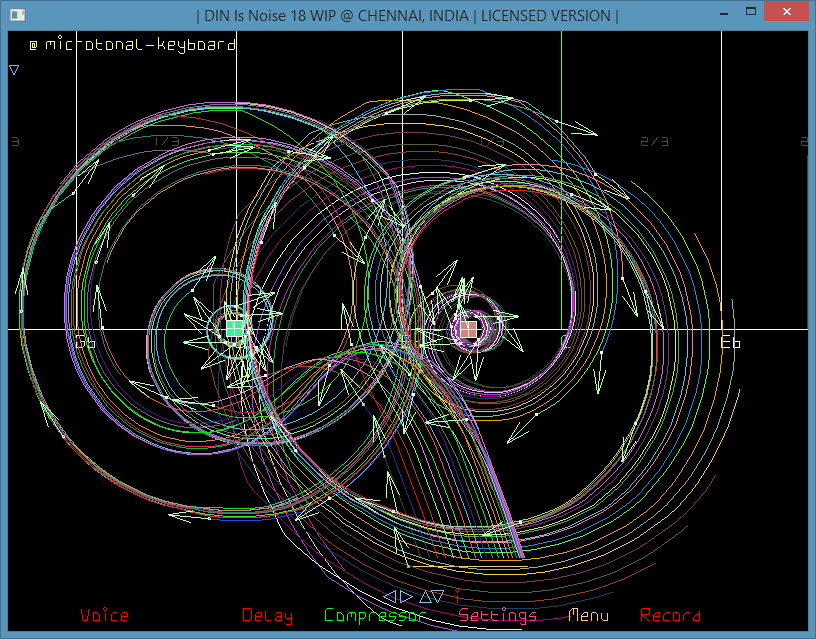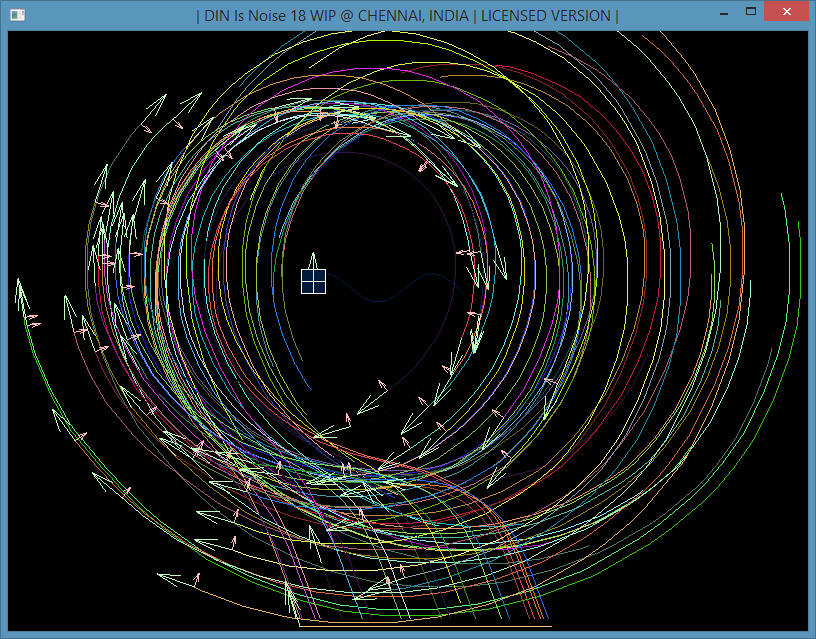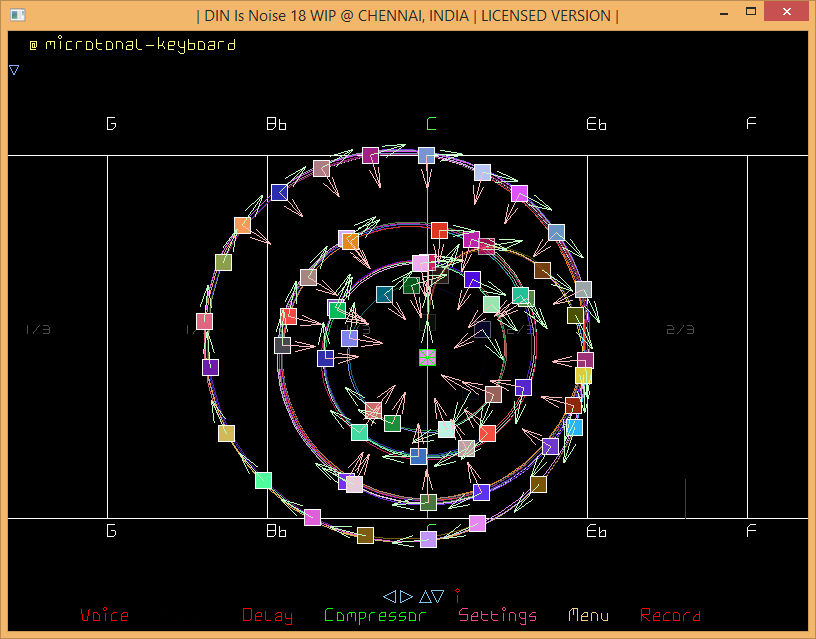 Mondrian
Mondrian is an instrument in DIN Is Noise inspired by the works of Dutch artist Piet Mondrian. A box on the screen goes from tone to octave along both its width and height. You can split this box vertically or horizontally to create two new boxes. You can keep on going and make a Mondrian like painting. You can also bounce a ball inside one of these boxes and when it hits a wall or a ceiling sounds a note [or a microtone depending on where it hit]. You can bounce more balls, in different boxes, speed them up or slow them down, move them from one box to another, change their course as they travel, change the attack, decay times and octaves of the notes triggered by each ball, break walls or ceilings to make slits or heal these slits as they pass thru them, the slits can open and close, the balls can also turn randomly, speed up or slow down randomly, teleport and clone. Boxes can split themselves on their own, at notes of the scale or anywhere. They can trap bouncing balls too!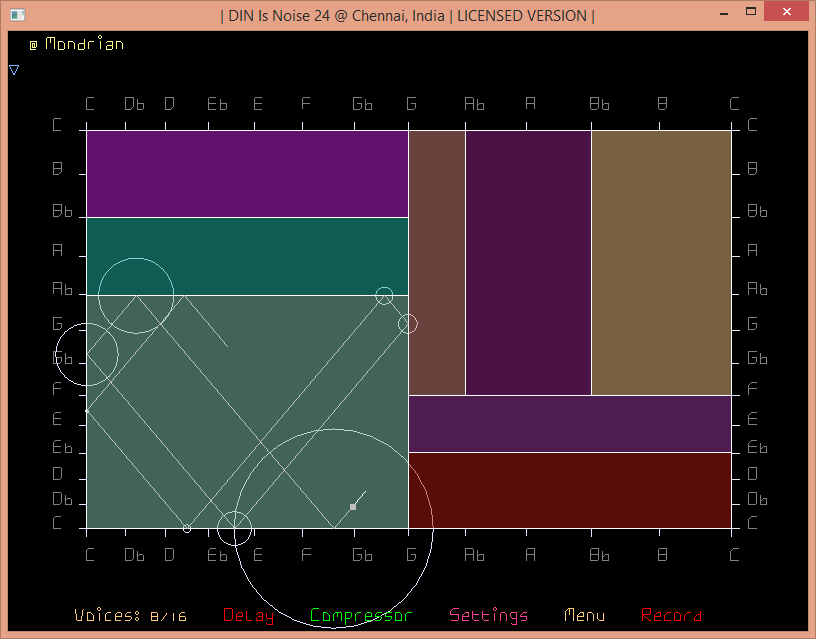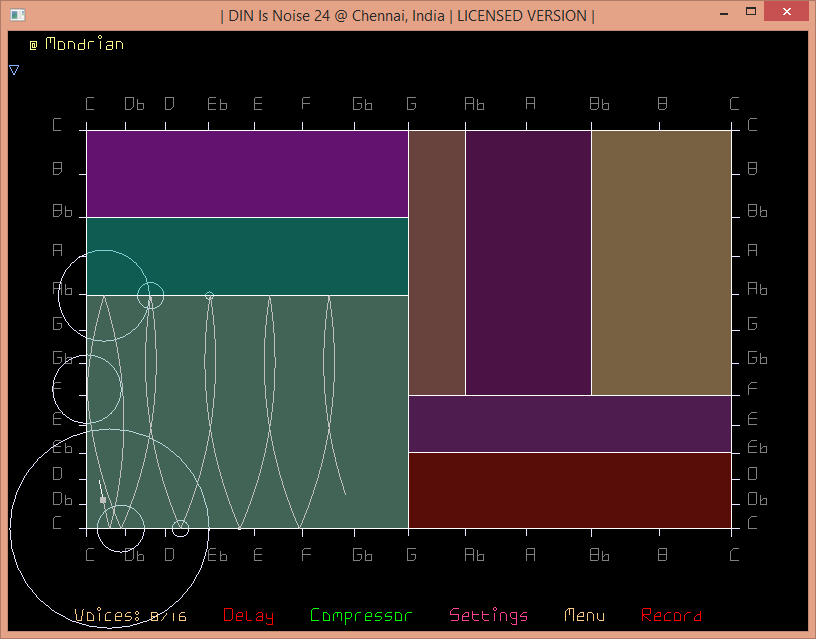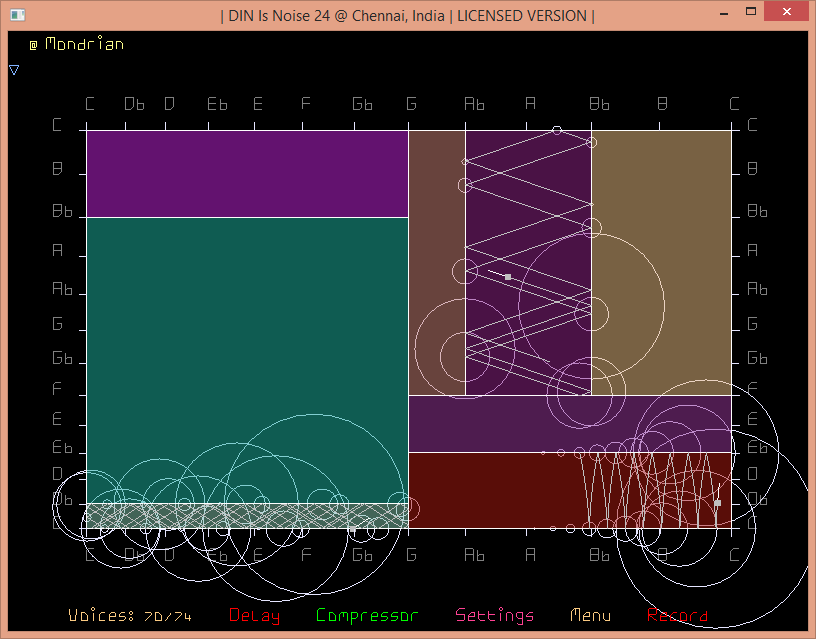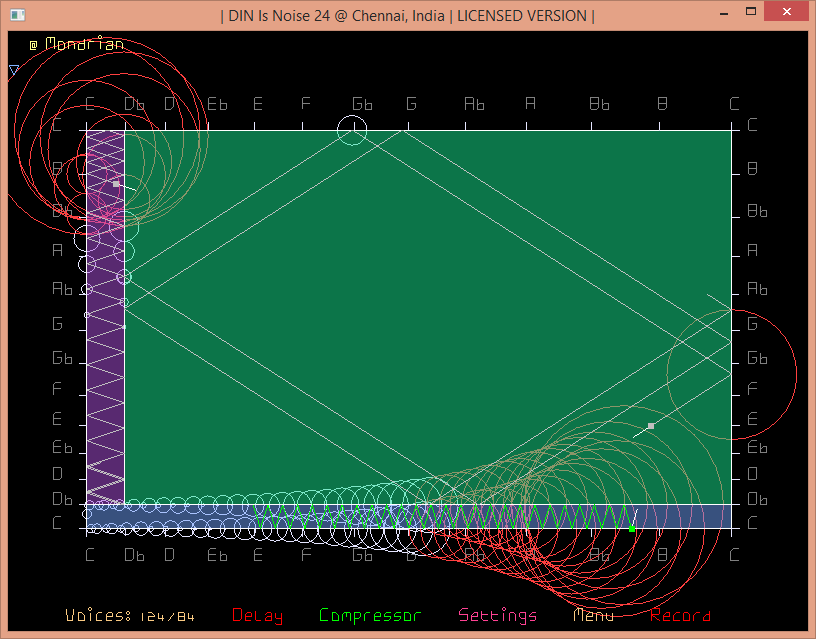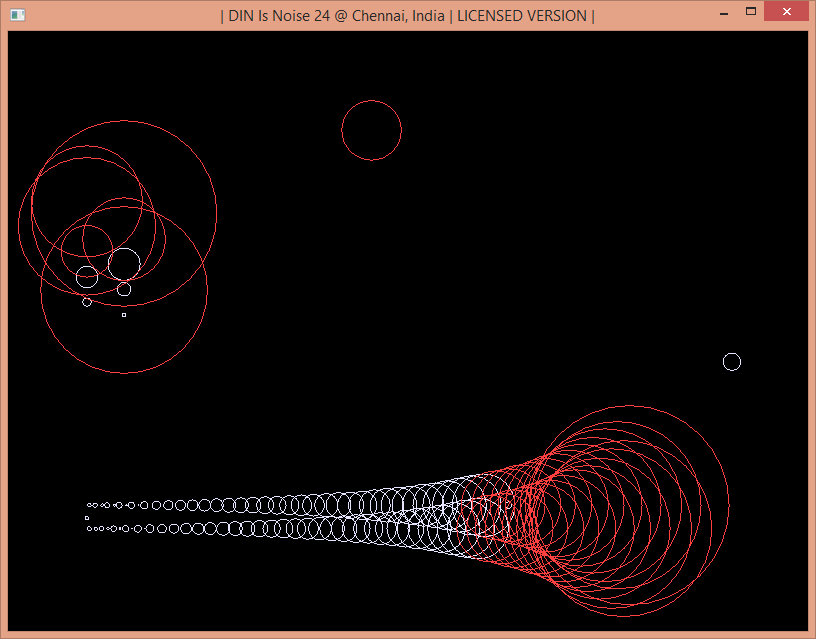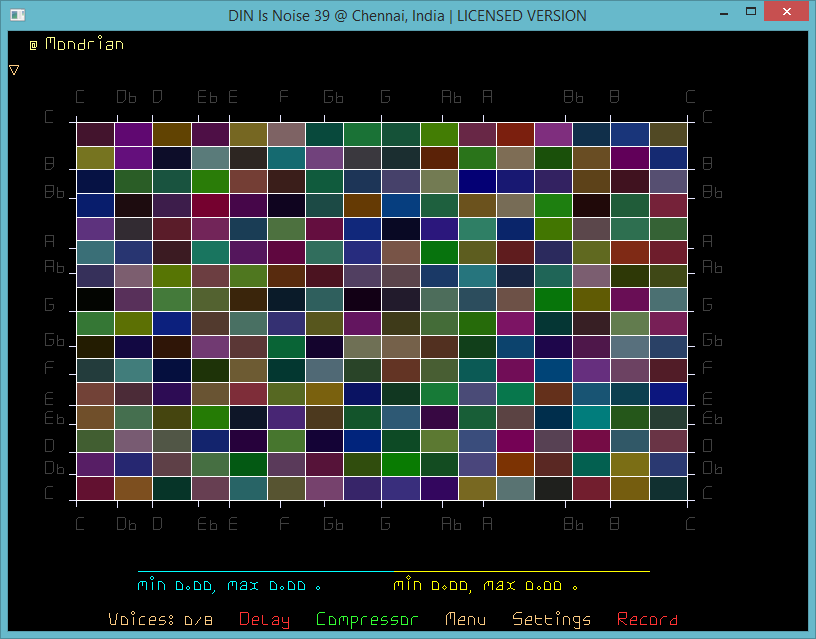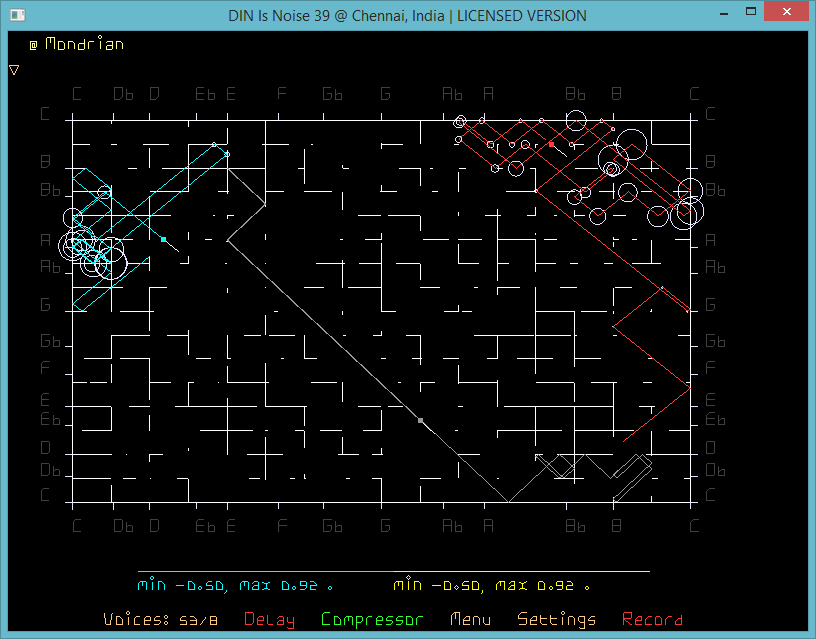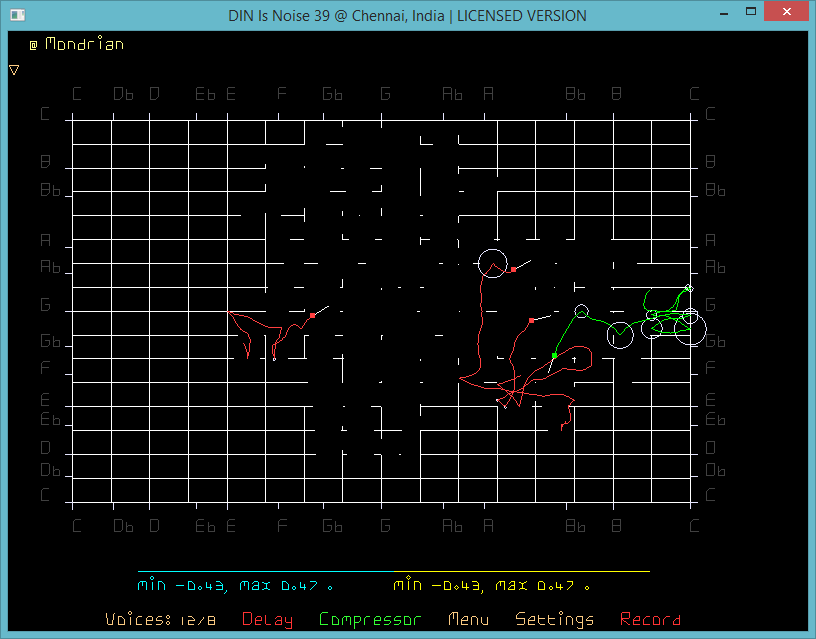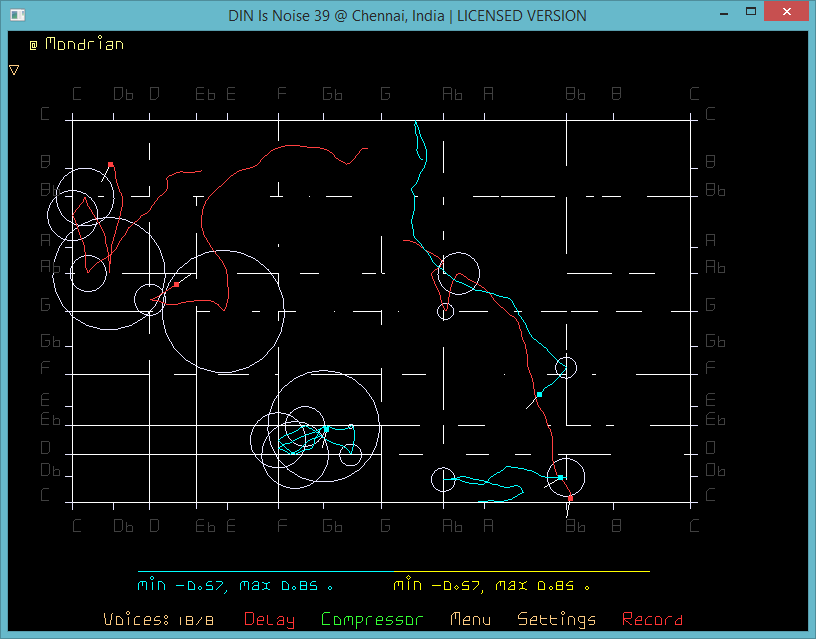 Custom sin and cos functions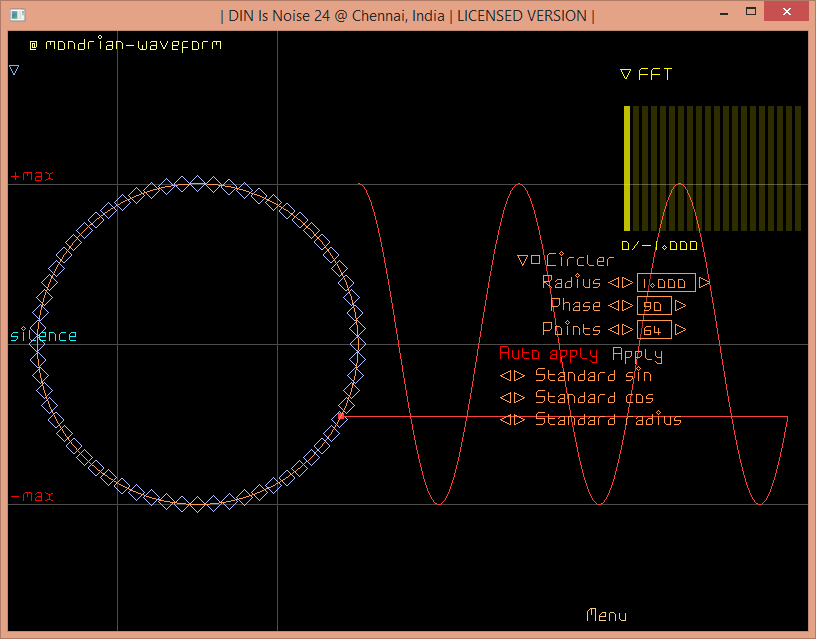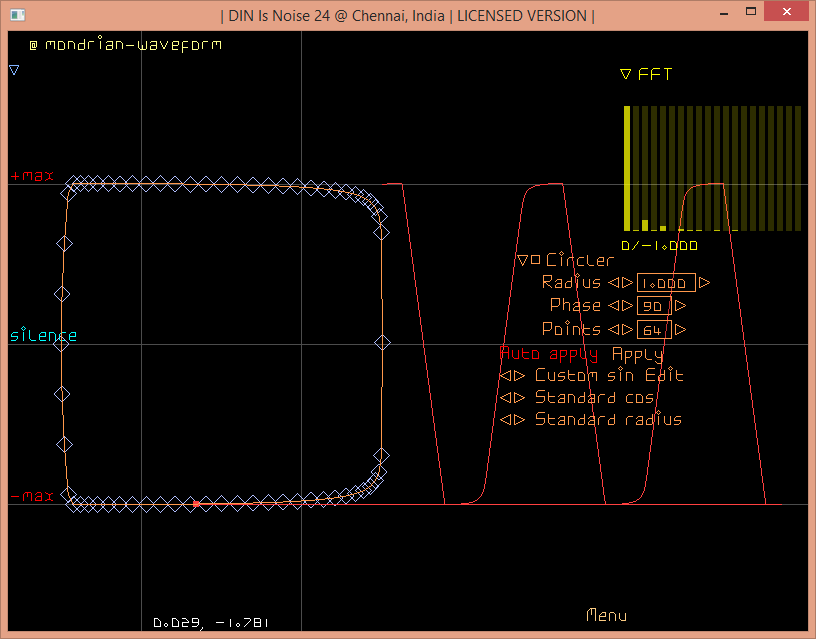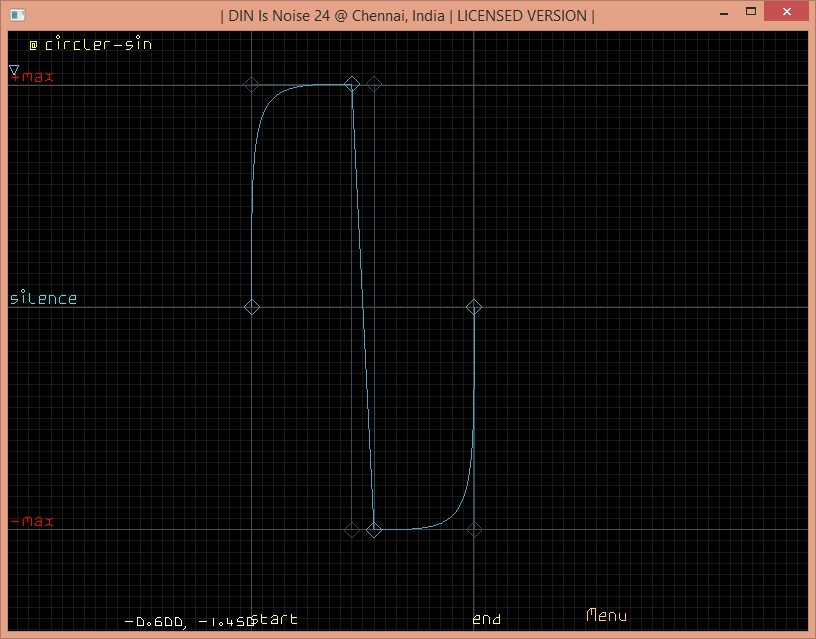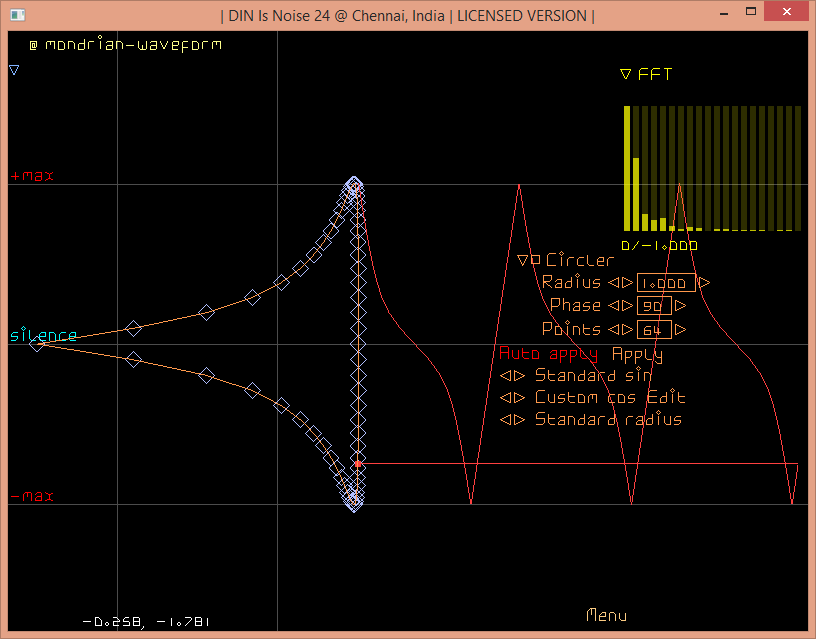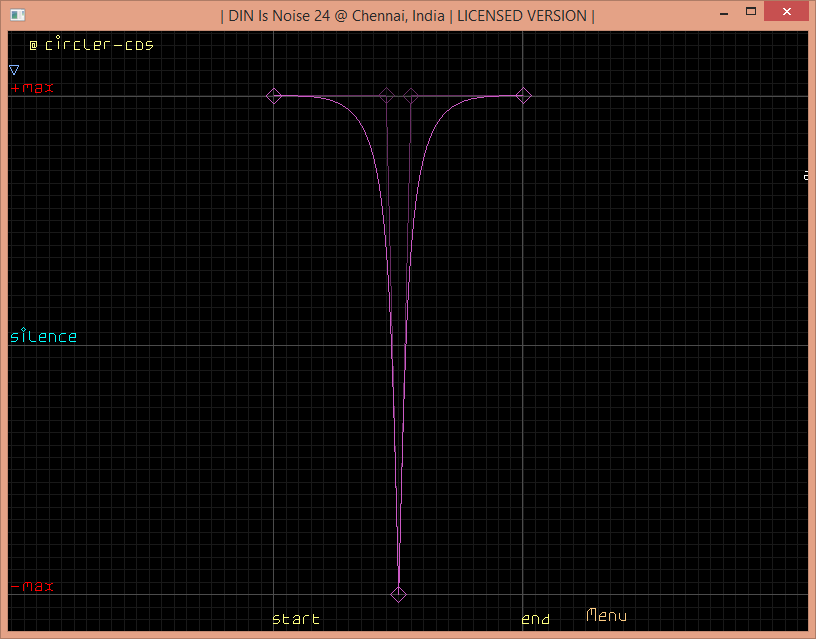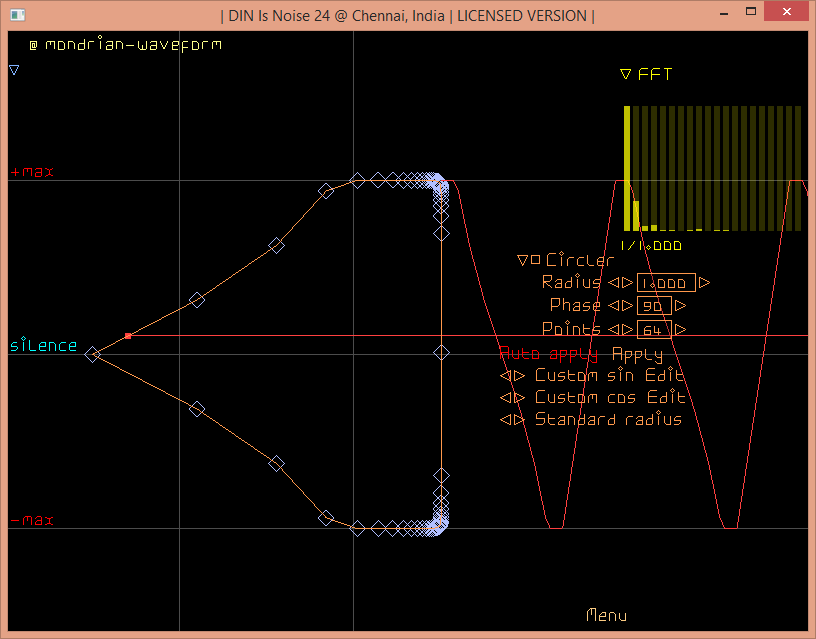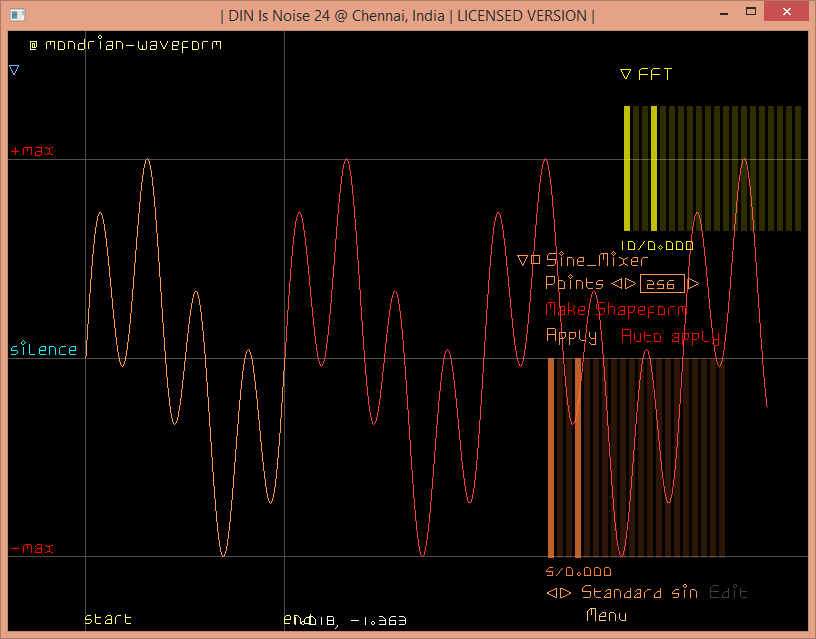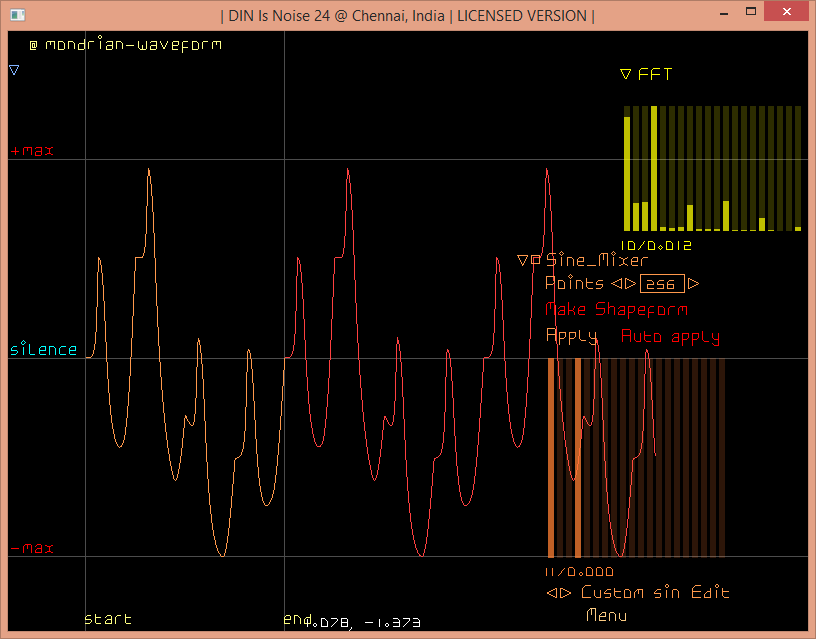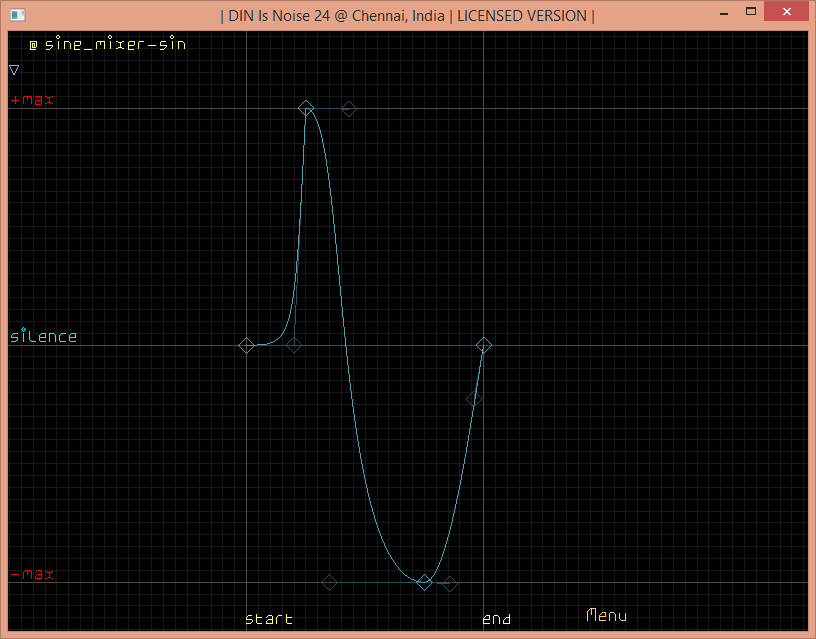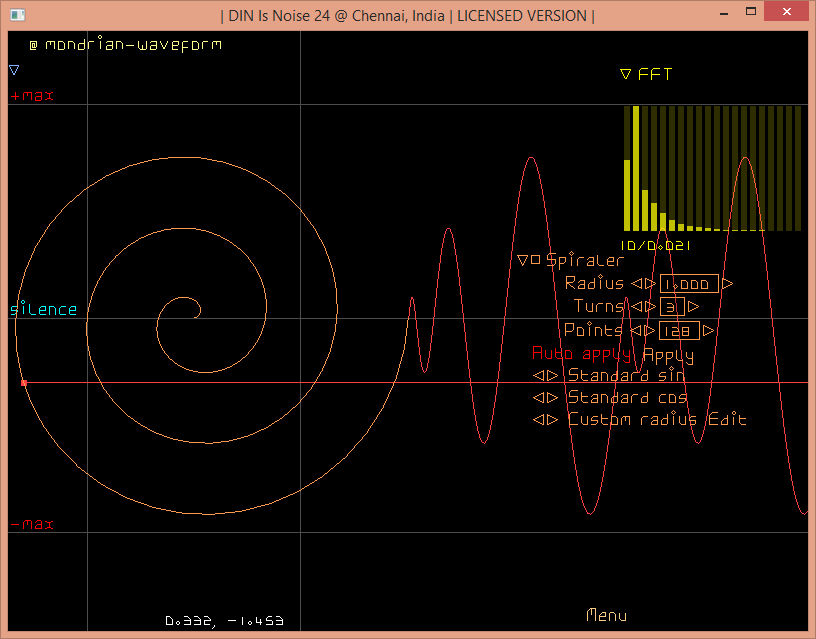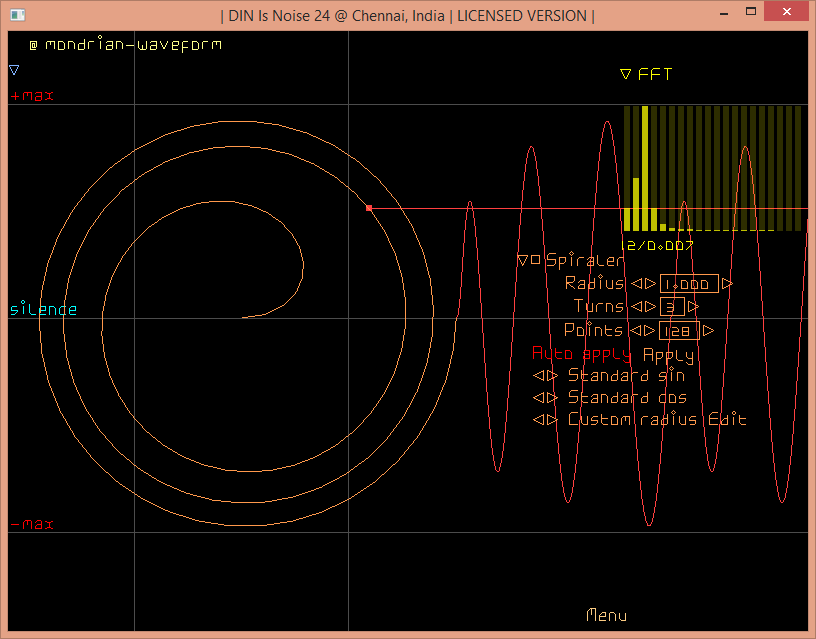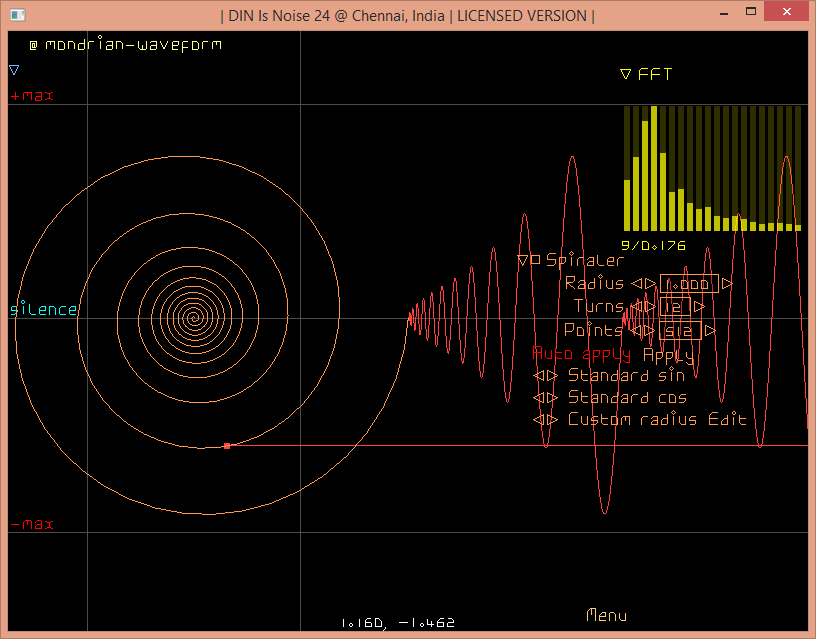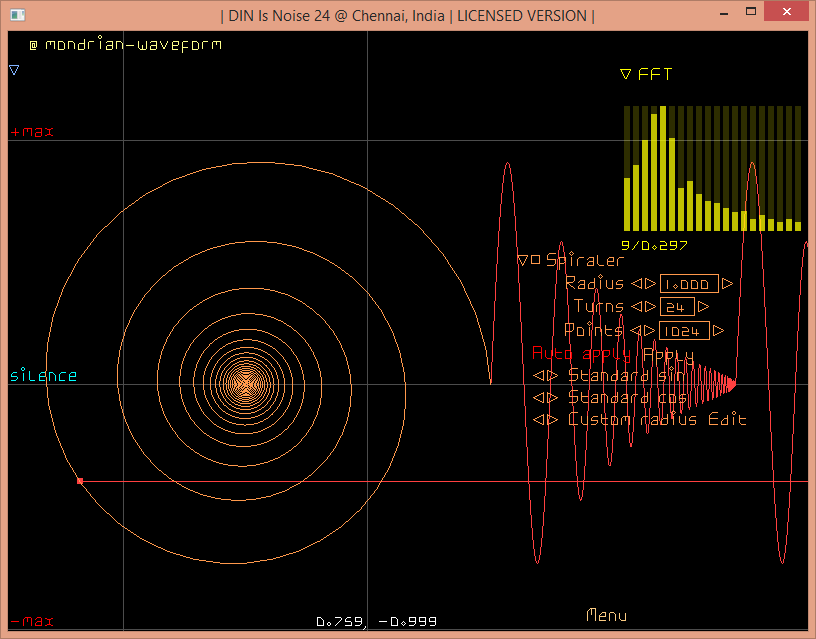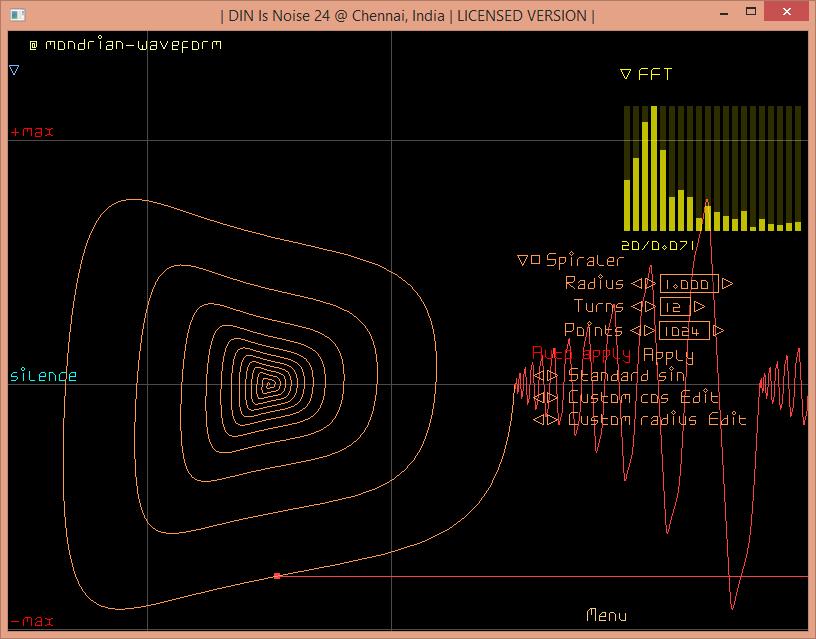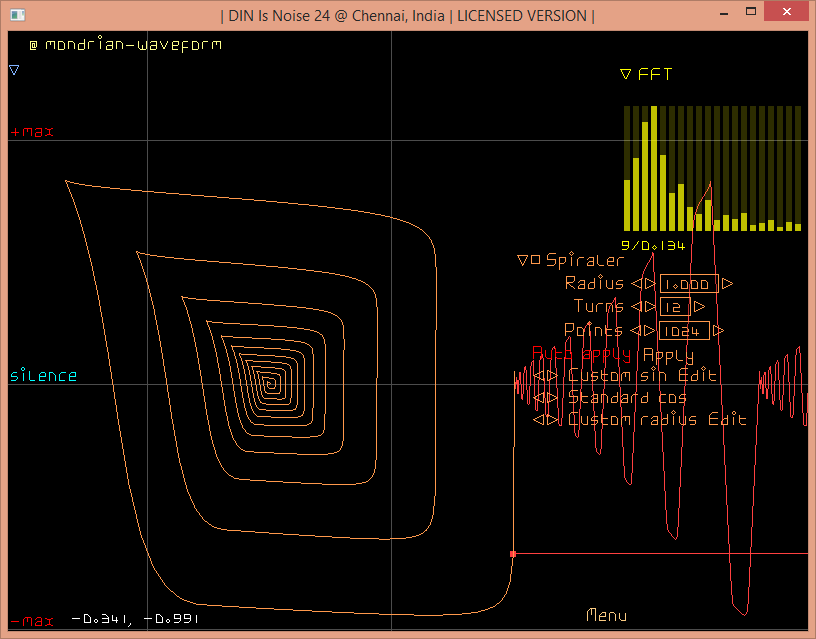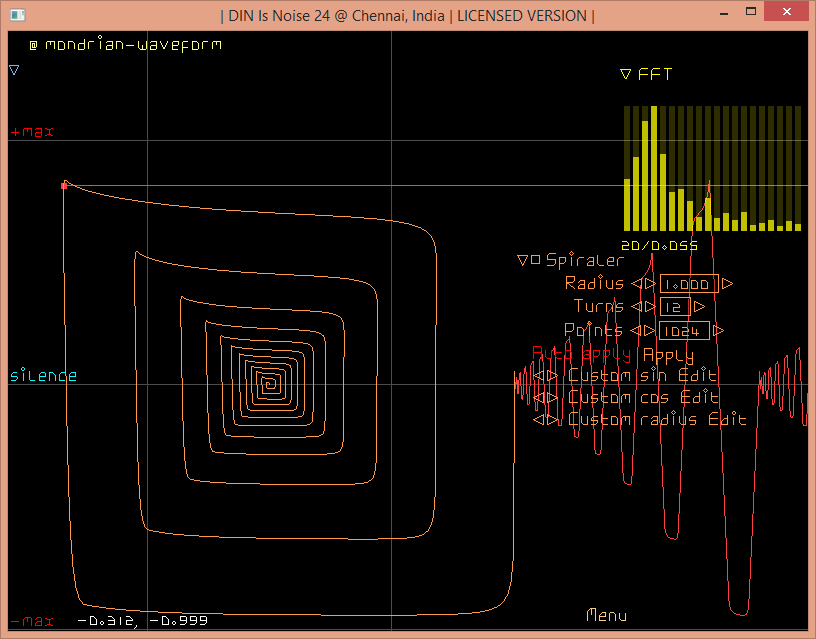 WIP & Unclassified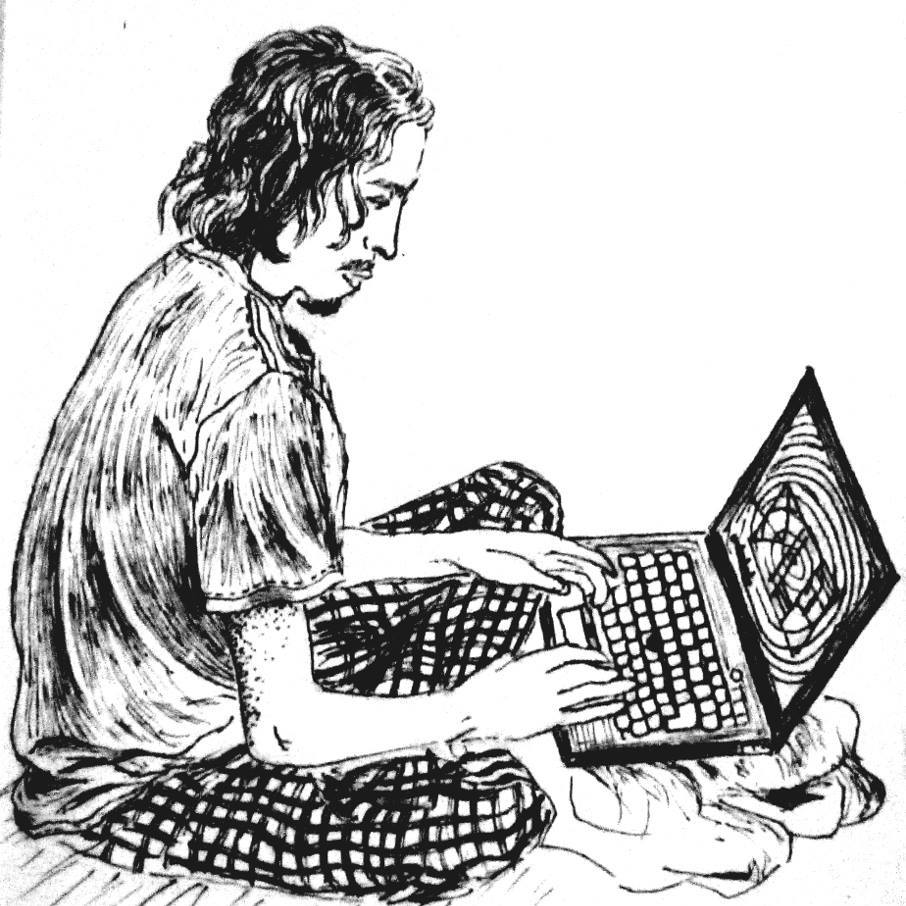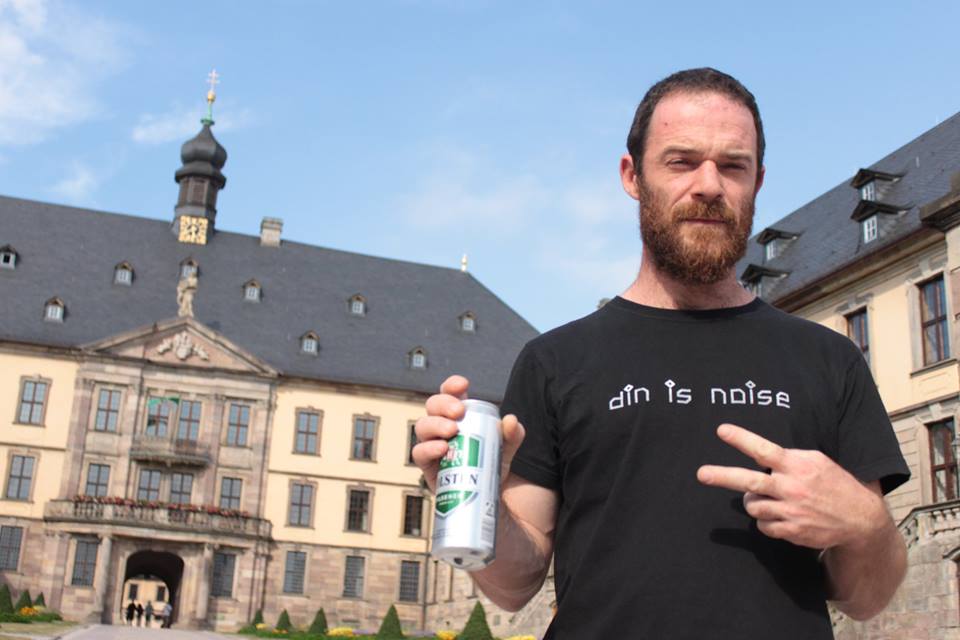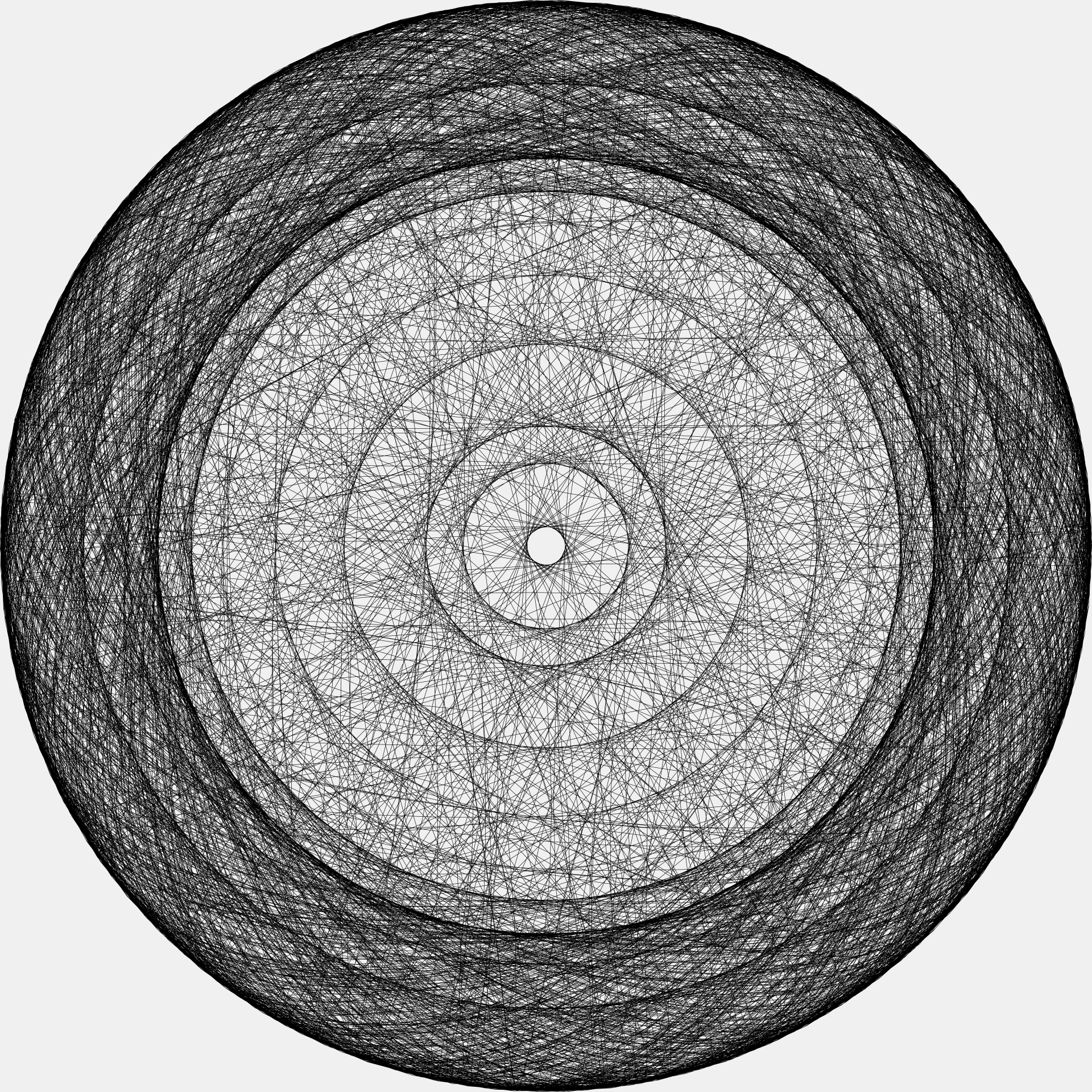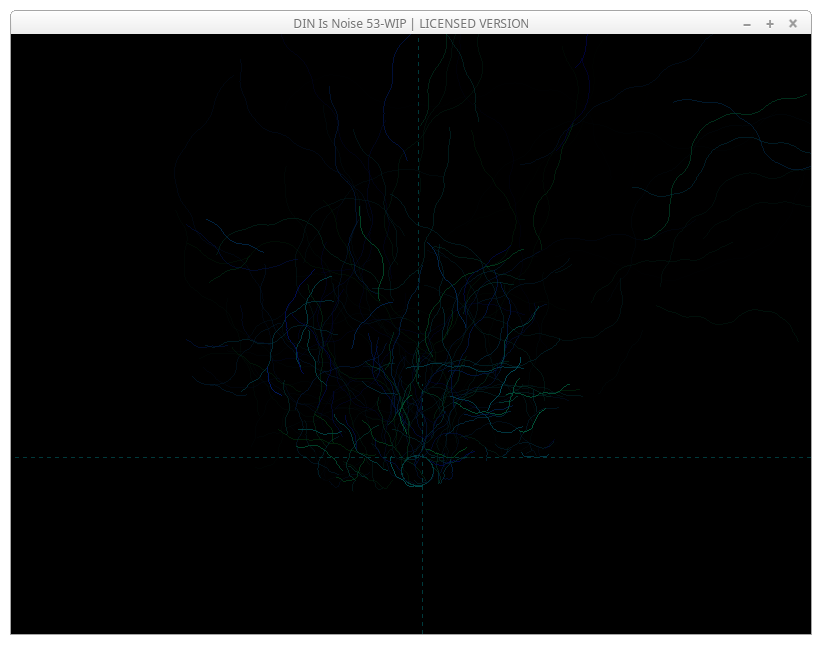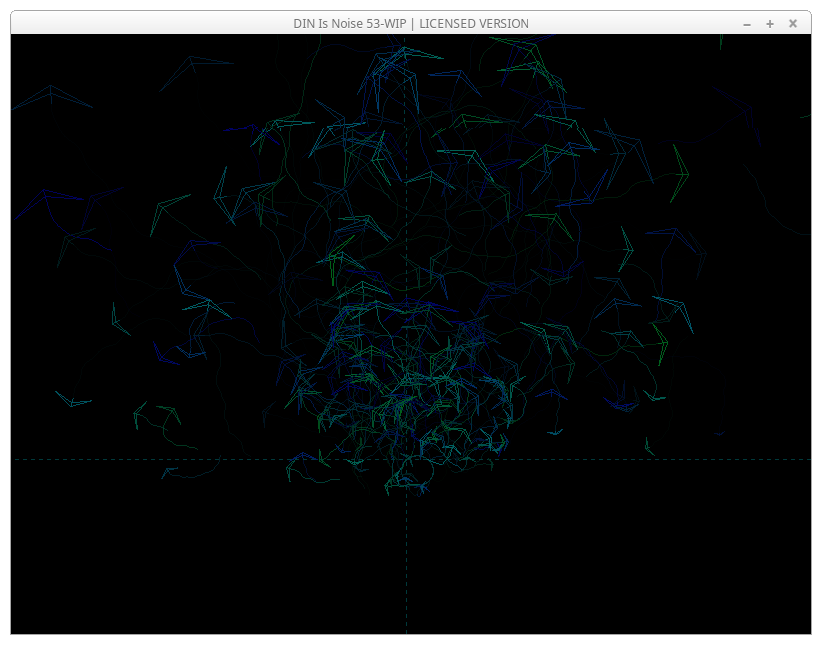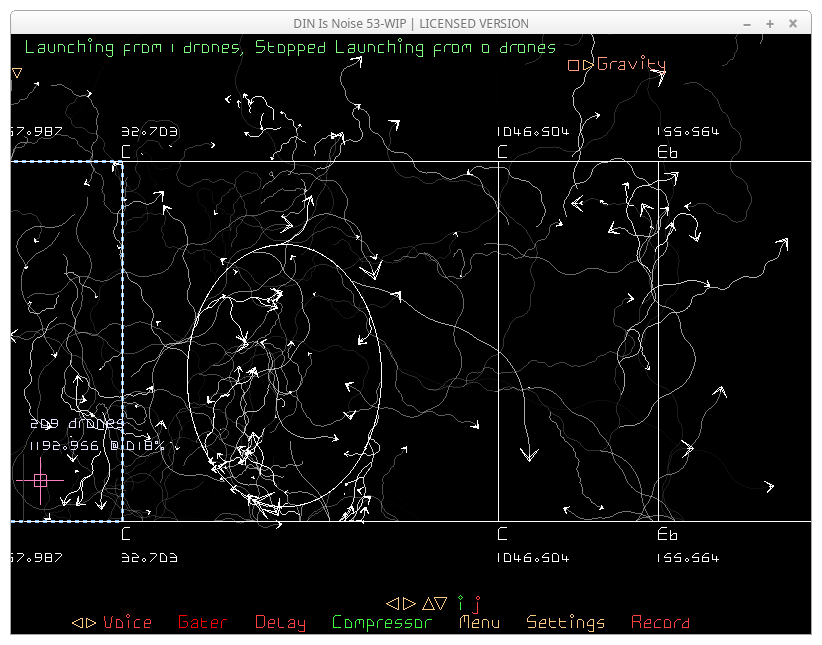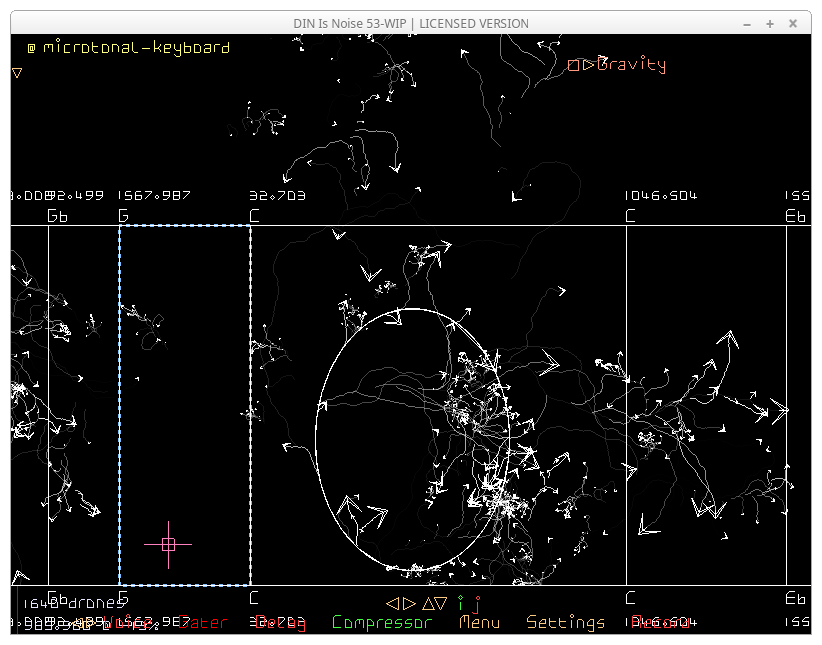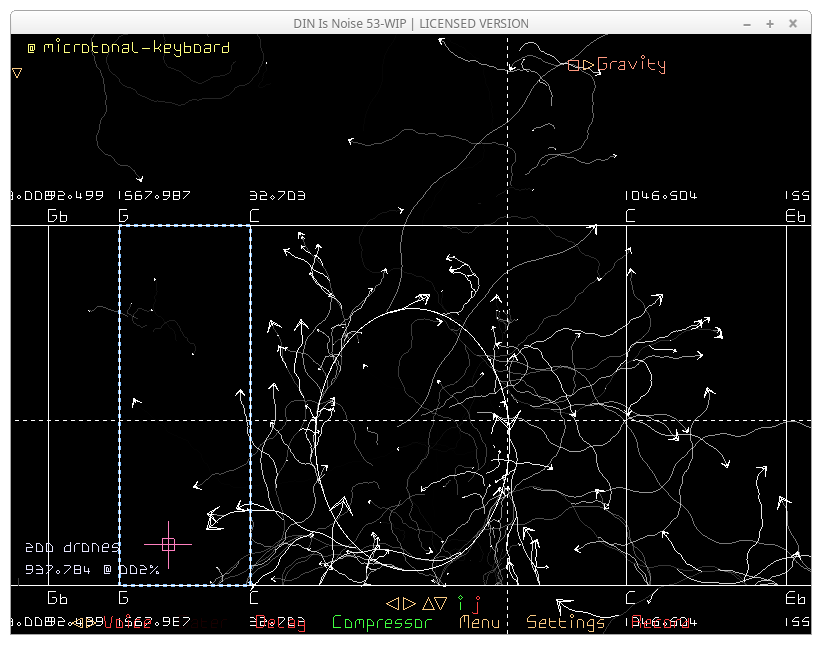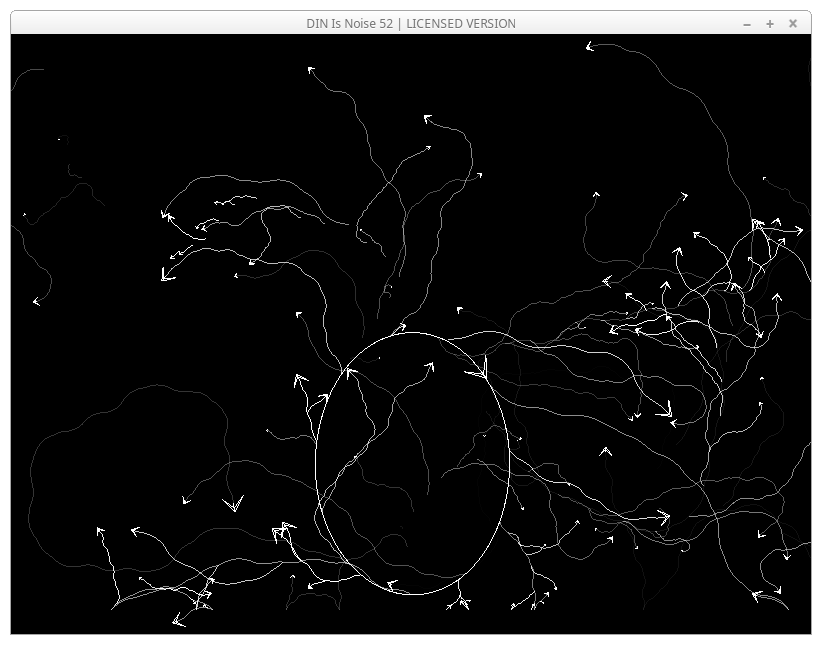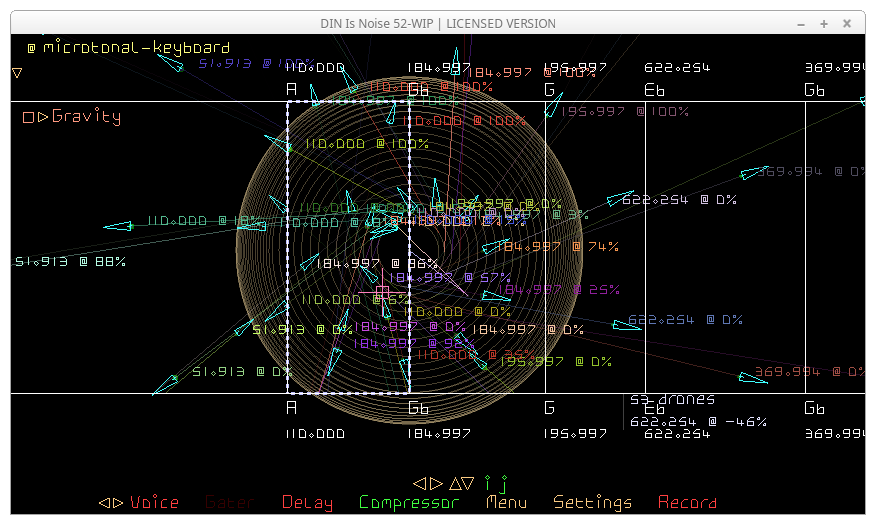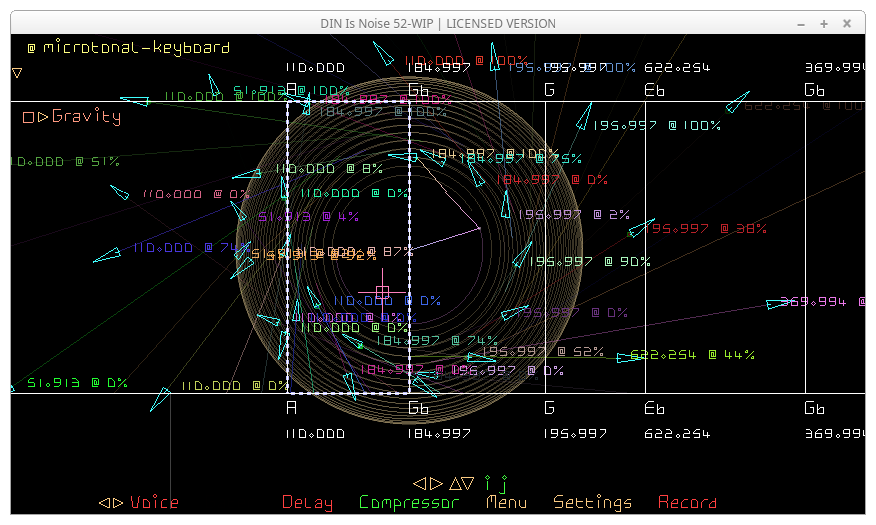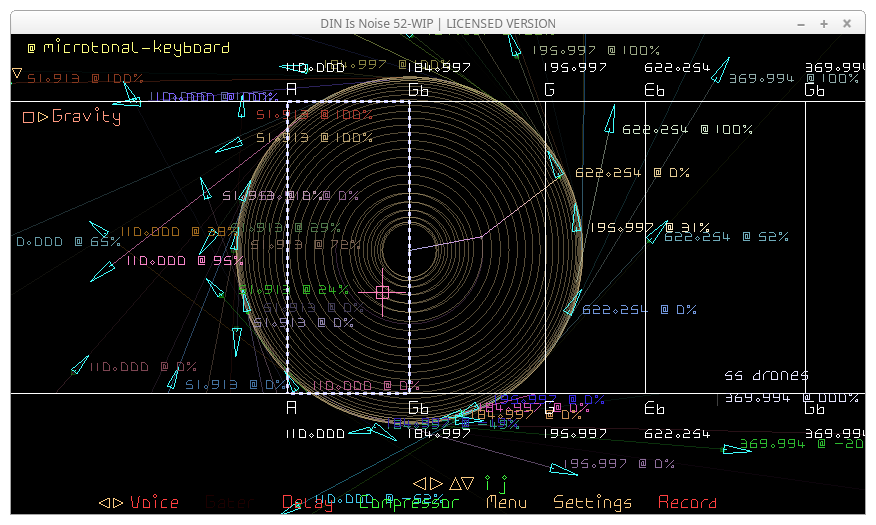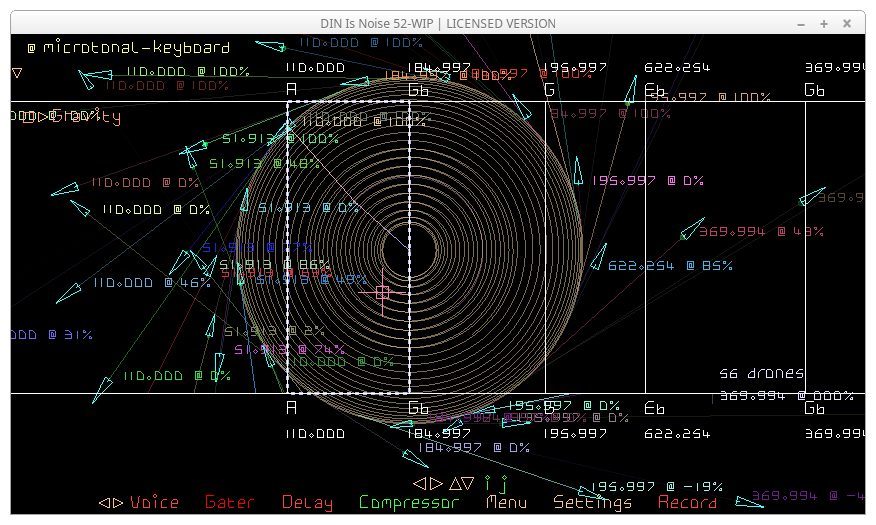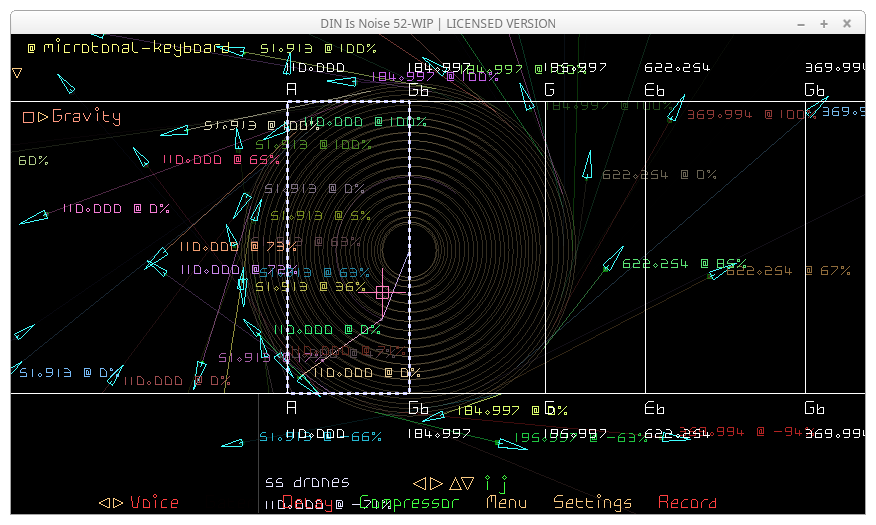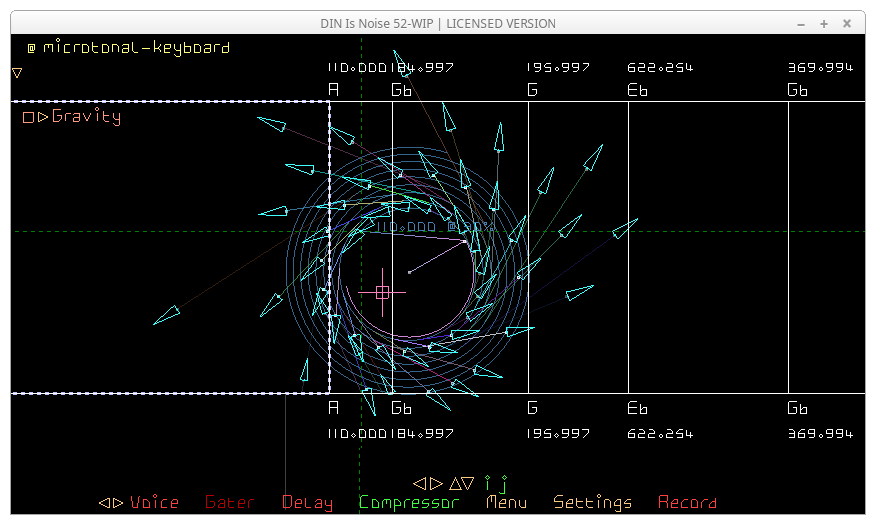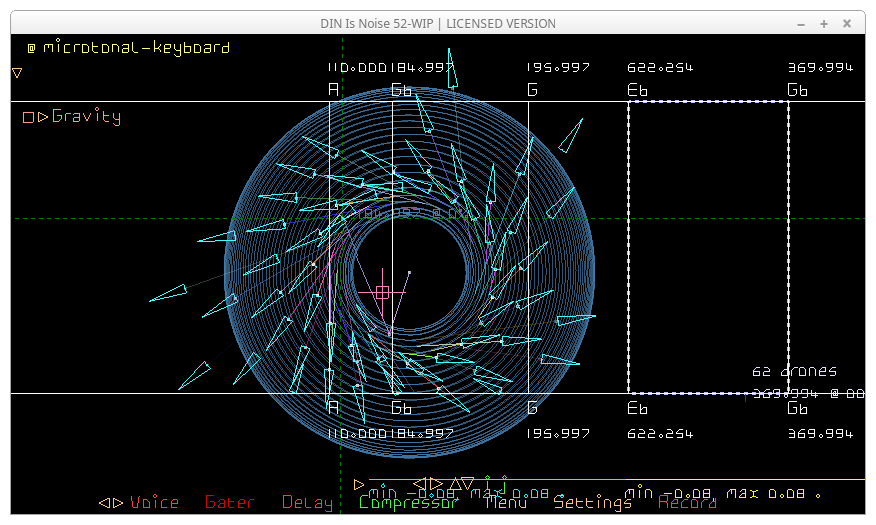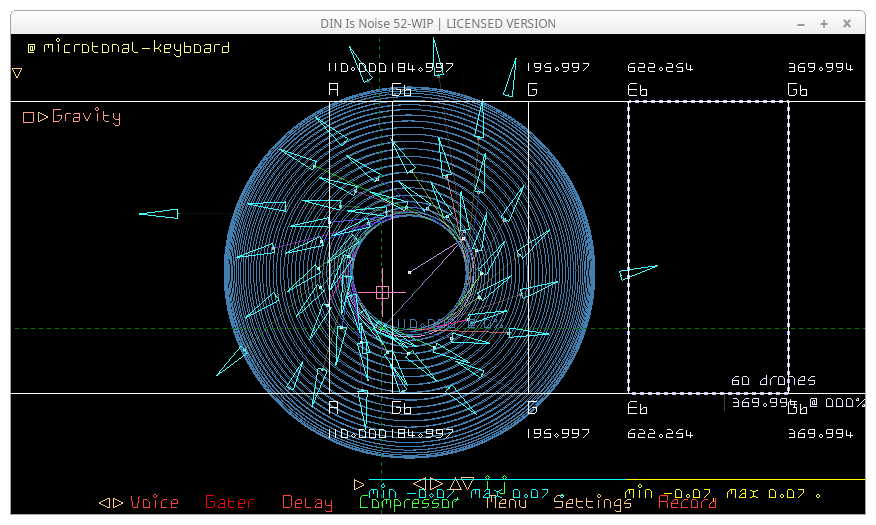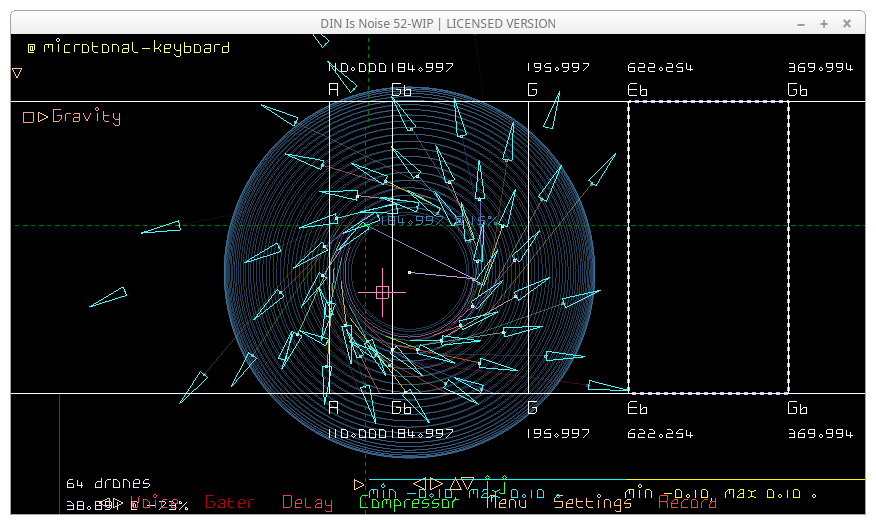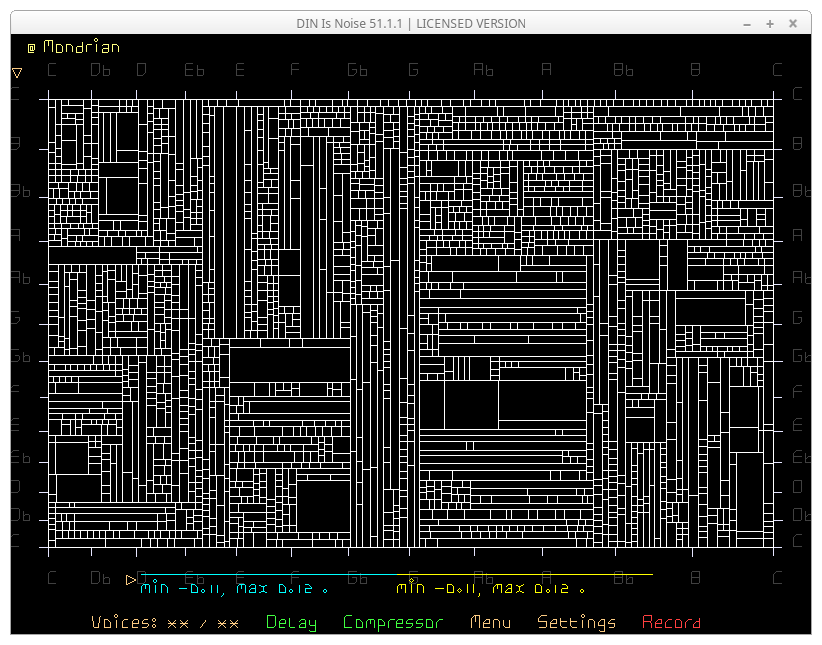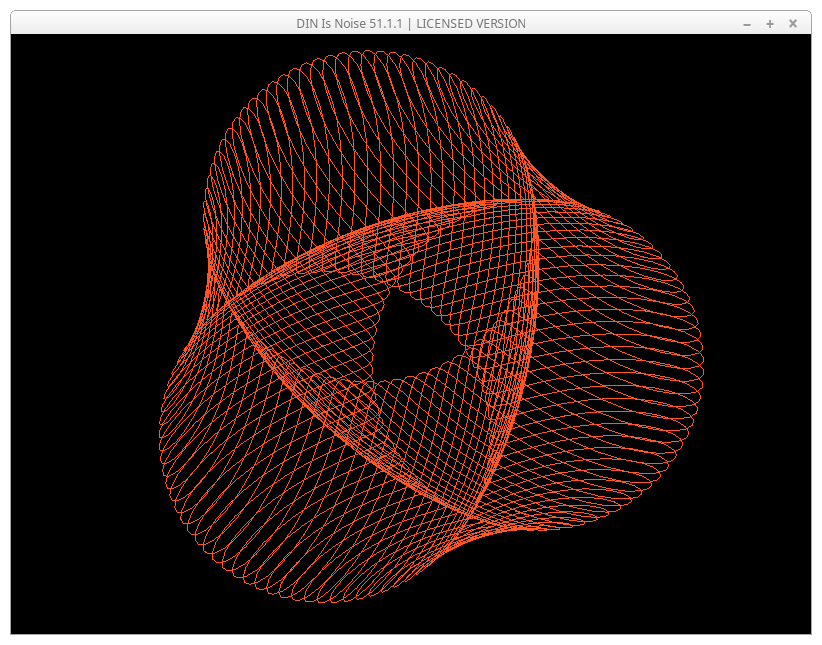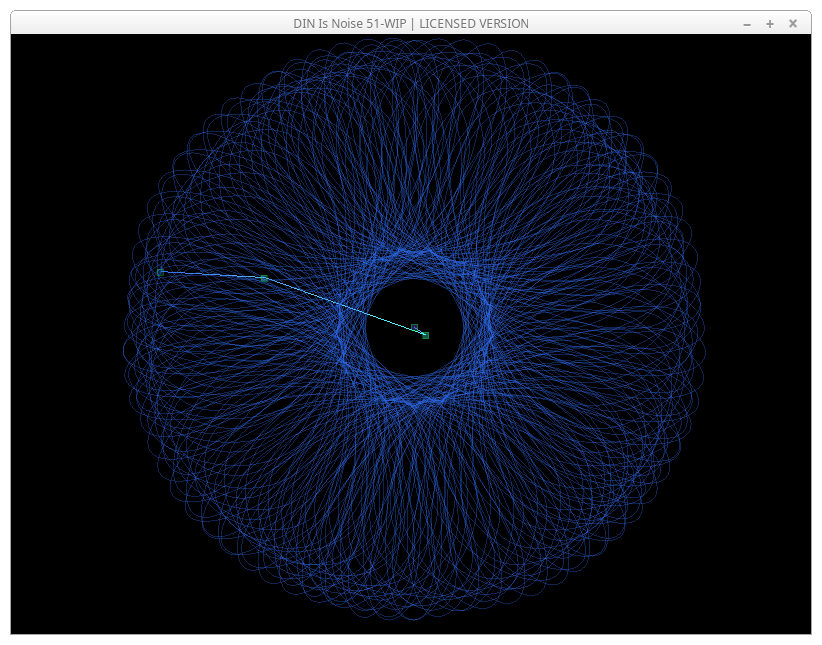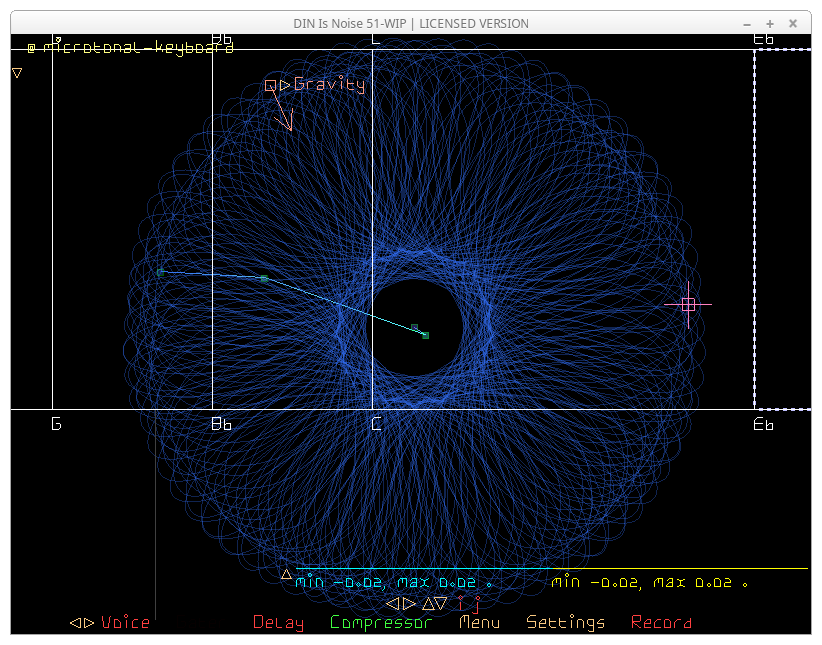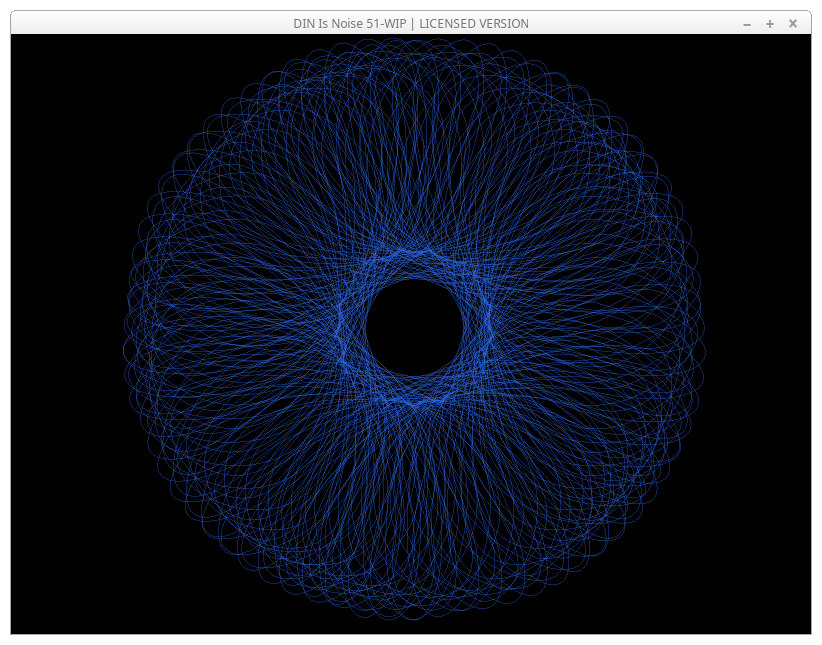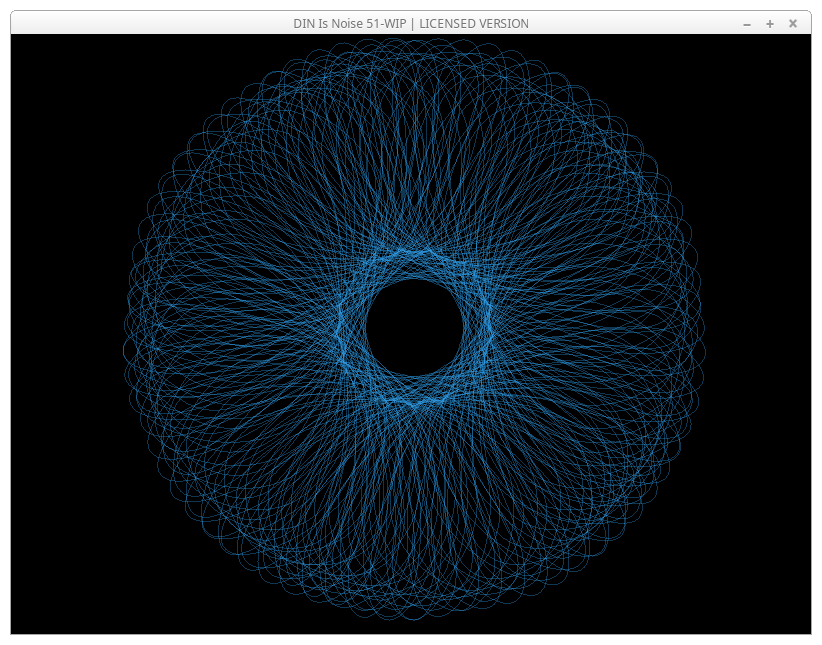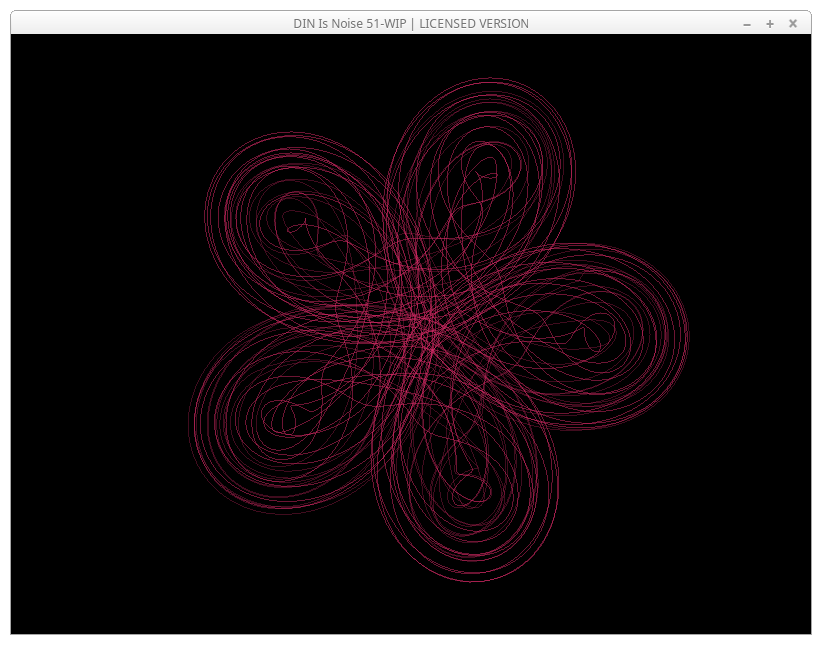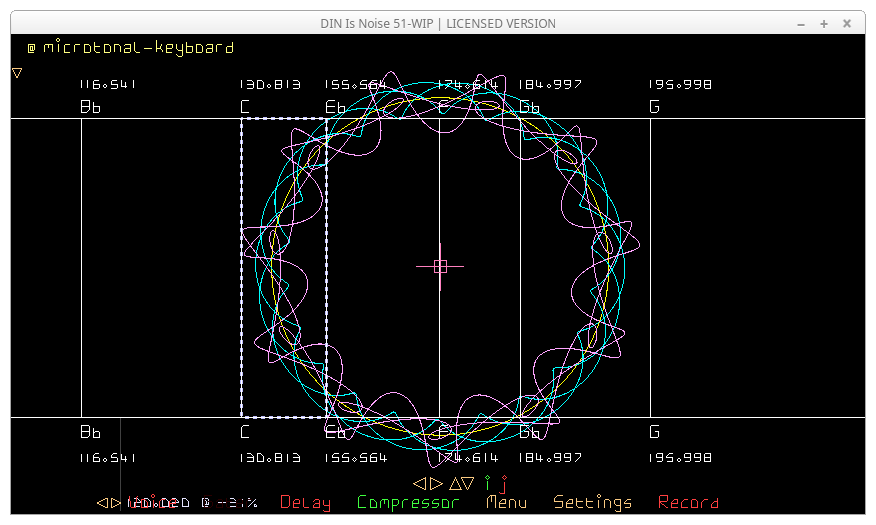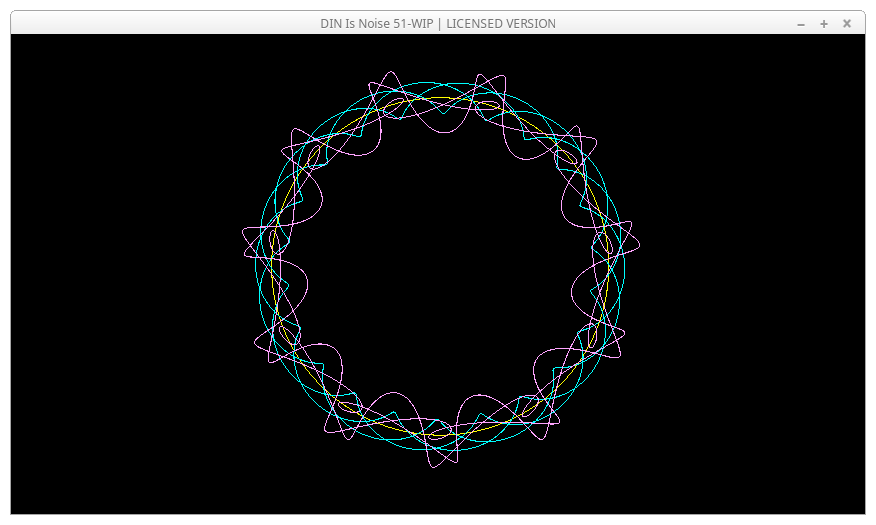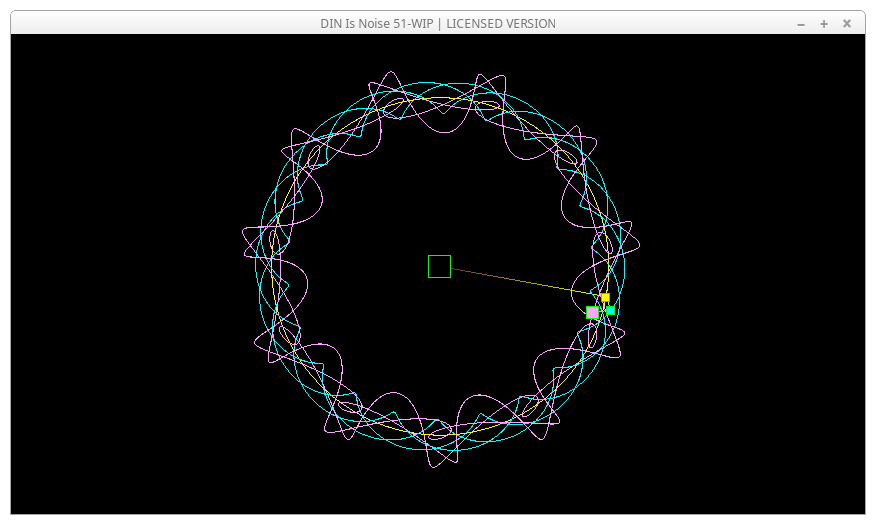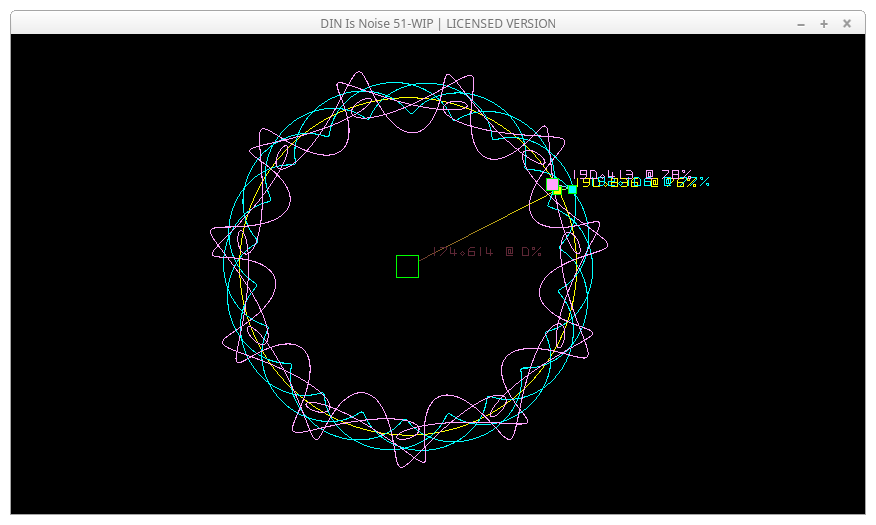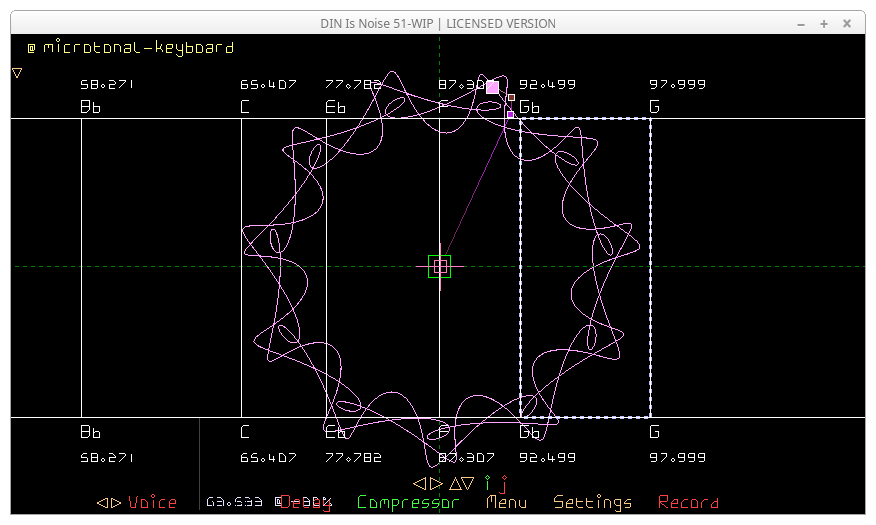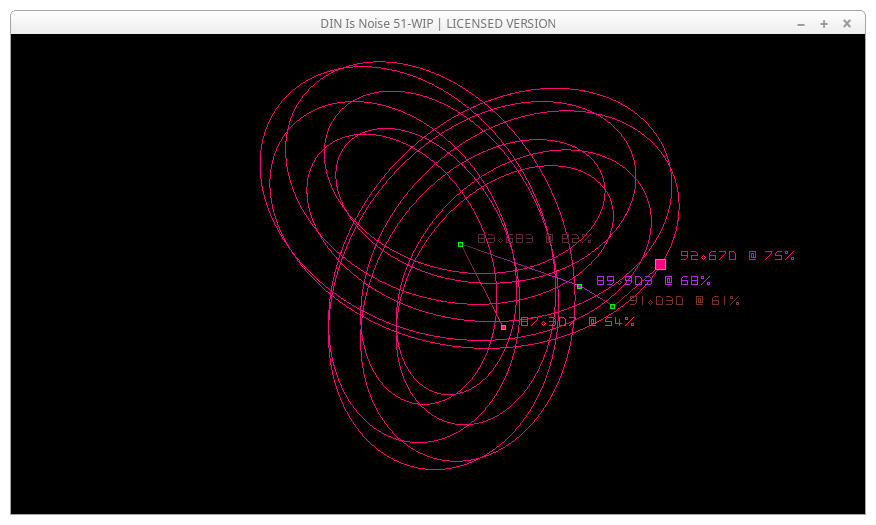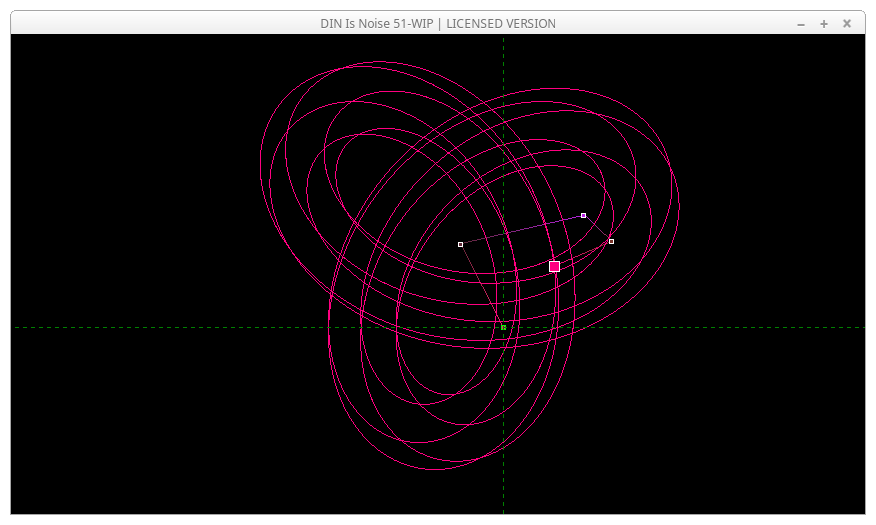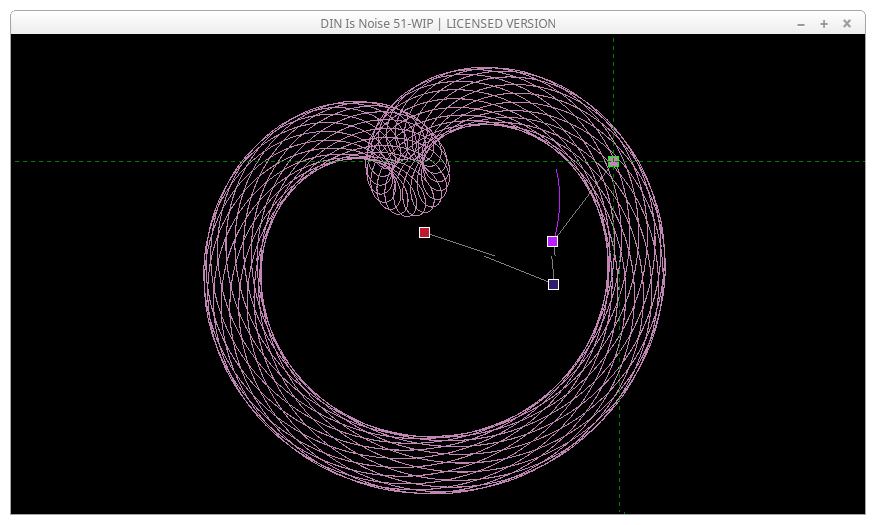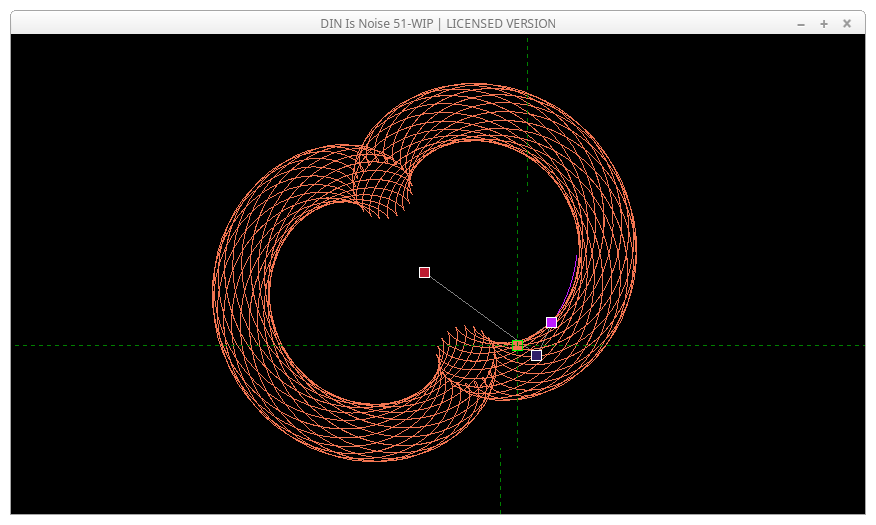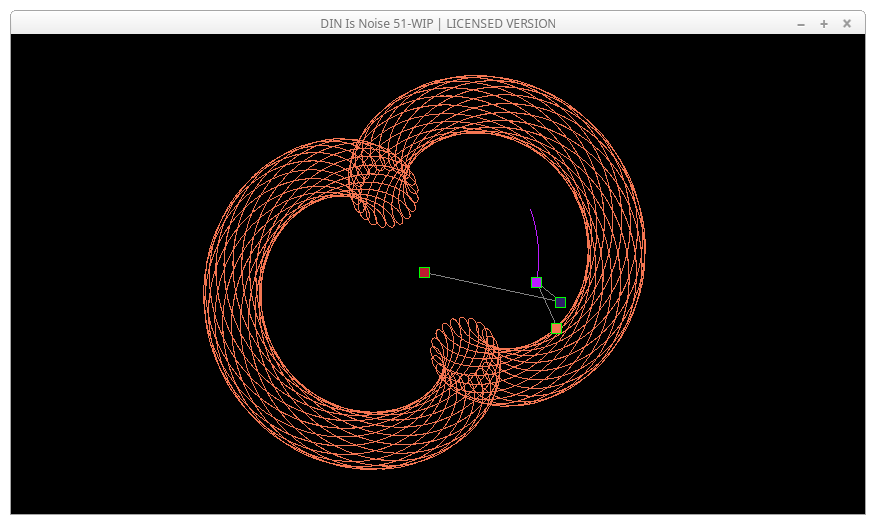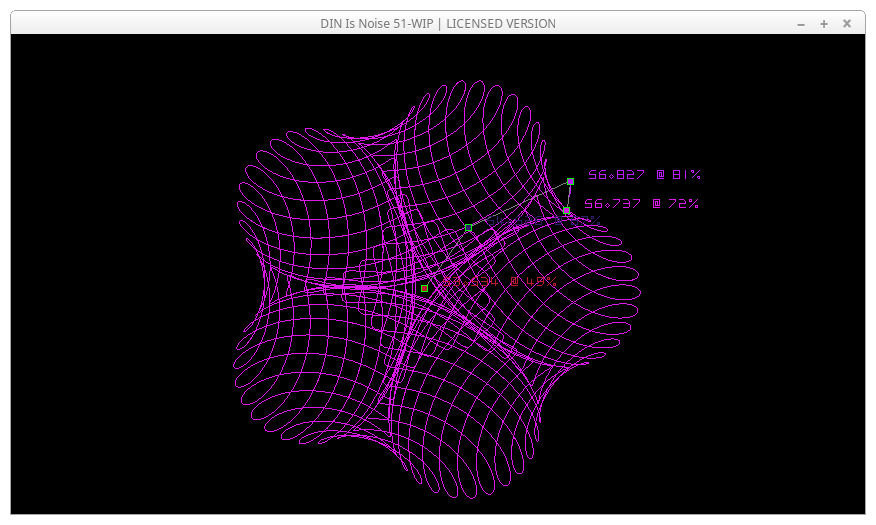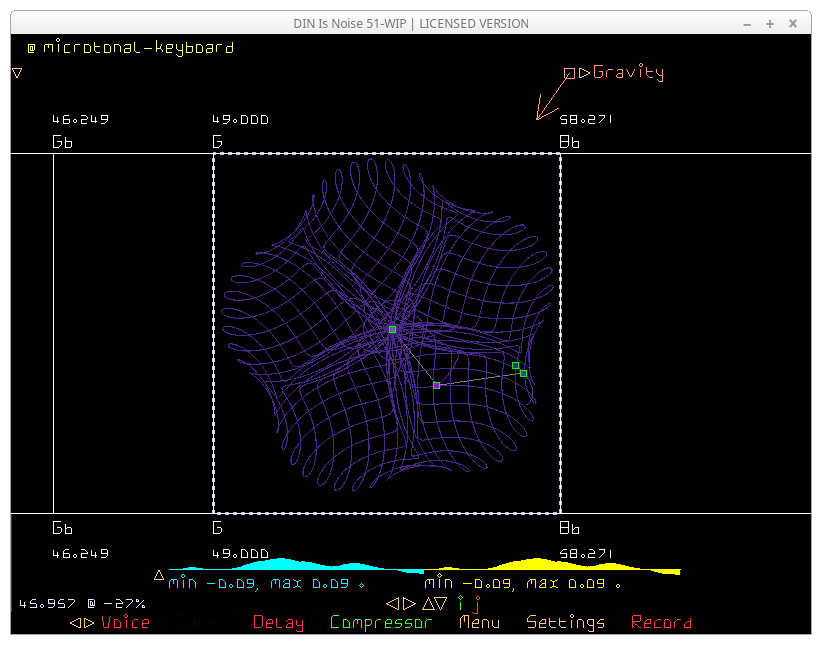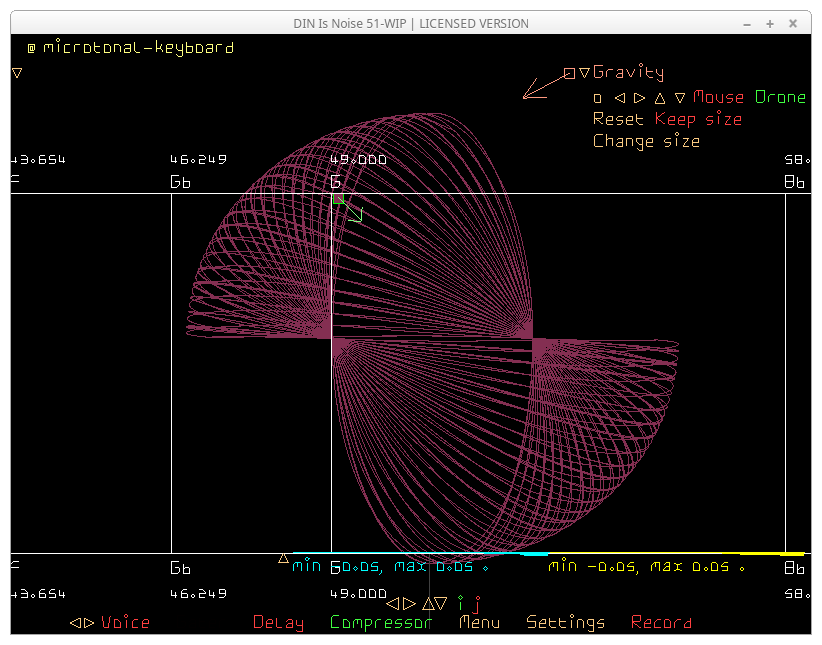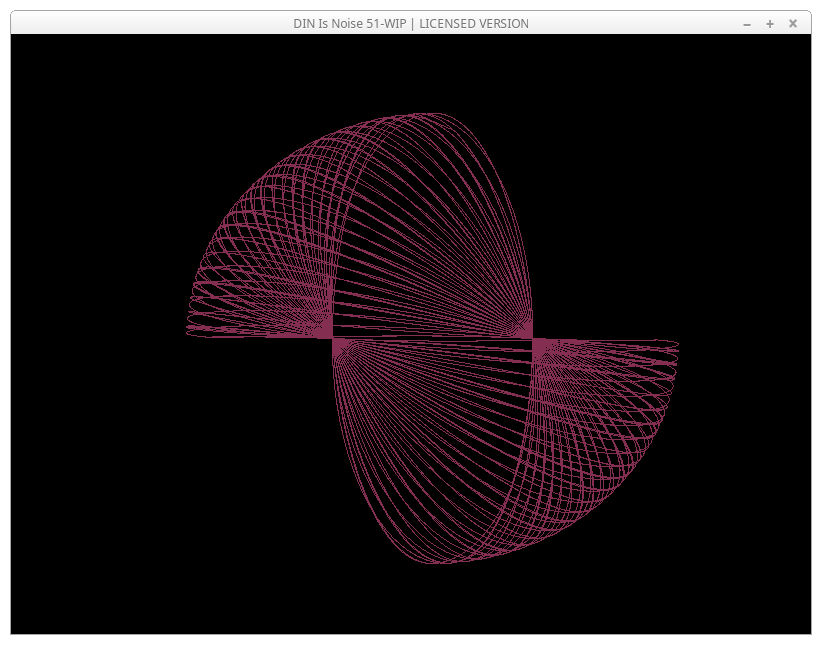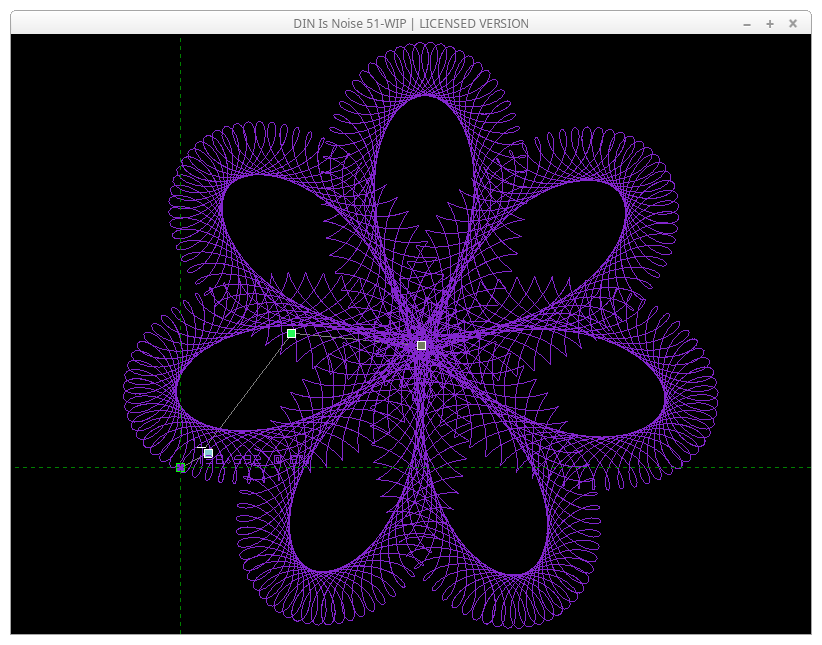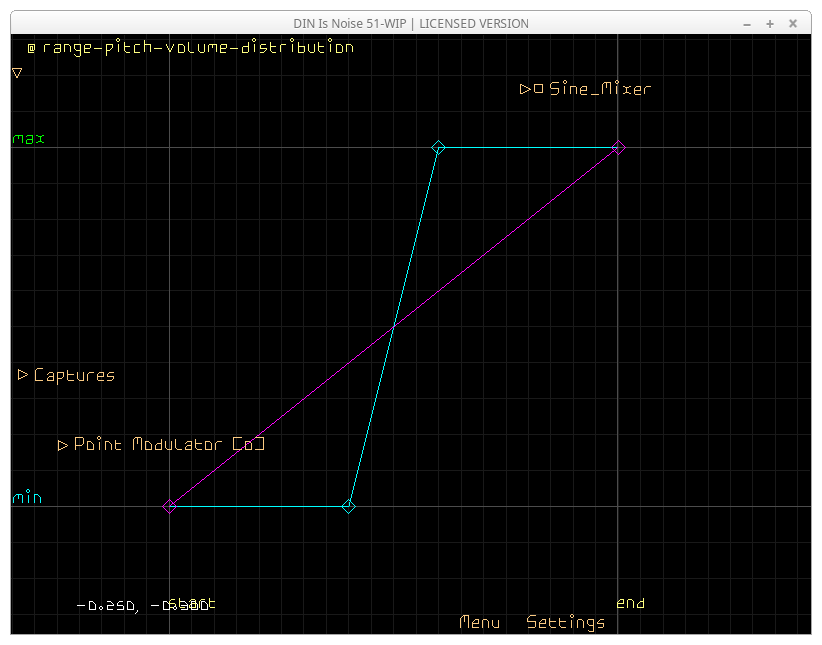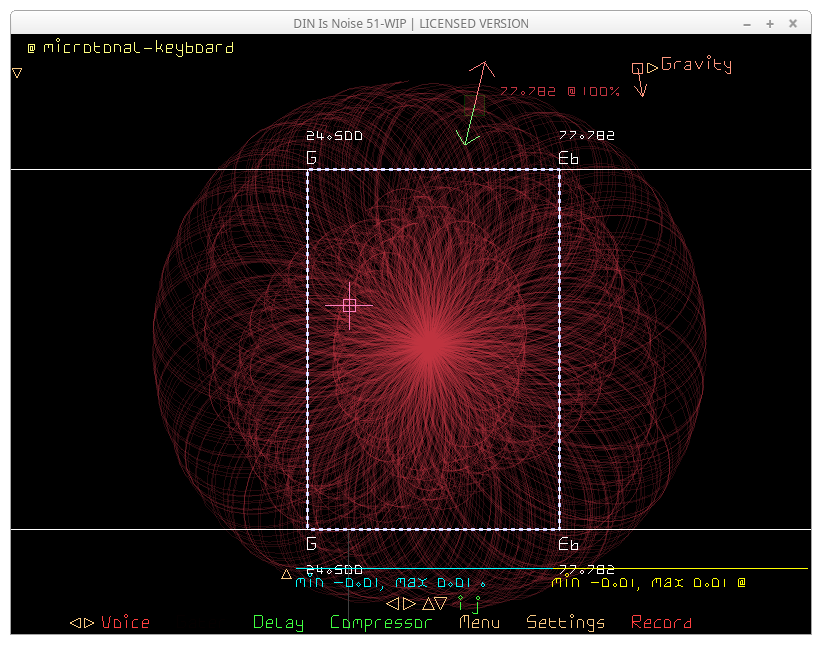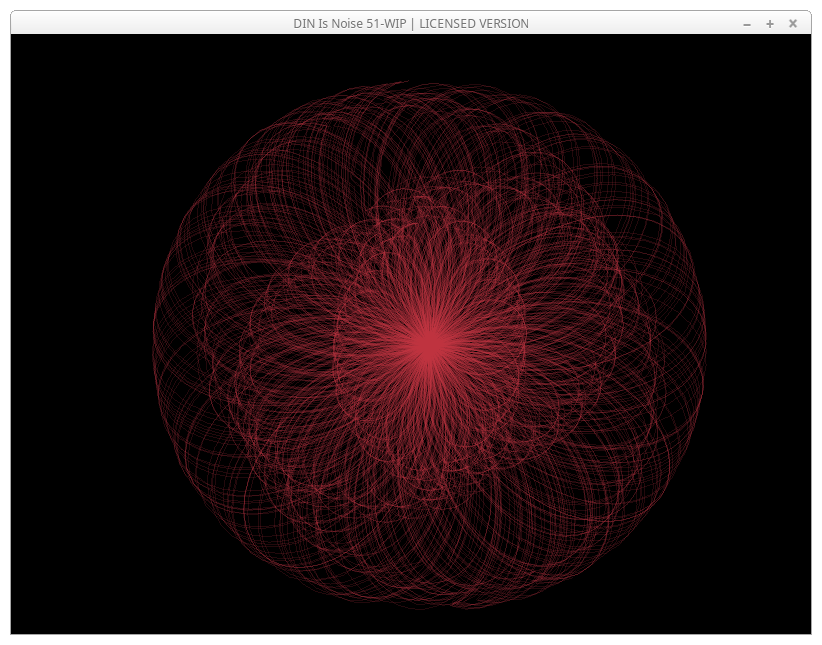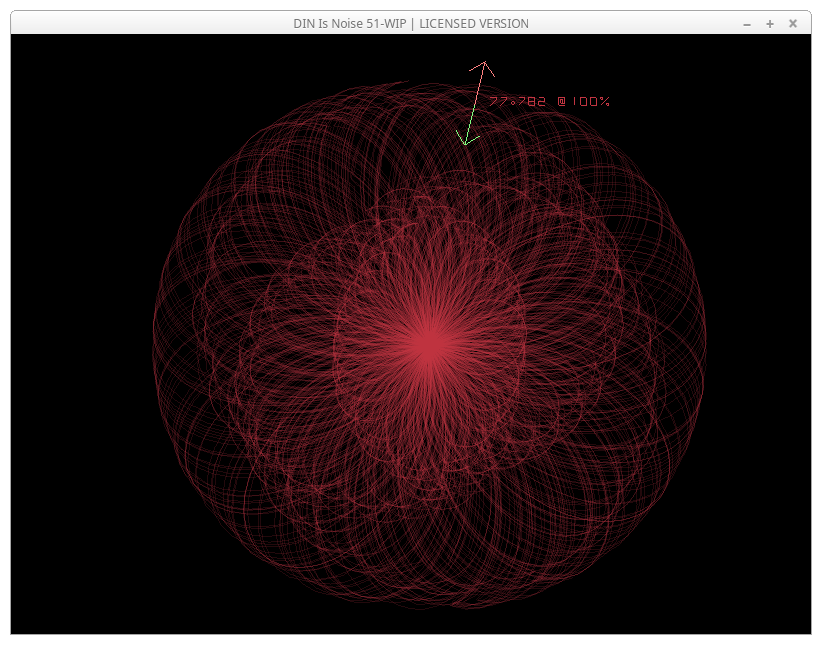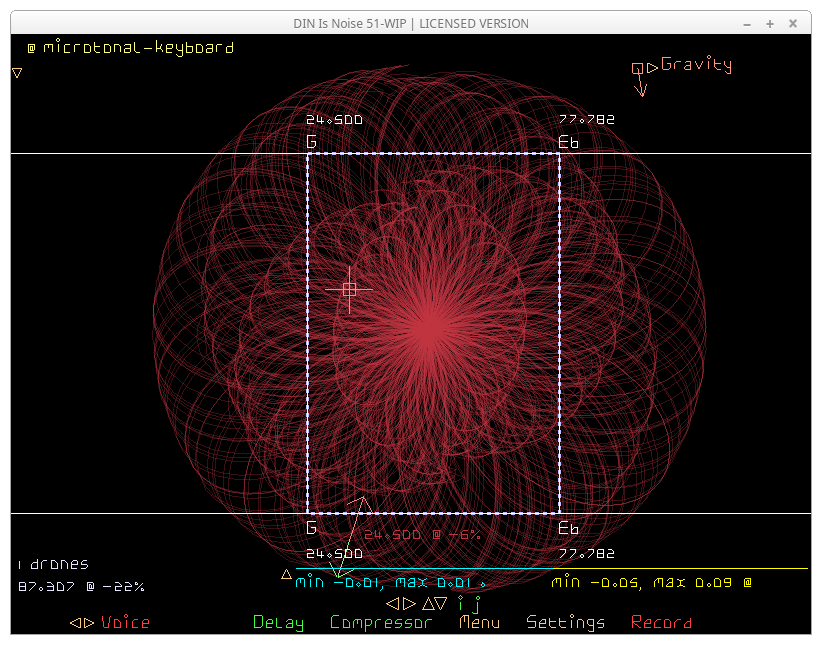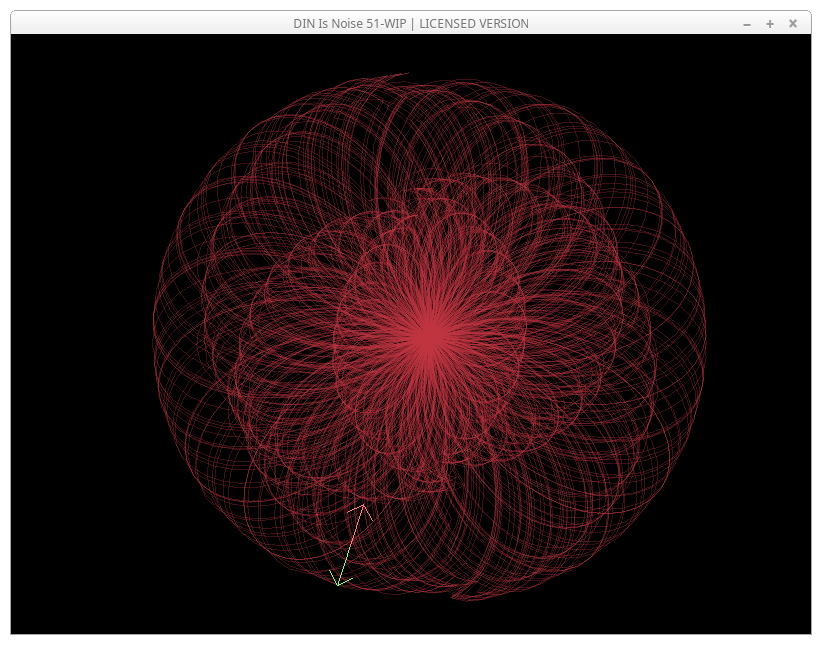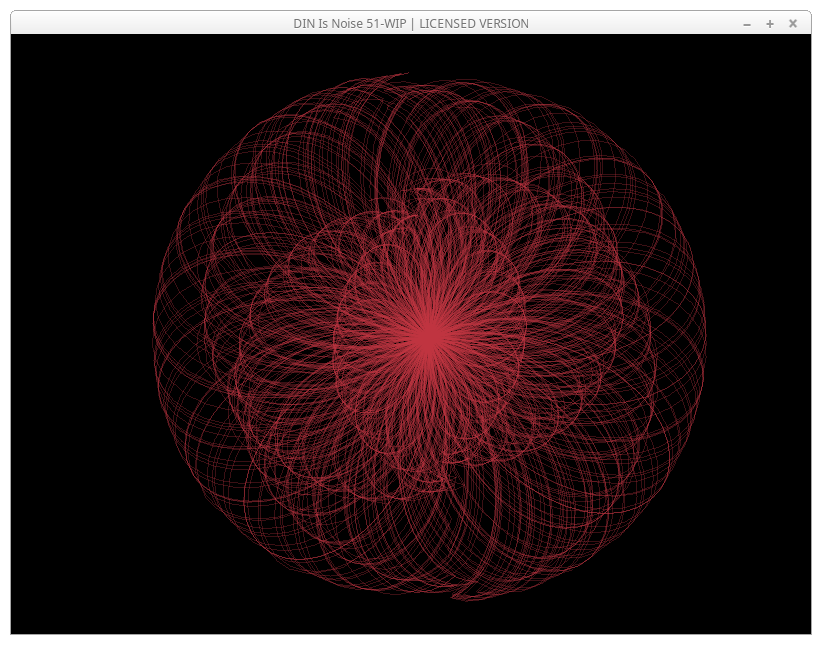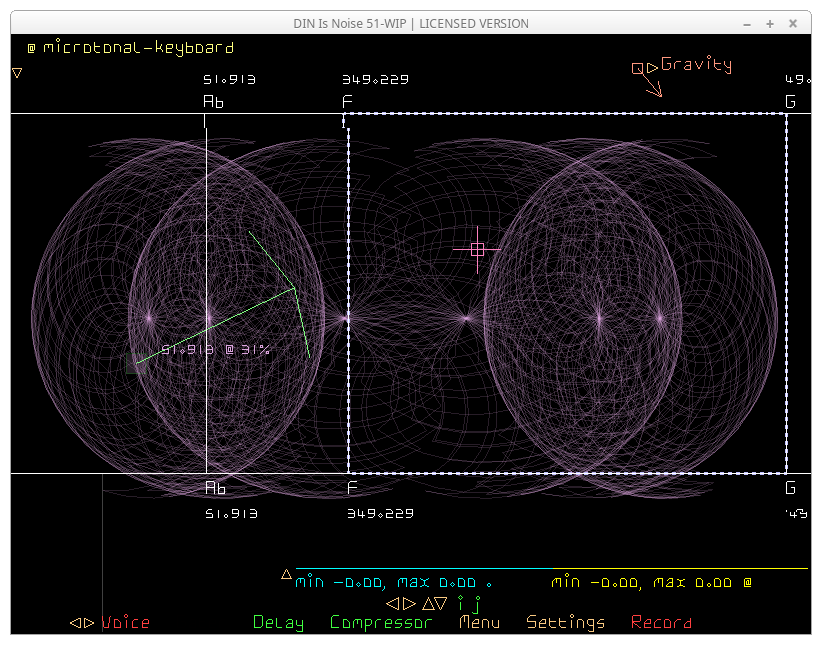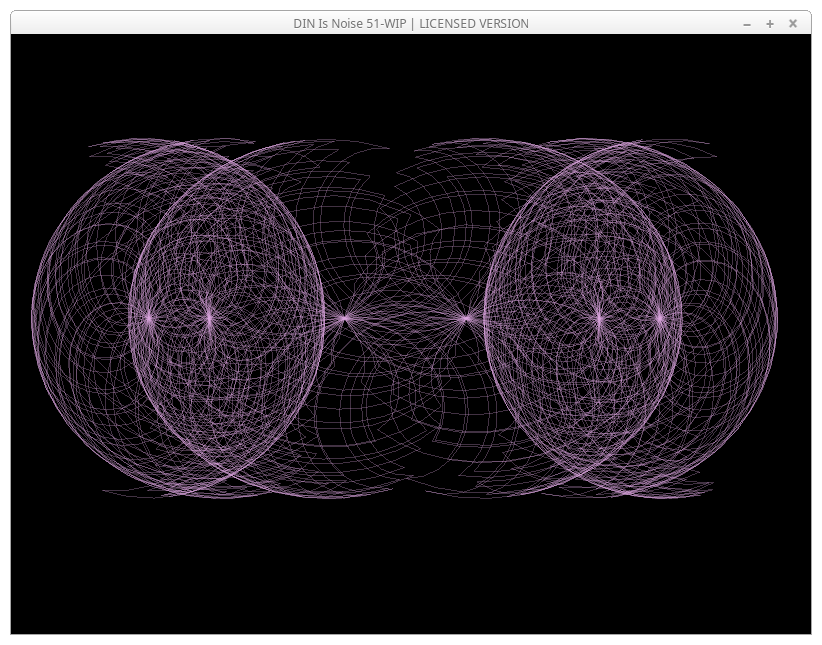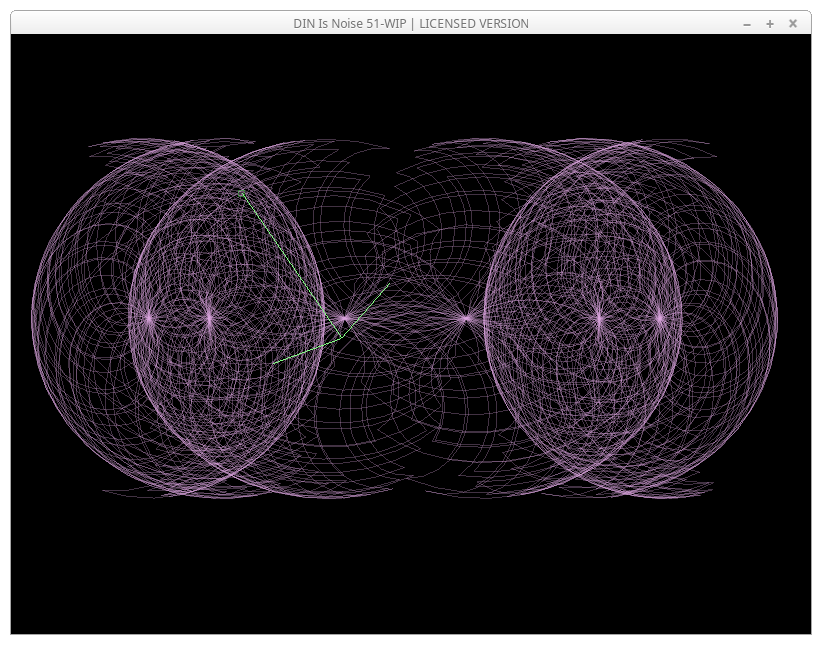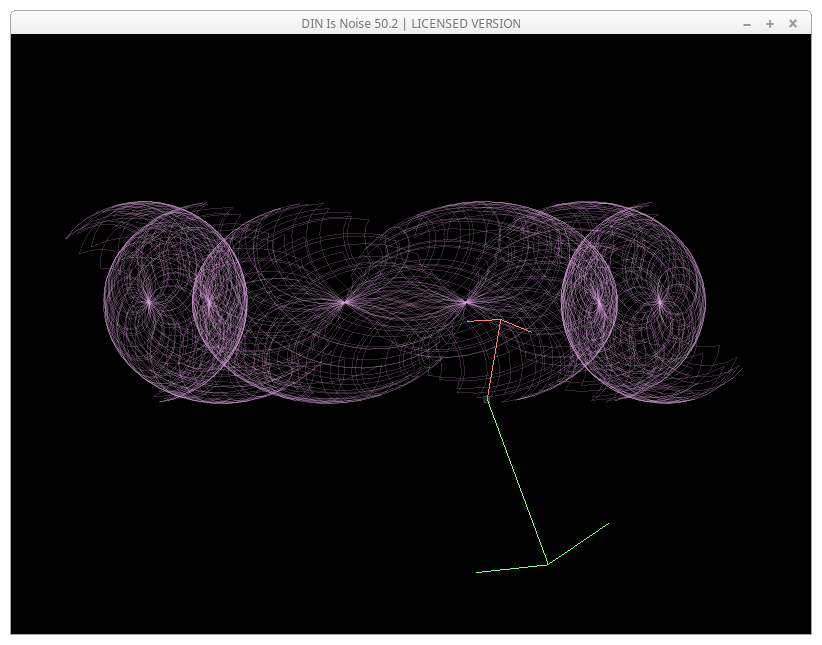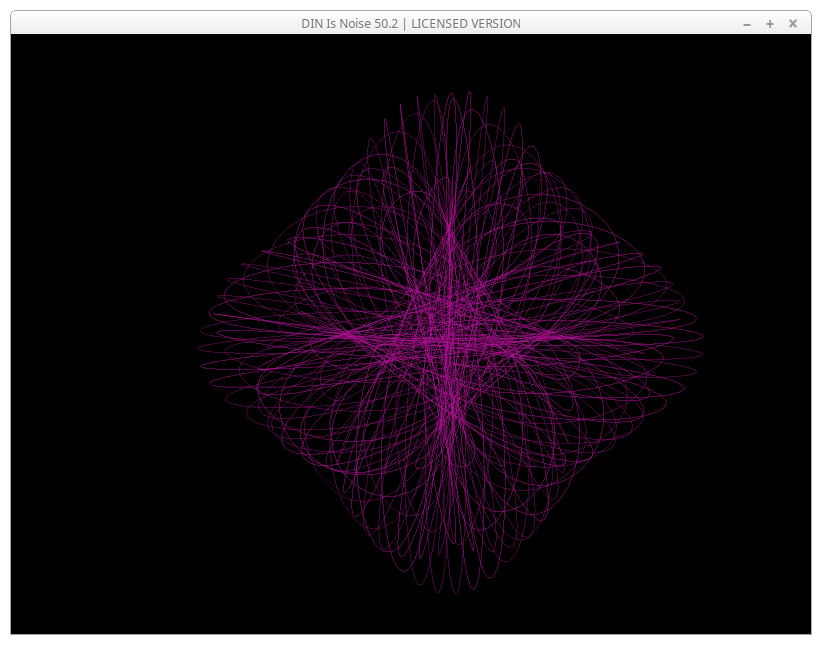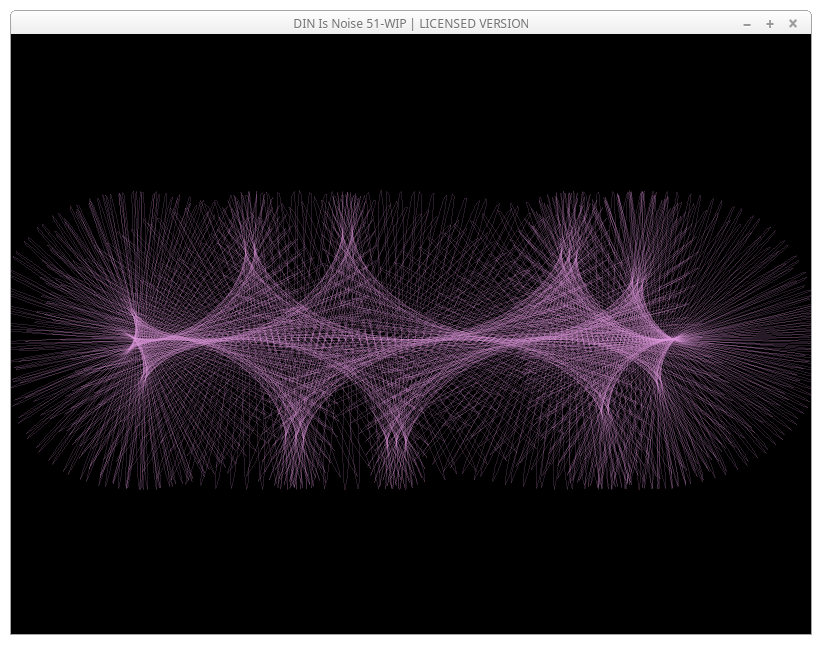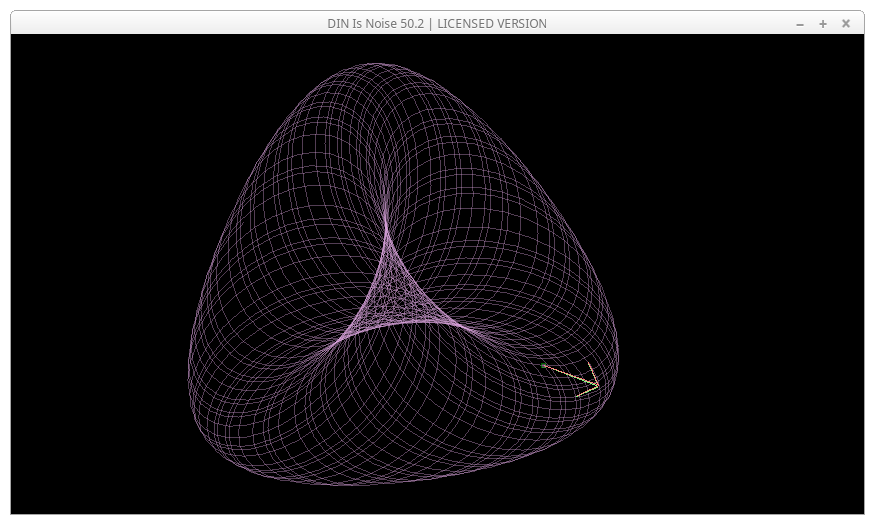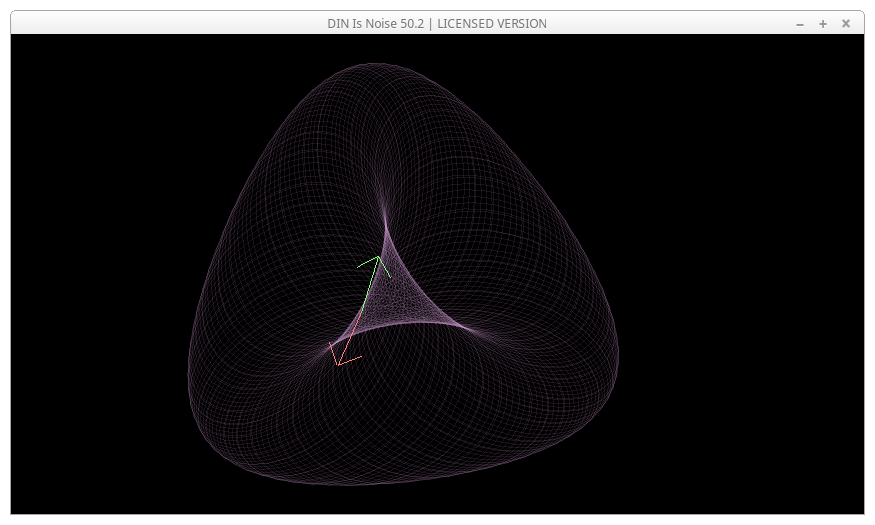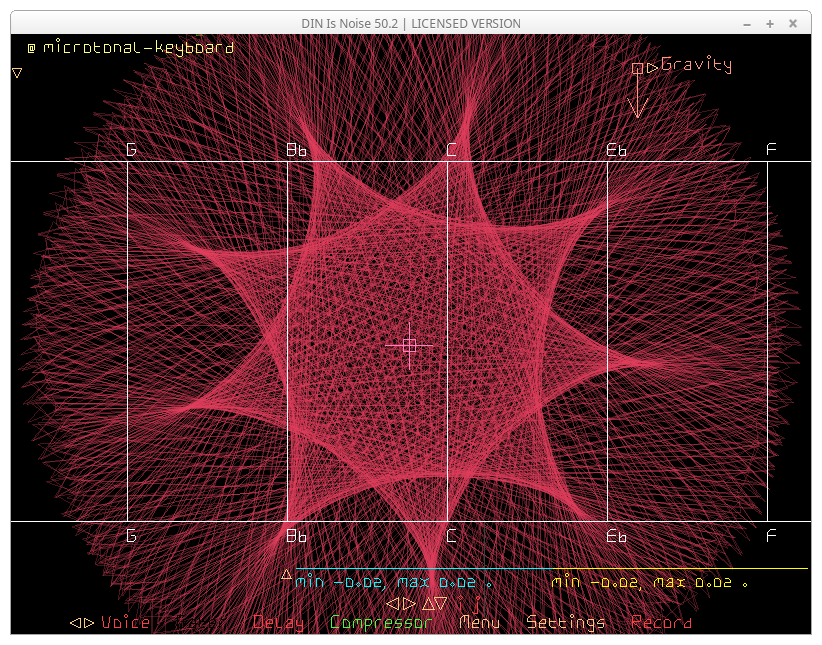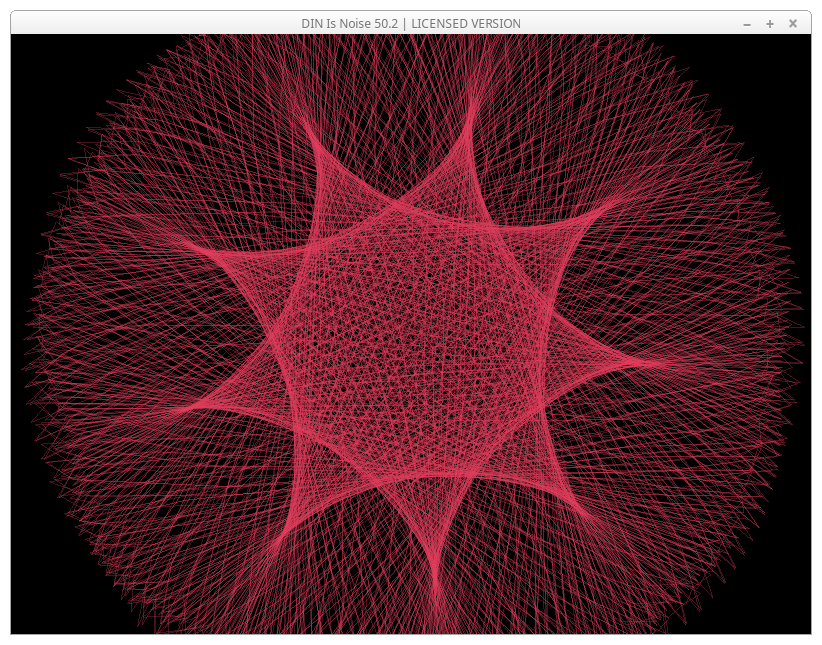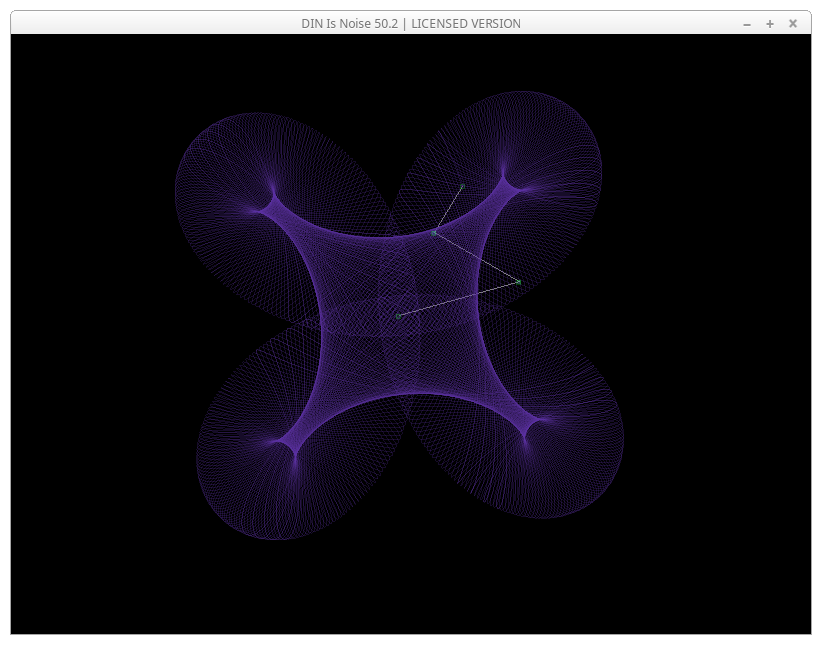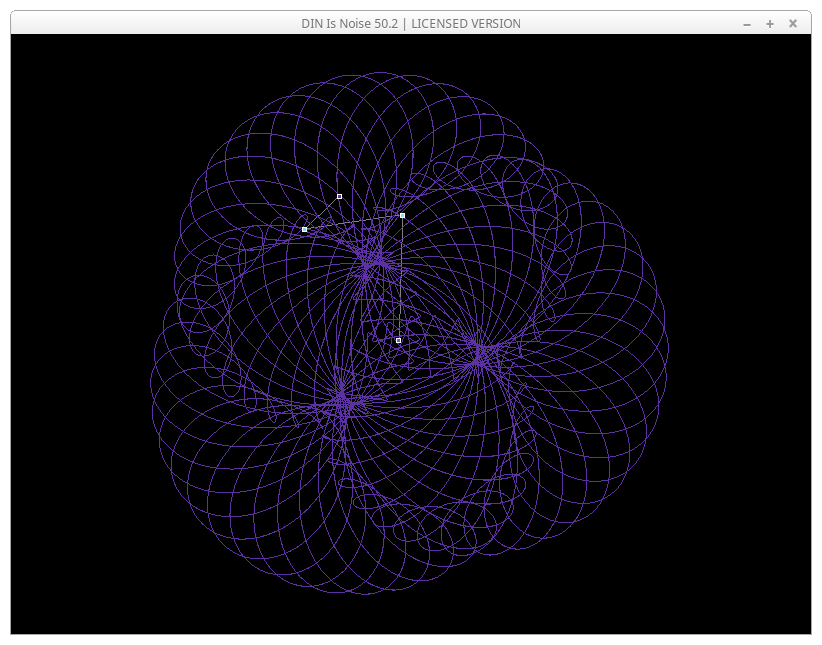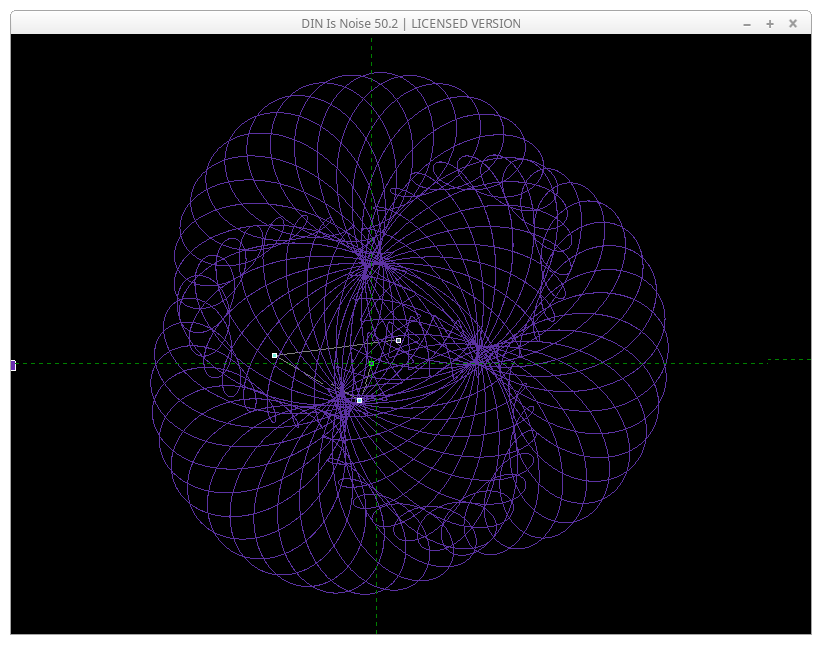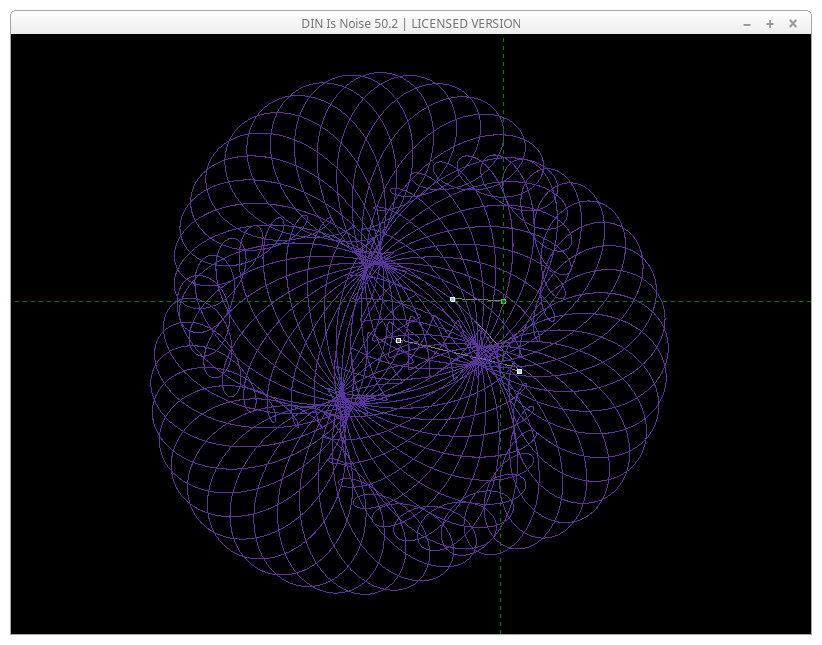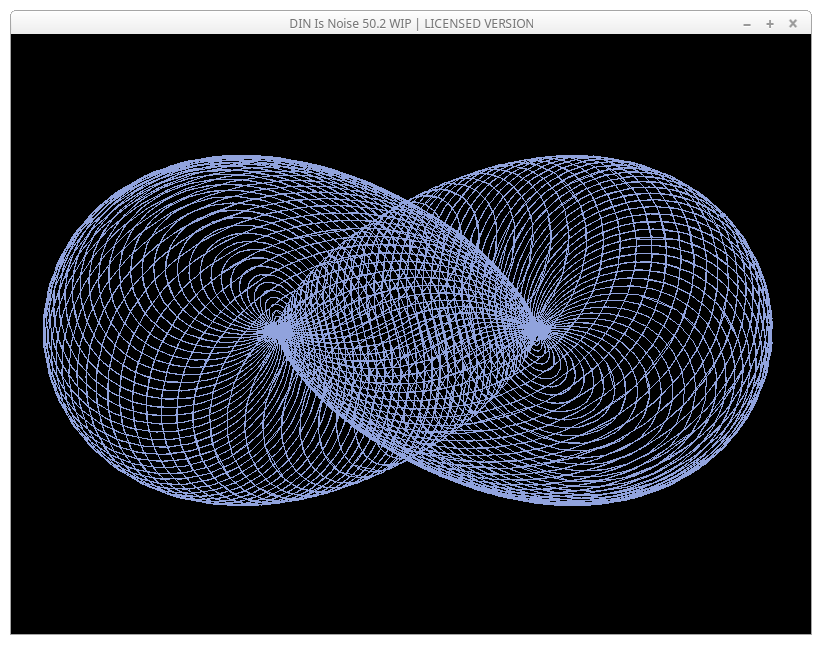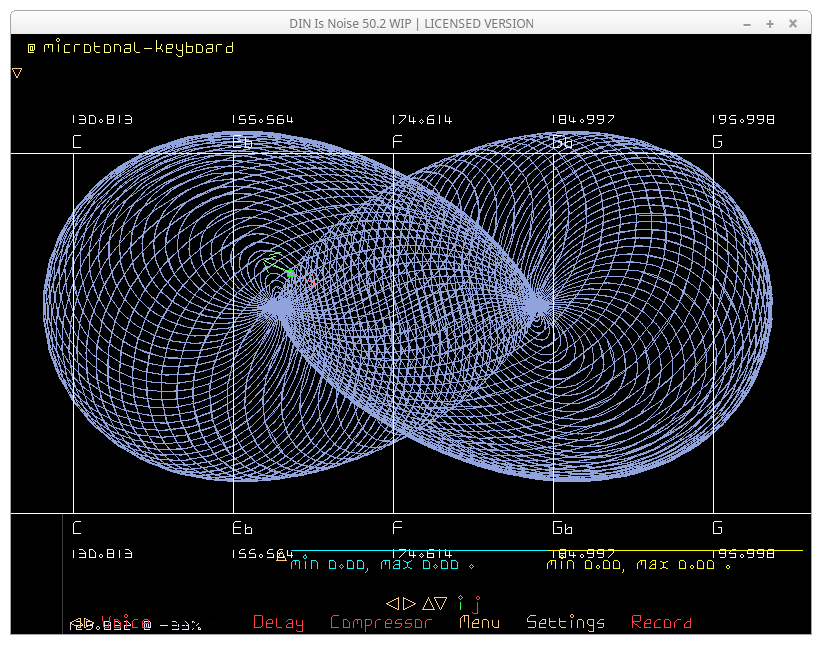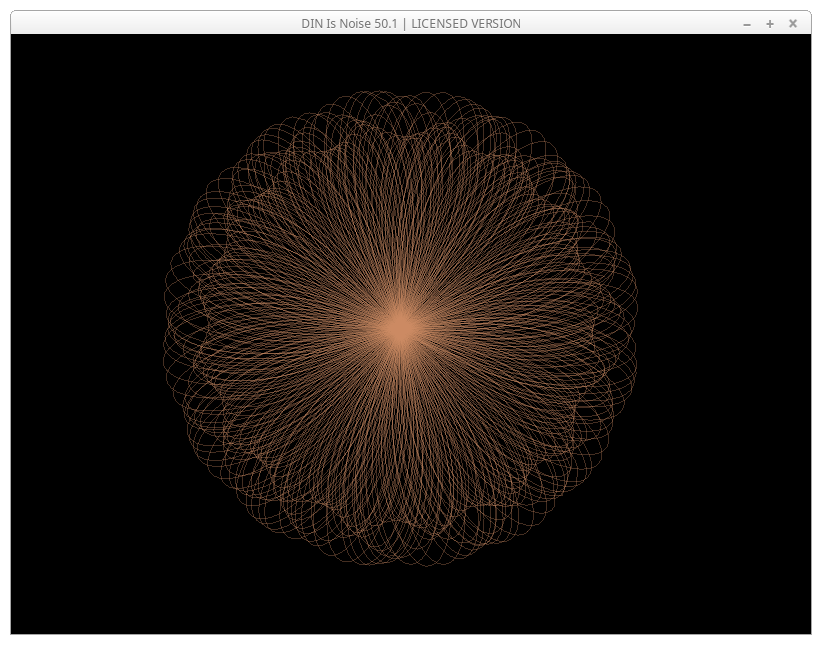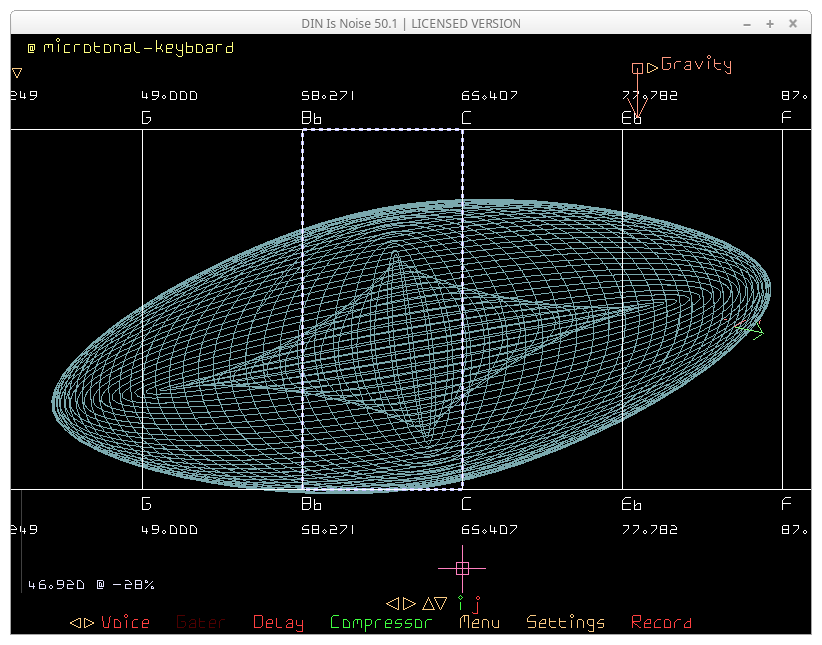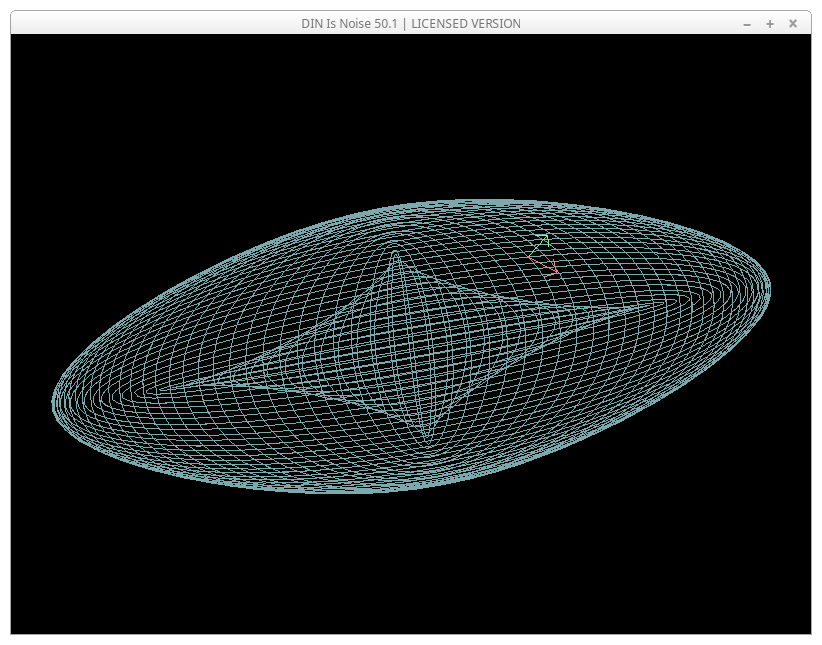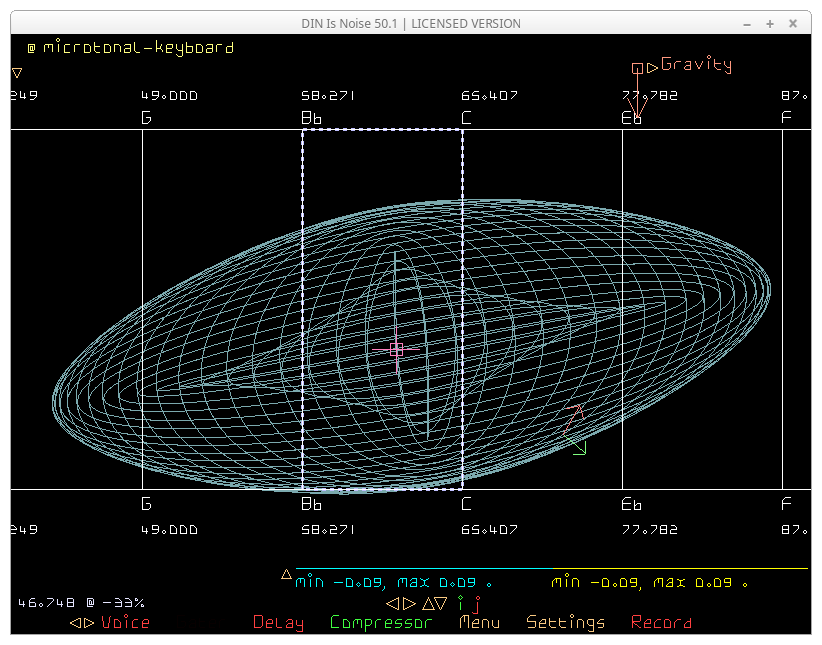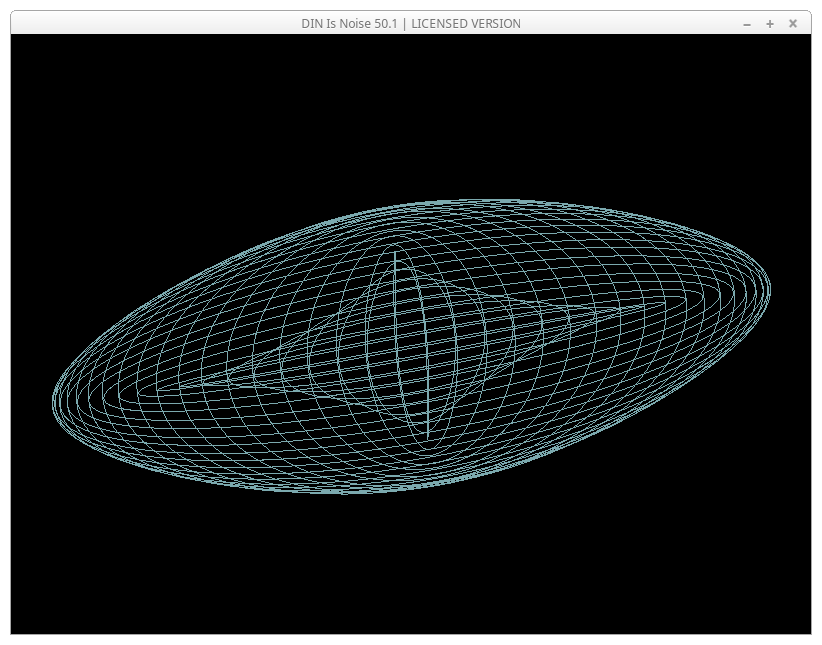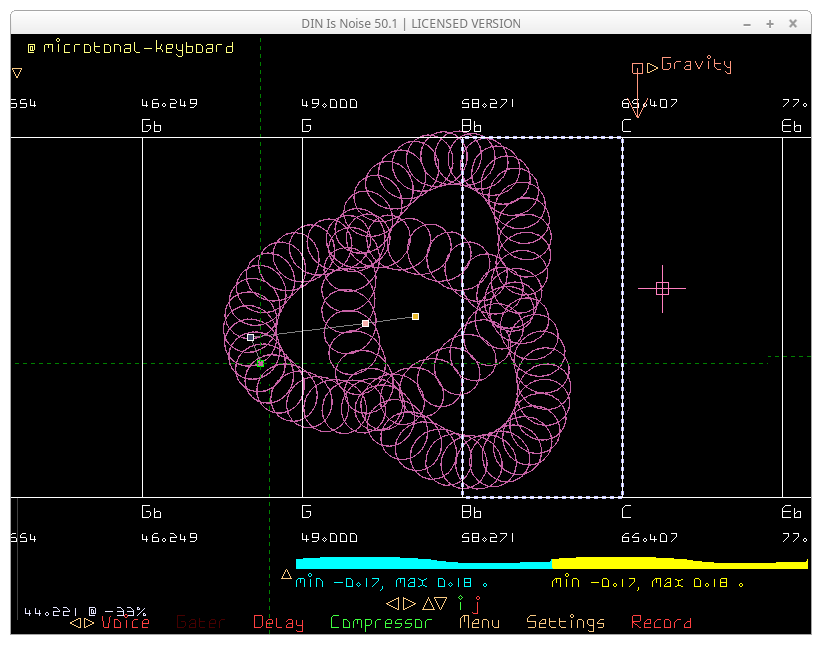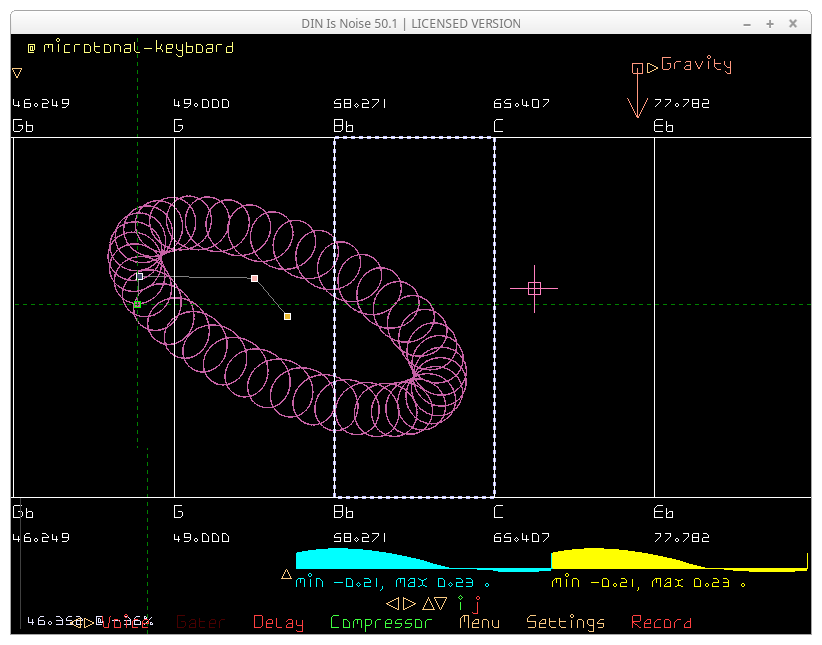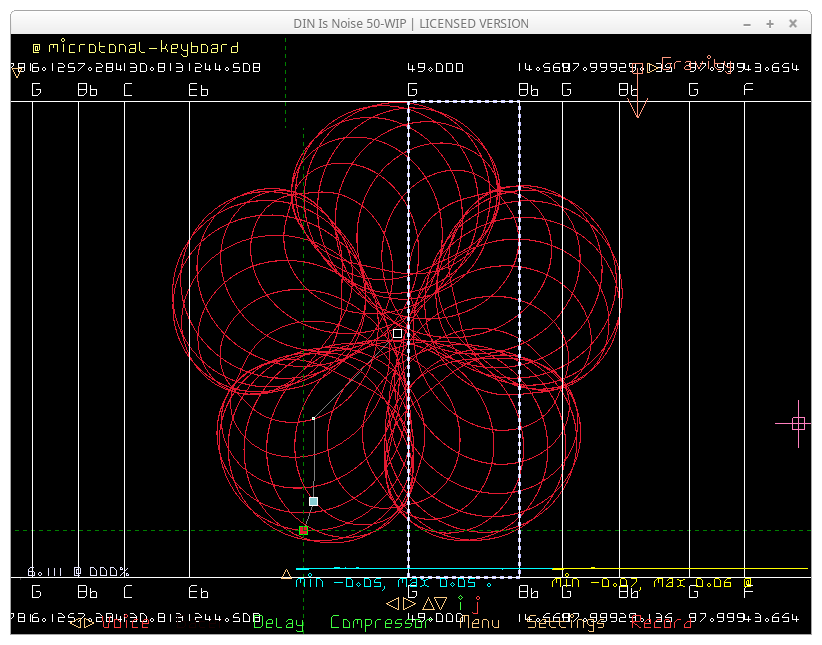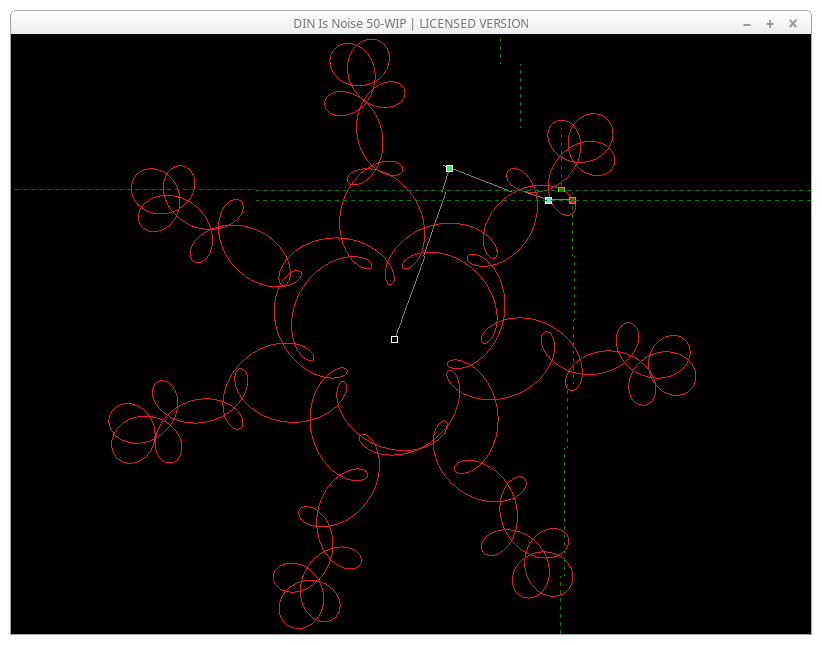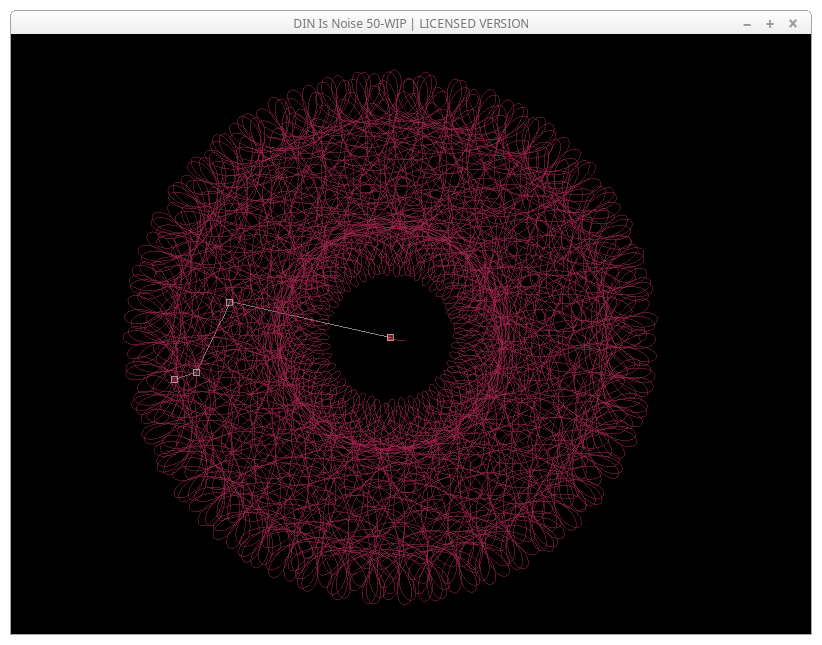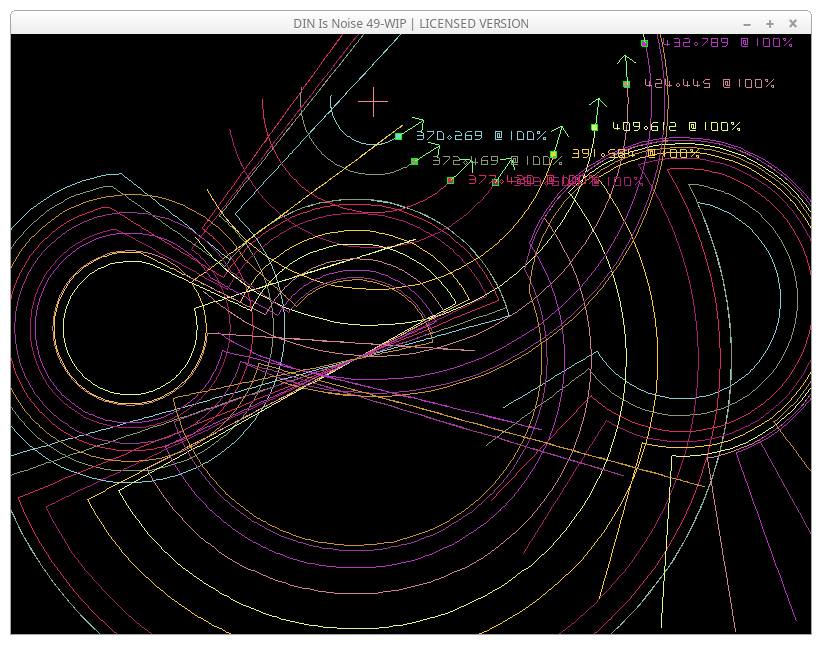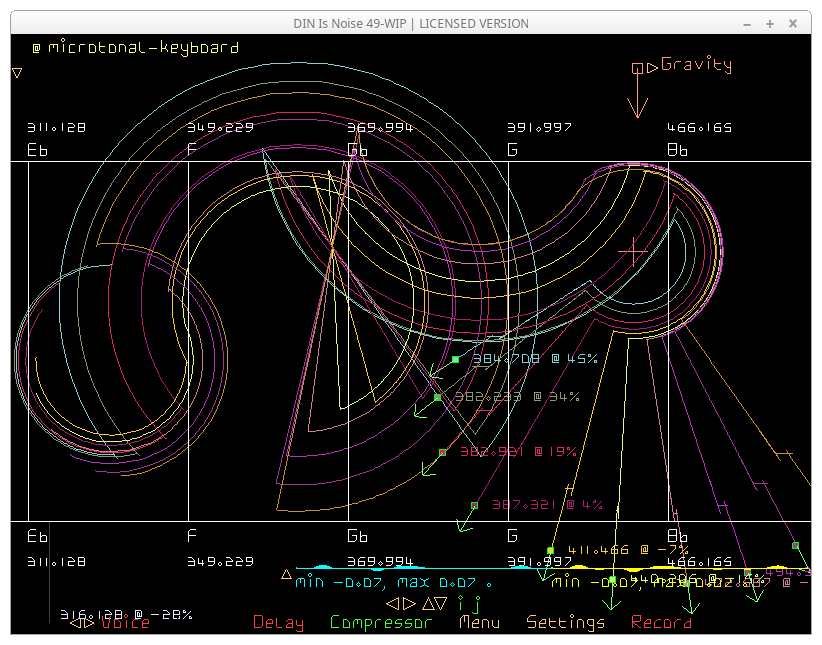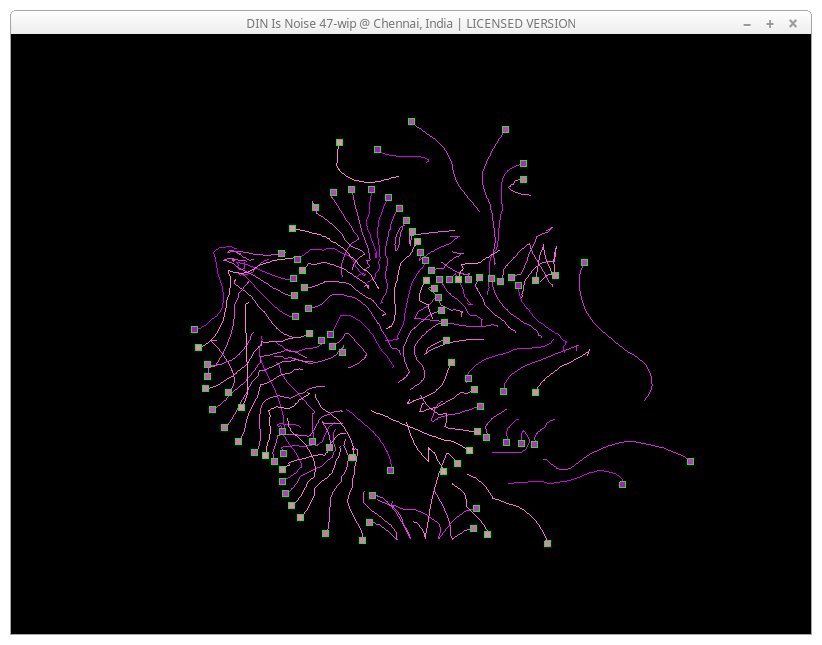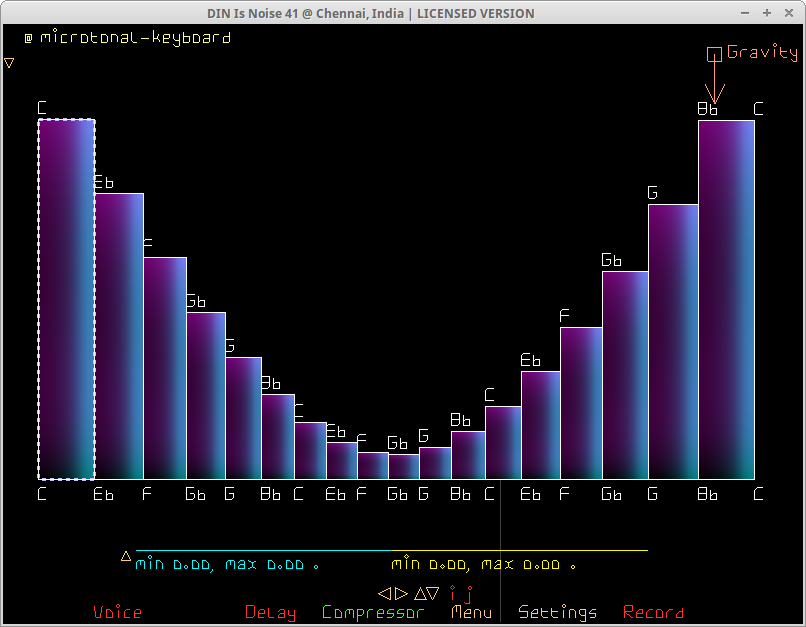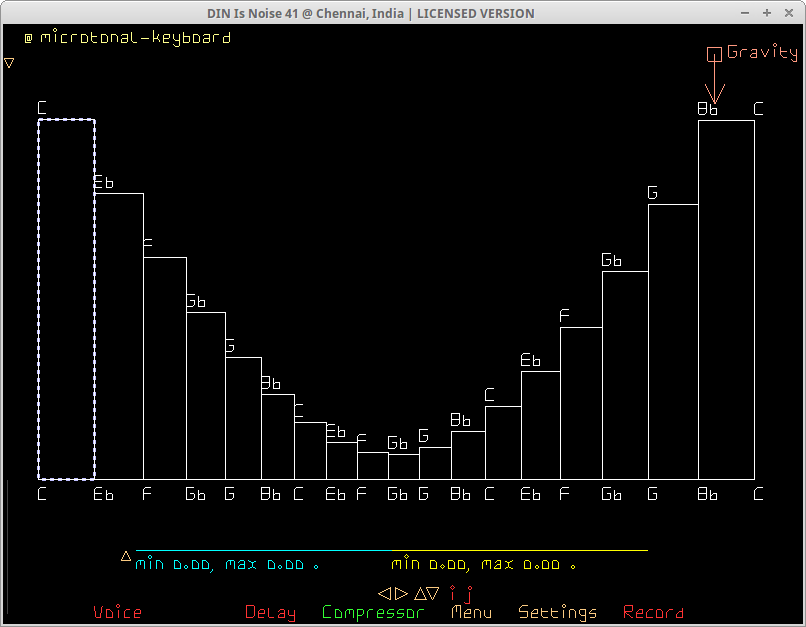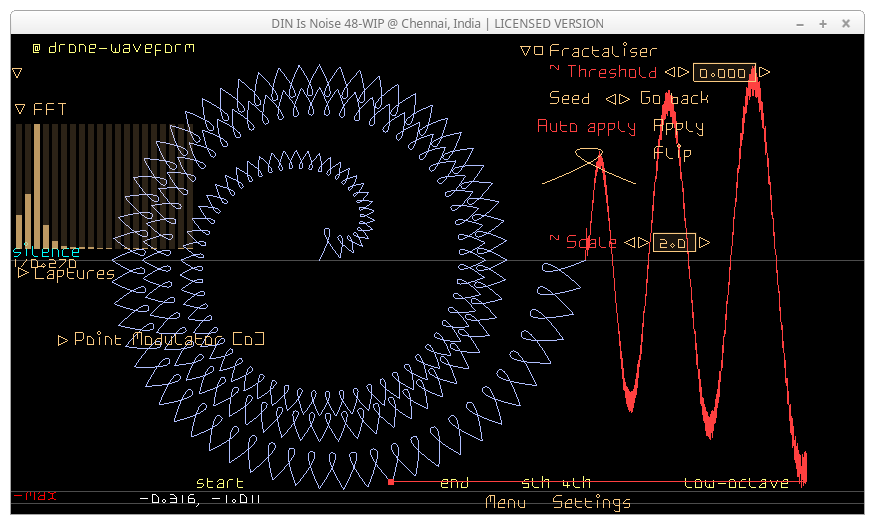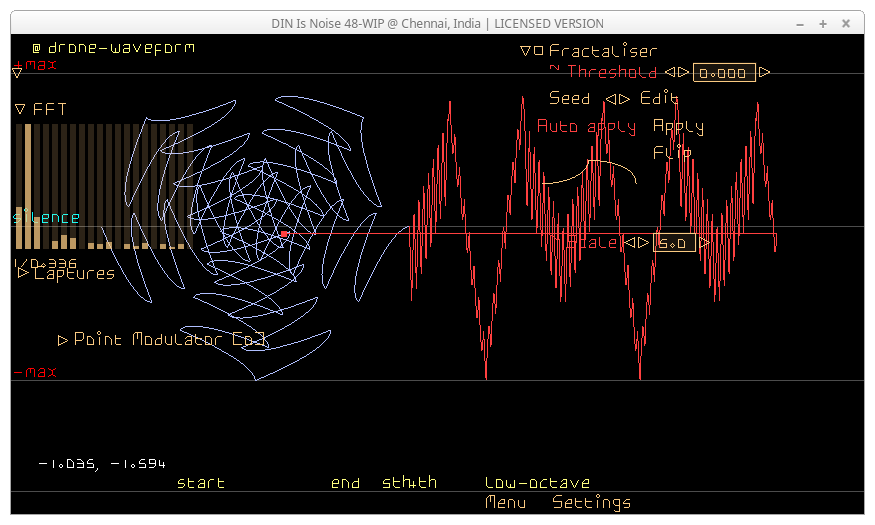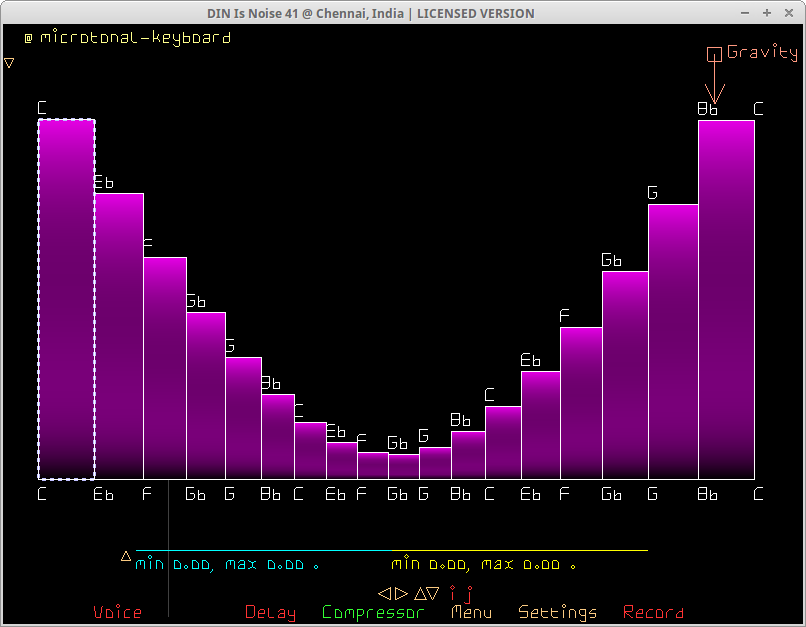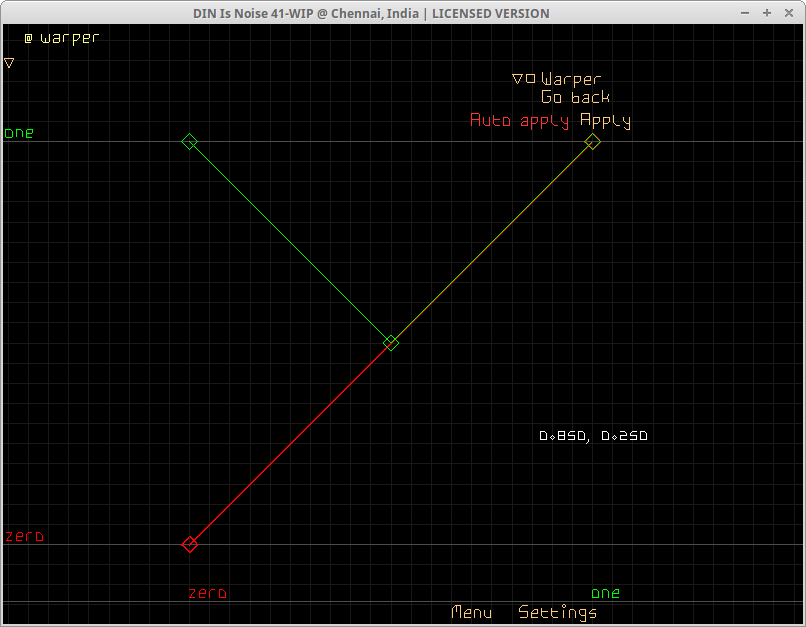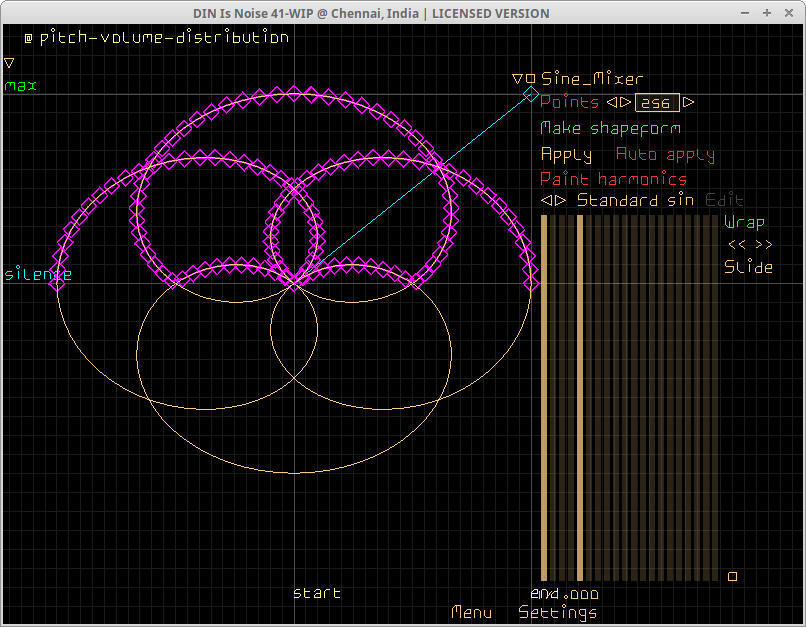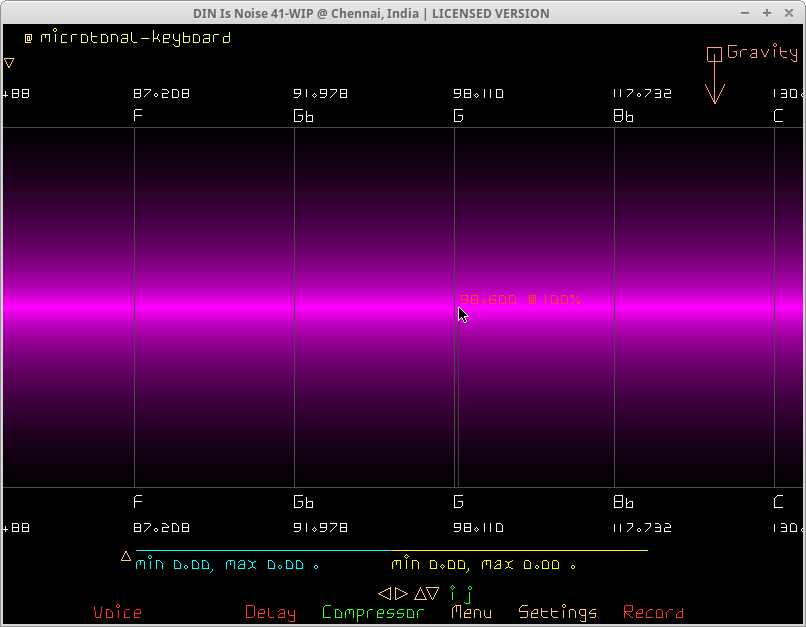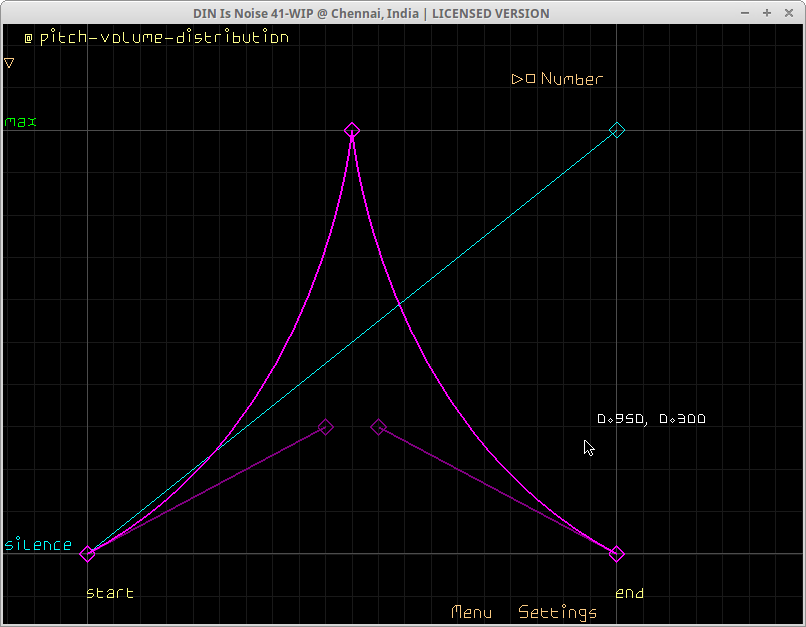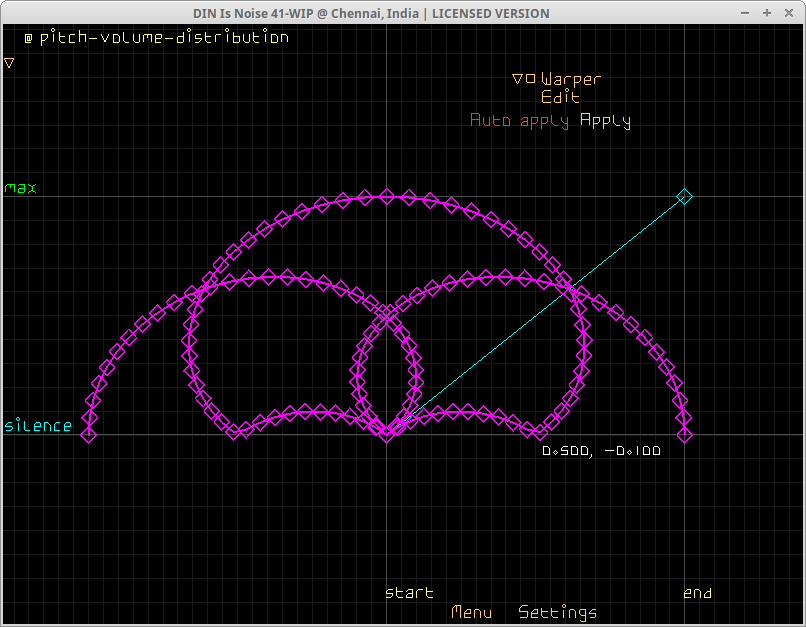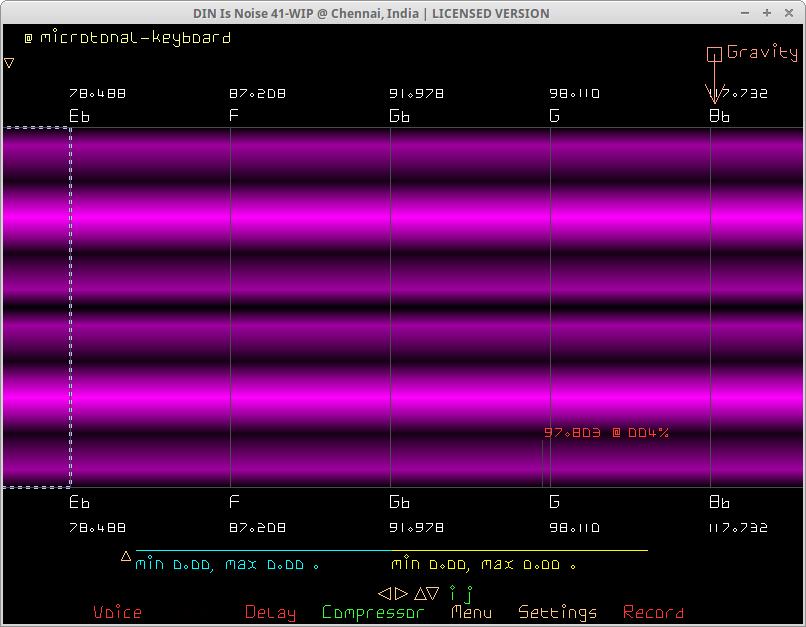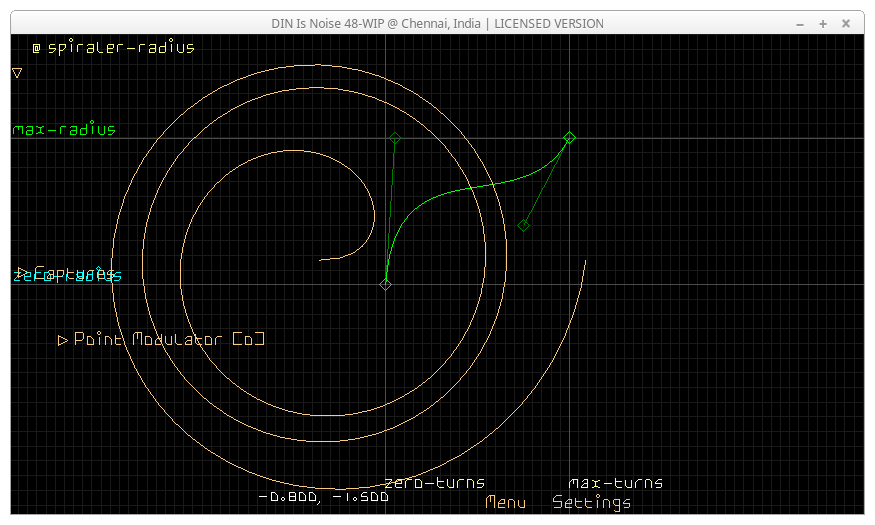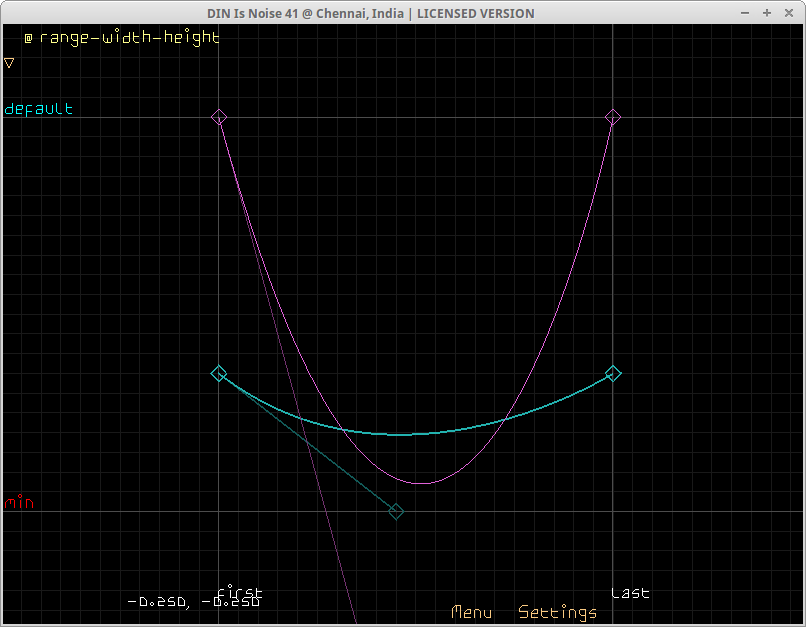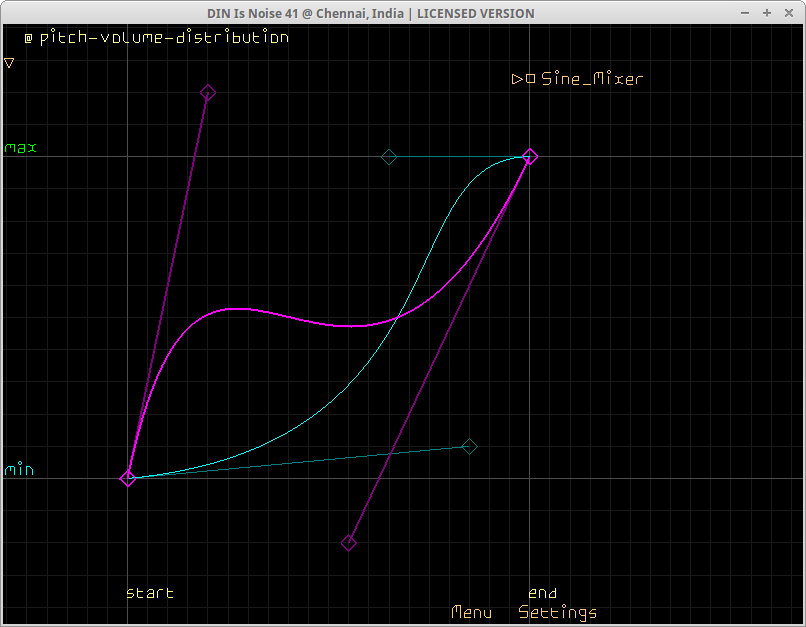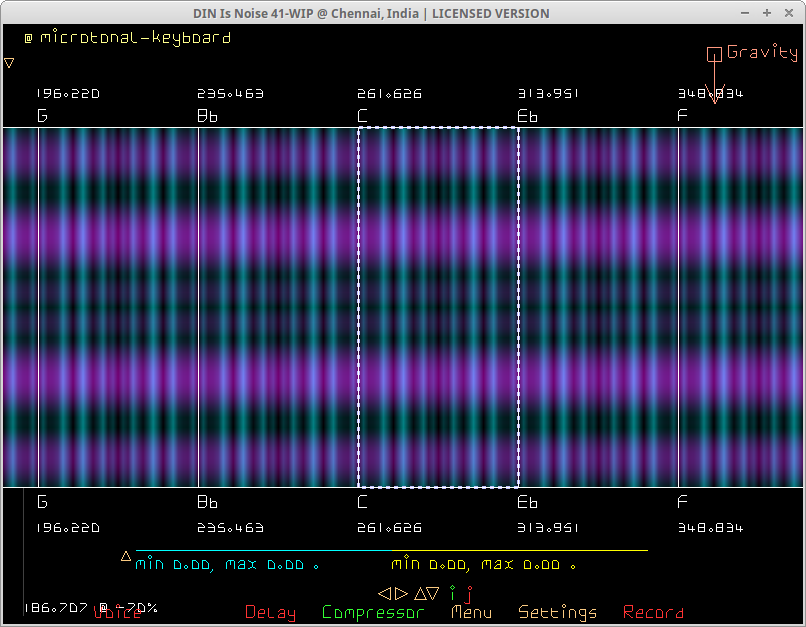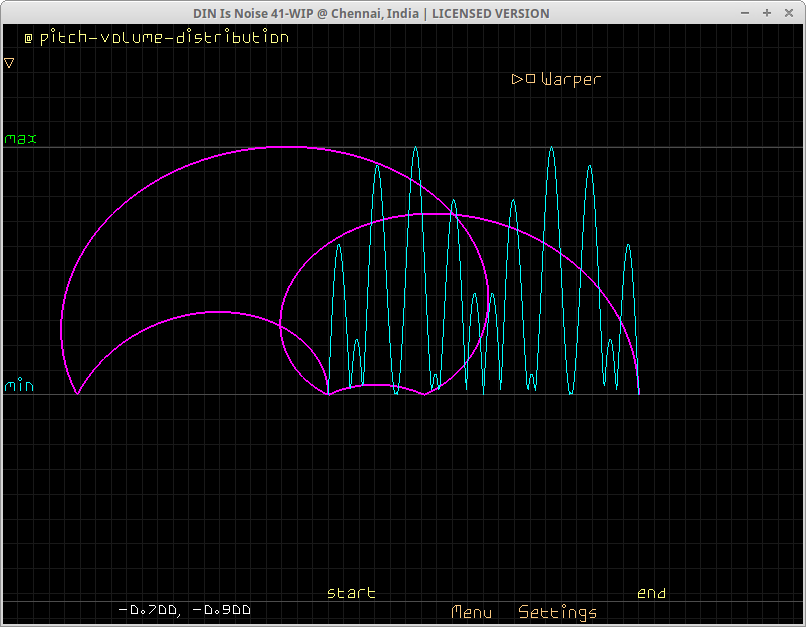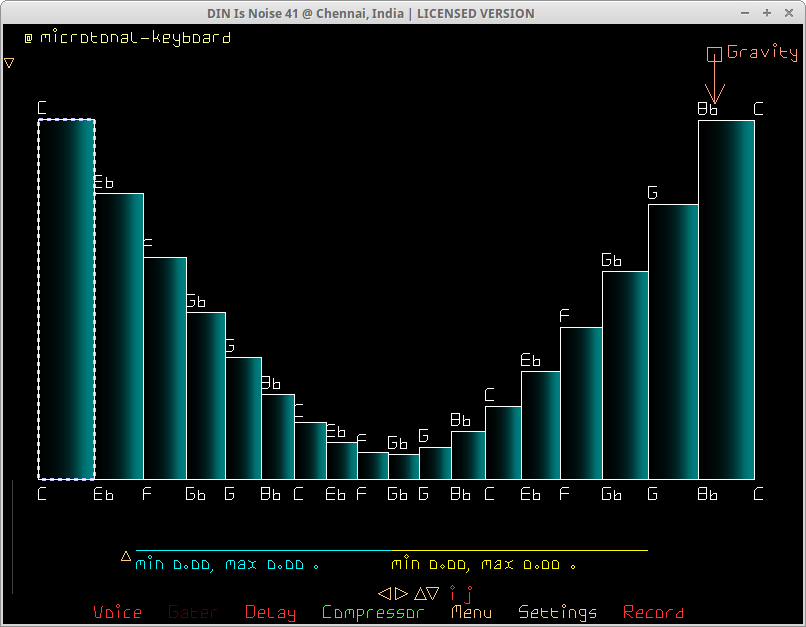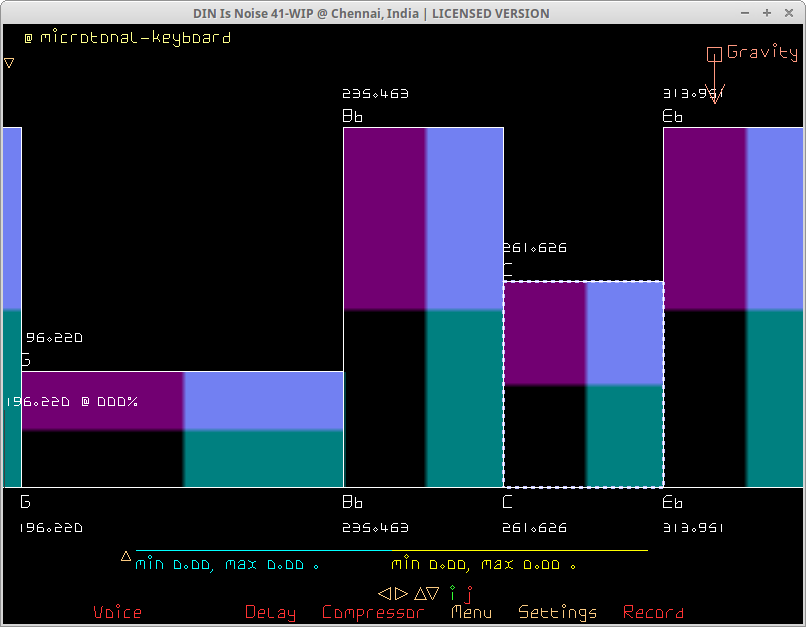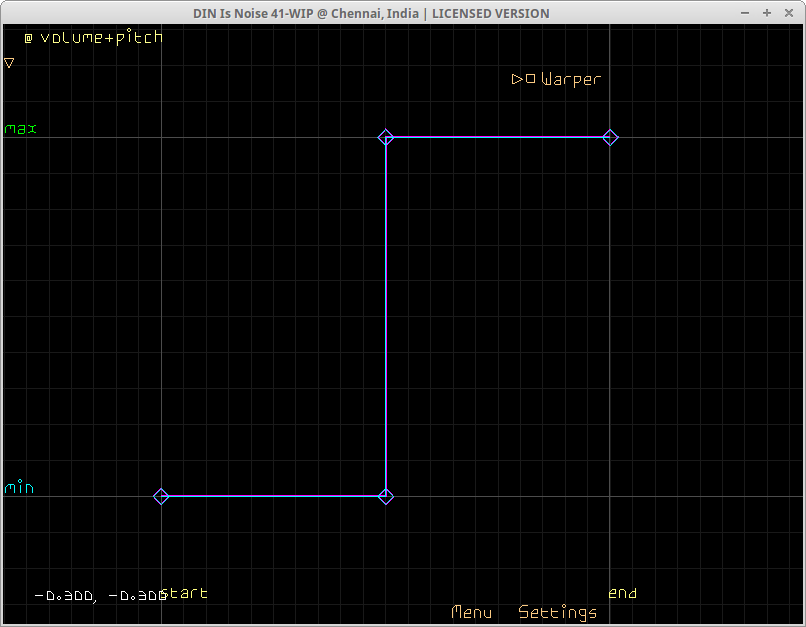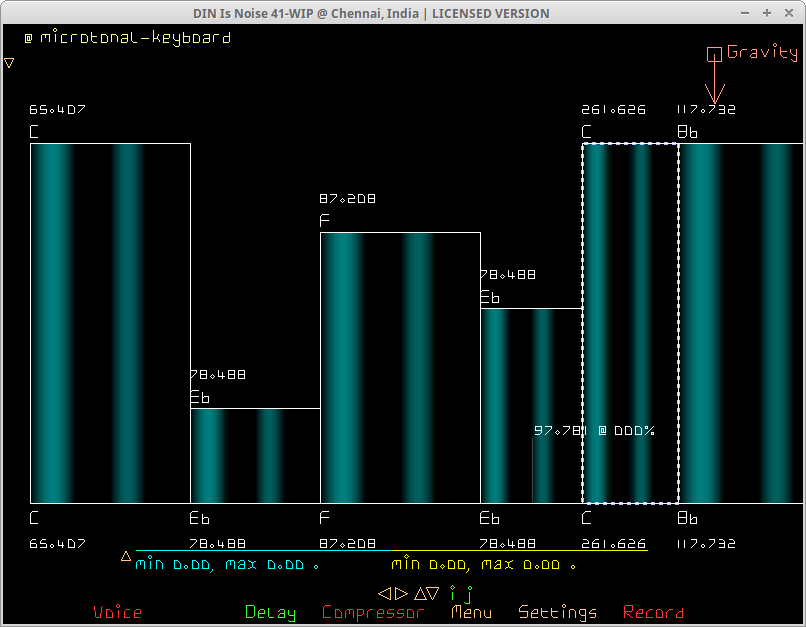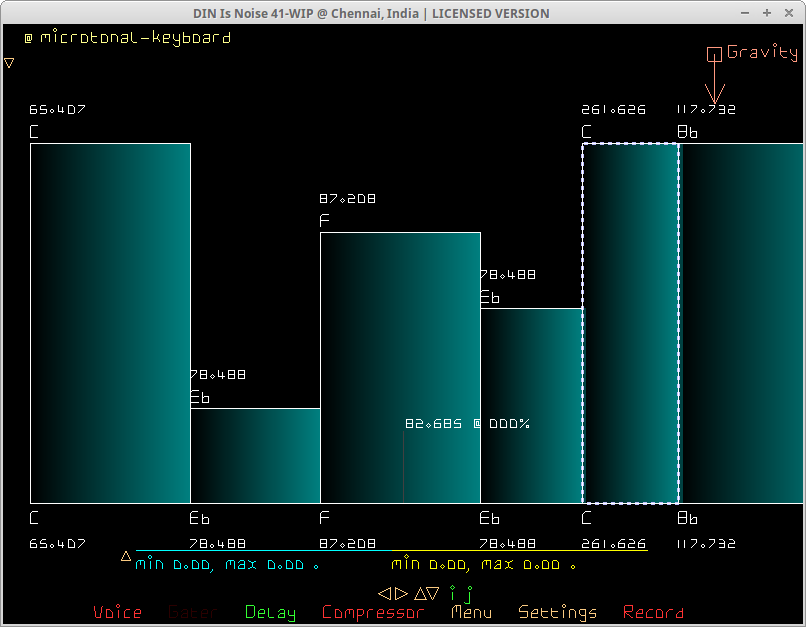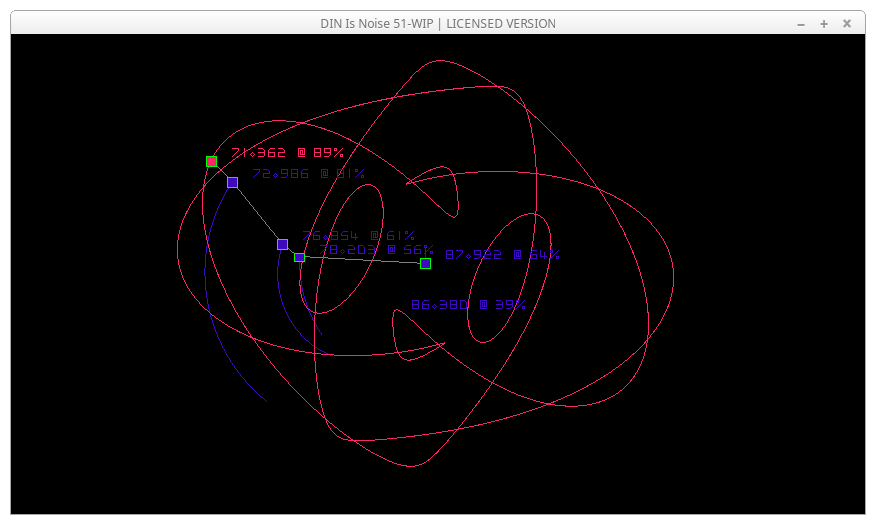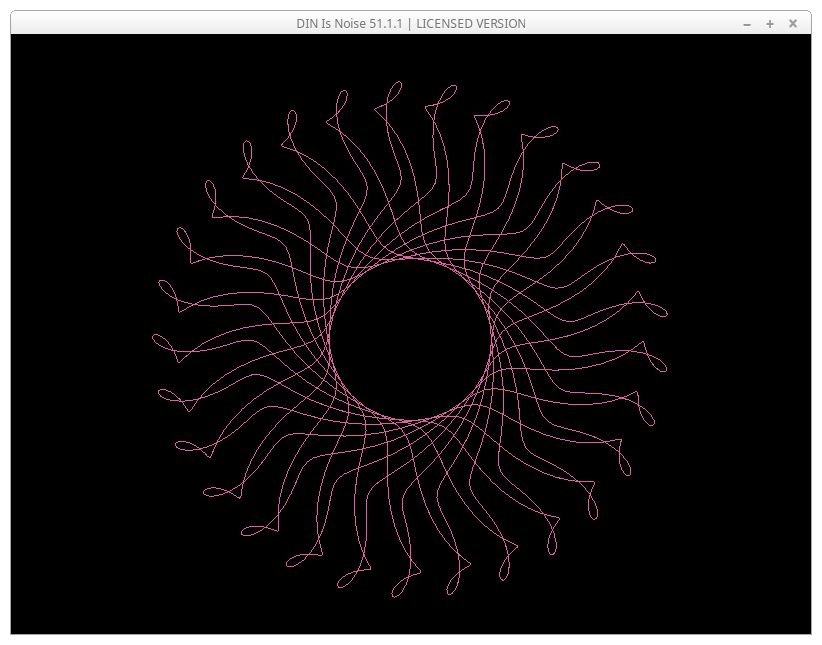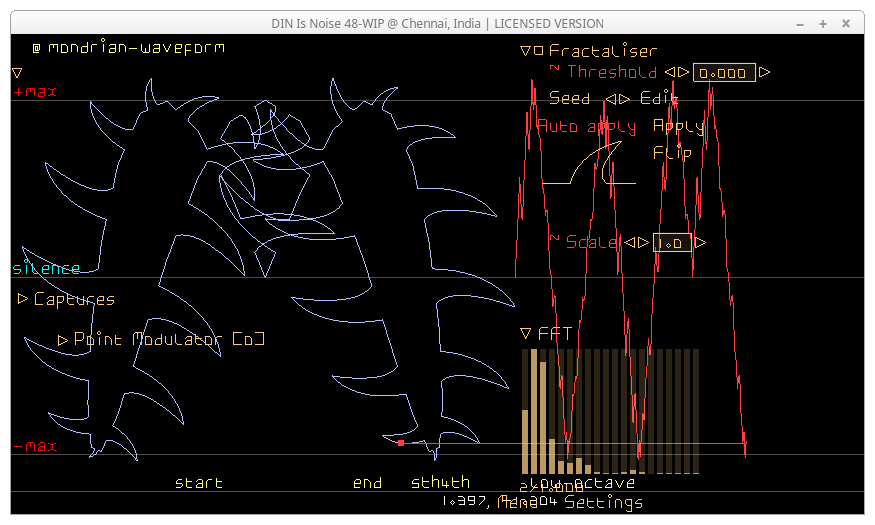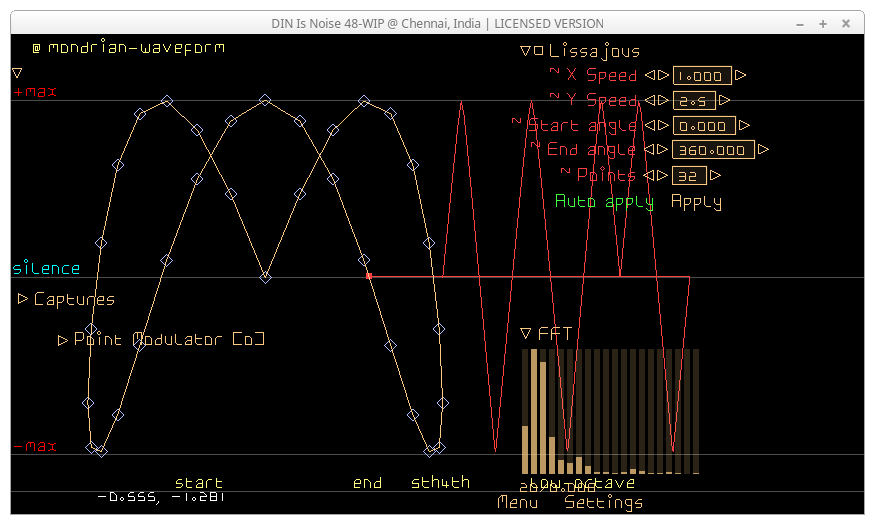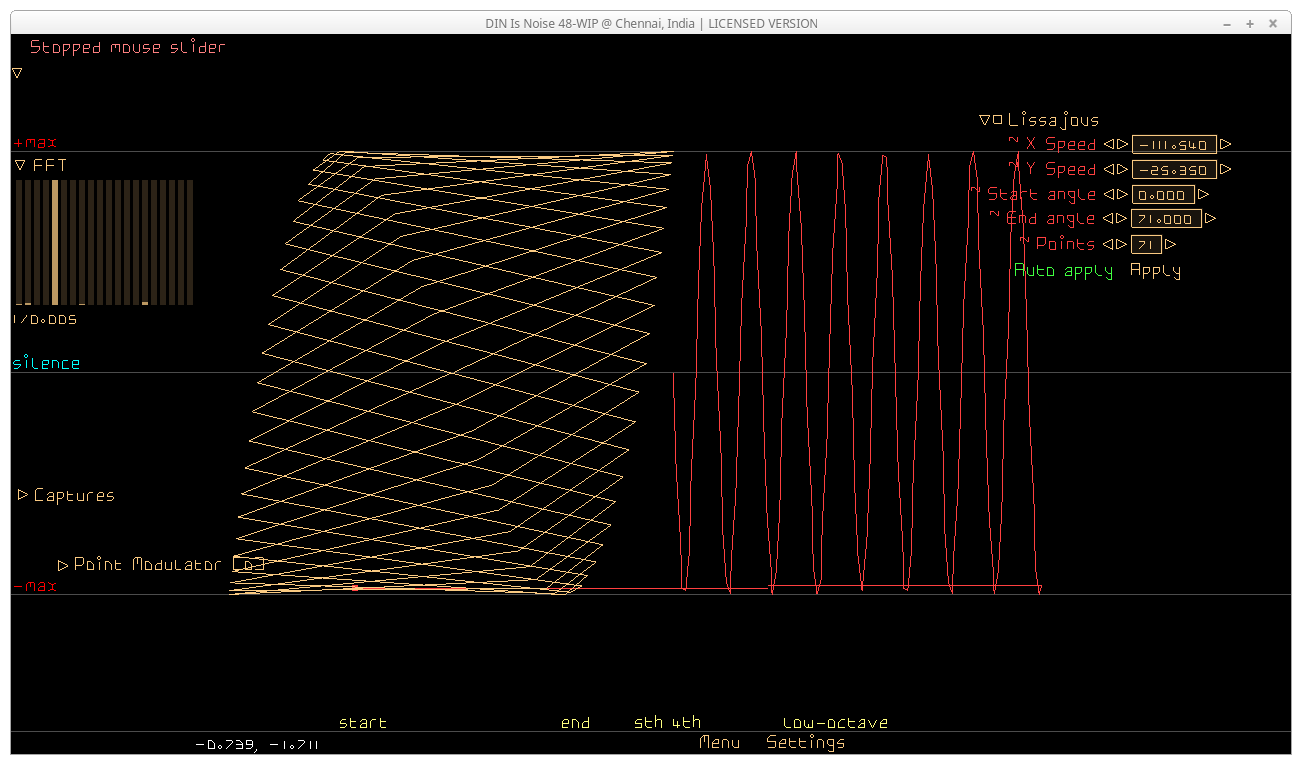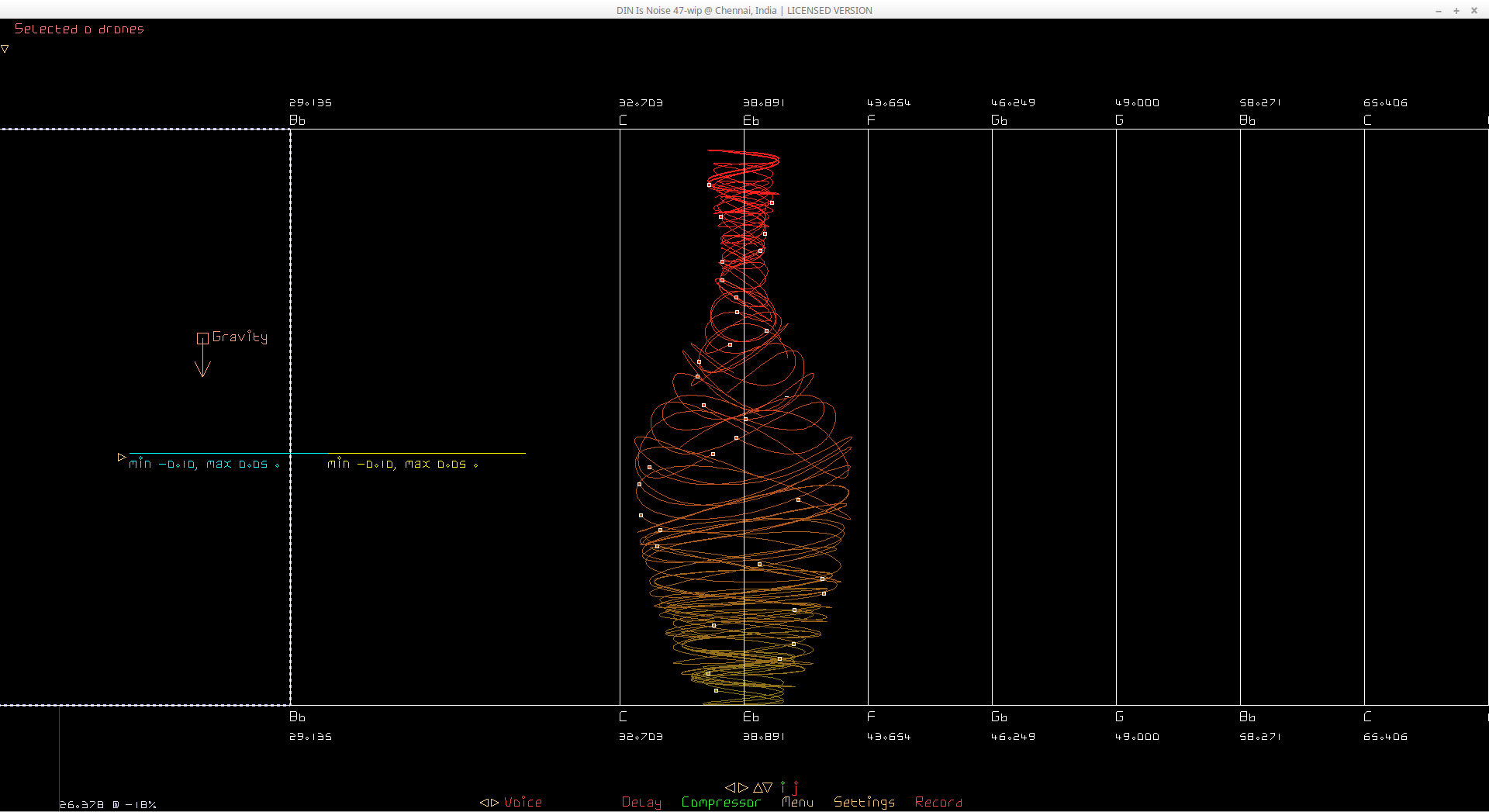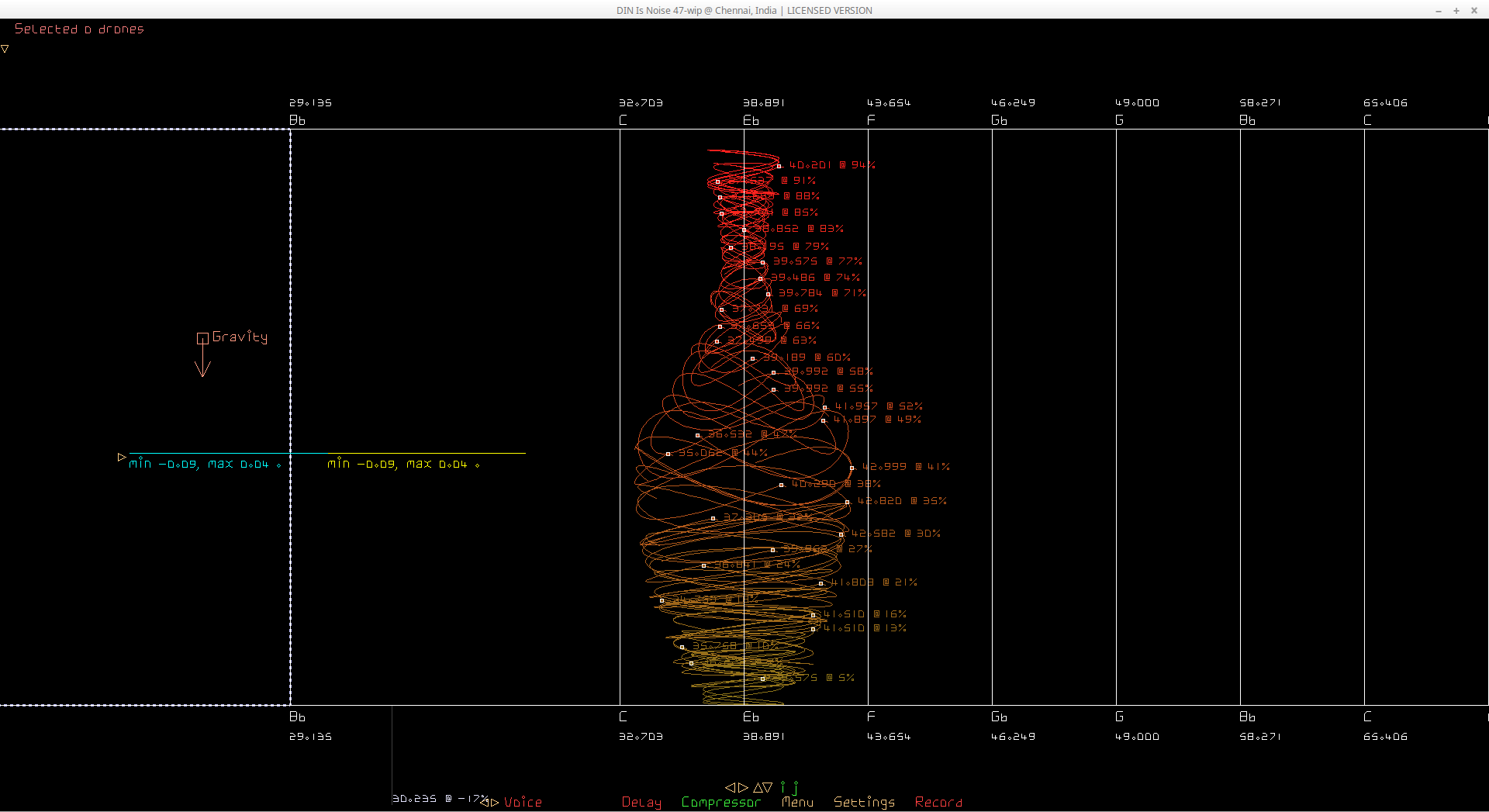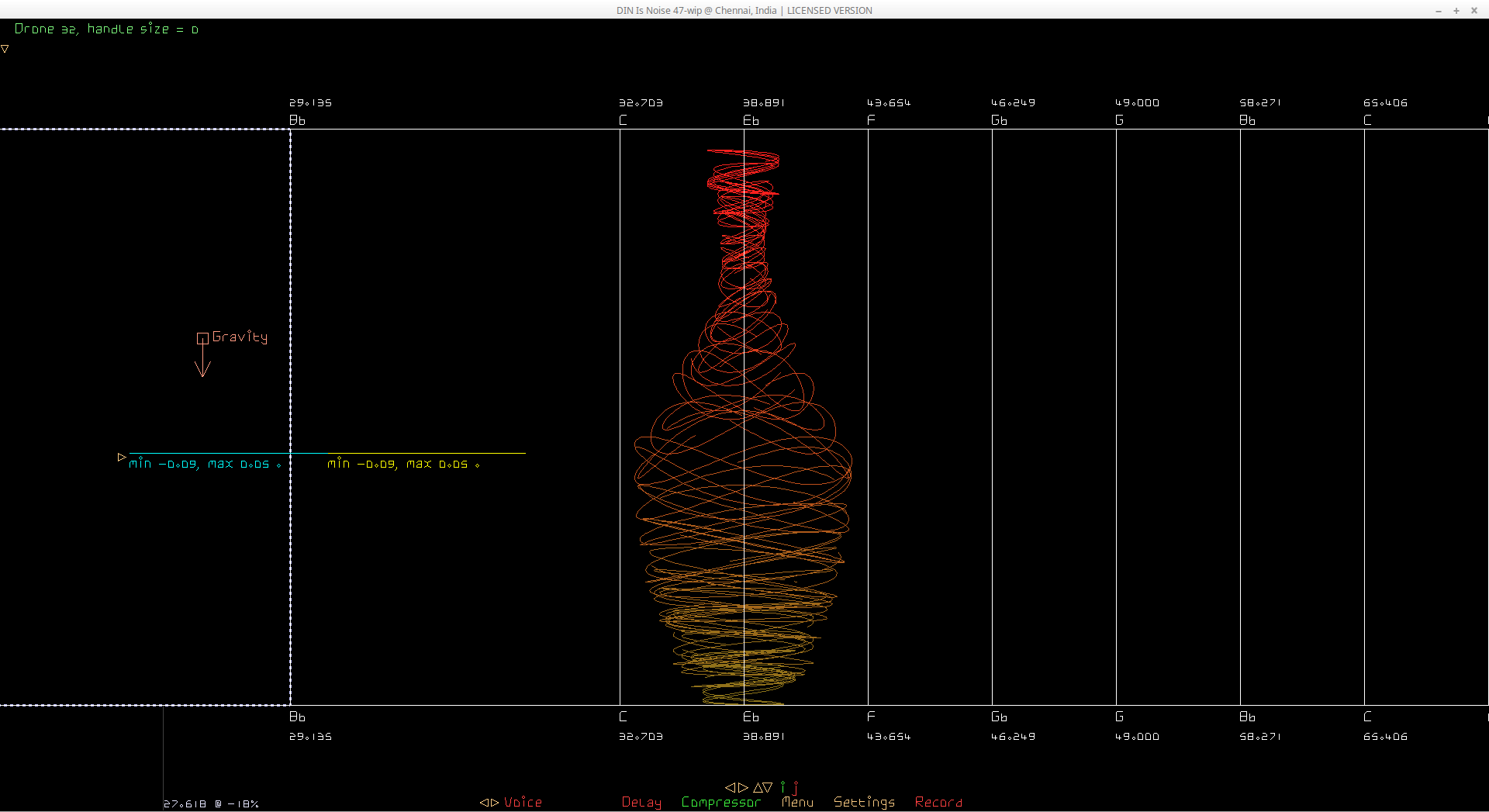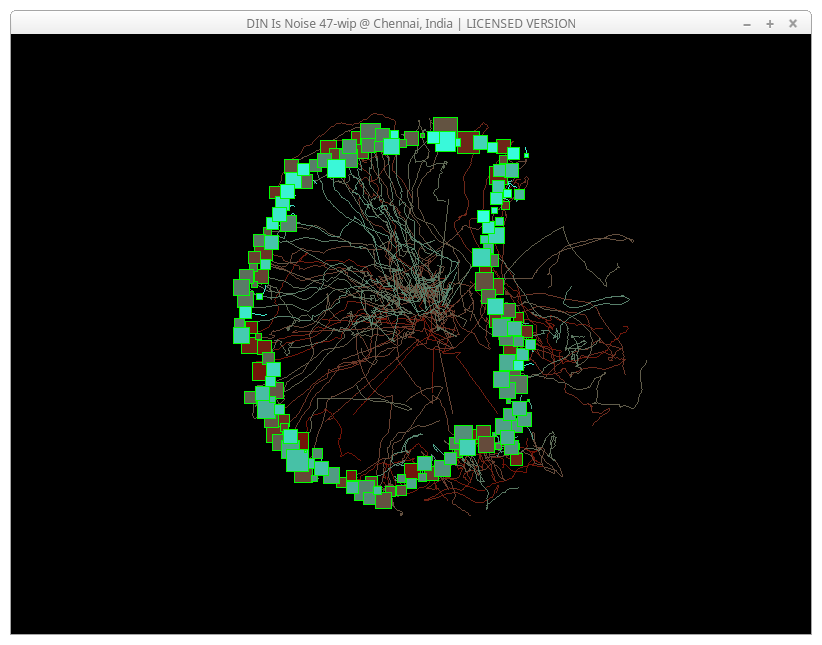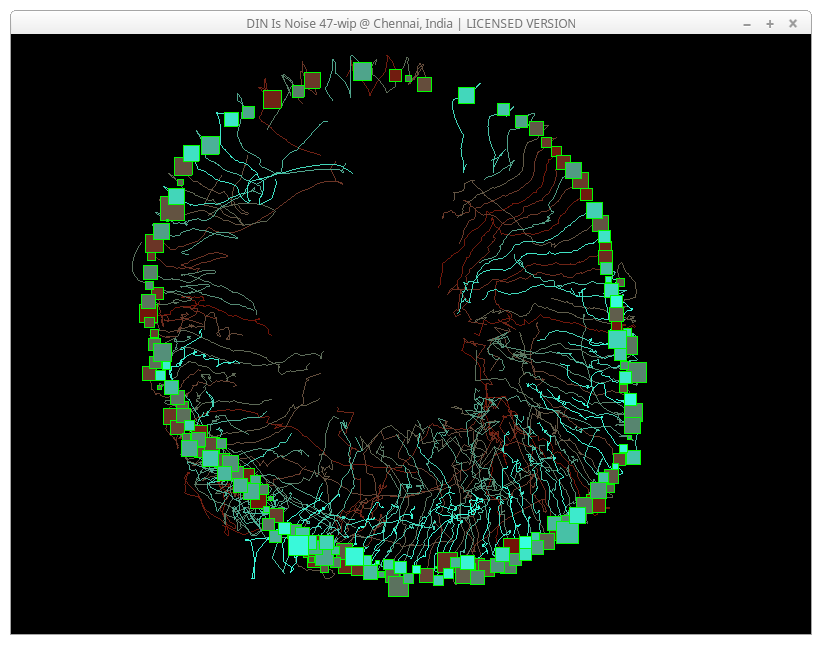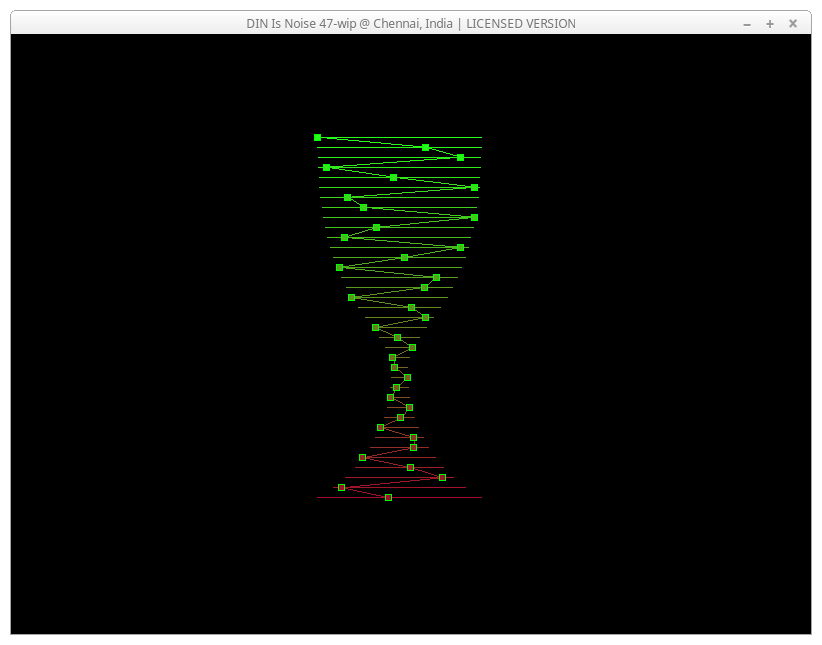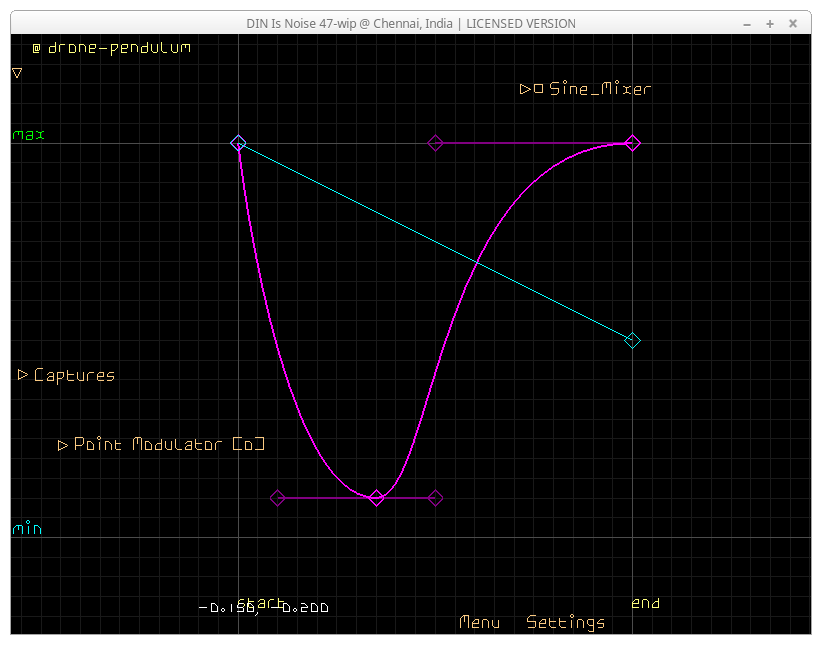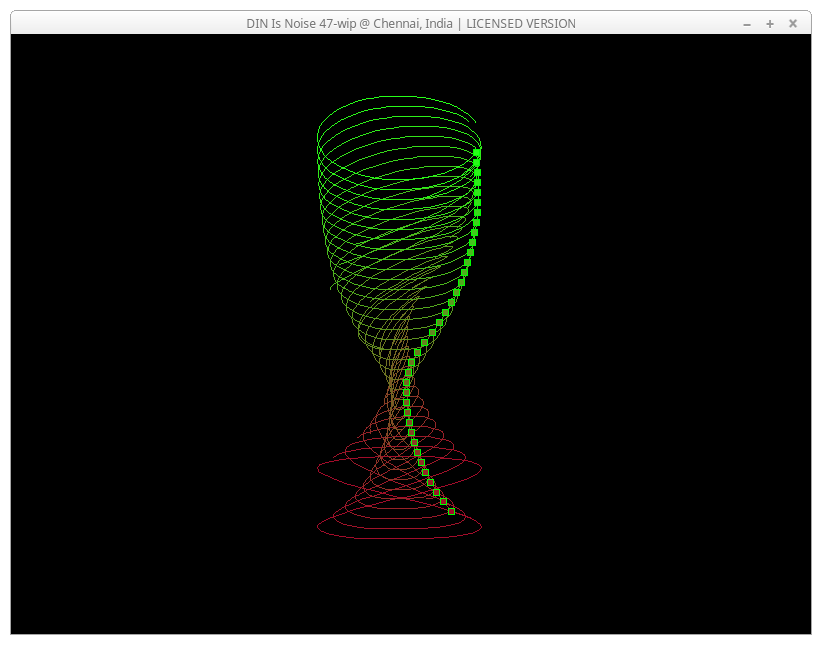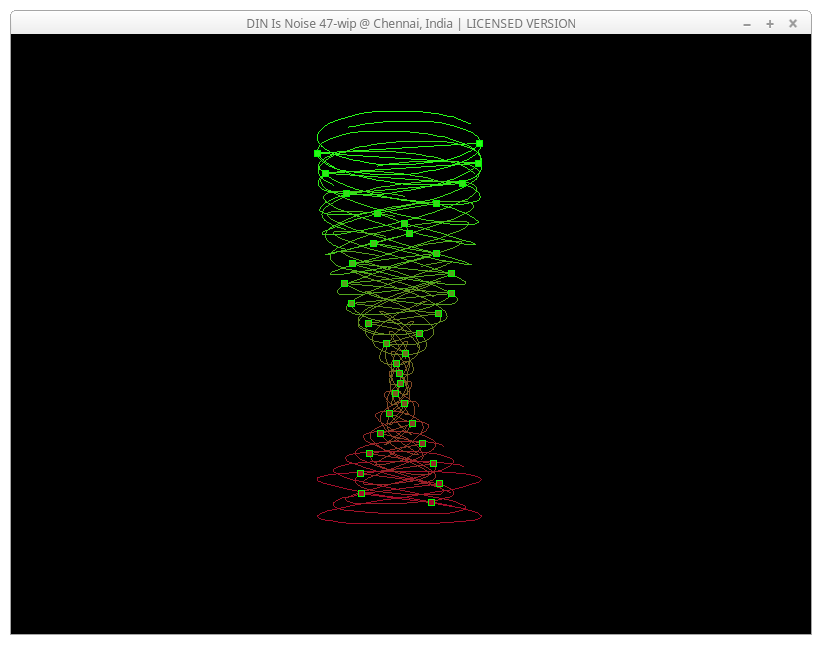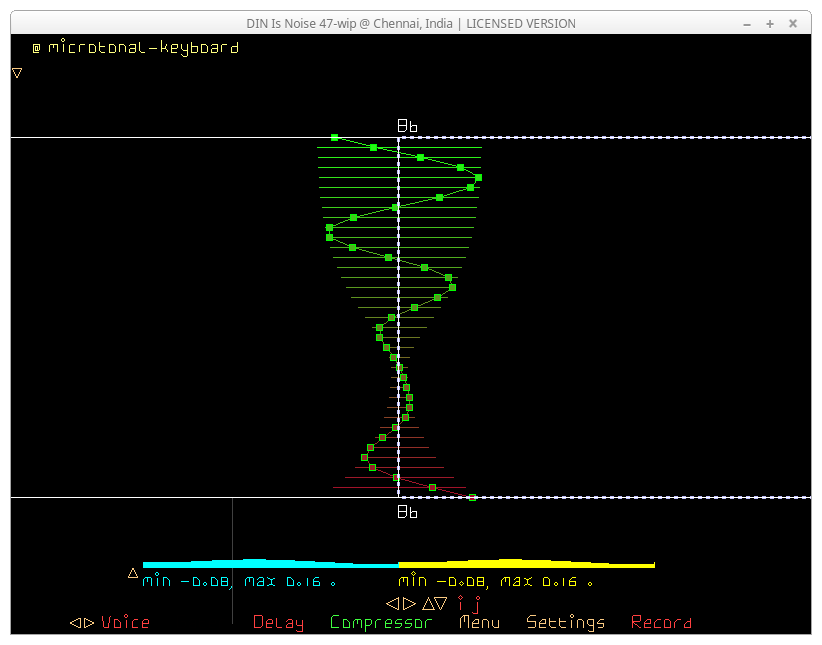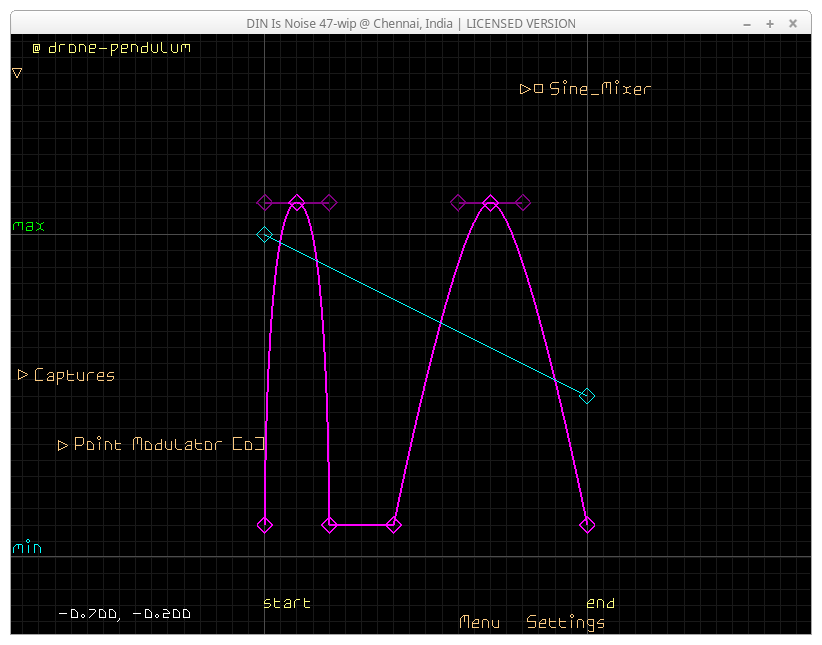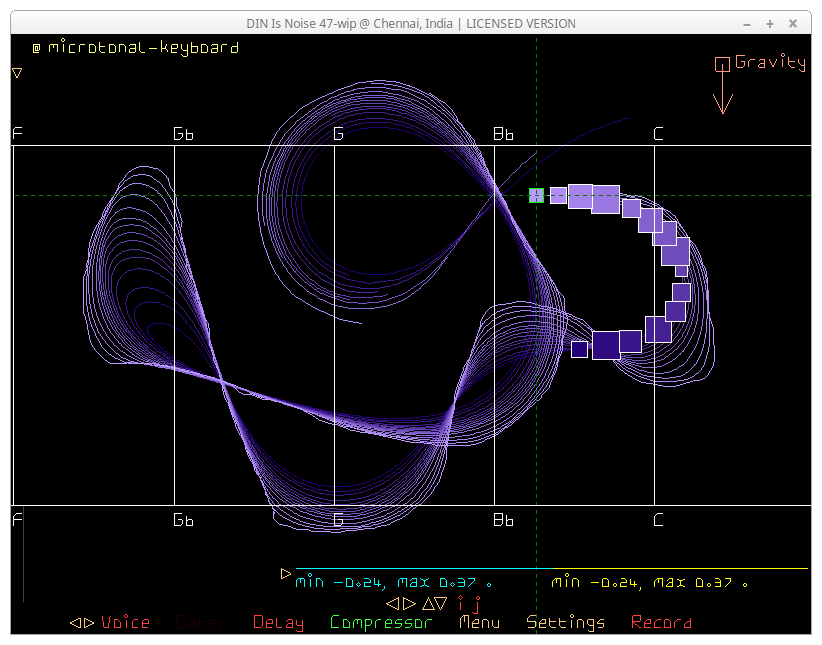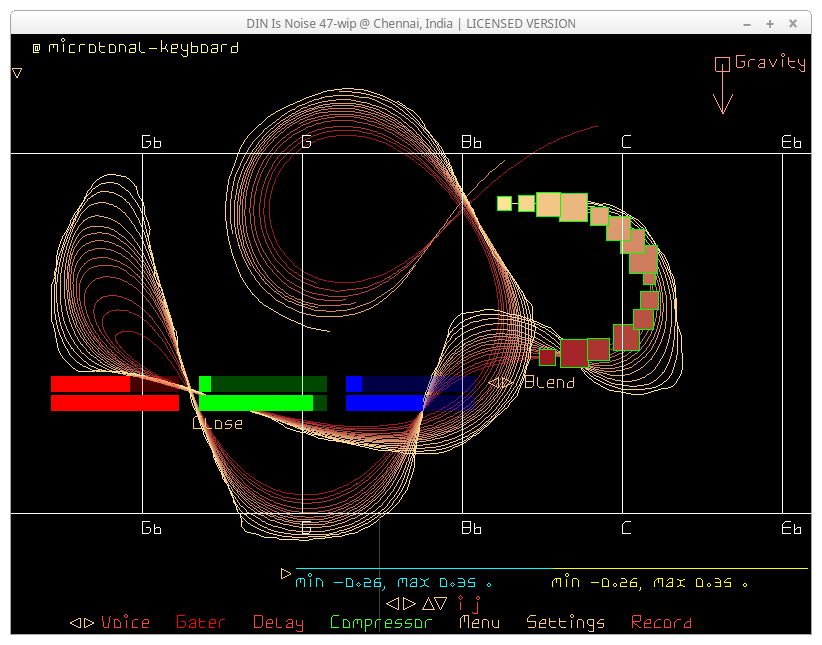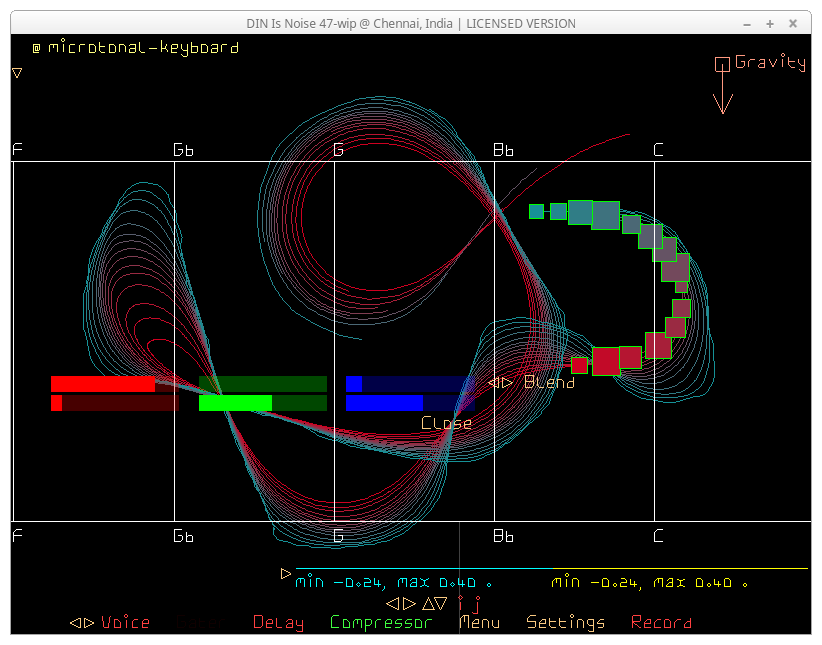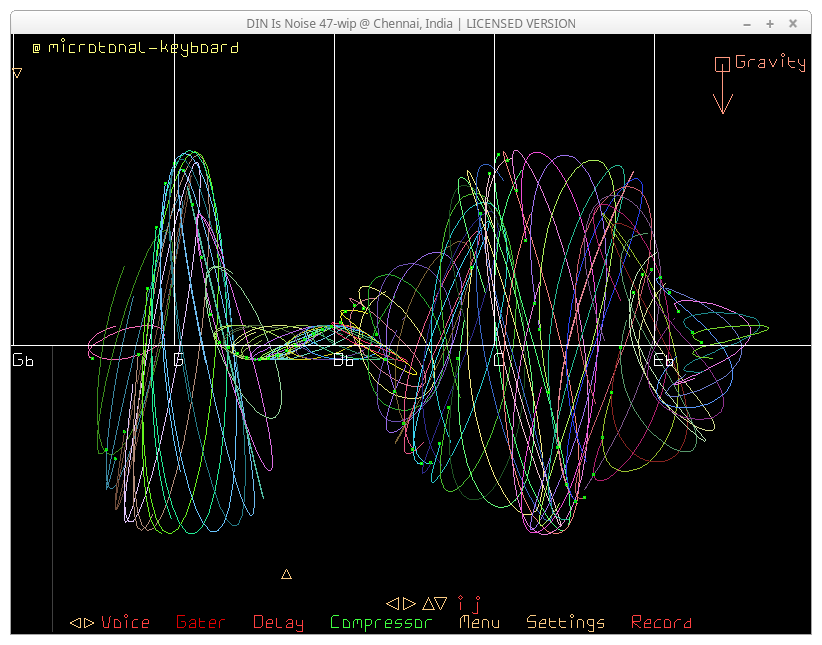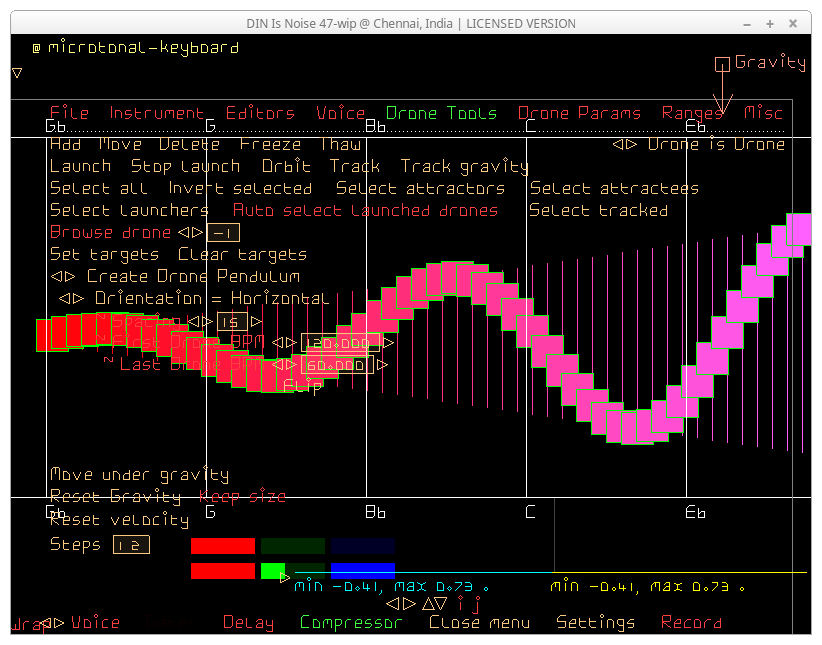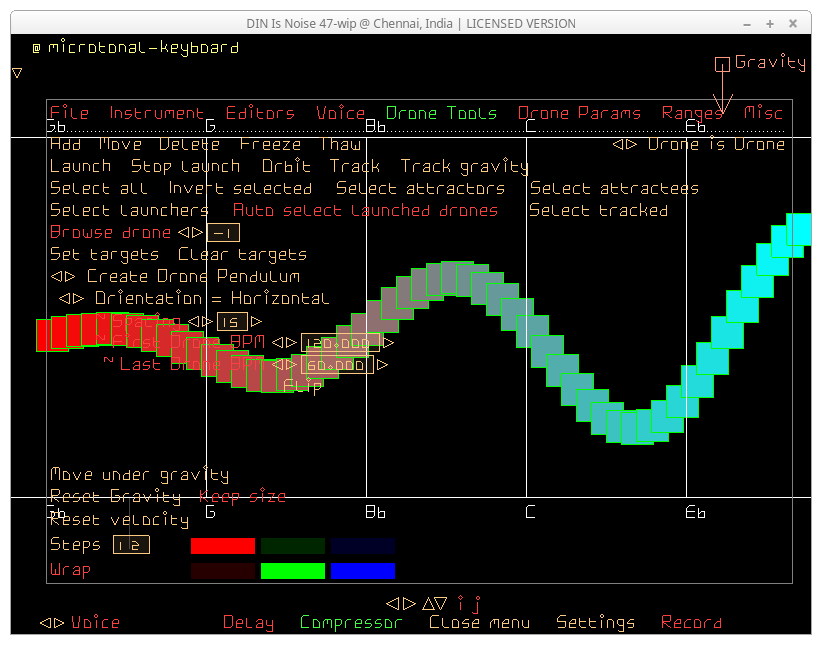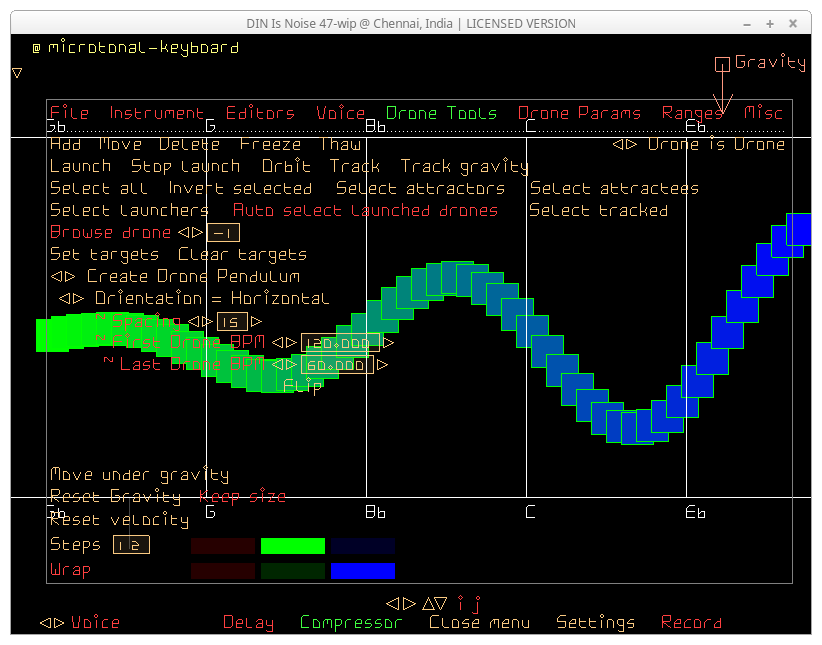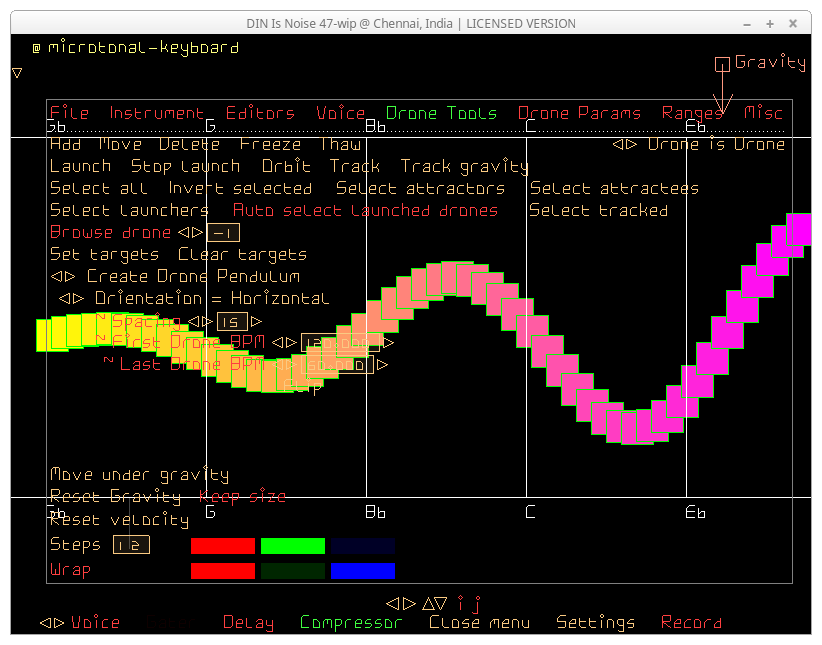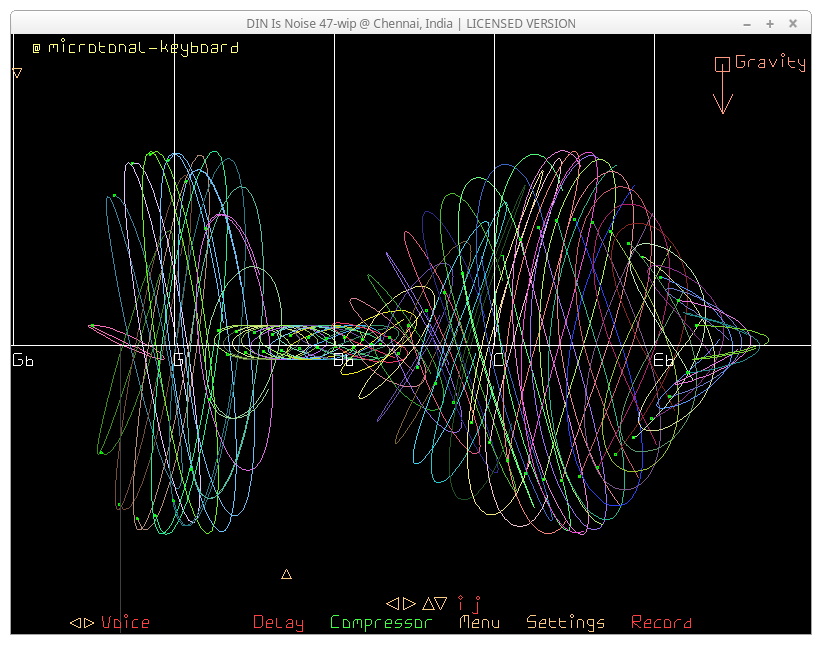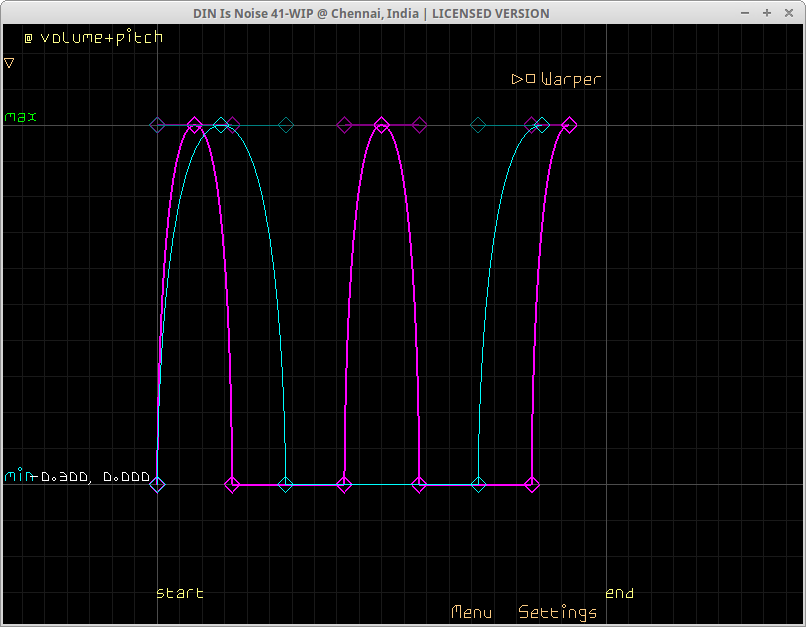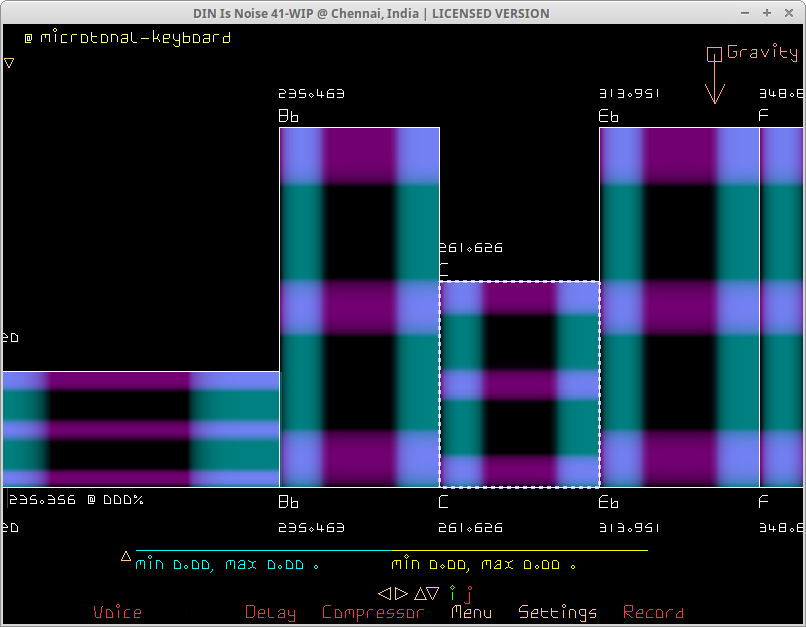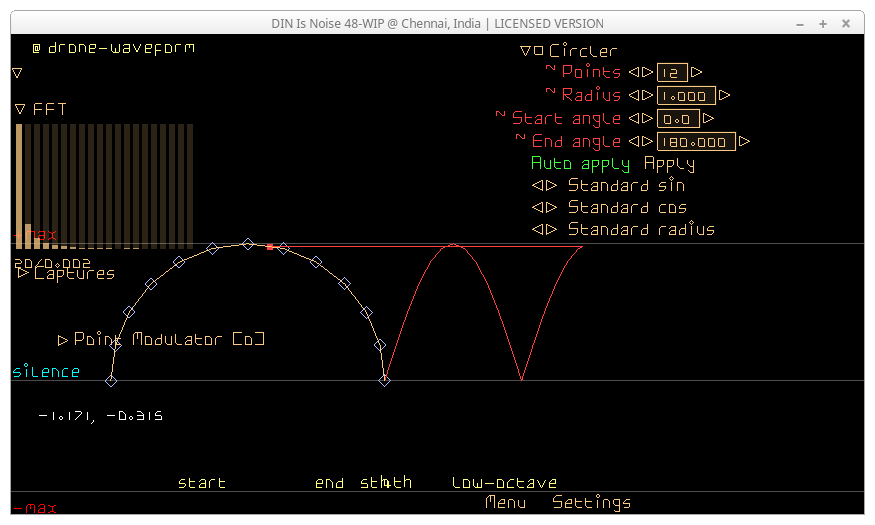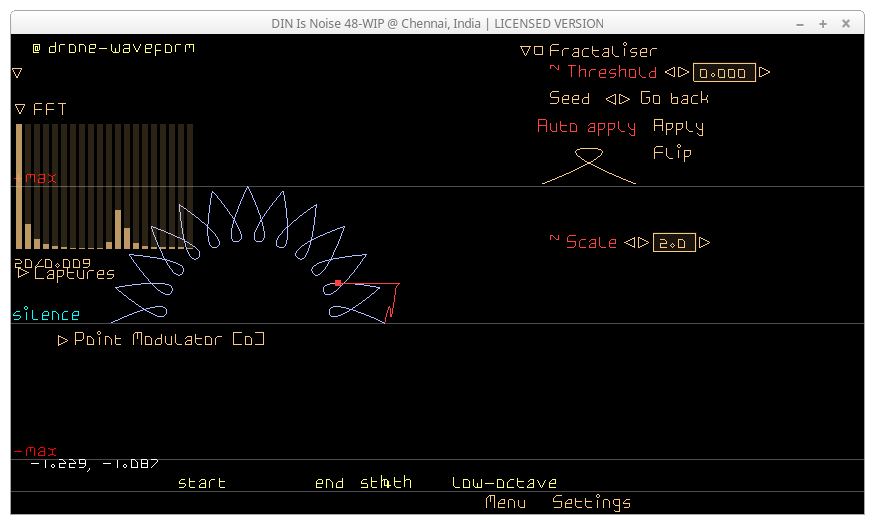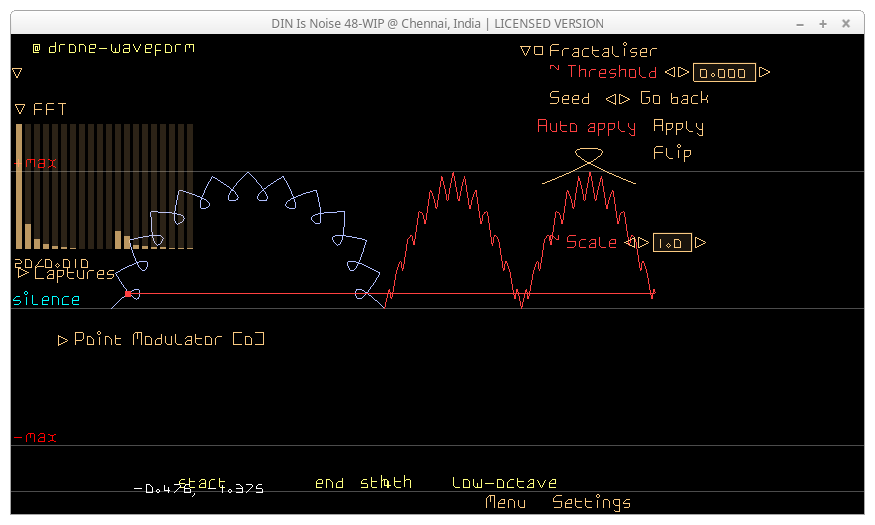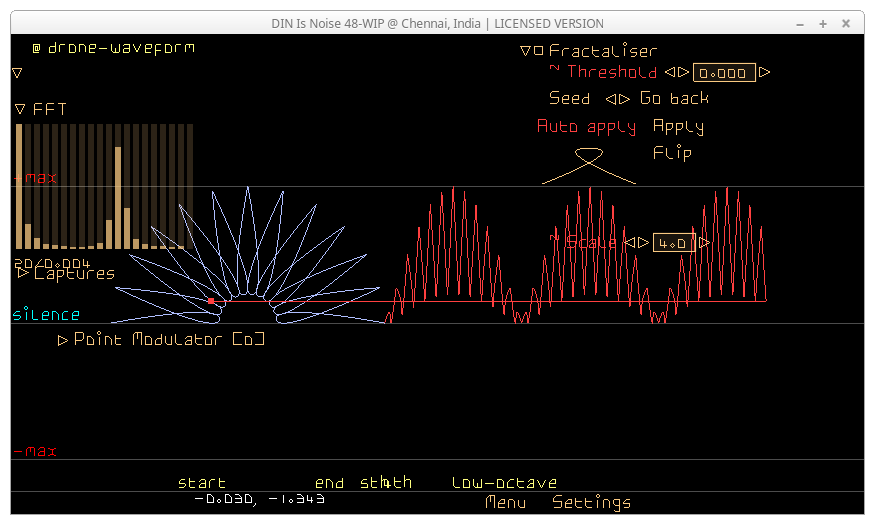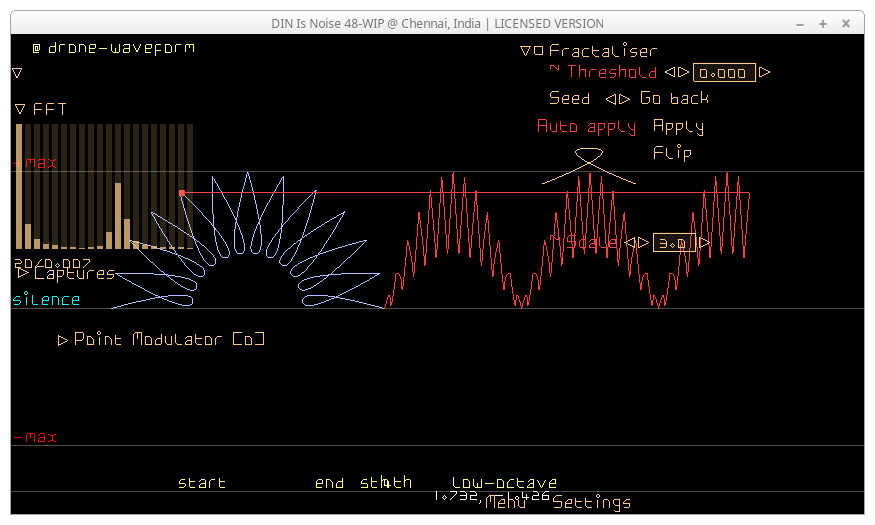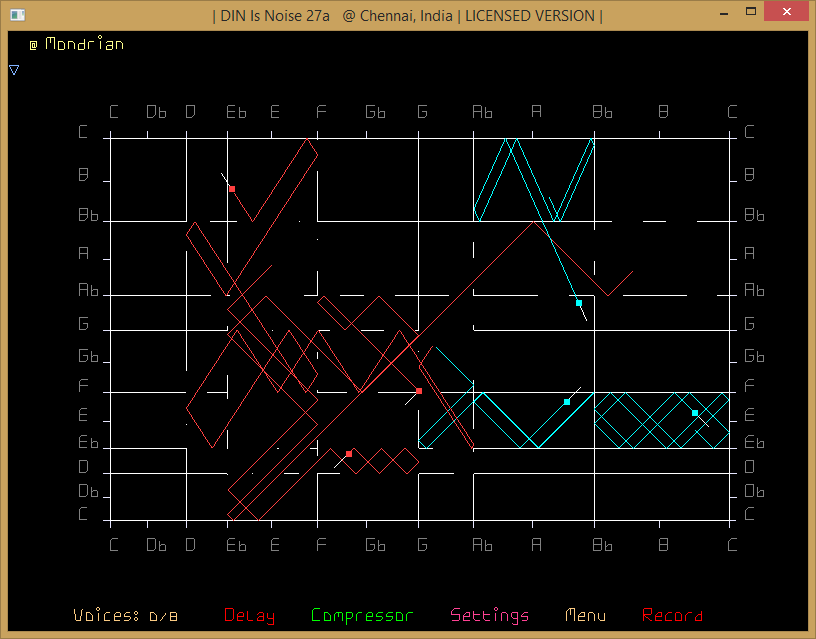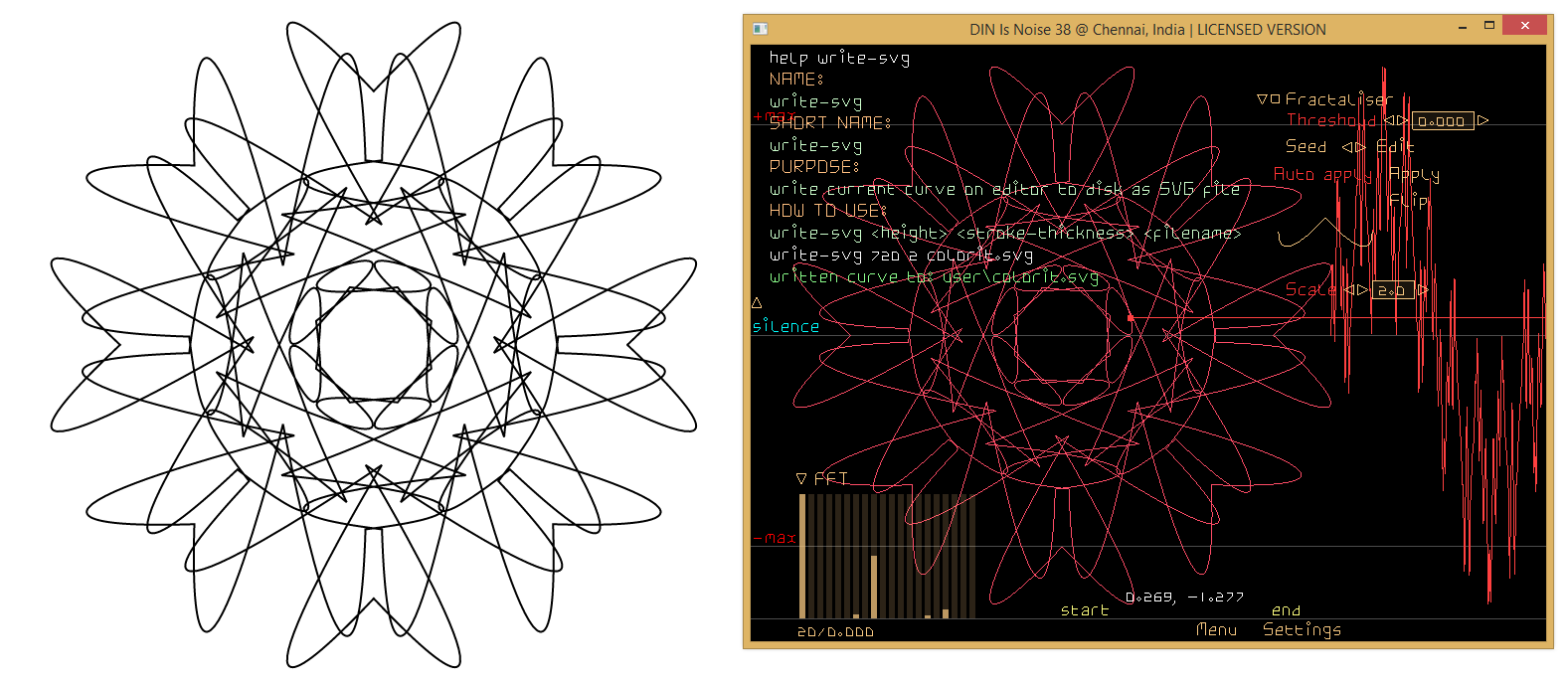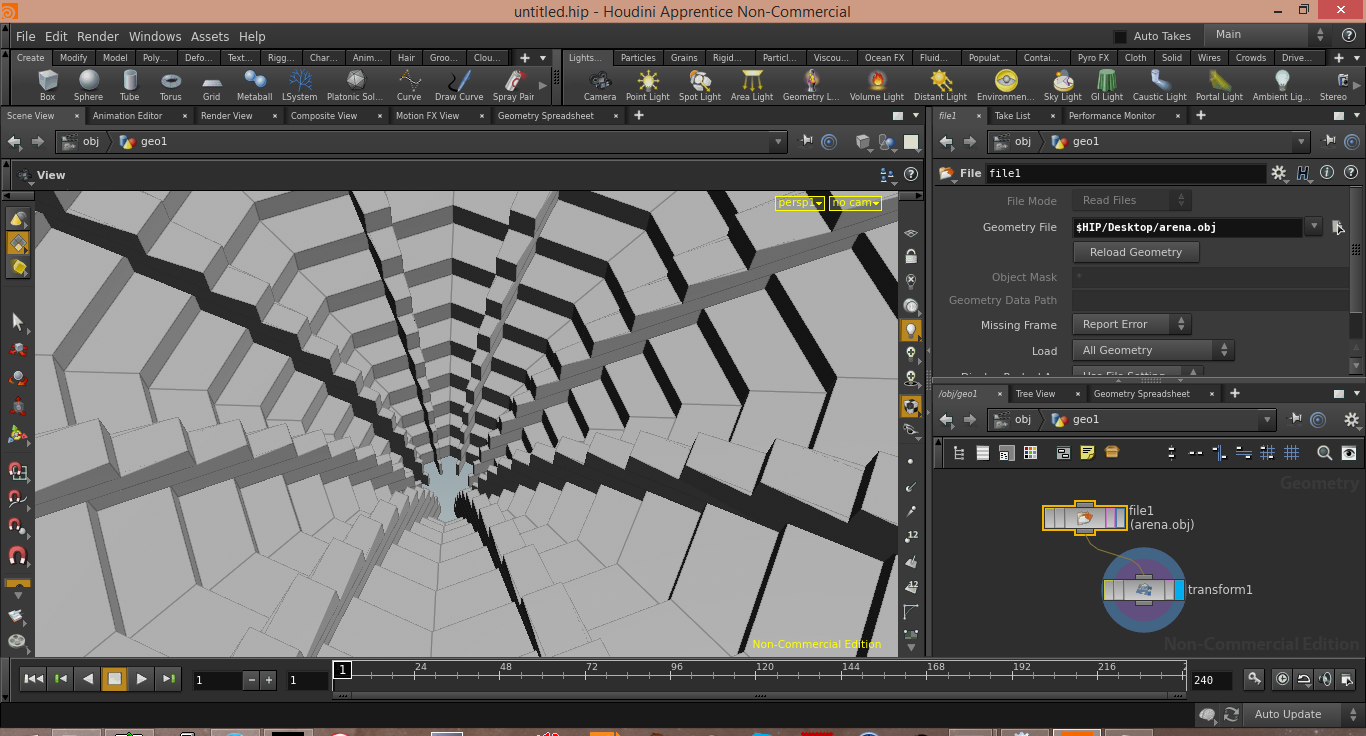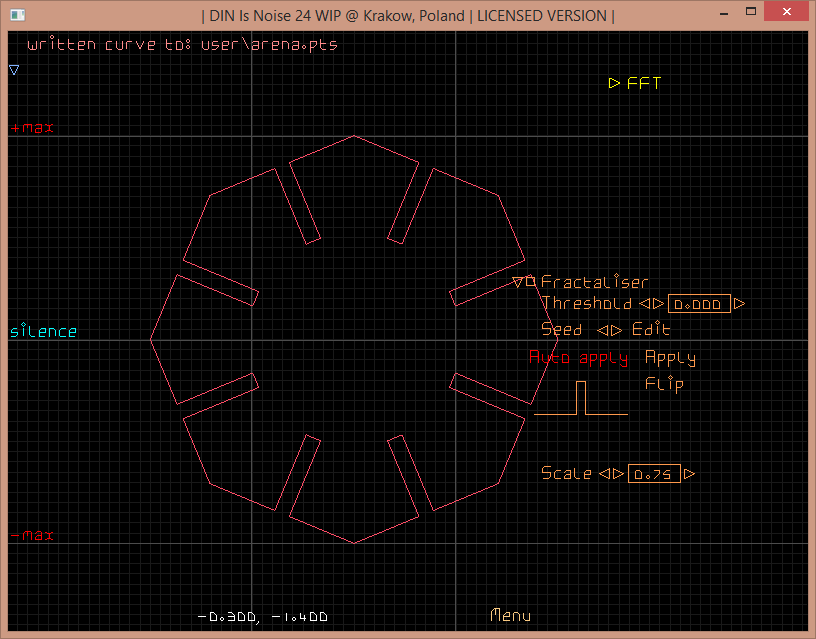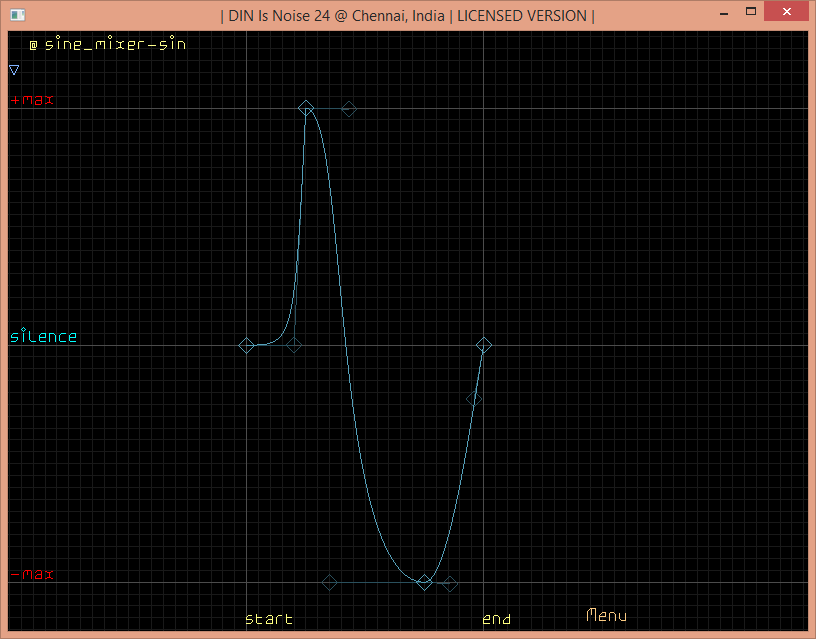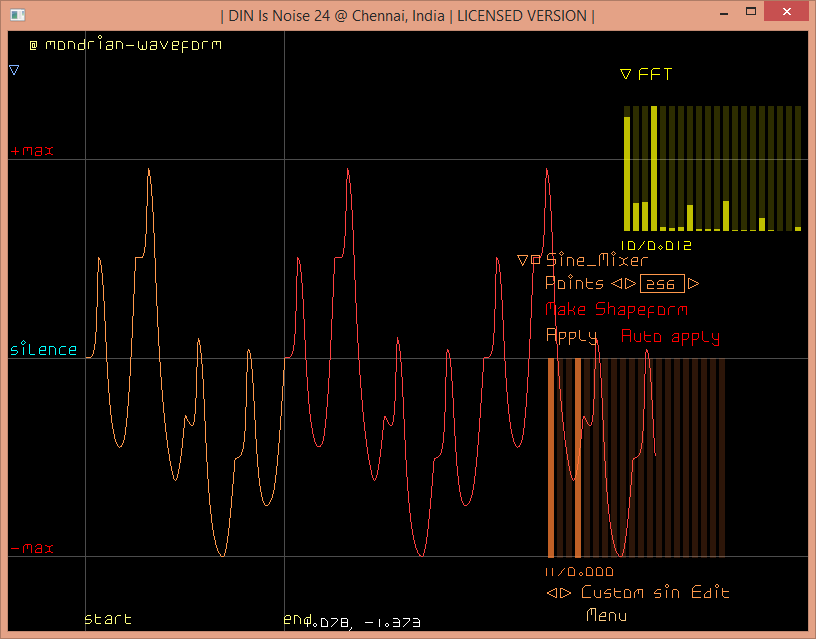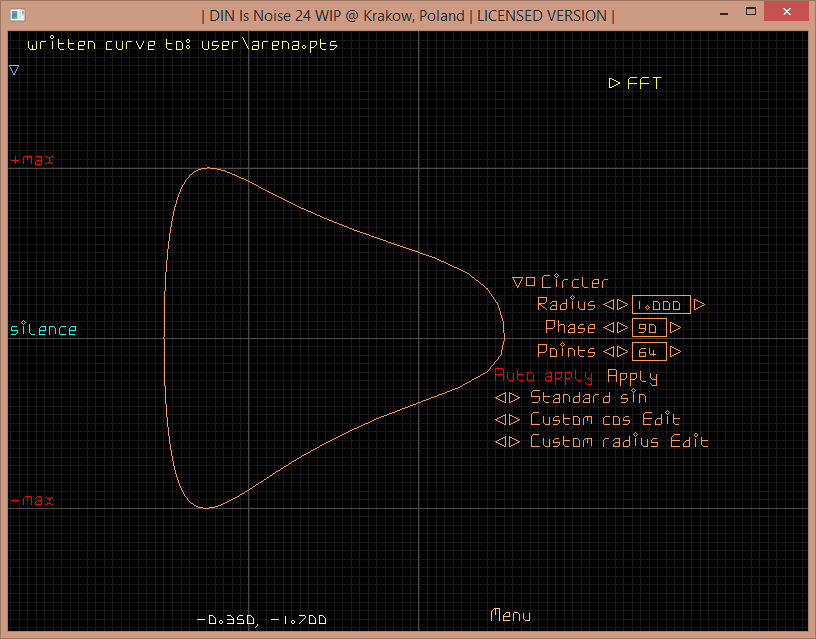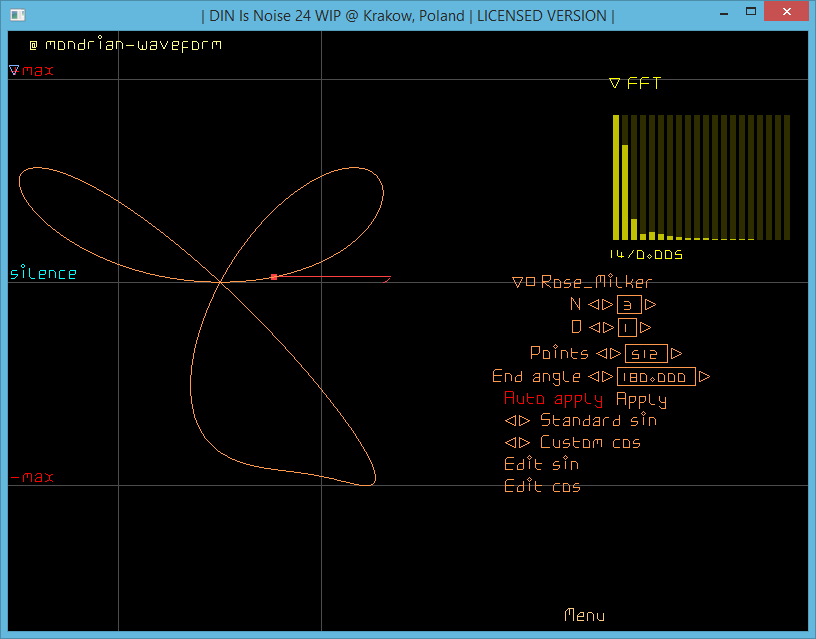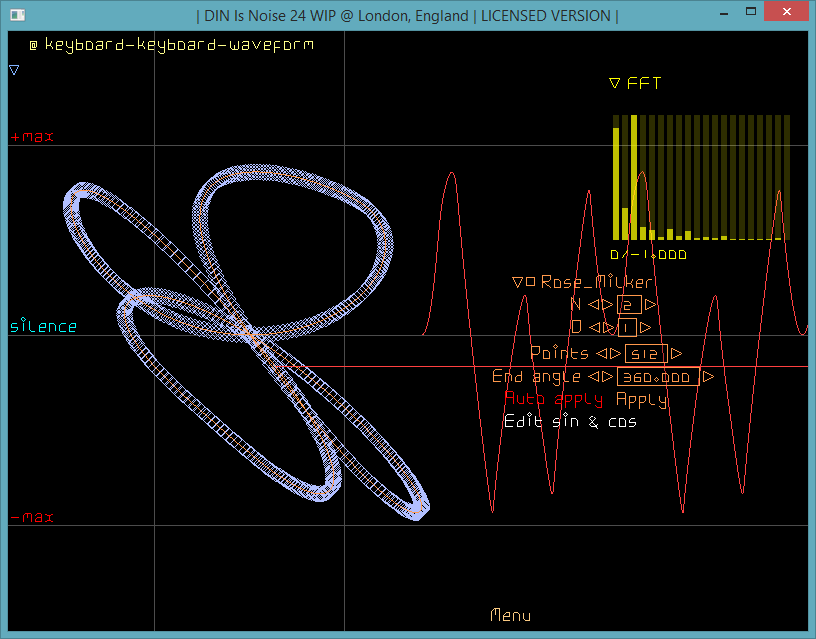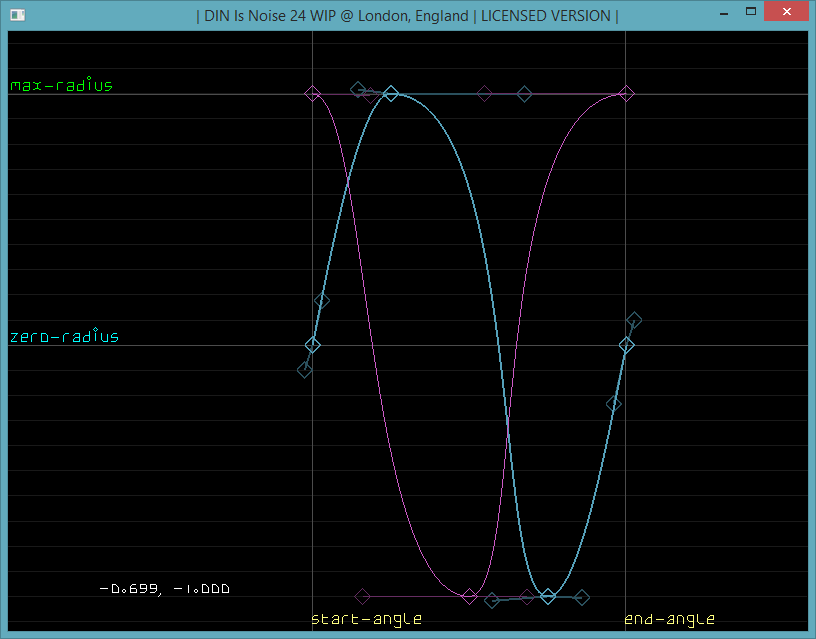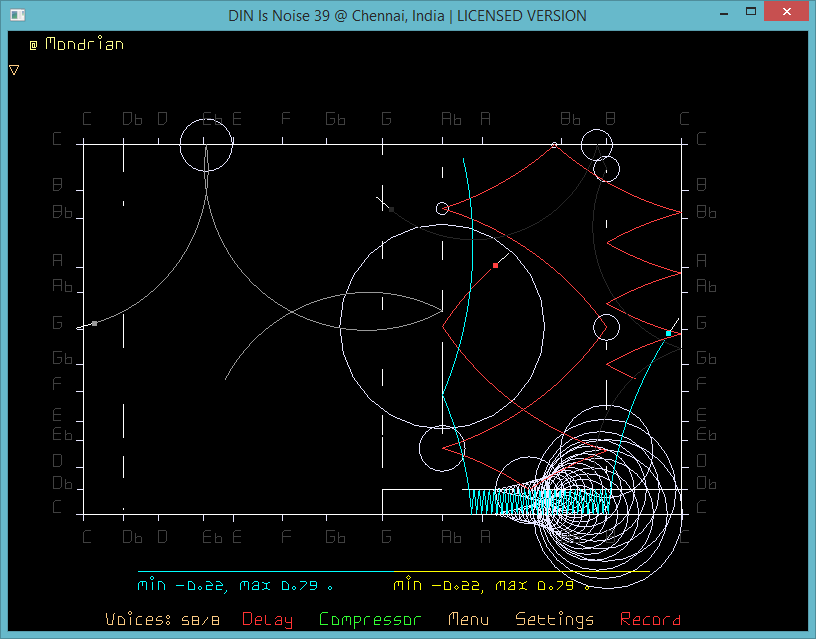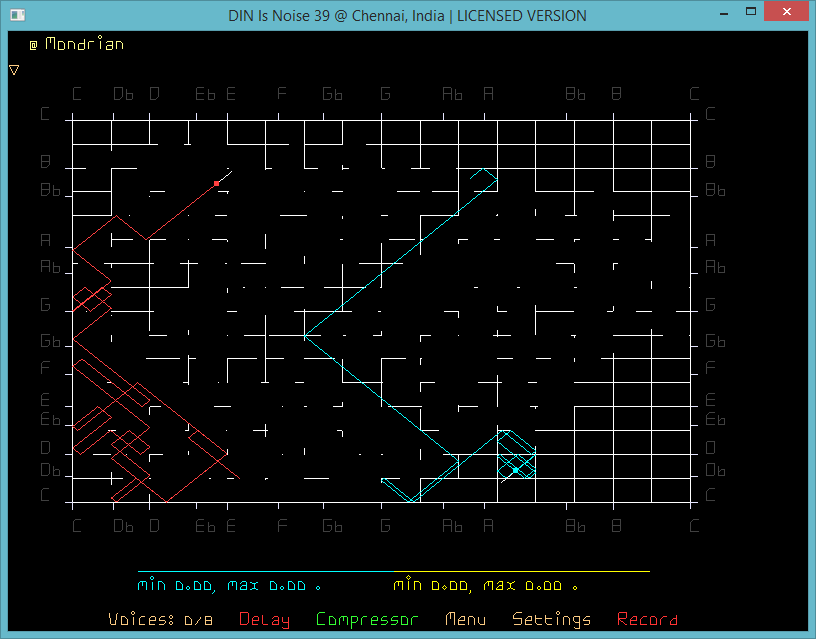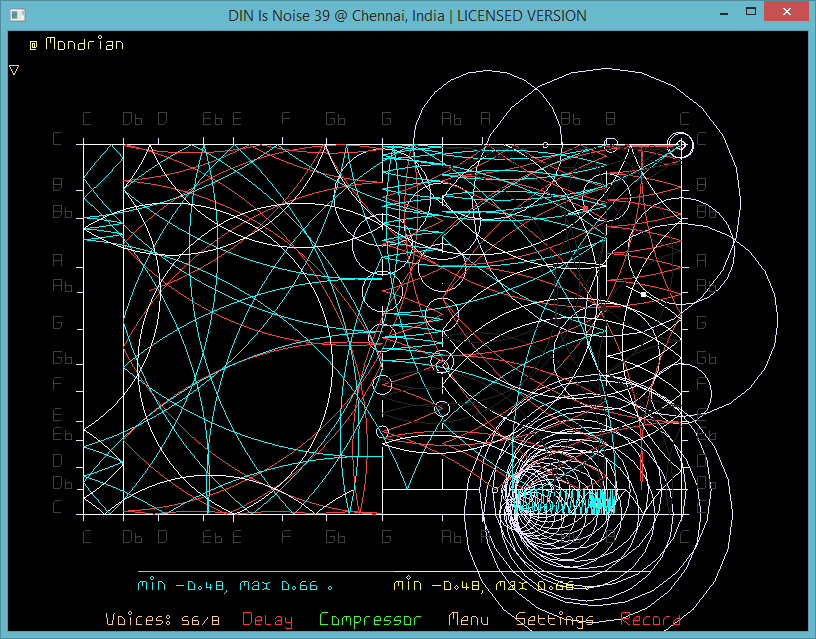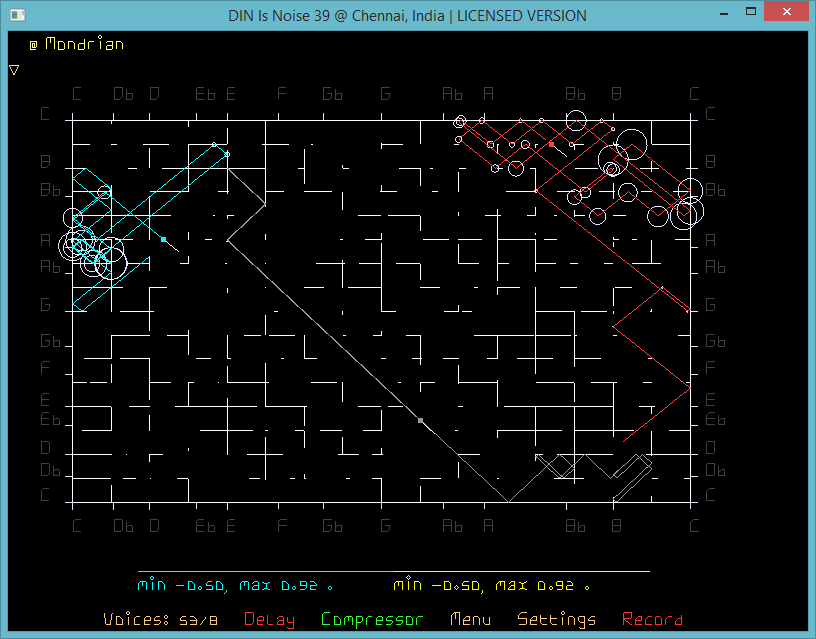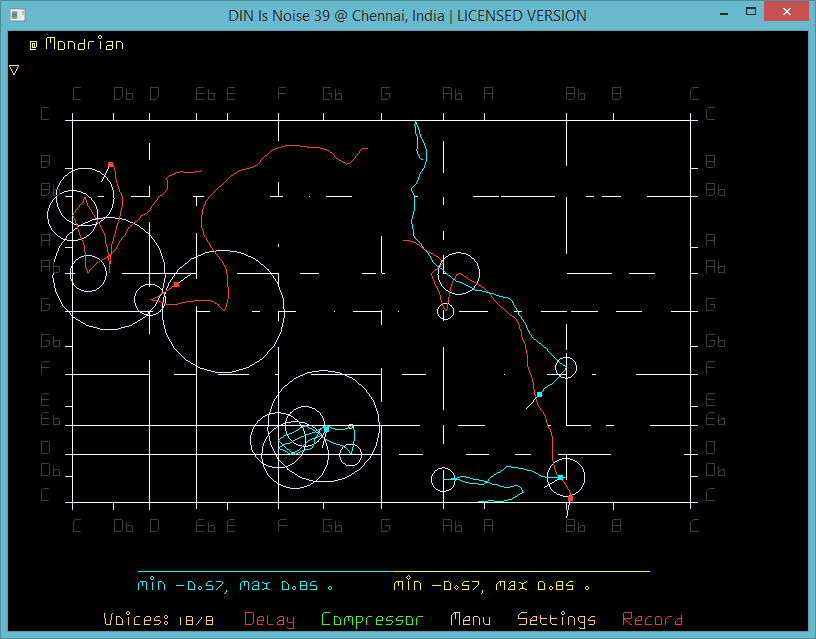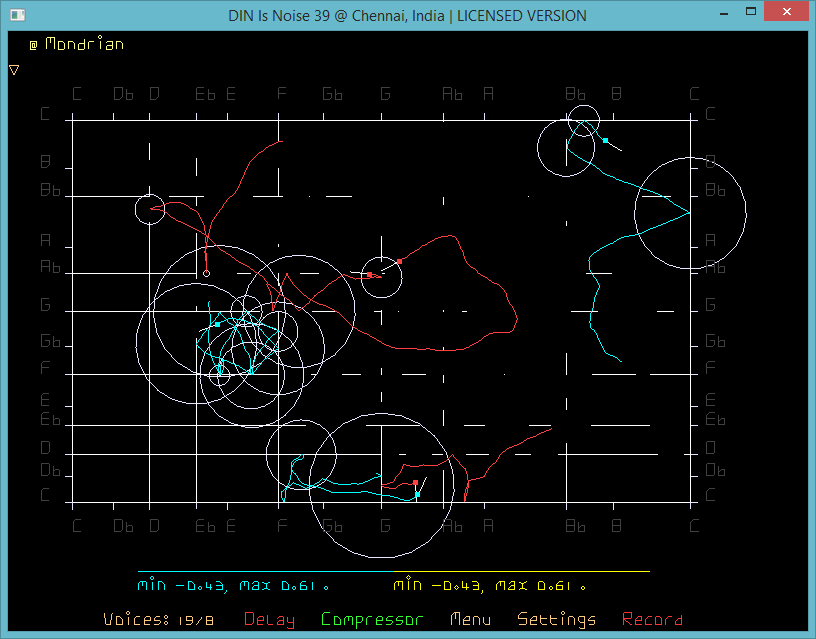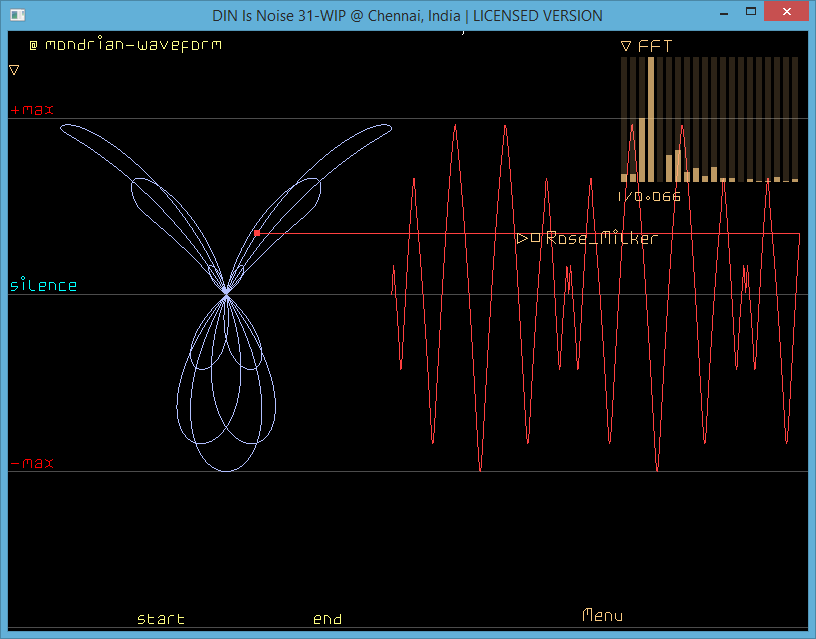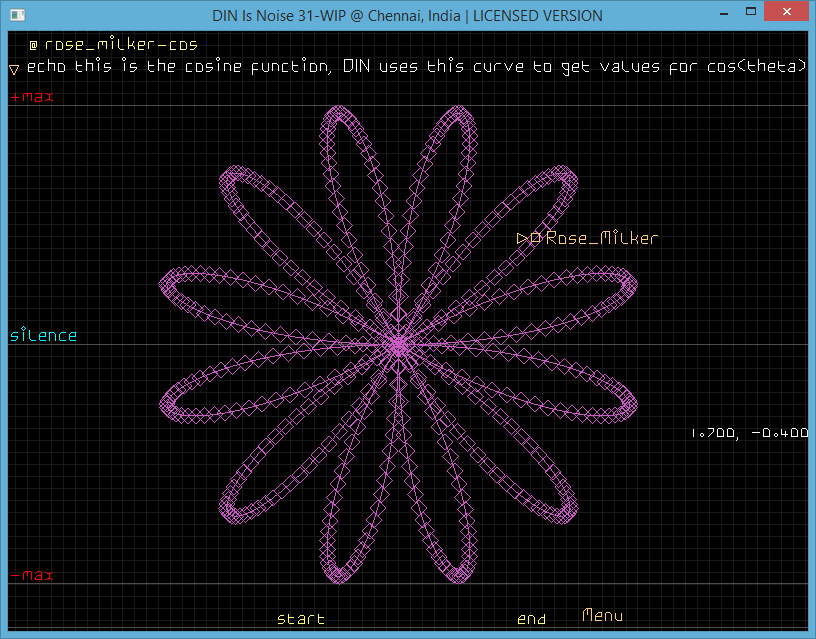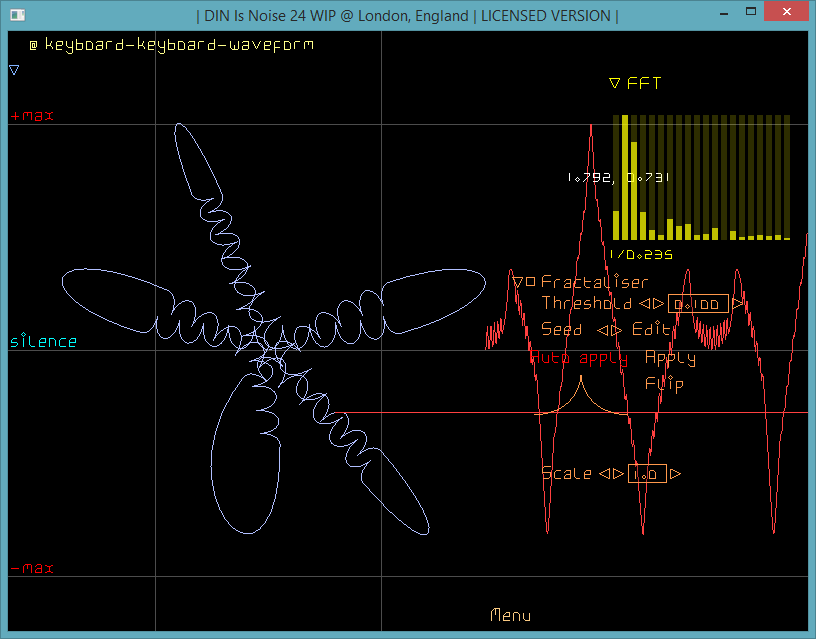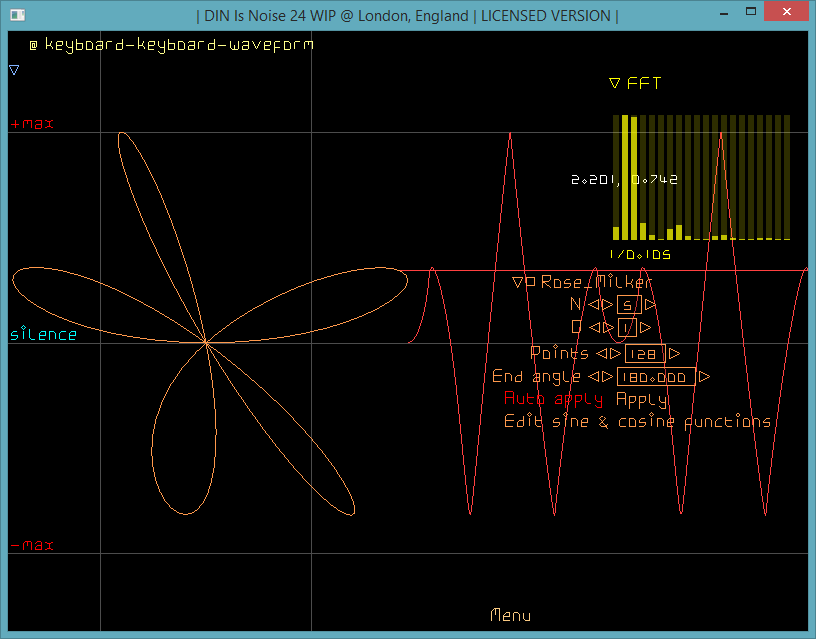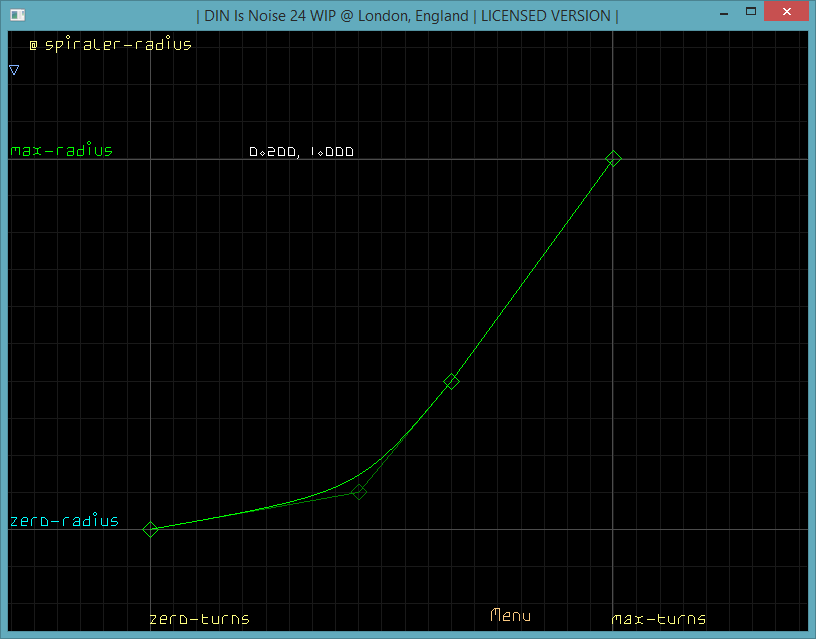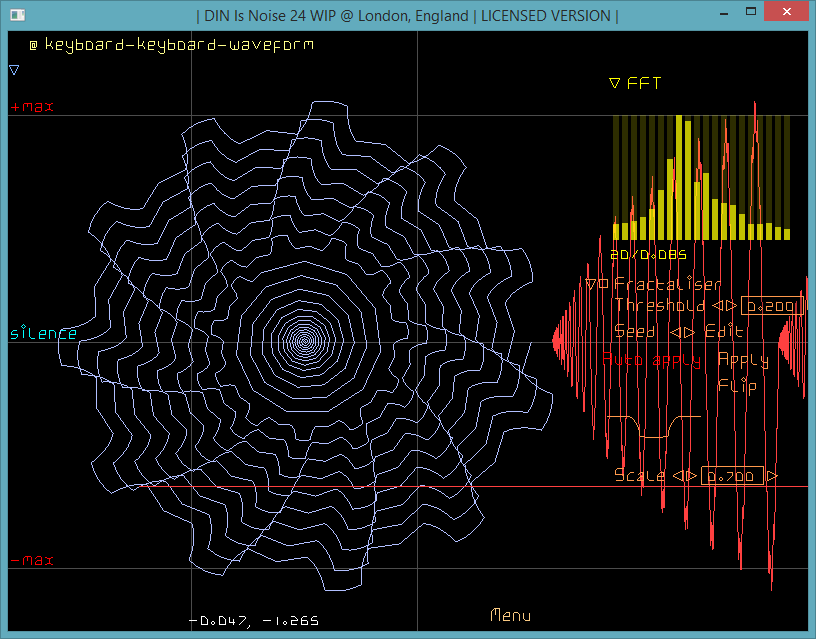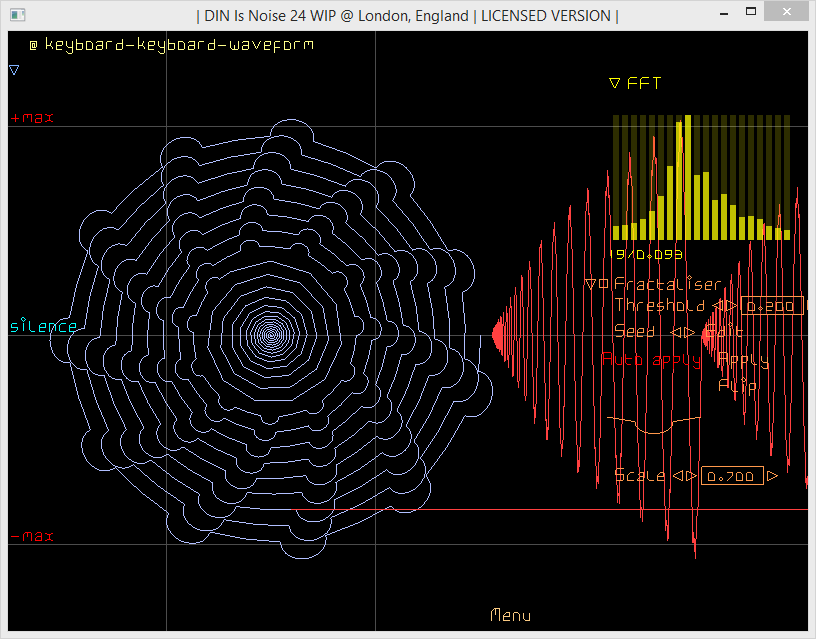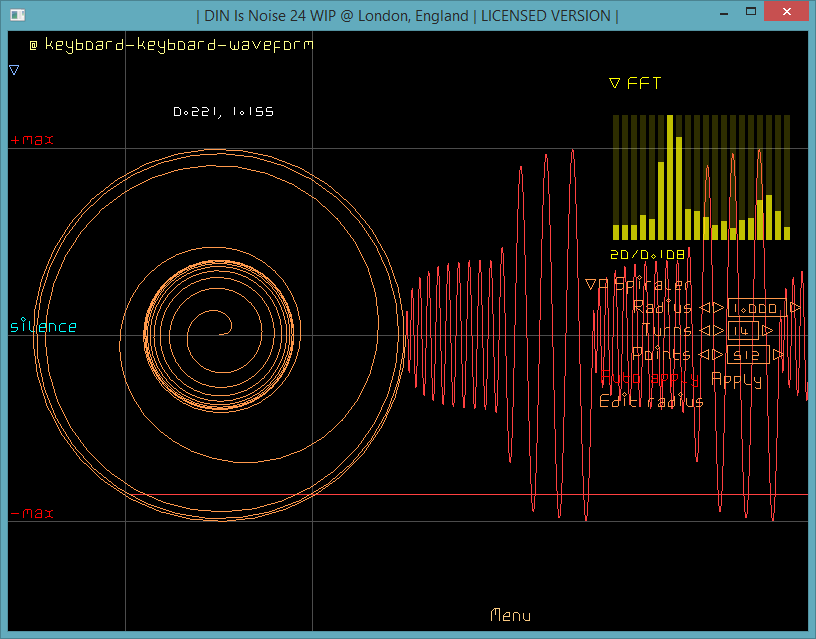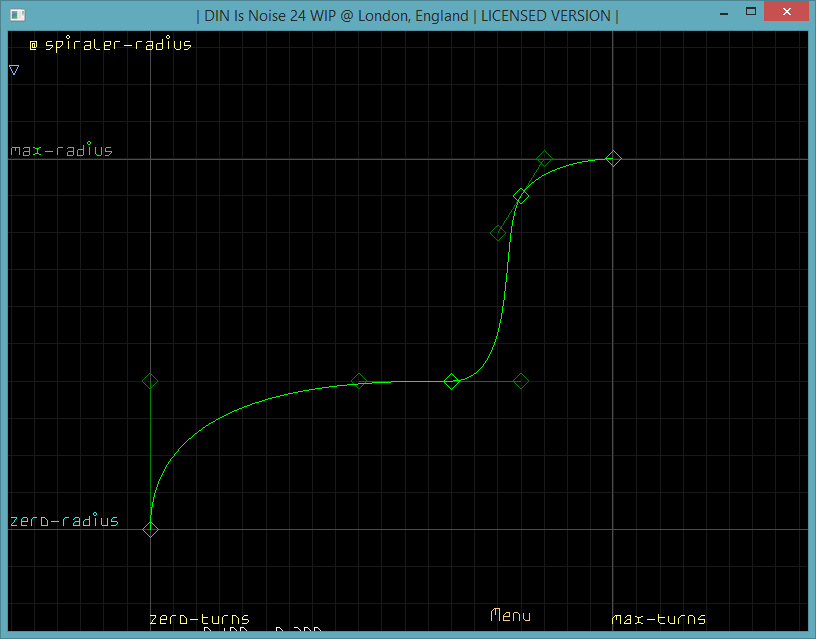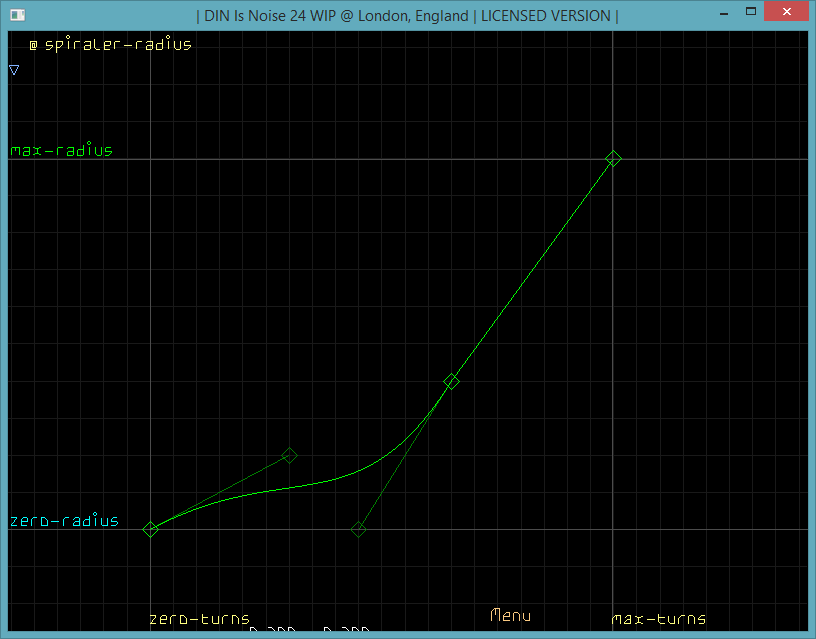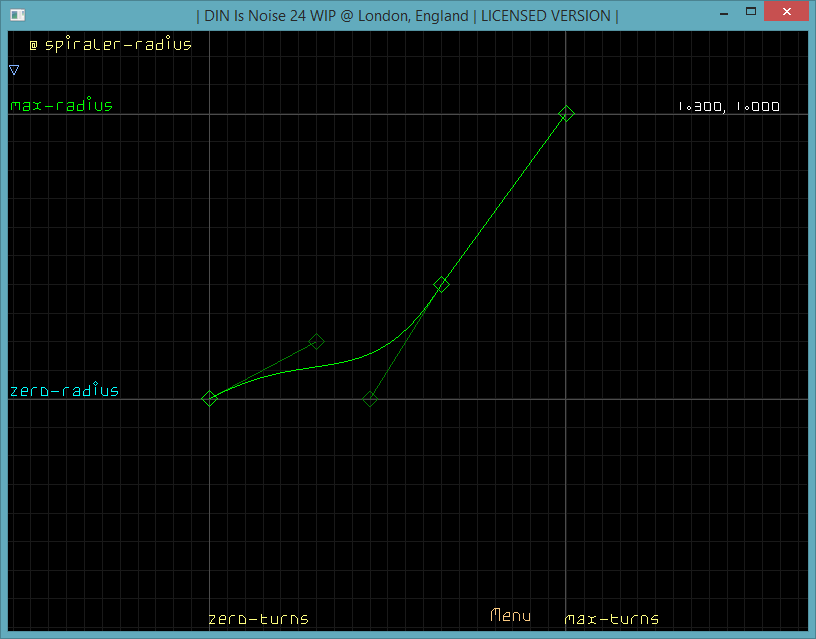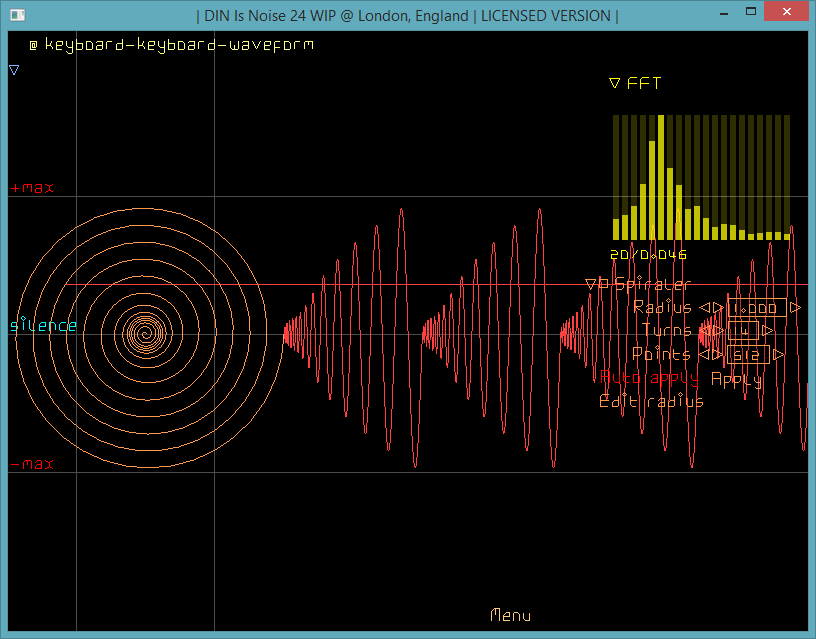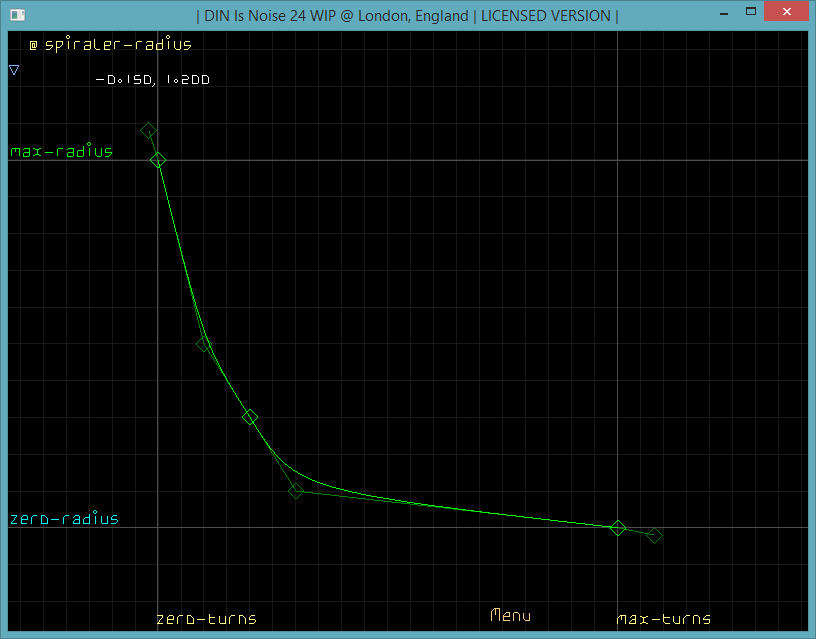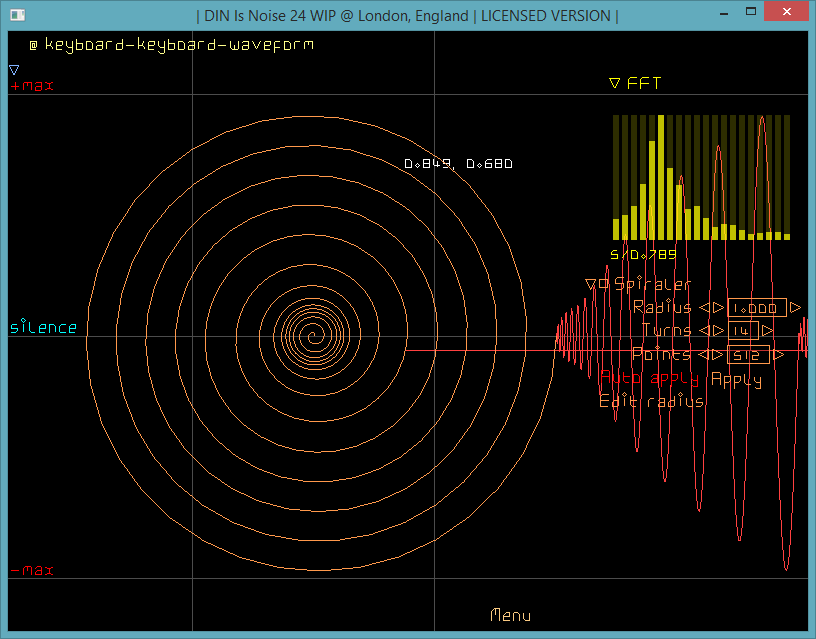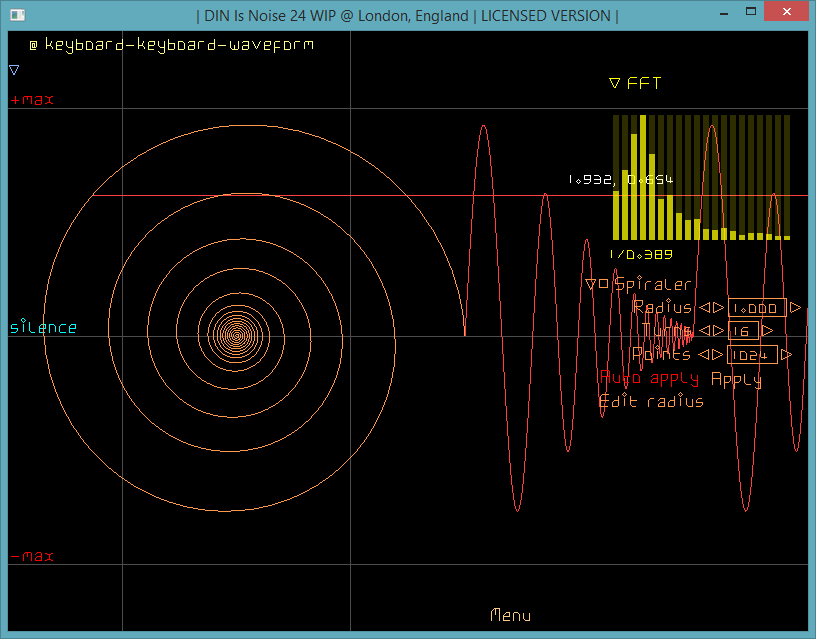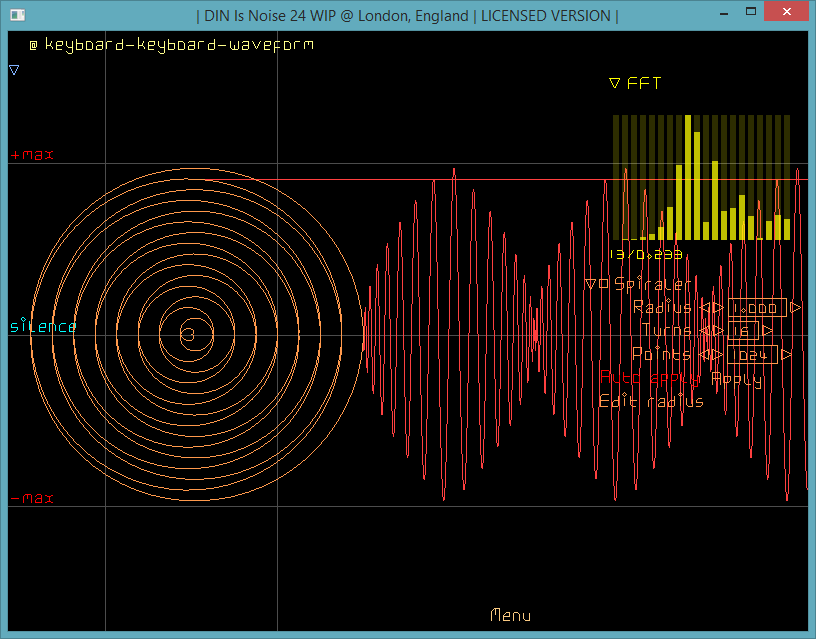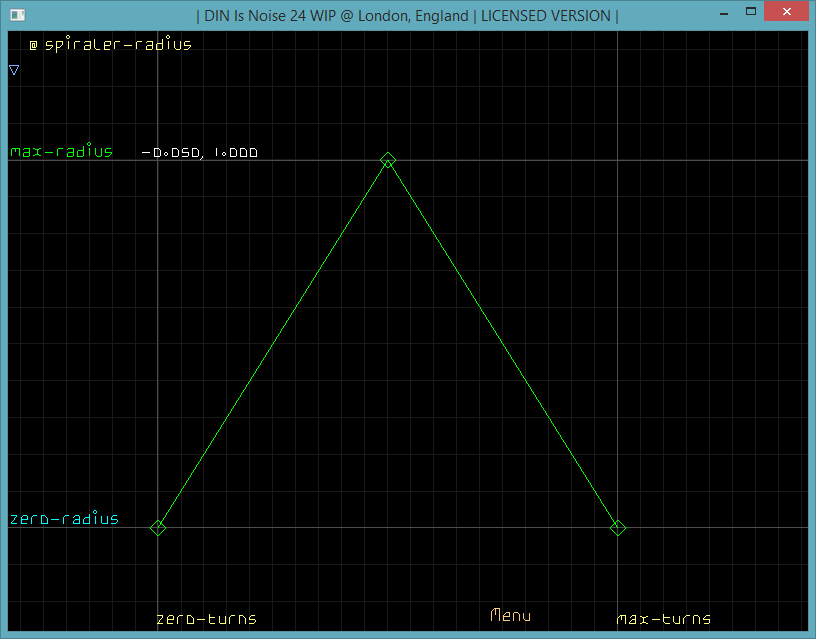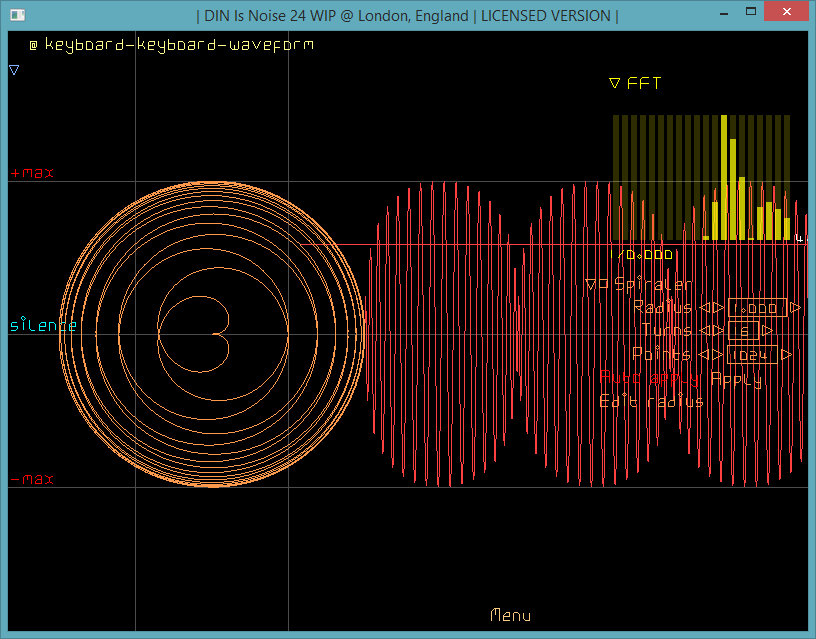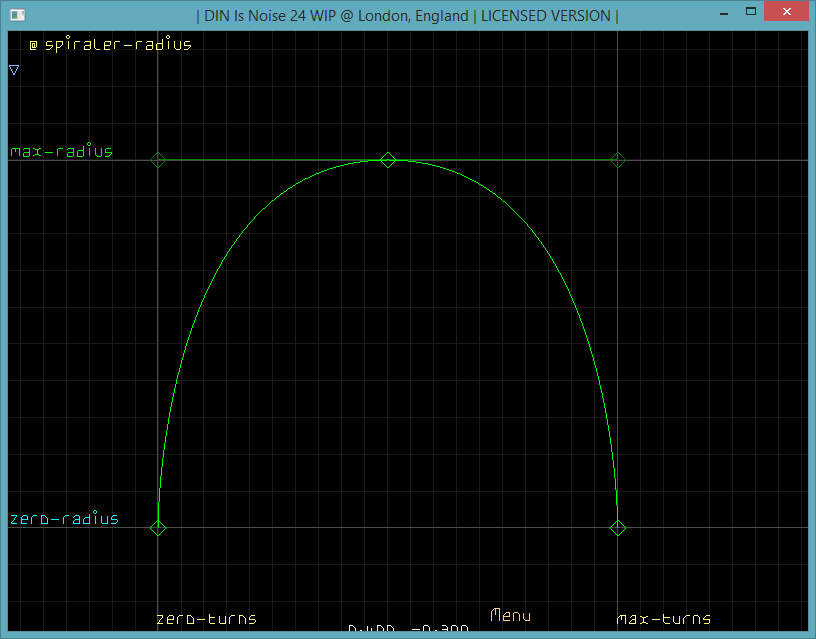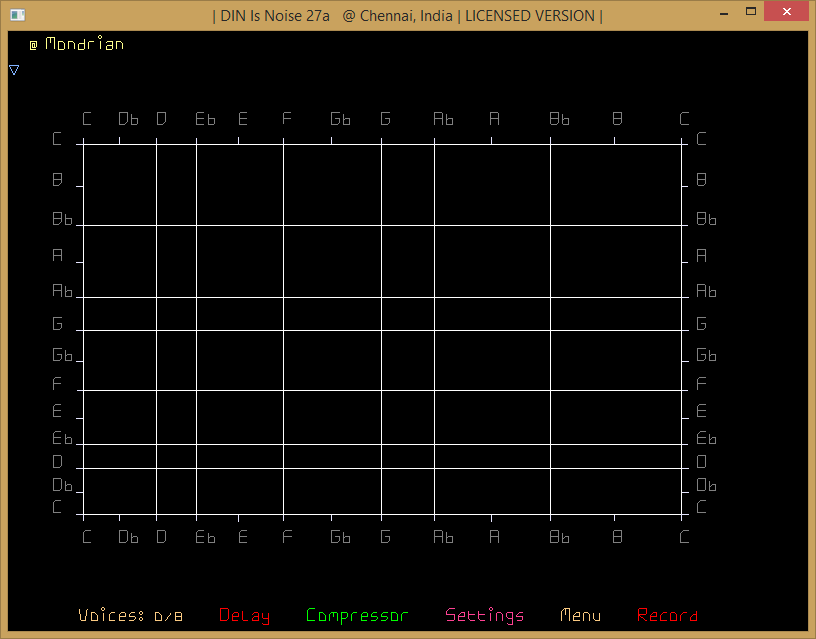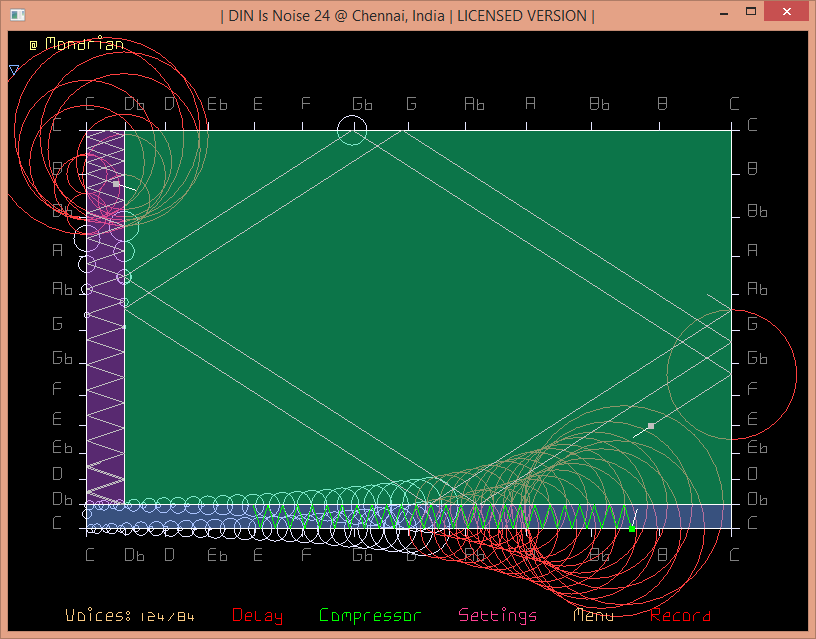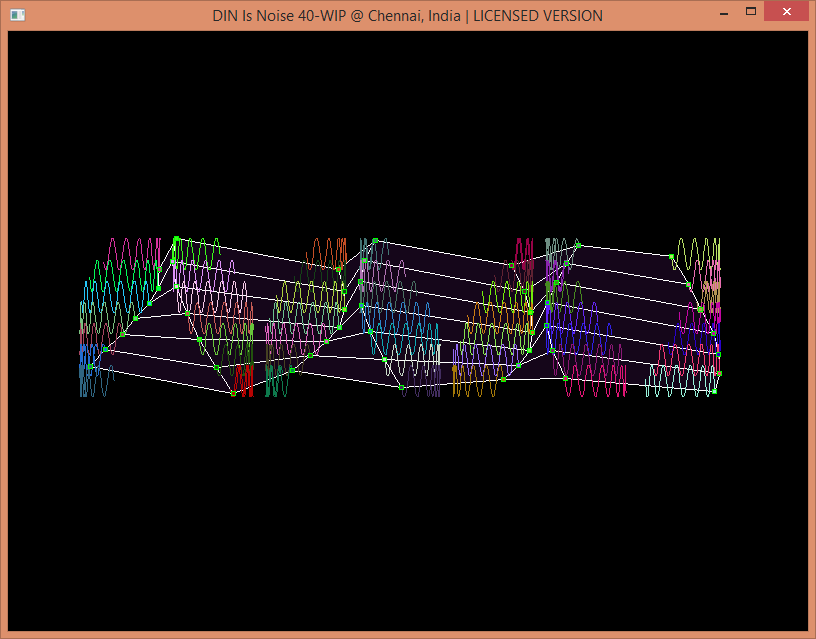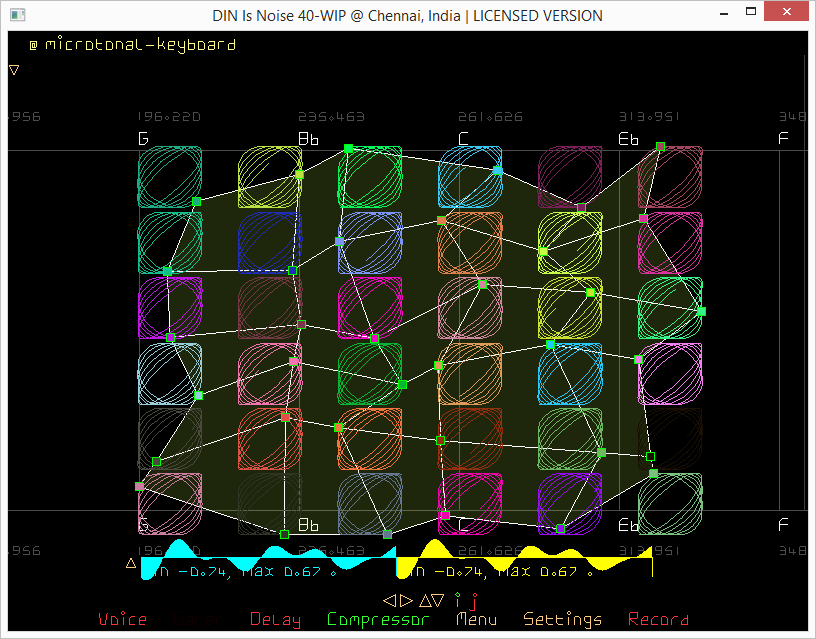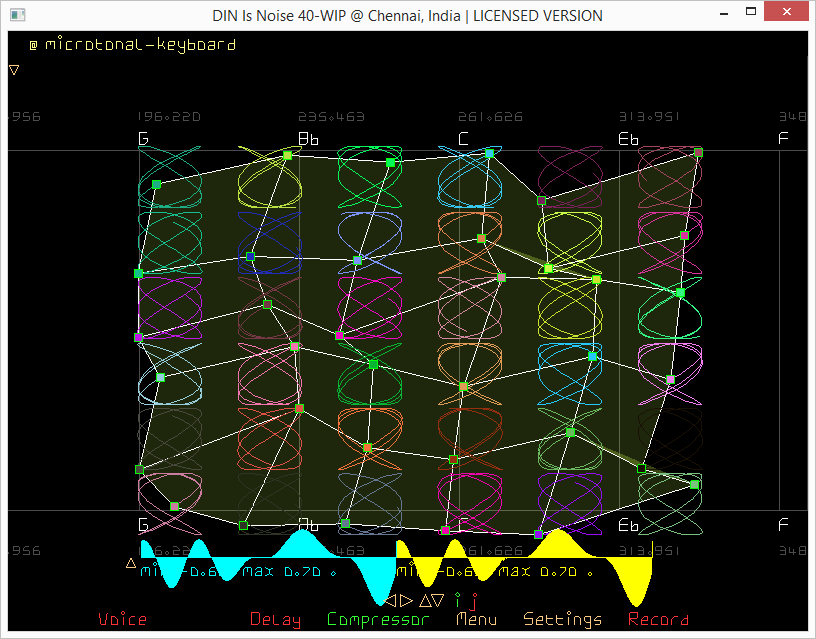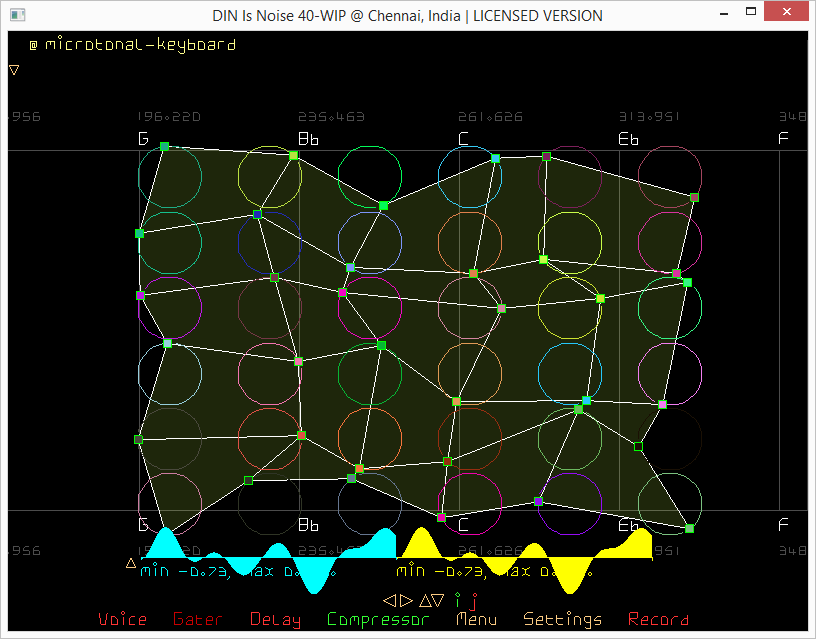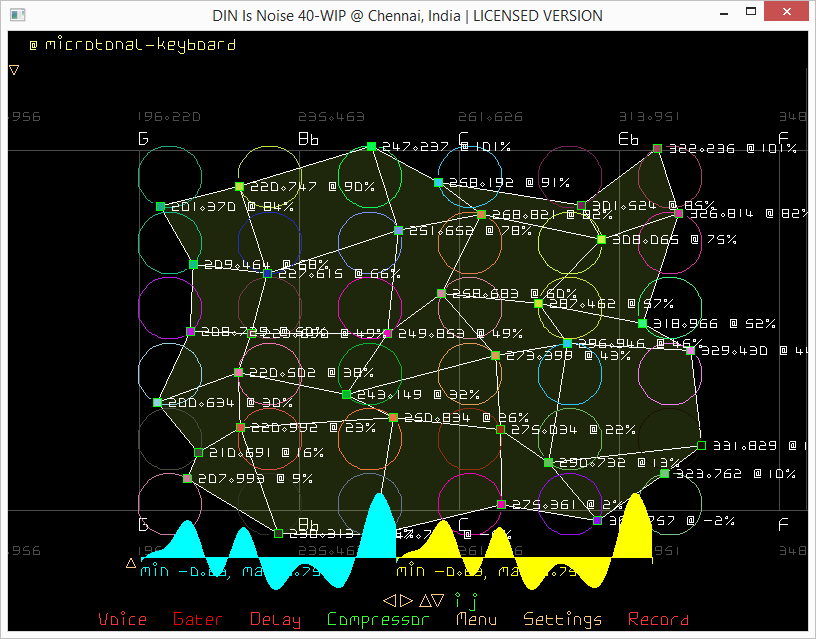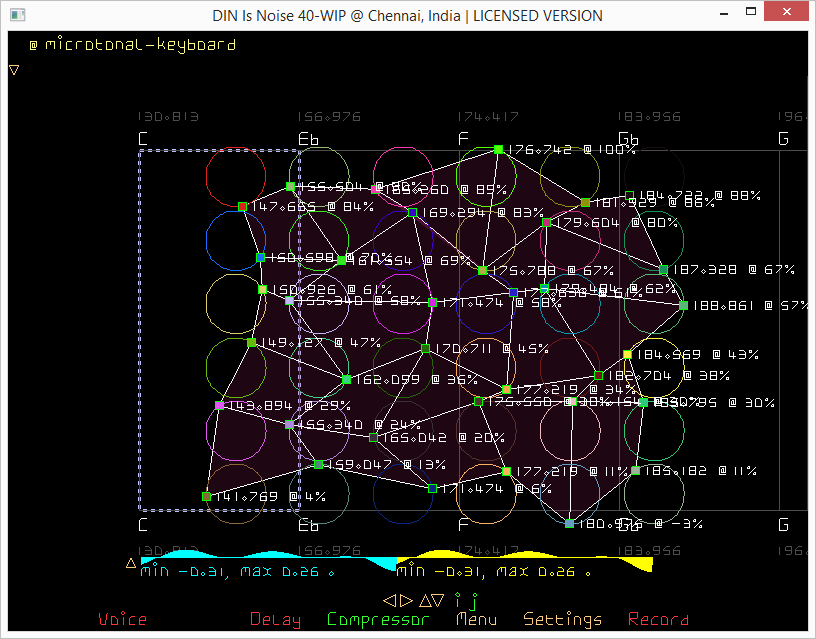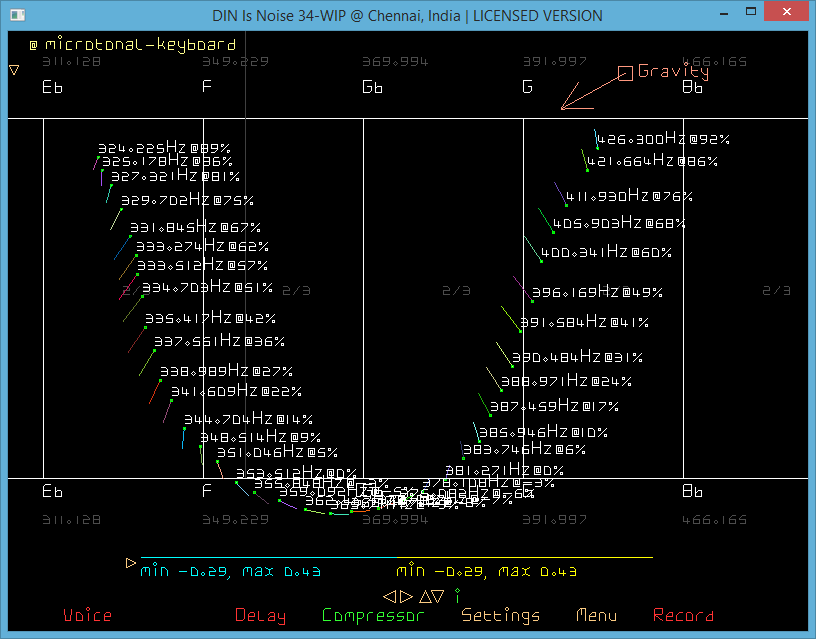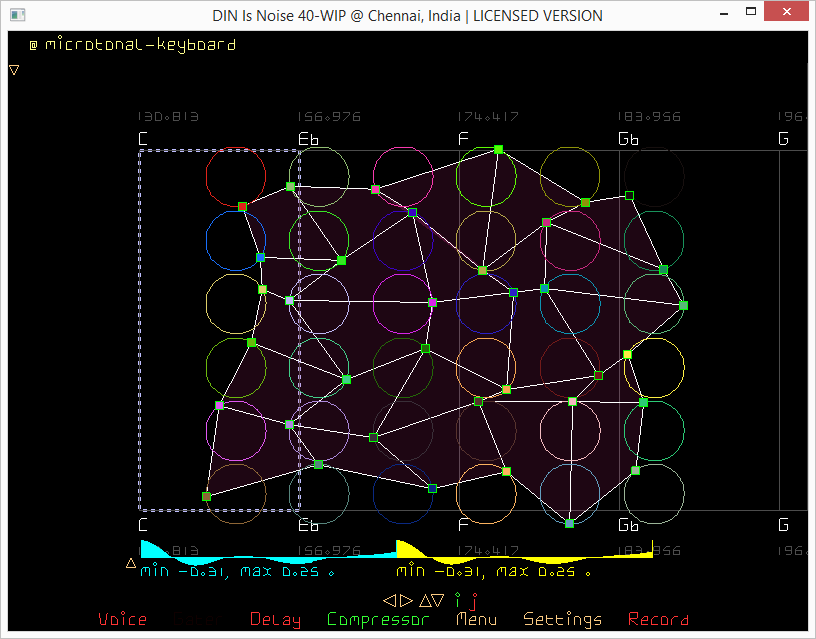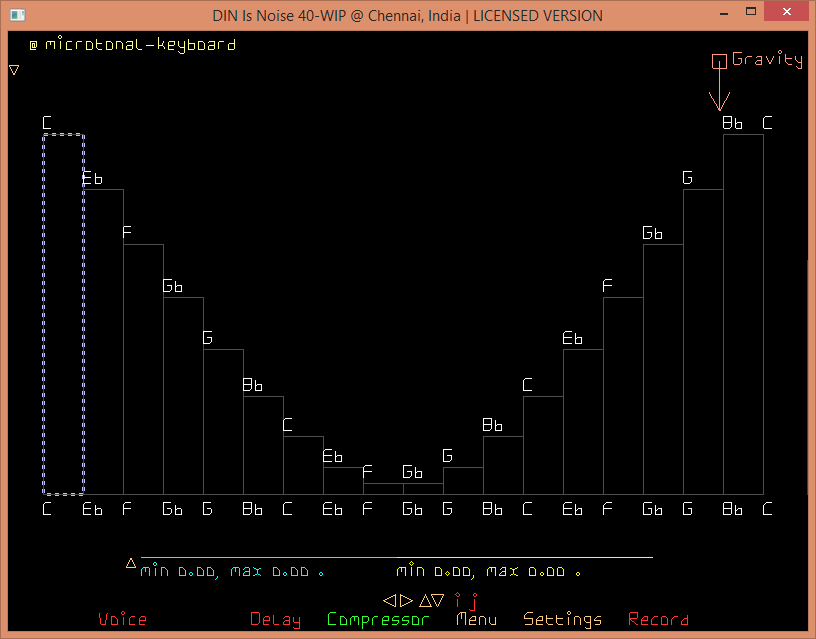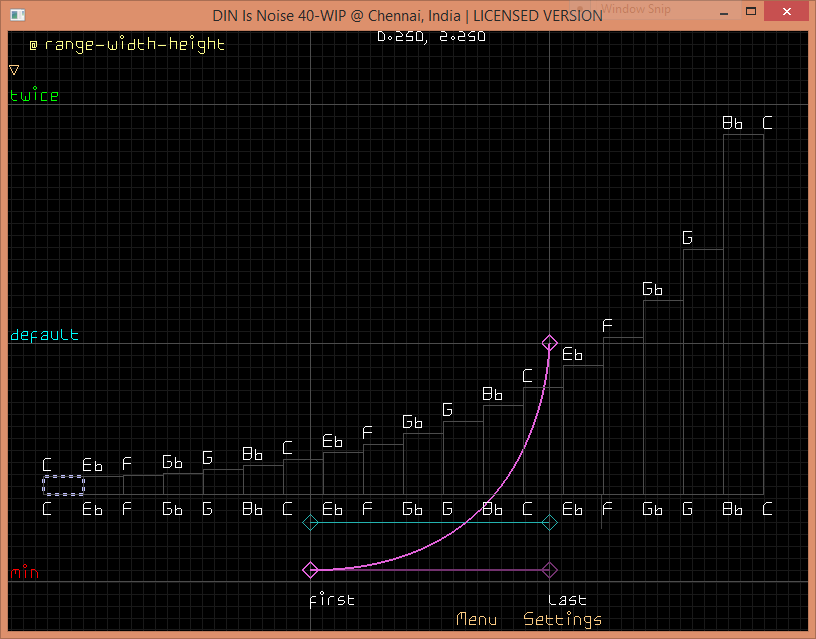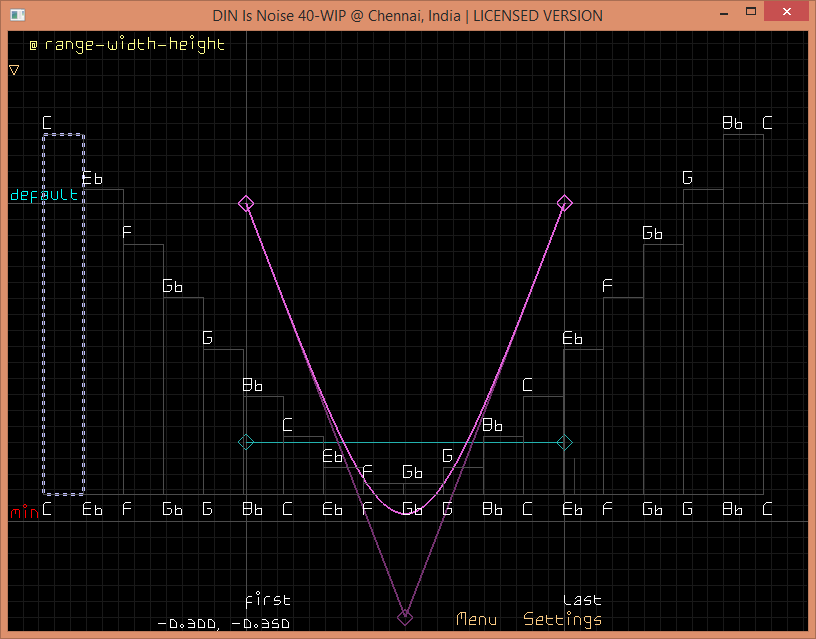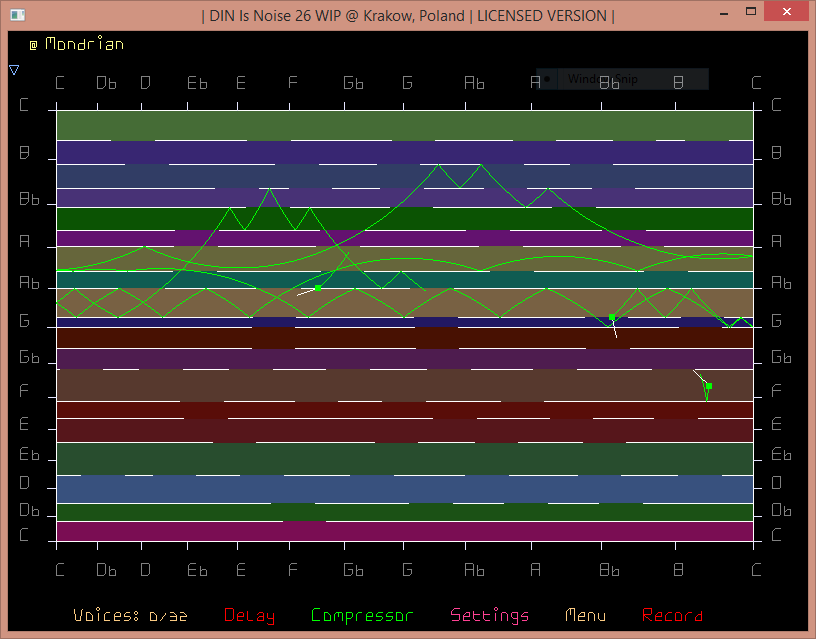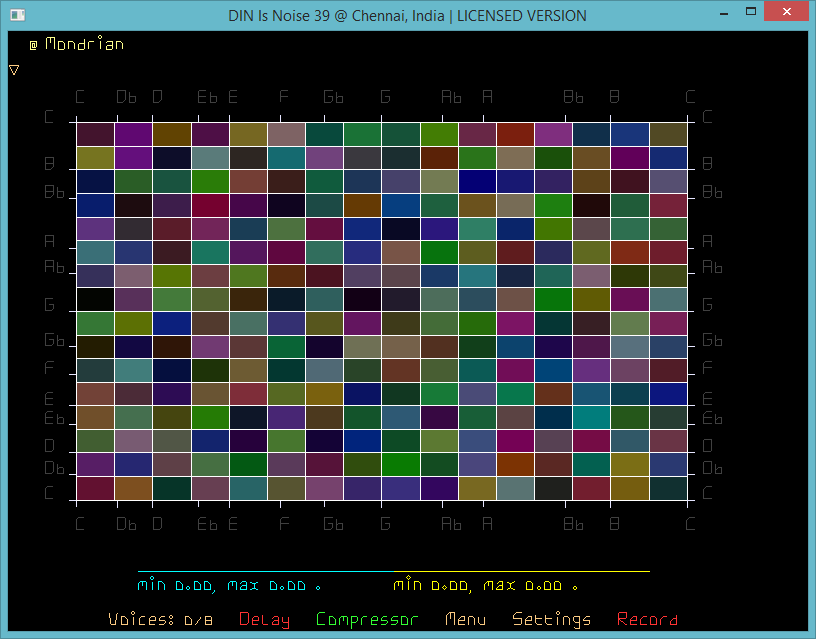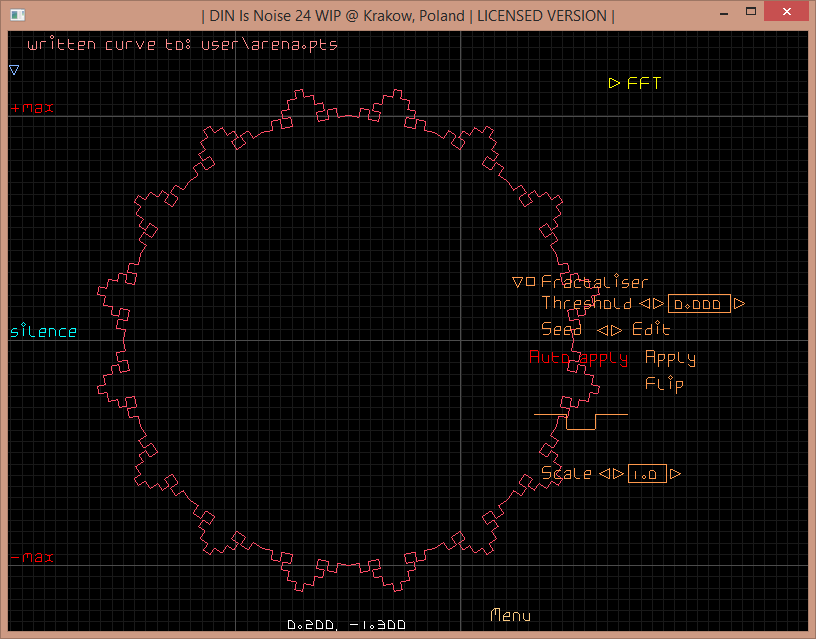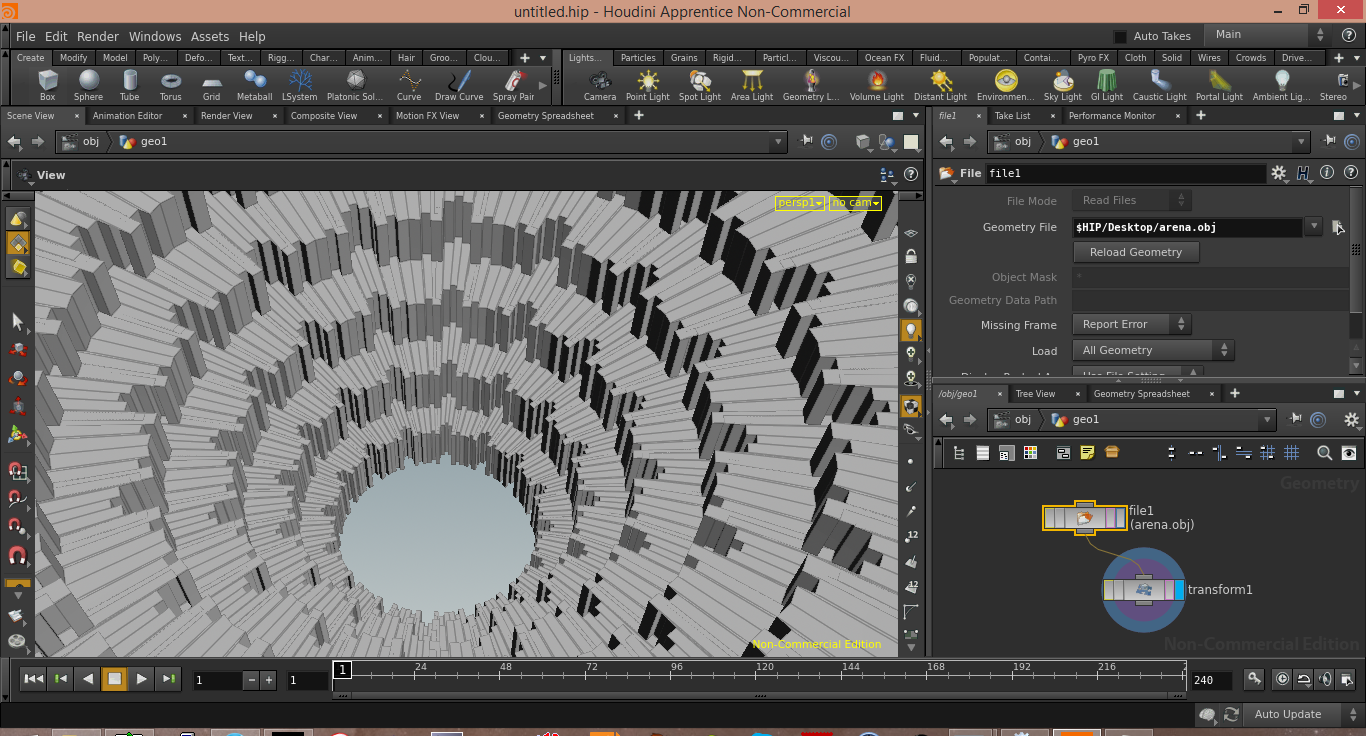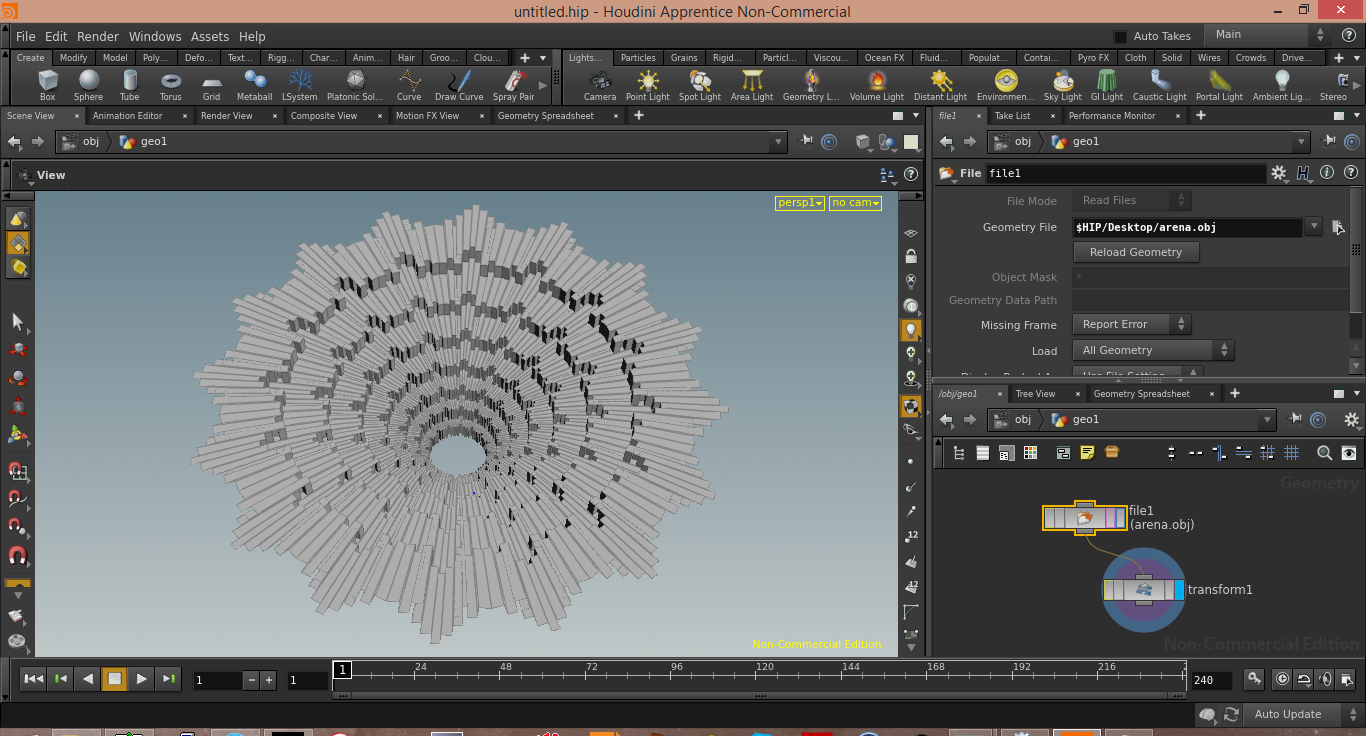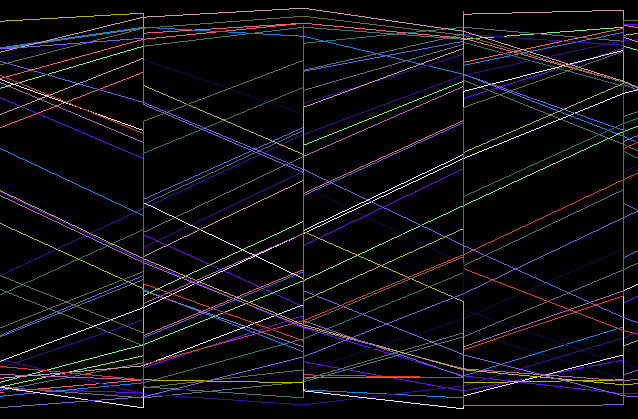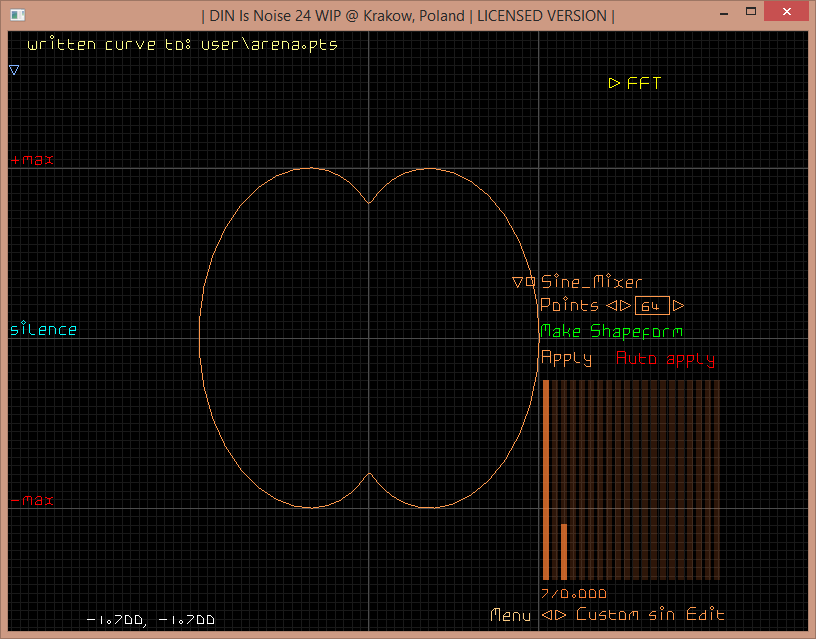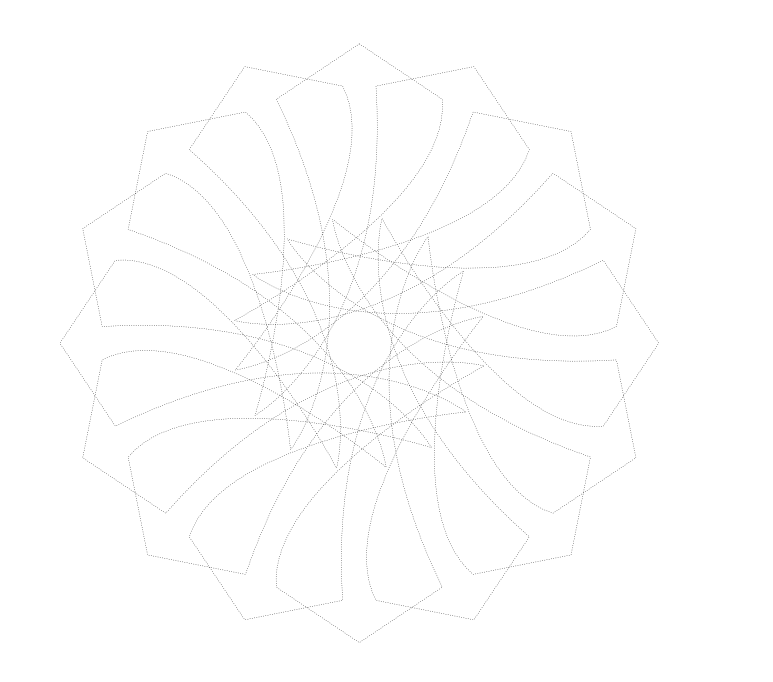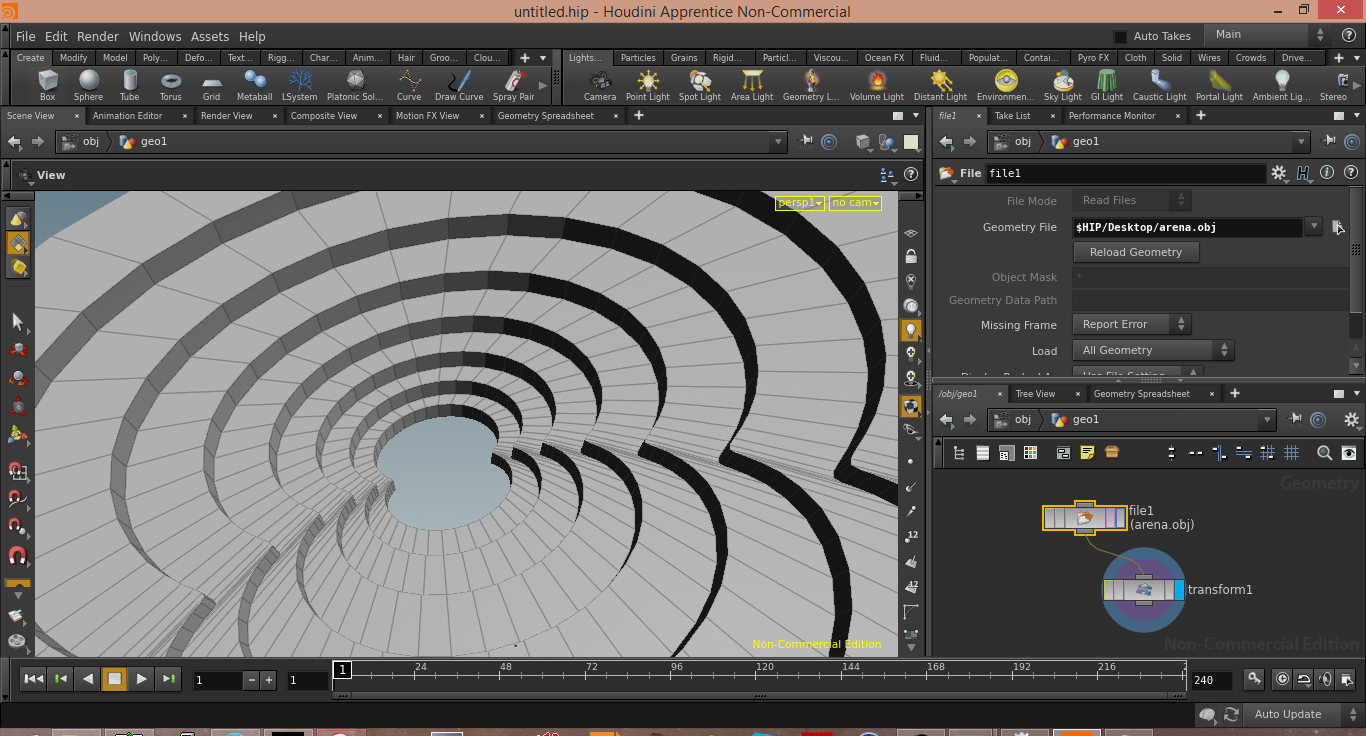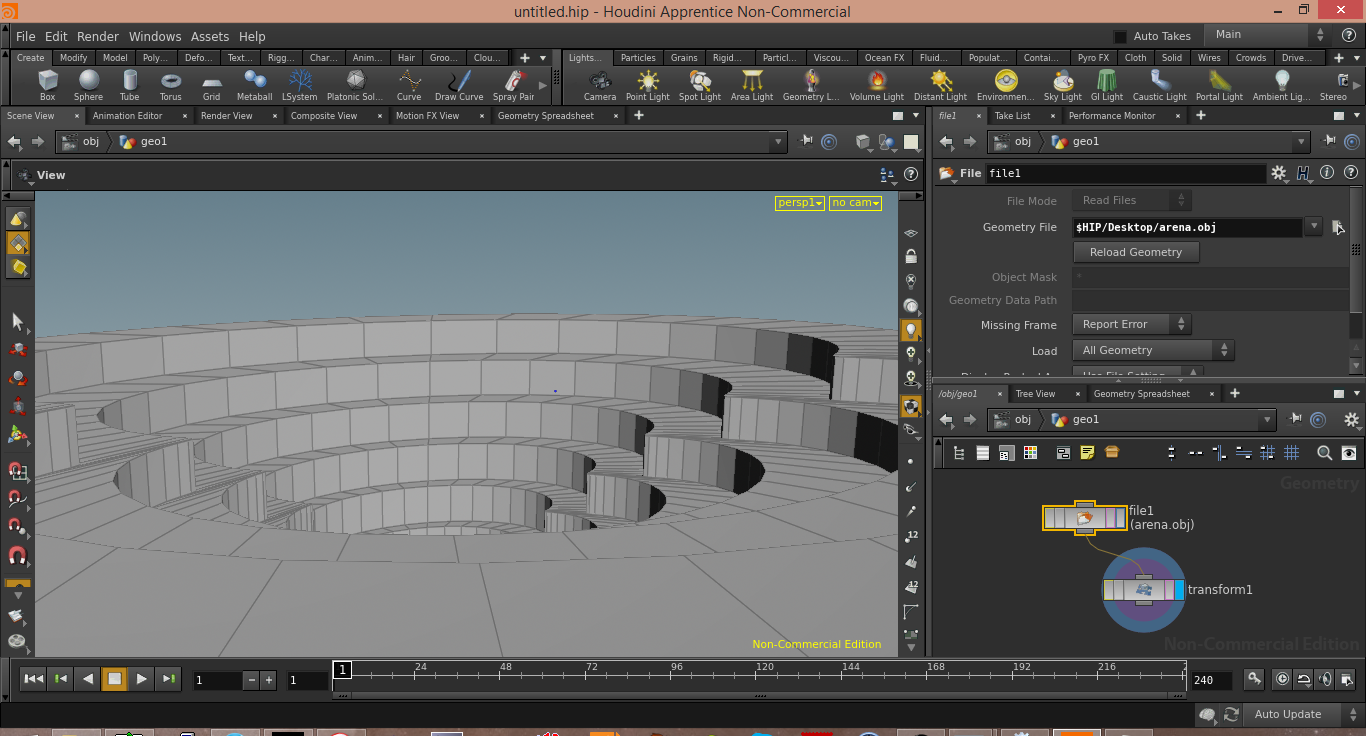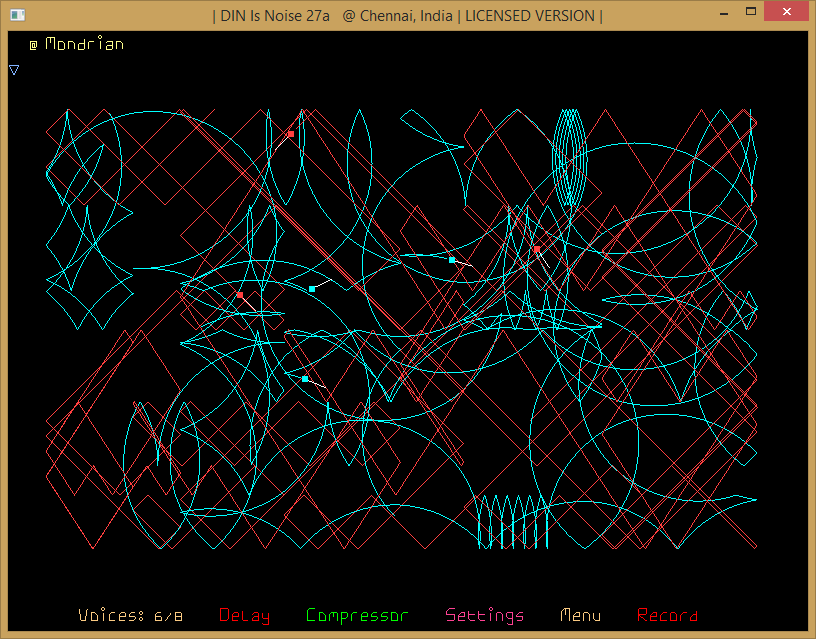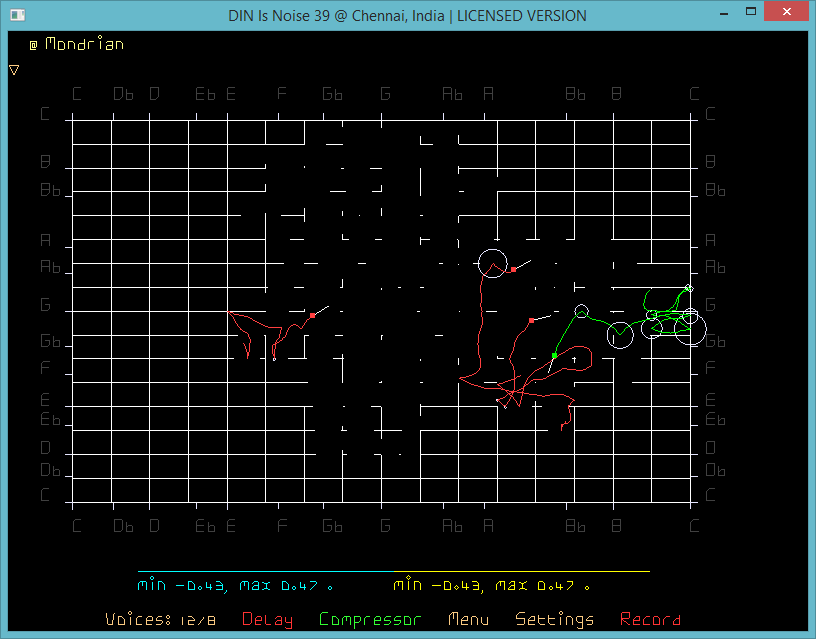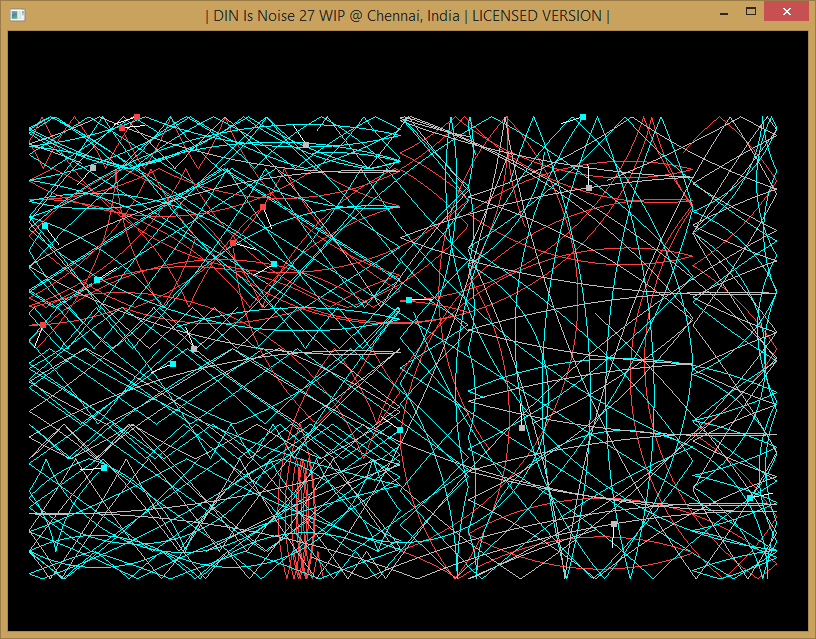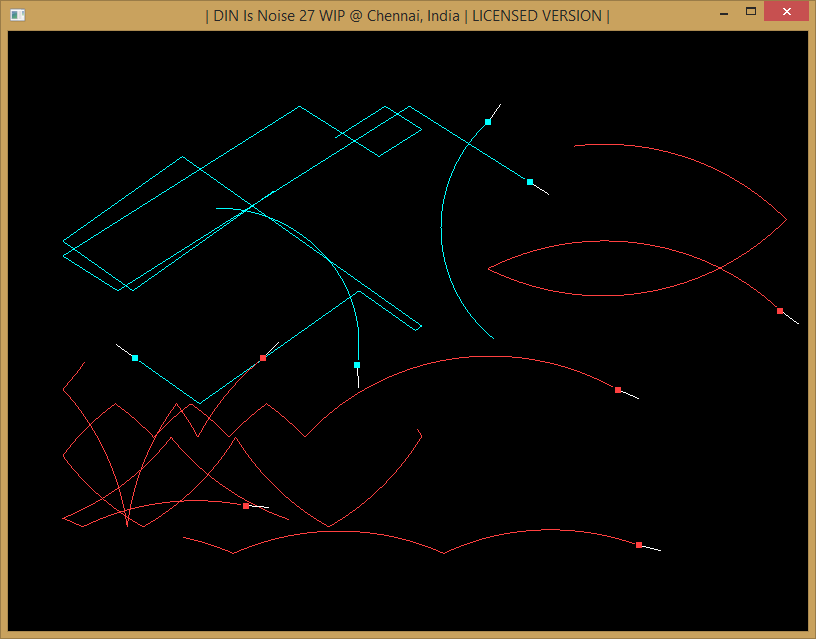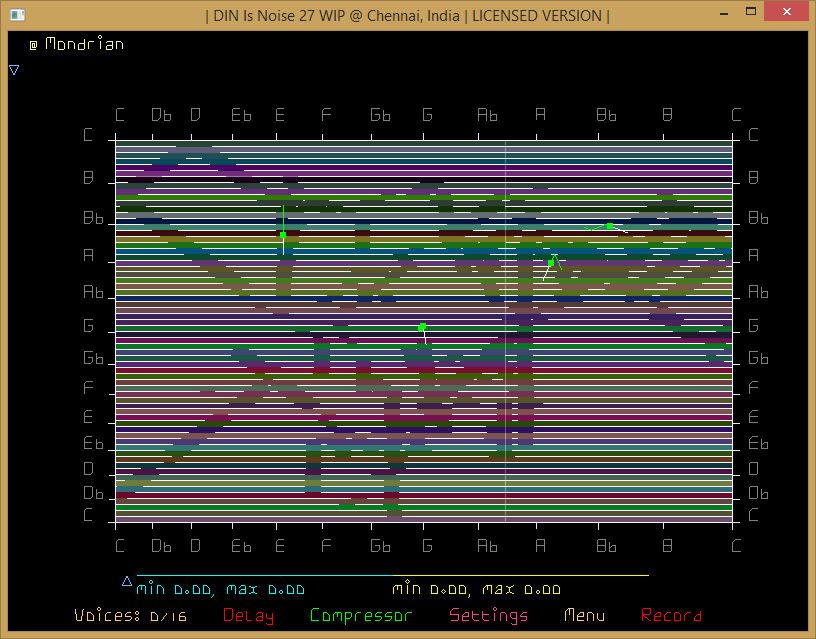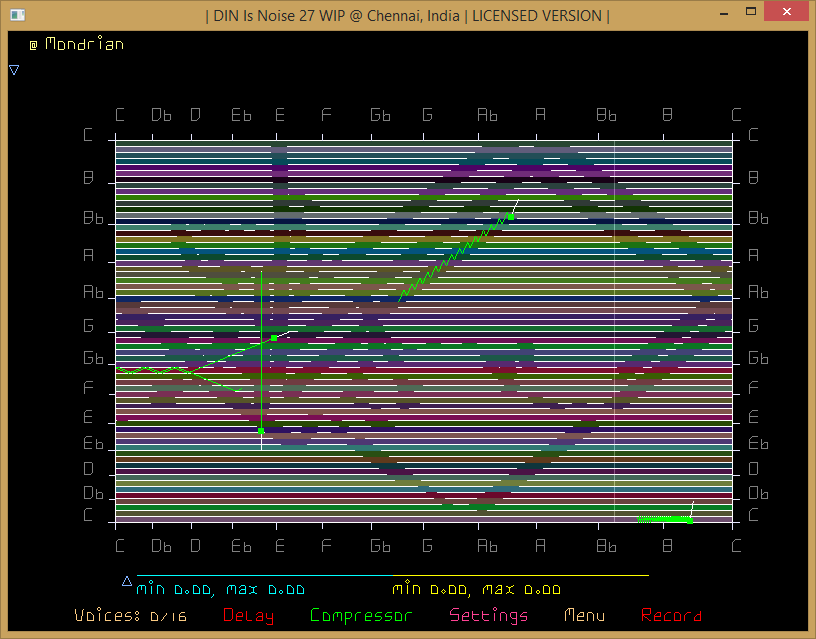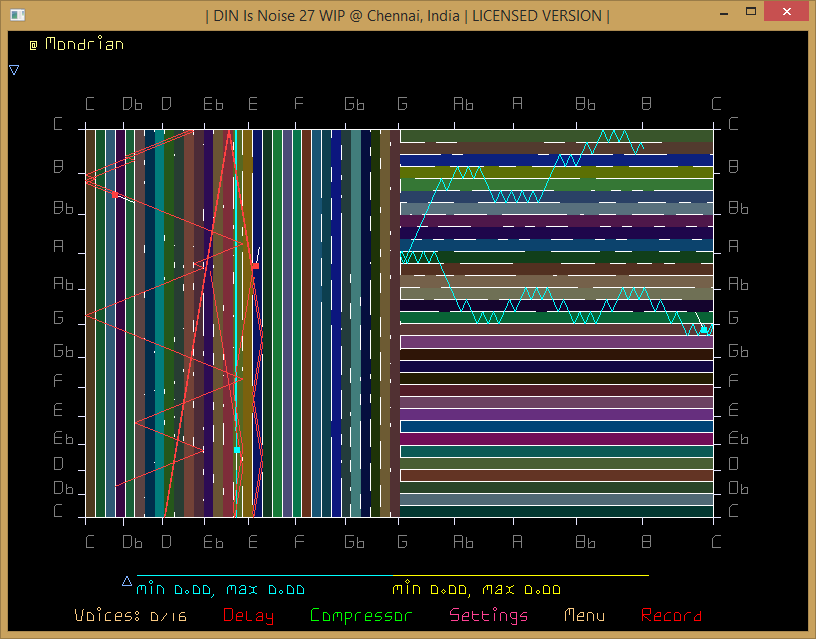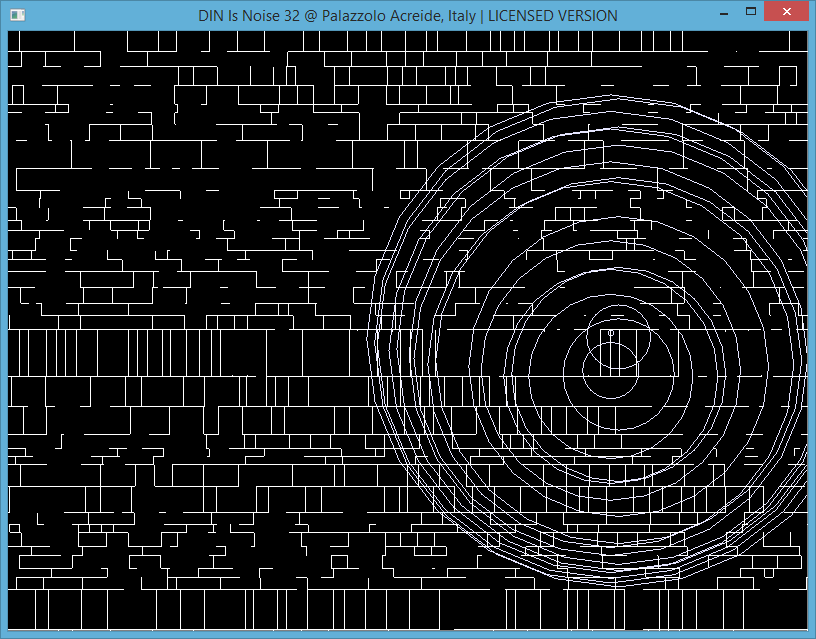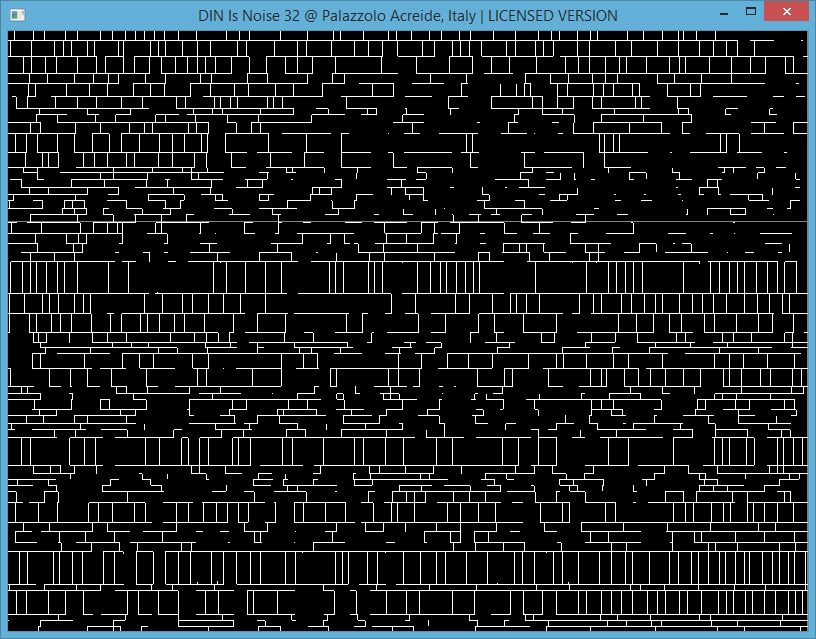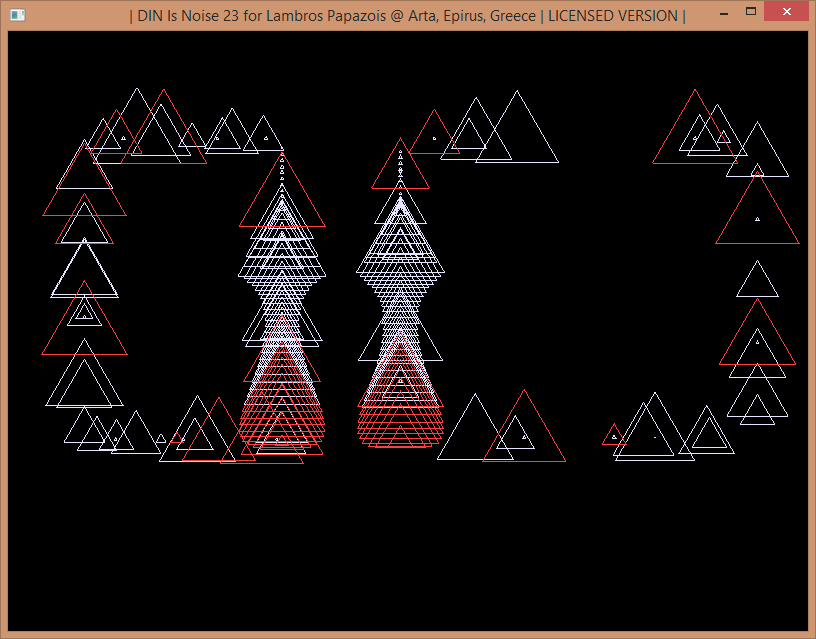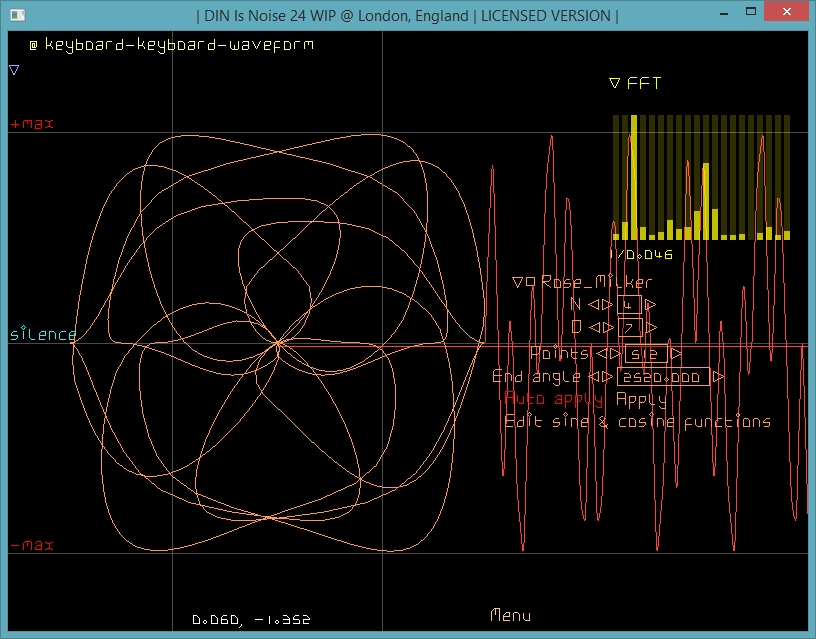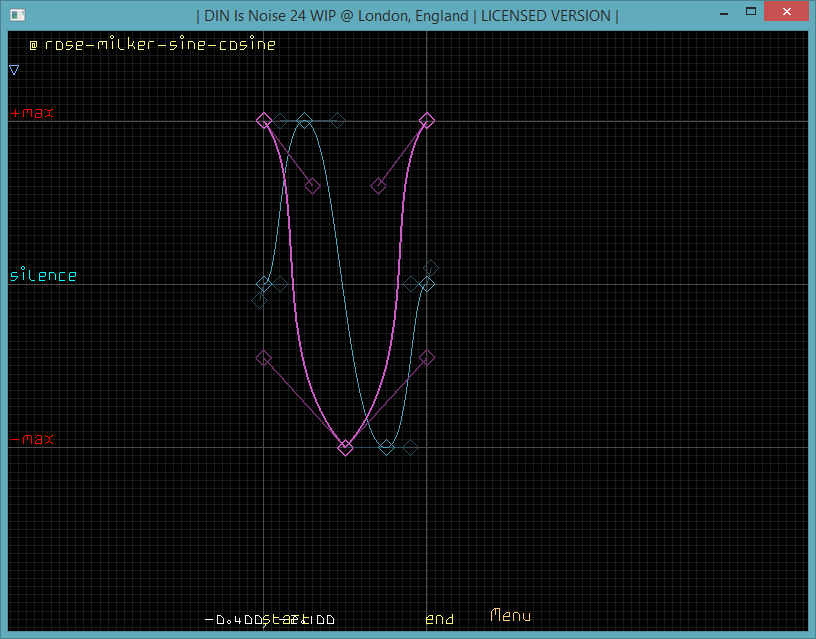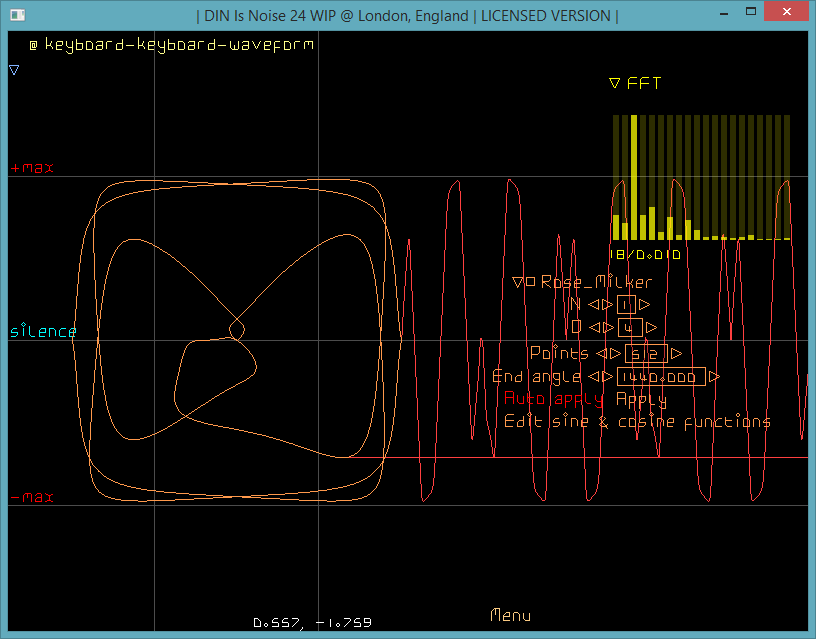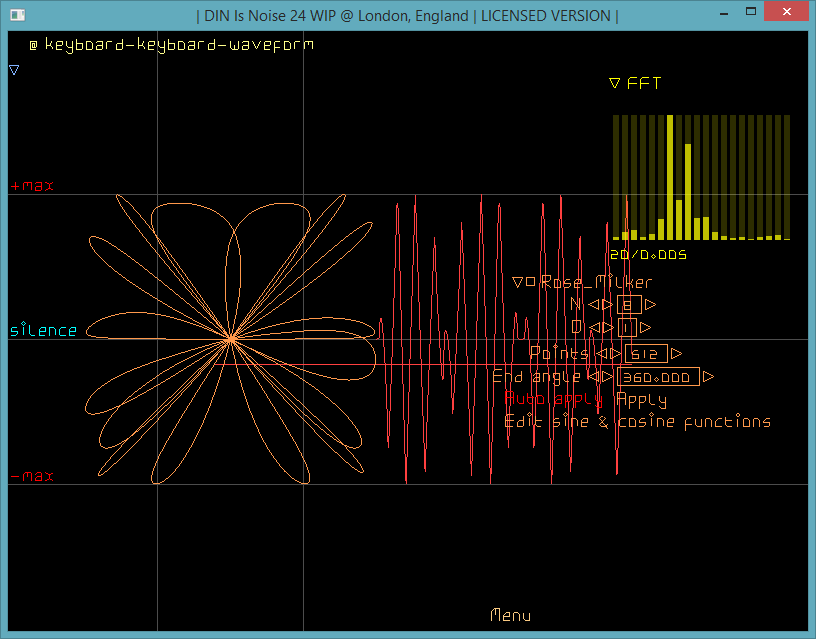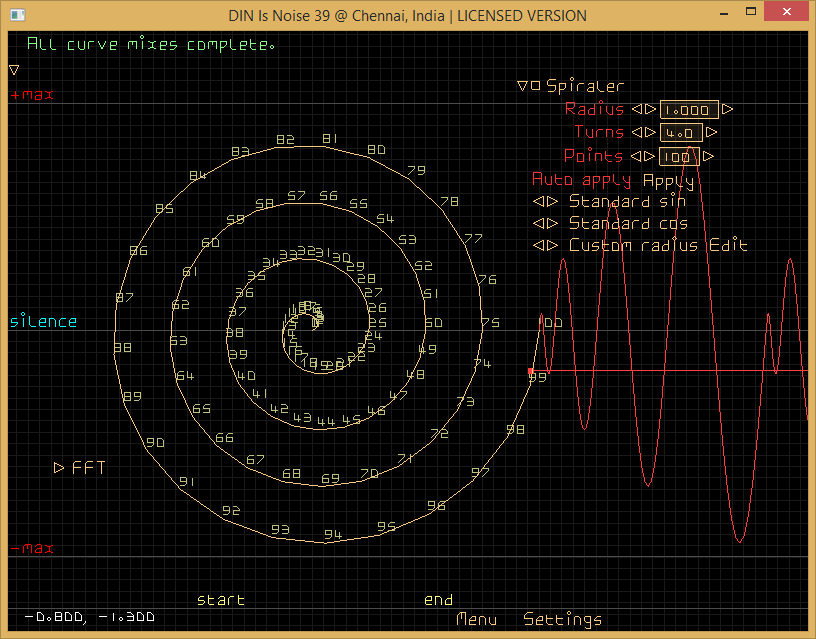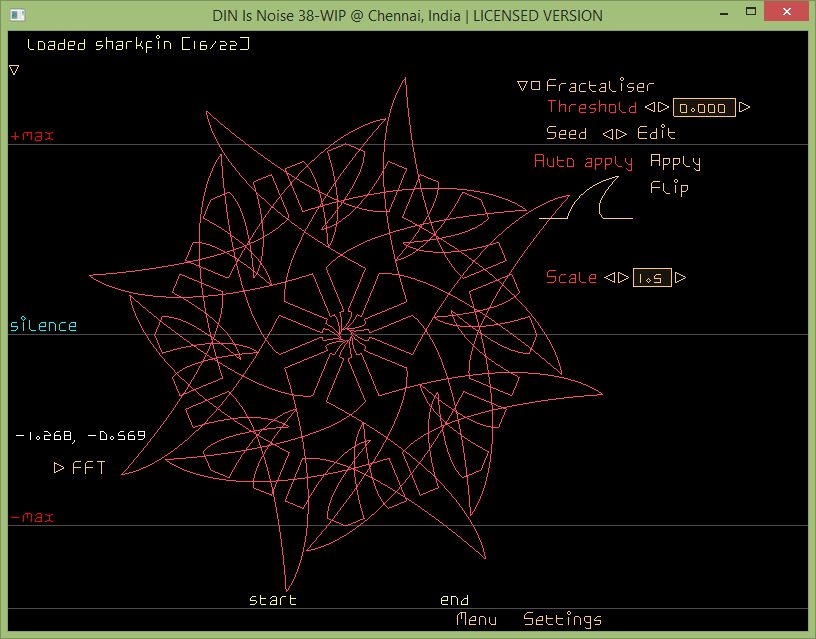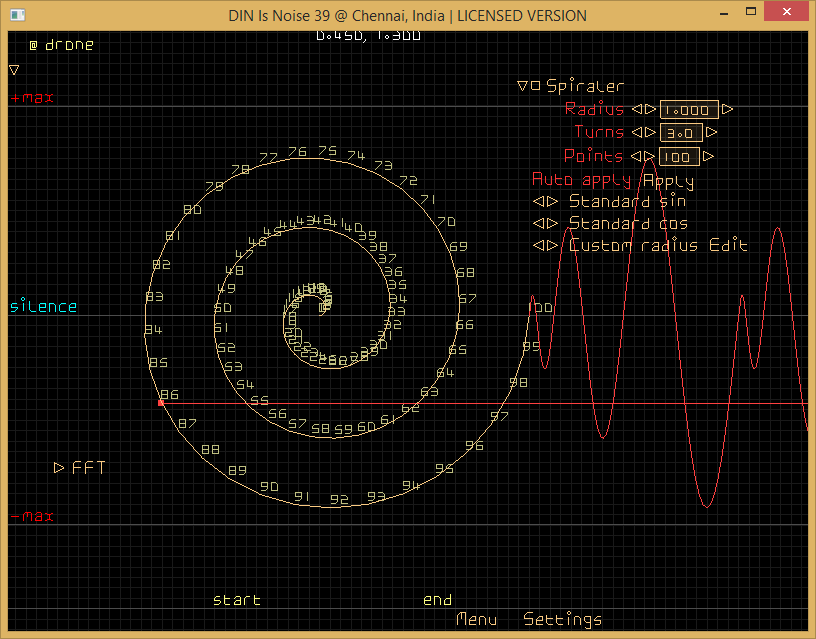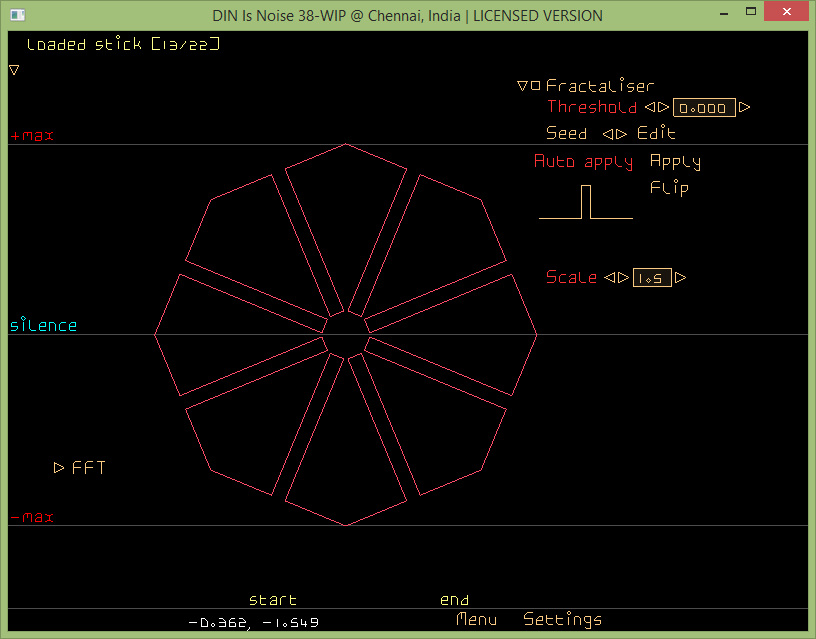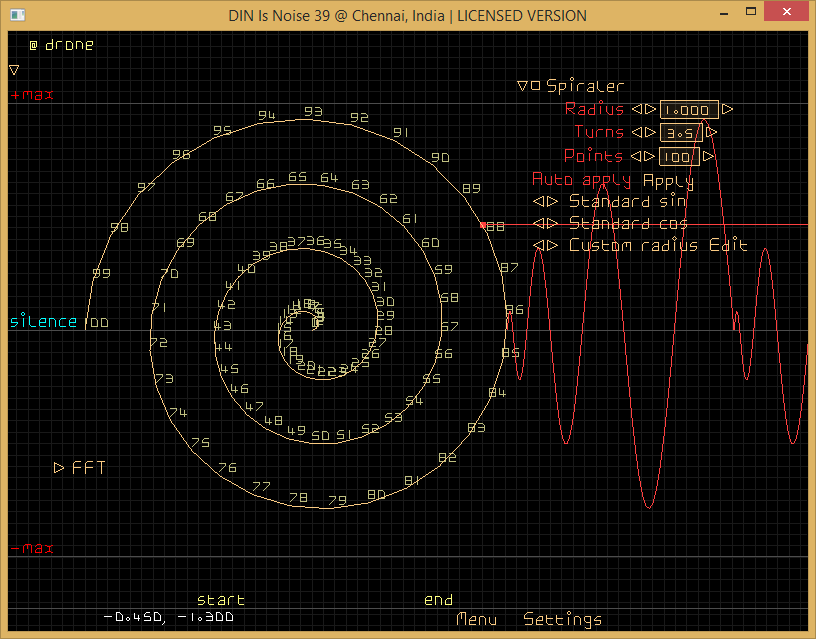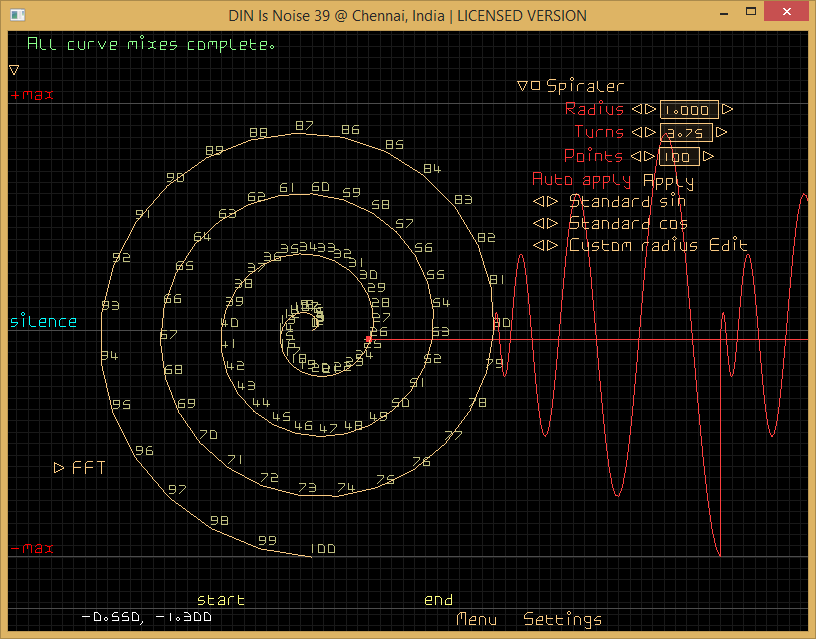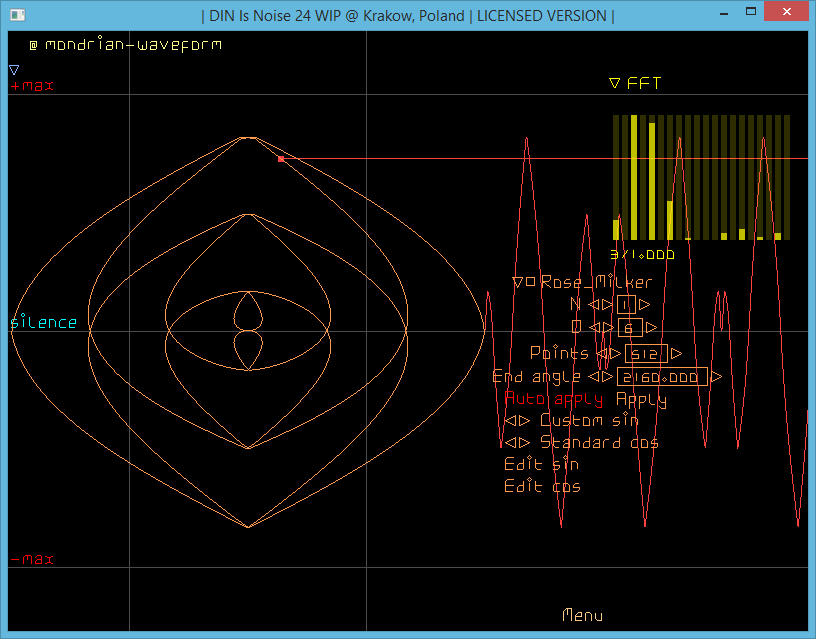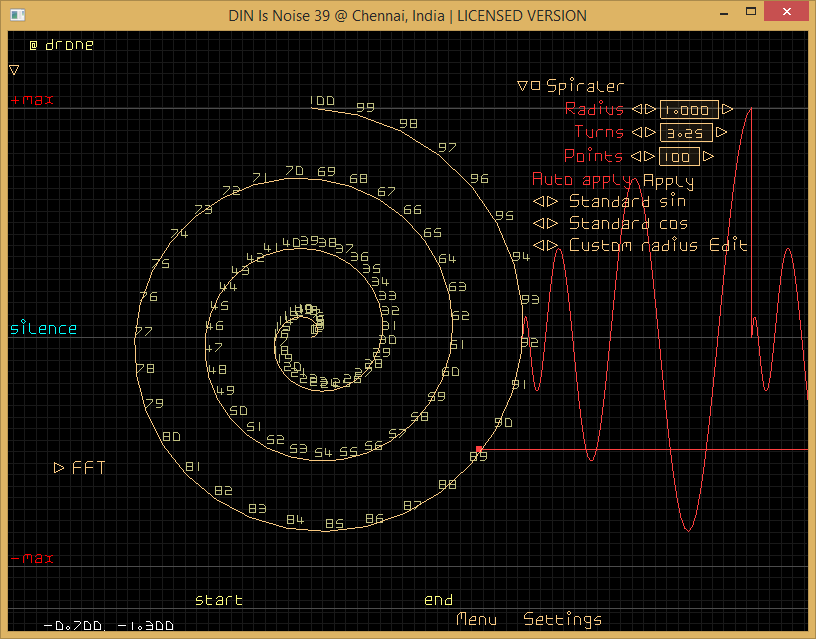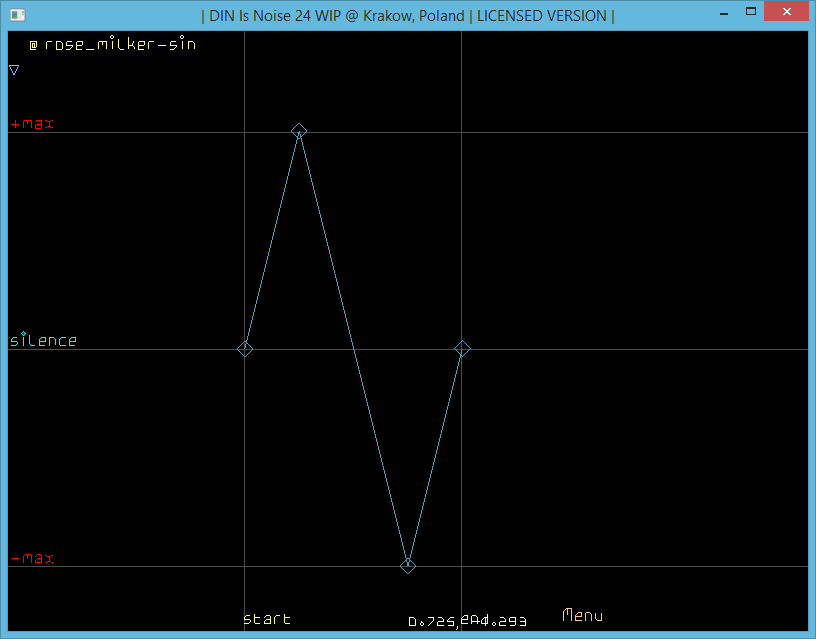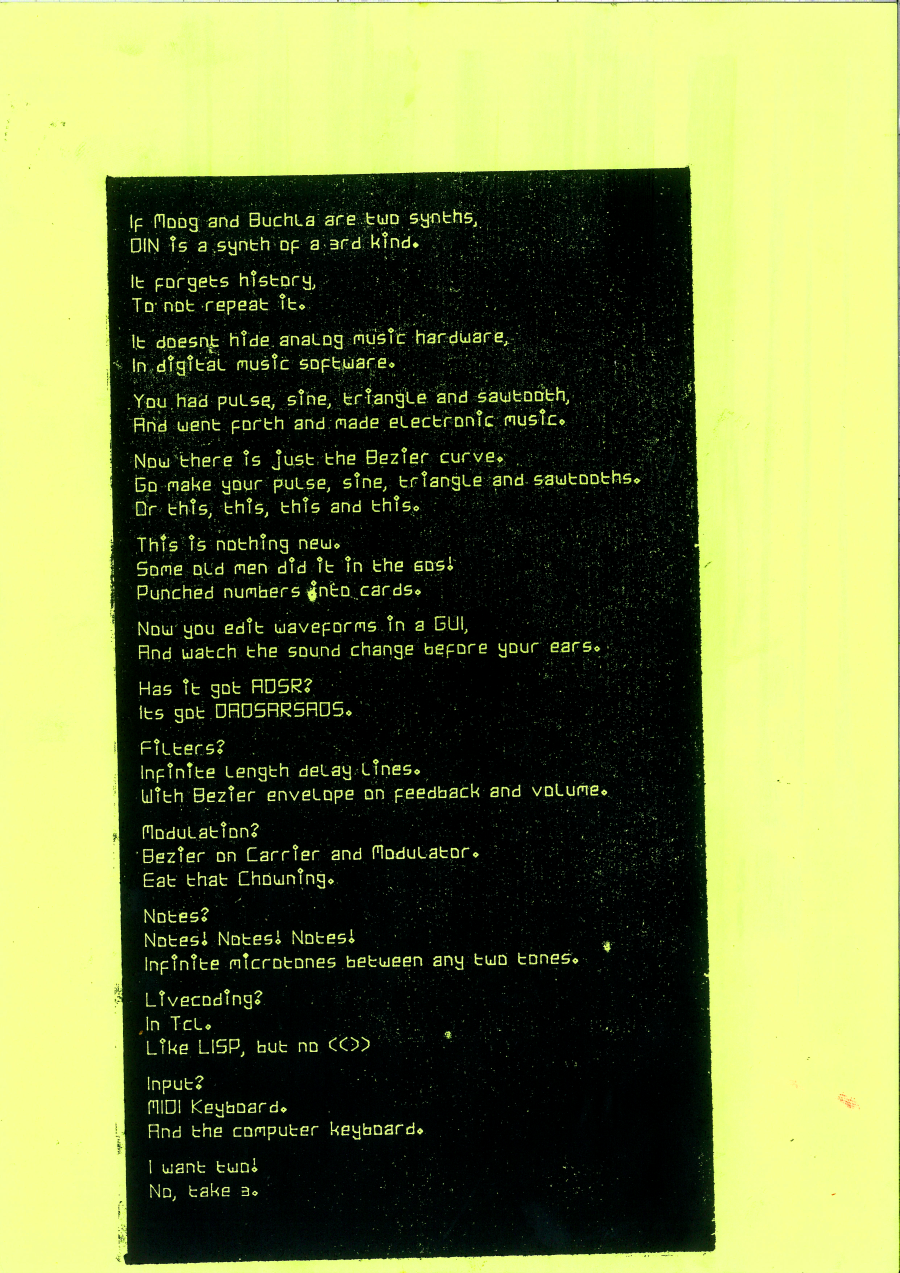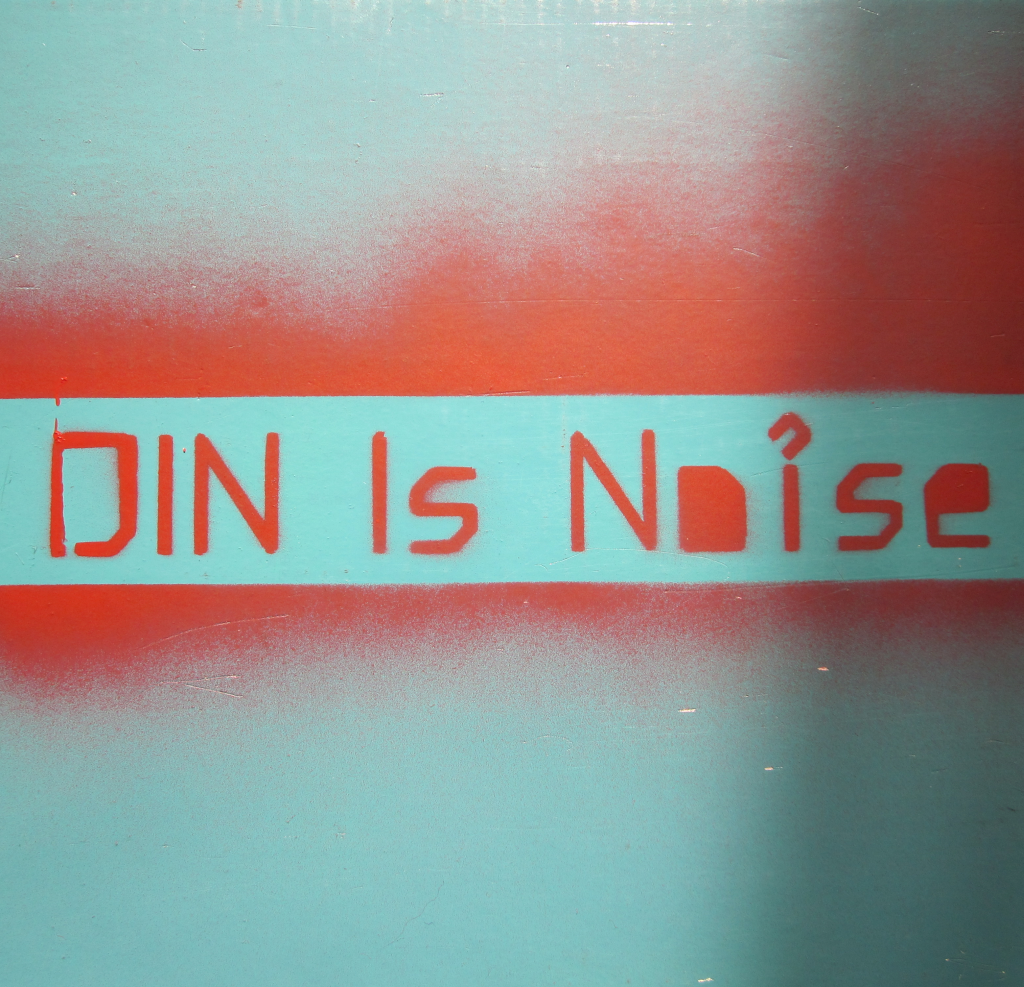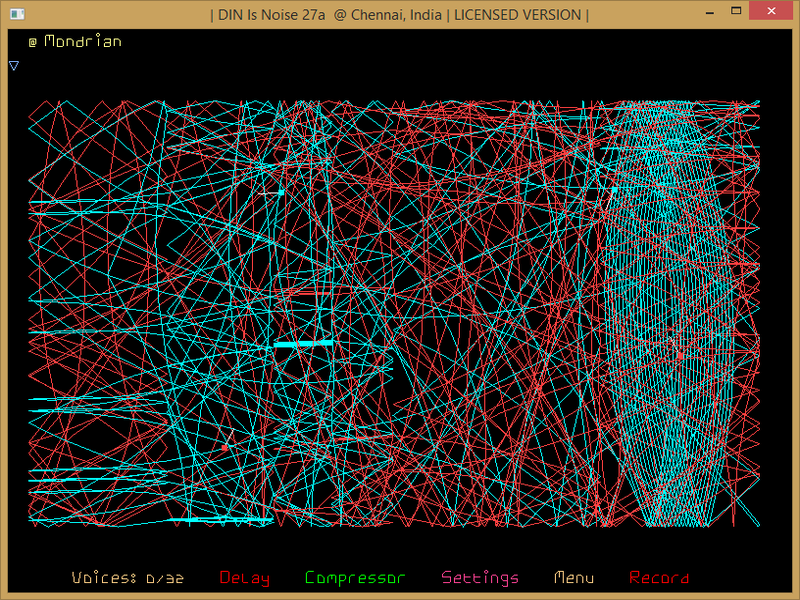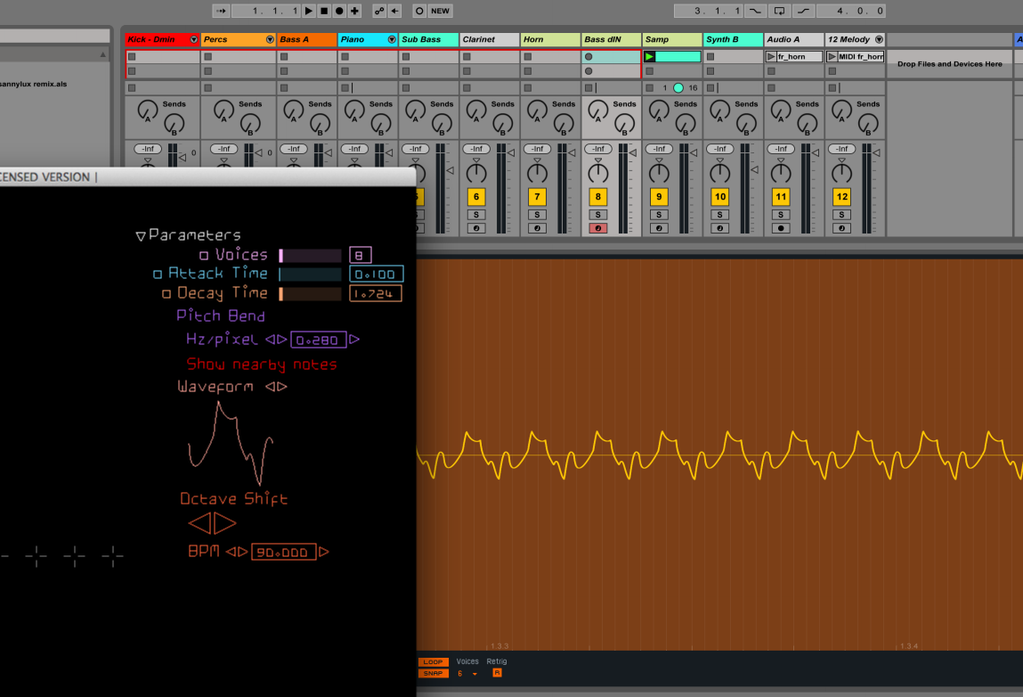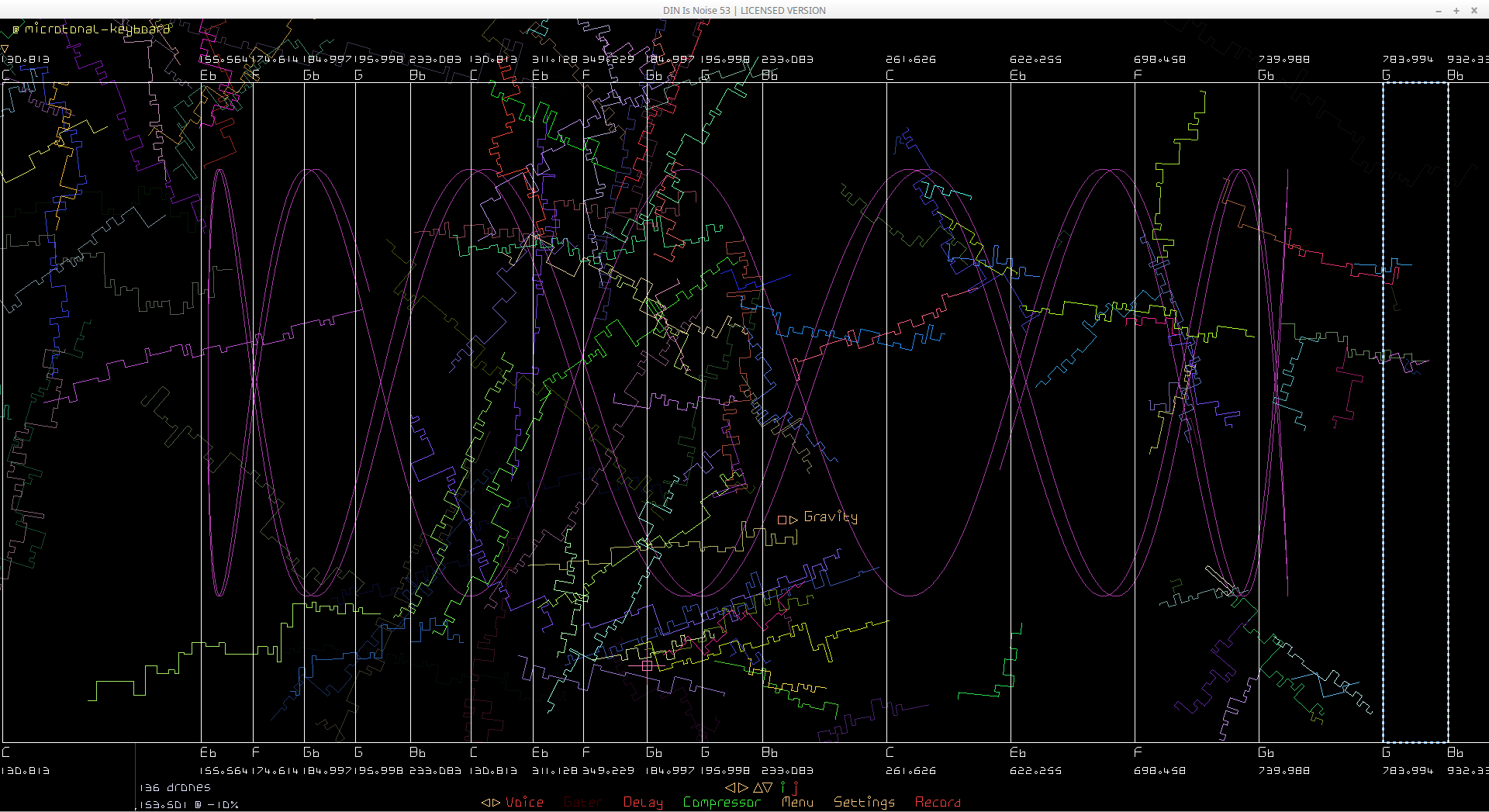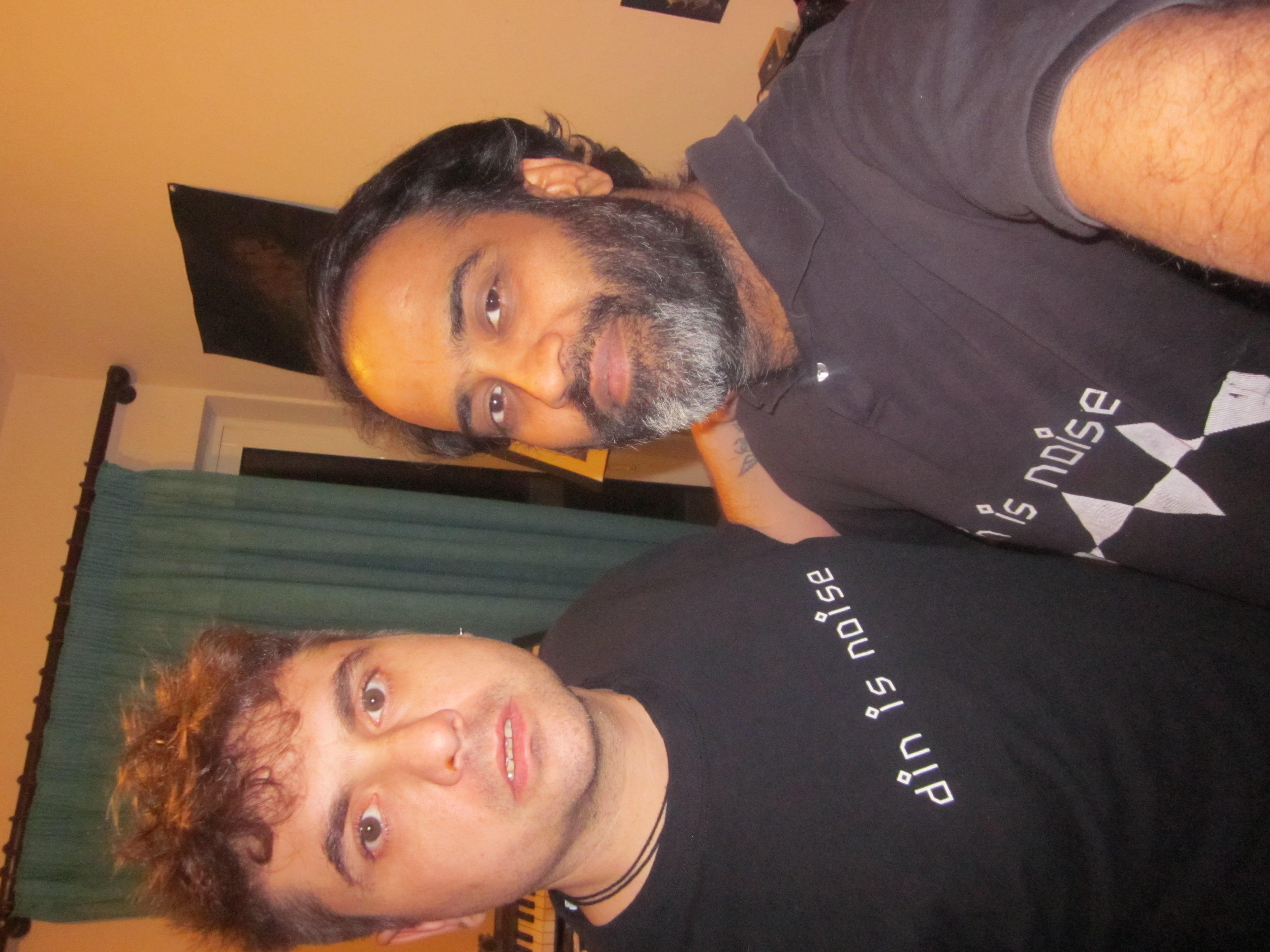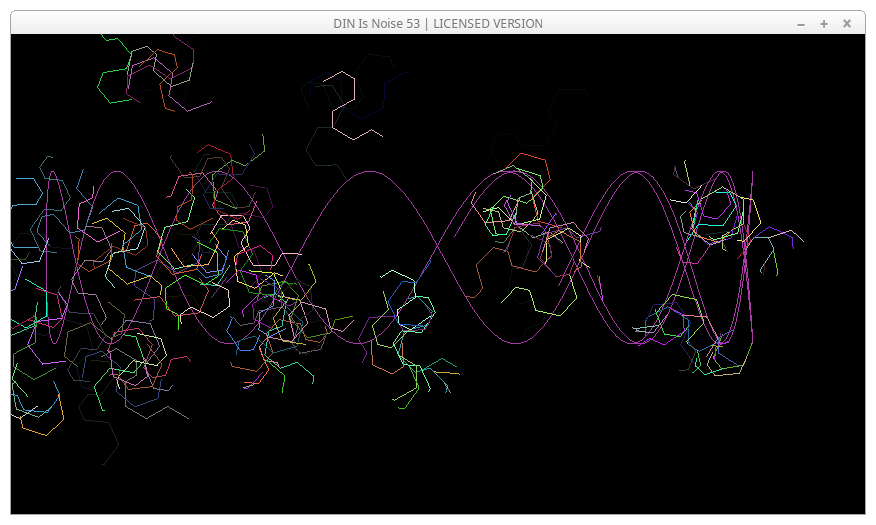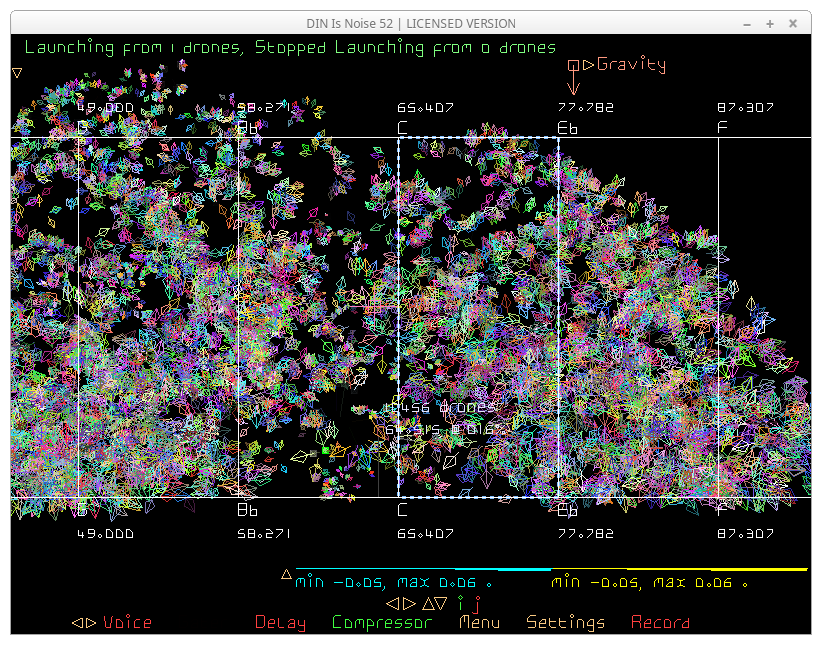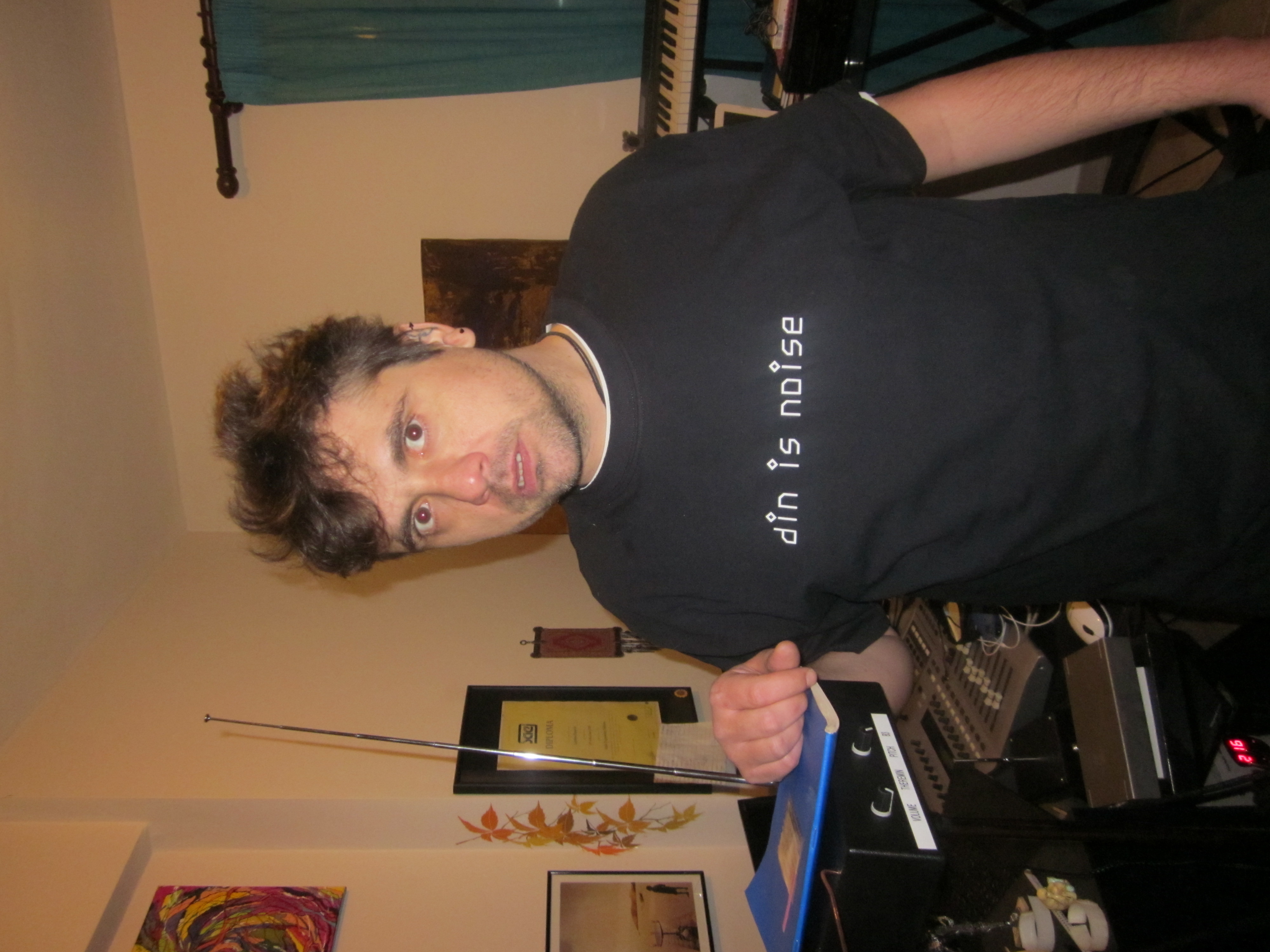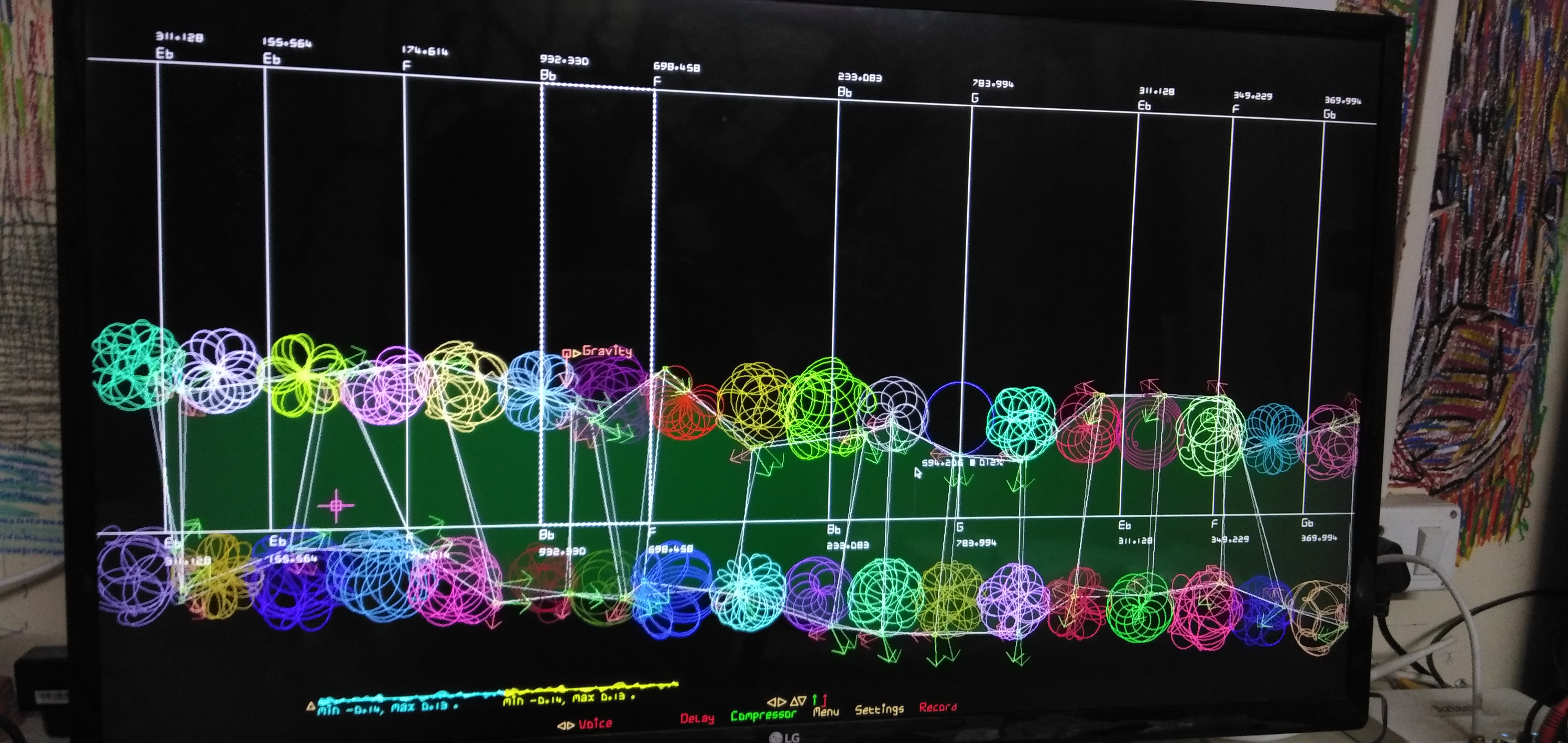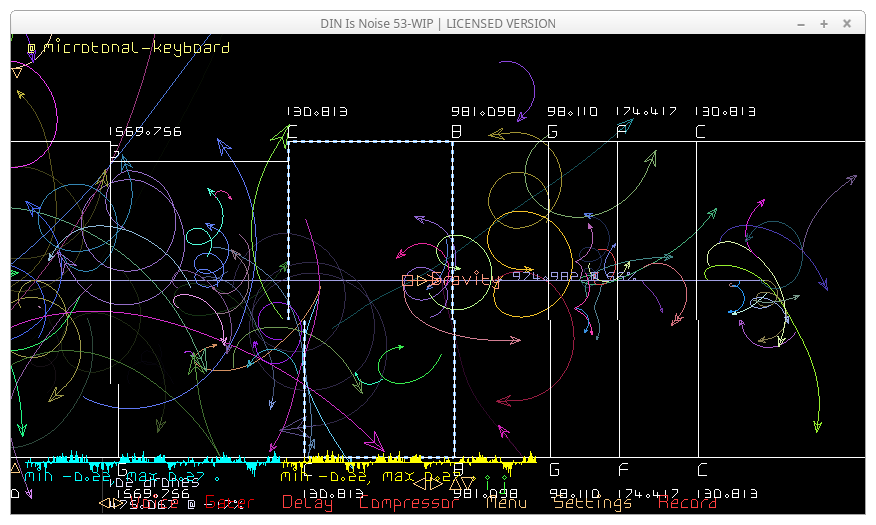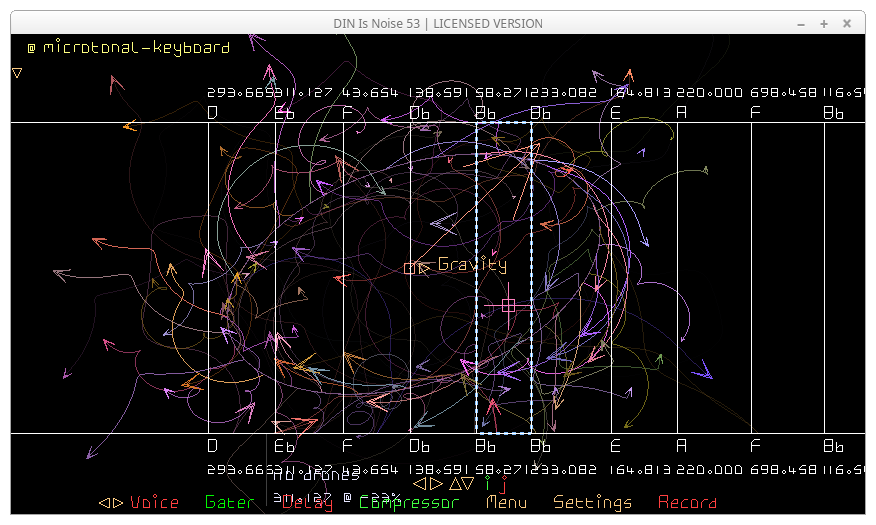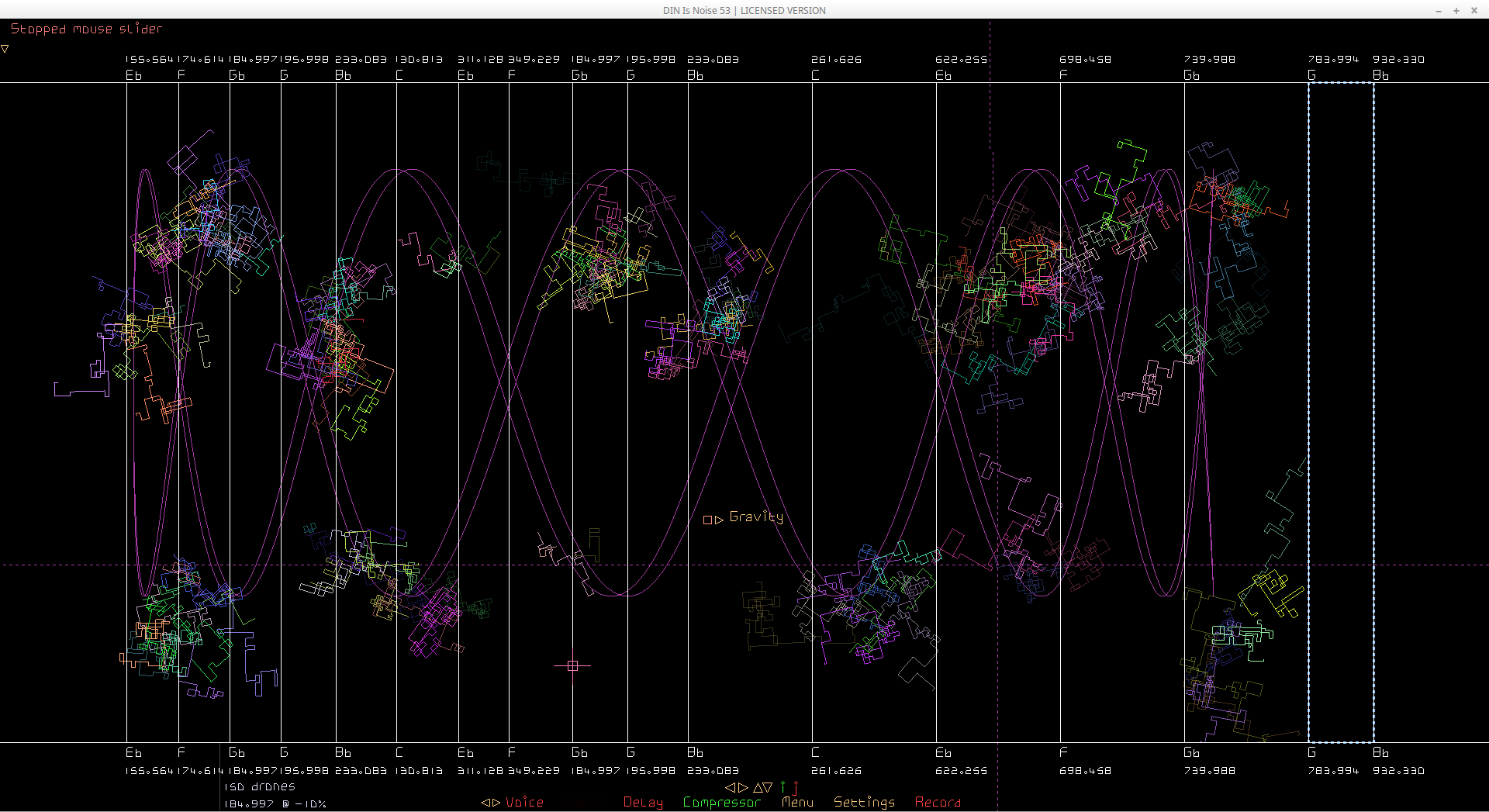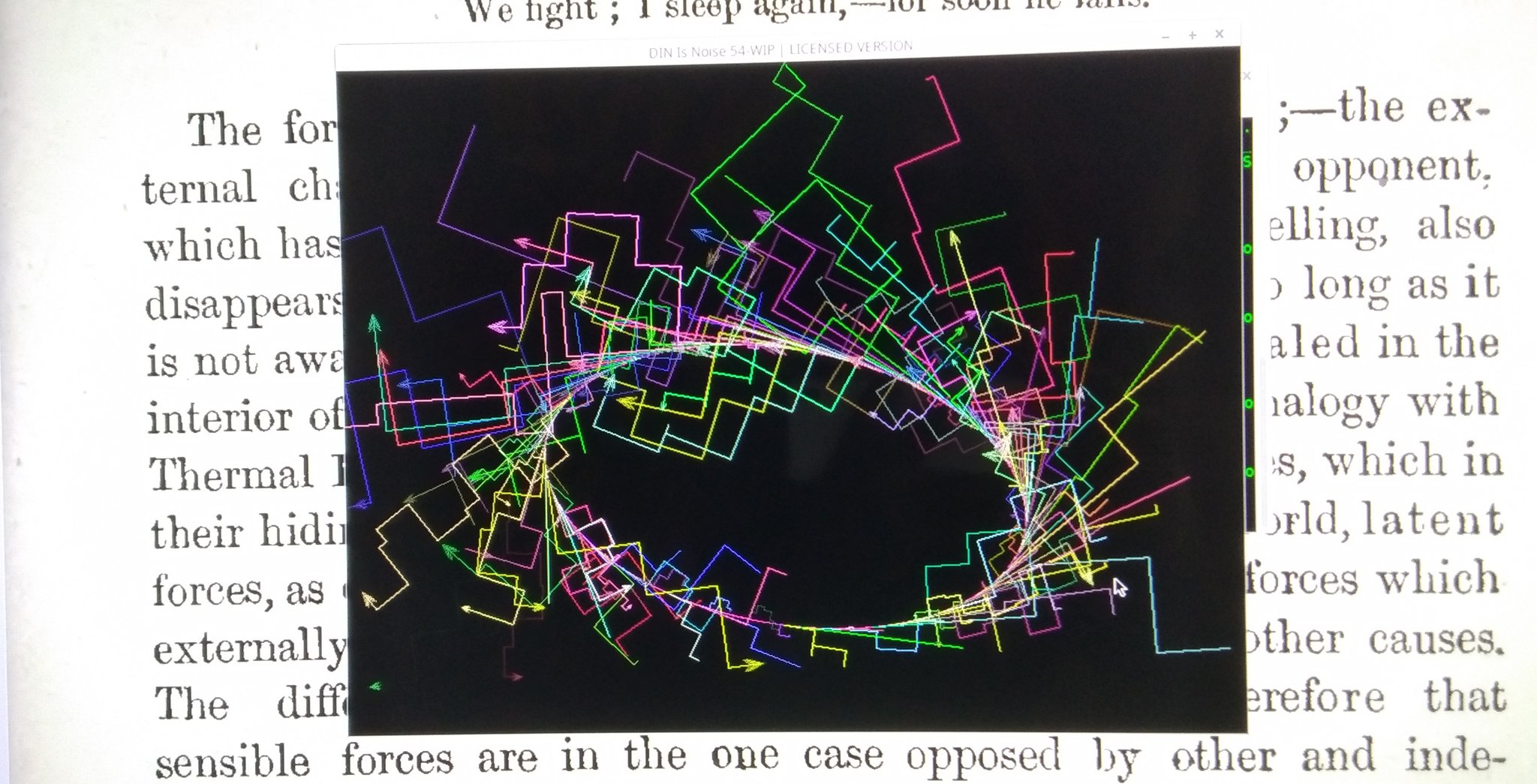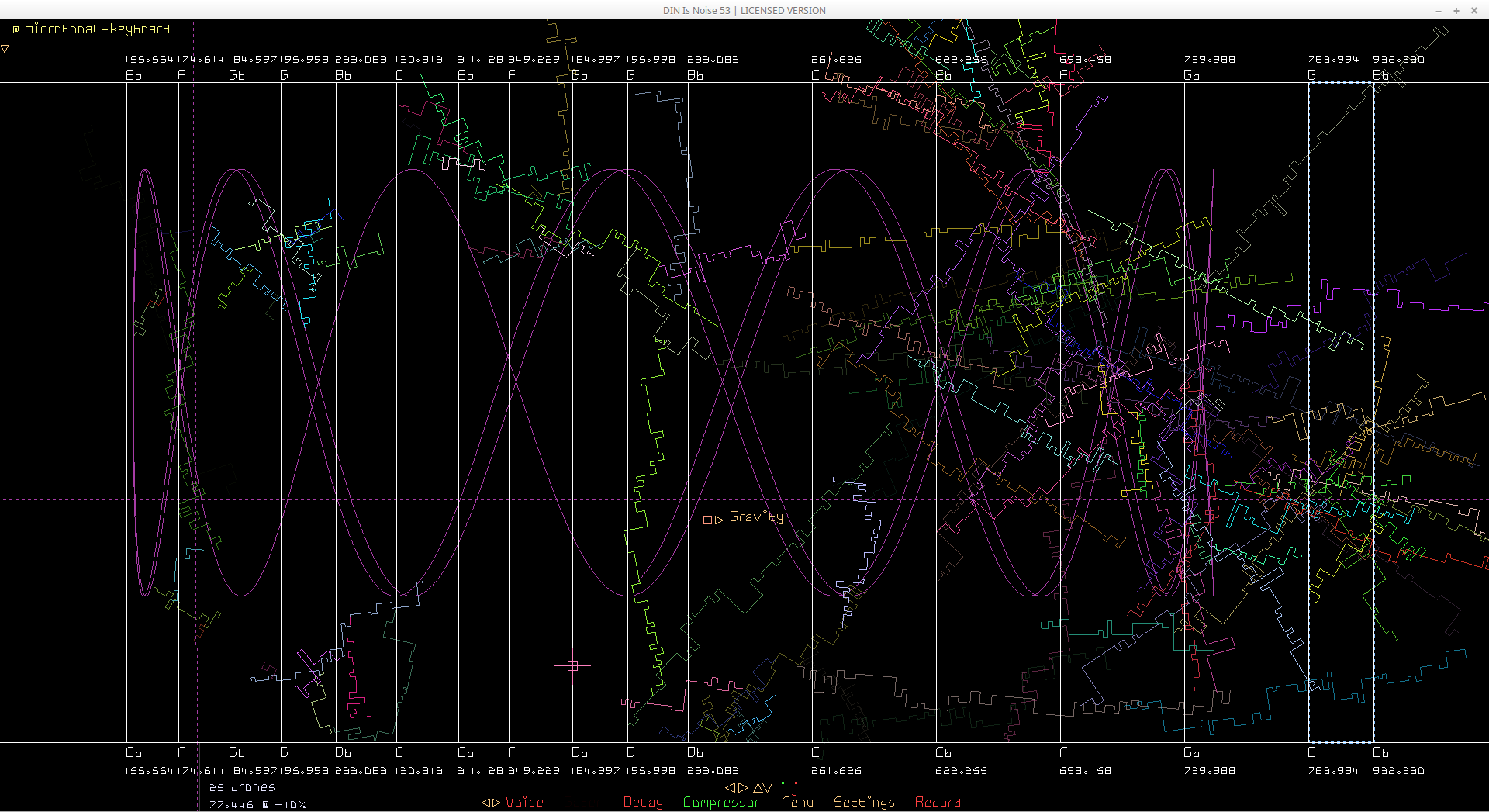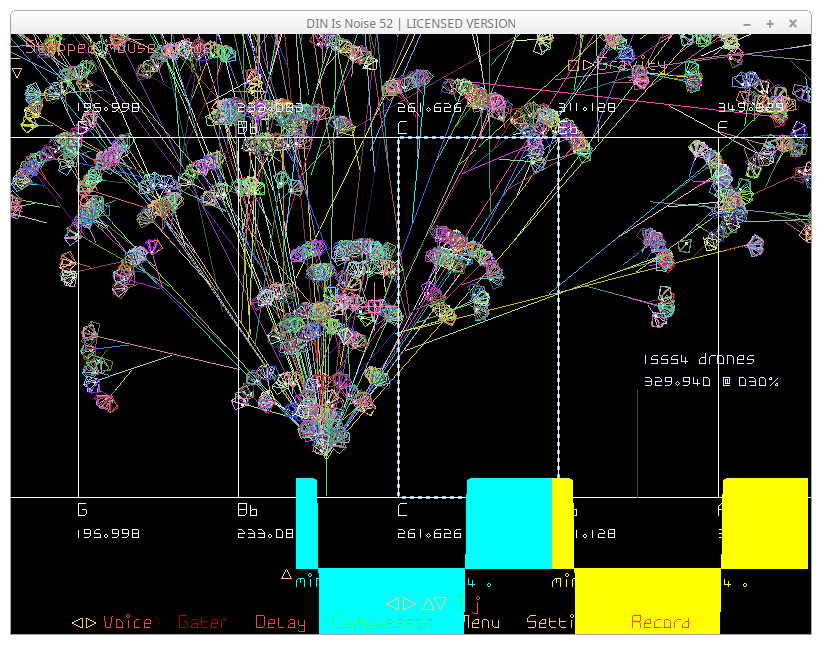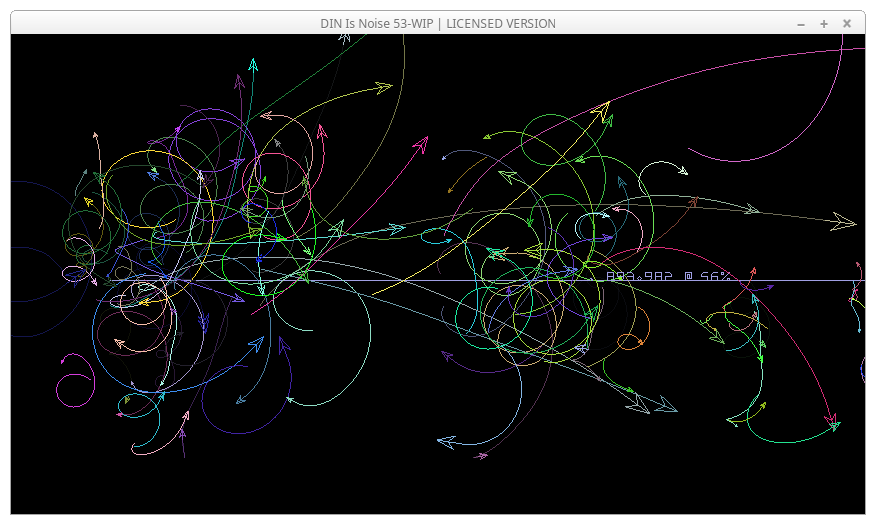 NB: The screenshots above were made over the years with different versions of DIN Is Noise. While all presented features are available, their look and feel maybe different.
---
DIN Is Noise is Copyright (c) 2006-2023 Jagannathan Sampath.
DIN Is Noise for GNU+Linux, FreeBSD and NetBSD is Free Software.
SSL Report
See also: https://dinisnoise.org/pics/